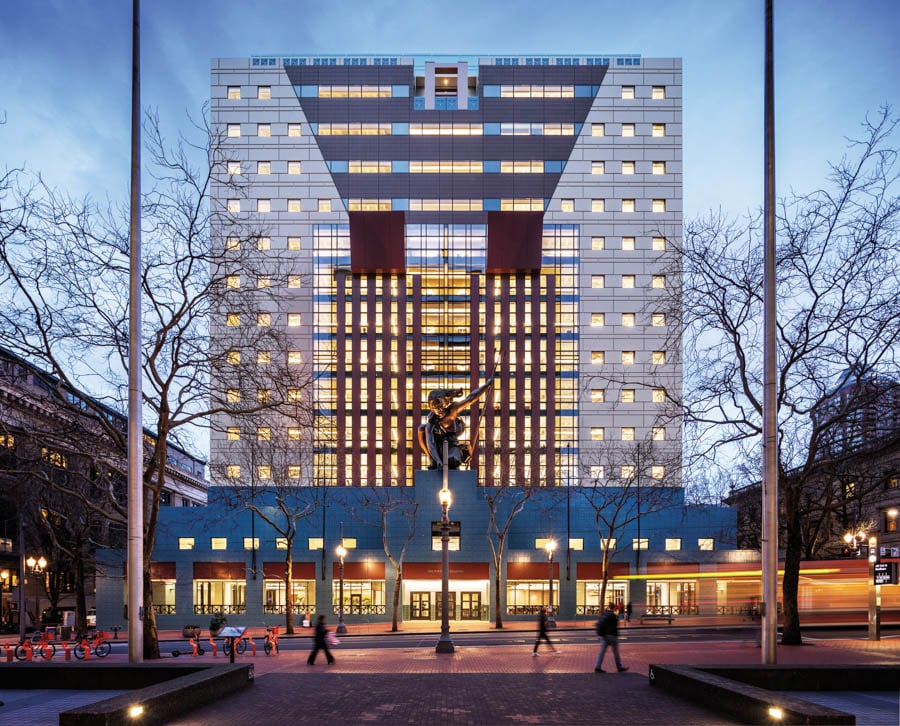 October 13, 2020
A Renovation Saves Michael Graves' Portland Building
DLR Group and contractor Howard S. Wright bring sweeping changes to the Postmodern landmark.
Surfaces of all kinds are top of mind these days, so we decided to look at all aspects of them, in these articles, from A to Z. Thinking of surfaces less as a product category and more as a framework, we use them as a lens for understanding the designed environment. Surfaces are sites of materials innovation, outlets for technology and science, and embodiments of standards around health and sustainability, as well as a medium for artists and researchers to explore political questions.
---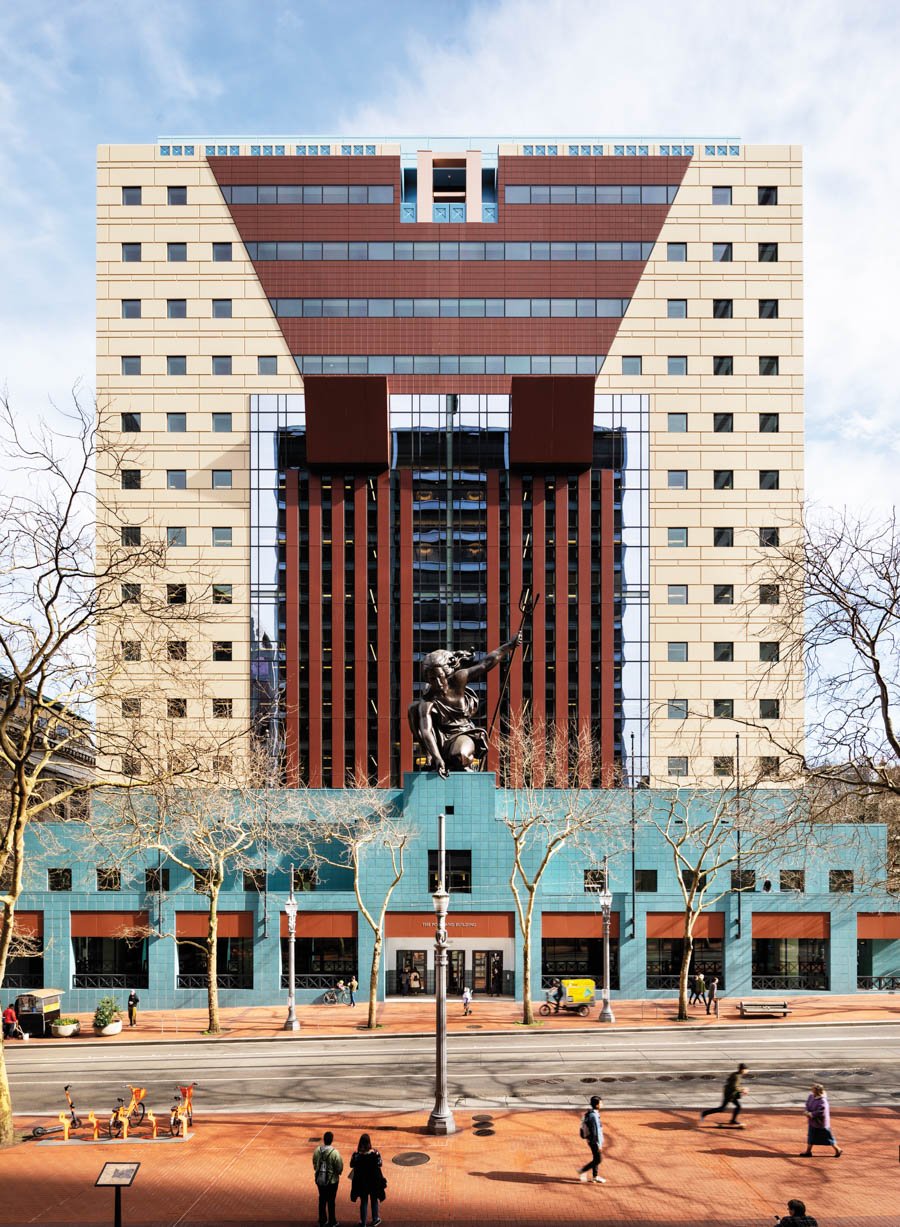 From the moment architect Michael Graves won a 1979 design competition for what became known as the Portland Building, one of America's first major works of Postmodern architecture, the city office's boldly colorful facade and oversize historical references divided opinion. Some applauded its exuberant rejection of Modernist dogma, while others seethed at its cartoonish, skin-deep style.
Since its 1982 opening, Graves's design, topped with Raymond Kaskey's massive copper Portlandia statue, has become an icon. Yet one constituency always seemed unanimous in its discontent: the occupants. Administrative staff worked in a near-total absence of natural light, and maintenance crews were tasked with continually patching the leaky facade.
For a few months in 2014, local city councillors openly considered demolishing the building. Today, however, thanks to a $195 million renovation by DLR Group and contractor Howard S. Wright, this Postmodern landmark is not only free of leaks and seismically reinforced but as light-filled as it once was dark. Though it sits temporarily empty because of the pandemic, the building's opening last fall brought enthusiastic first impressions.
---
More from Metropolis
---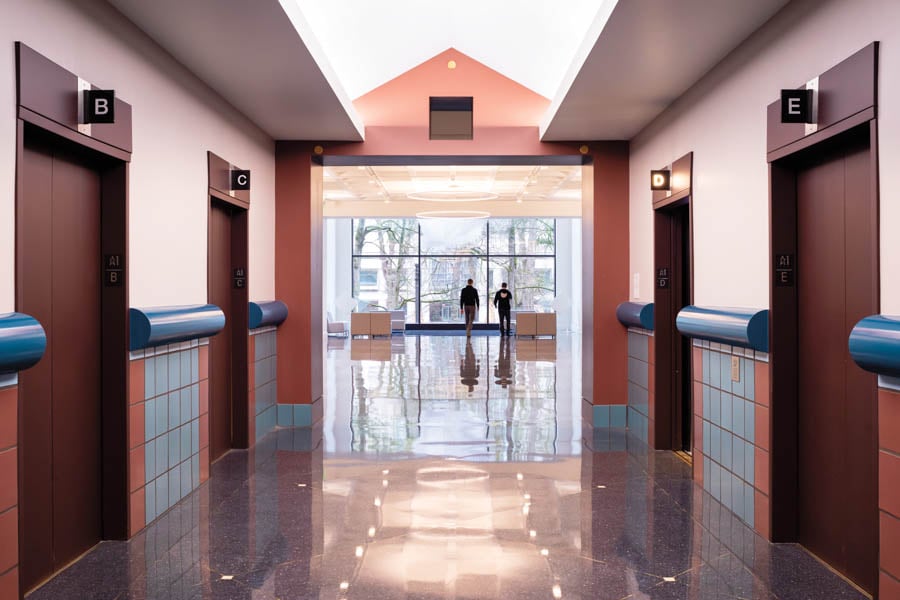 "When people were moving in, I was still working from the site office on the first floor," recalls DLR senior associate architect Erica Ceder. "The thing staff were really blown away by was the light. They weren't so closed in. They weren't in the dark anymore."
Office workers can even get up close to Portlandia now, looking out through the glass from behind the statue. That's because shaded glass has been switched out for clear, and the facade's many shadow boxes (glass panels blocked on the inside) have been made into real windows. The firm also removed the building's drop ceilings, allowing light to bounce off coffered concrete instead.
Newfound transparency also defines the reimagined ground floor. What had been a tiny lobby flanked by retail store – fronts and a covered loggia, both long underutilized, is now a much larger City of Portland customer-service center that takes advantage of the former storefronts' floor-to-ceiling glass.
Standing outside, one can actually see through the building, a symbol of government transparency as months of nightly protests have taken place just outside the Portland Building (which sits across Chapman Square from the city's police headquarters).
Yet the renovation has also been controversial. The Portland Building may even lose its 2011 listing on the National Register of Historic Places, mostly owing to facade change. Its painted concrete, a pragmatic original choice due to an extremely limited budget (Graves had originally wanted ceramic tile), has been covered with a new aluminum curtain wall.
Normally a building of this historic significance would never undergo such a drastic material change. But after a third-party analysis from Ohio-based Facade Forensics—and a blessing from Michael Graves's office—the City of Portland decided on the over-cladding to fix the leak problem once and for all.
"We felt like going to a curtain-wall system was the best science we have today for this scale of a building to help ensure we wouldn't have to be back here again with the same problem," explains Kristin Wells, the facilities manager for the City of Portland.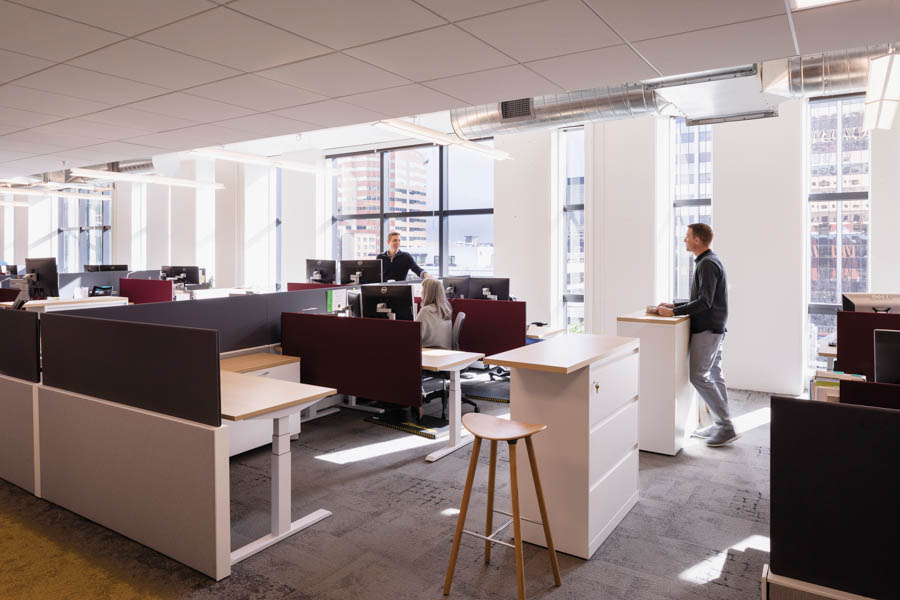 The new curtain wall also passes what Wells calls the "grandmother test." To almost any passerby on the street, the new facade looks just like the old facade. The Portland Building's style was always about colors and gestures, she says, not materials.
Inside, this city office building not only is full of light for the first time but, serendipitously, supports flexibility, making it easier to adapt to post-pandemic office protocols.
"They wanted the furnishings to determine how you lay it out, to be able to flow a bureau easily from one floor to the next without having to do tenant improvement," explains DLR Group principal Carla Weinheimer. "The good choices that were made about flexibility got validated right away."
You may also enjoy "The Spirit of Brunel Lives on in a New London Office Building"
Would you like to comment on this article? Send your thoughts to: [email protected]
---
Register here for Metropolis Webinars
Connect with experts and design leaders on the most important conversations of the day.