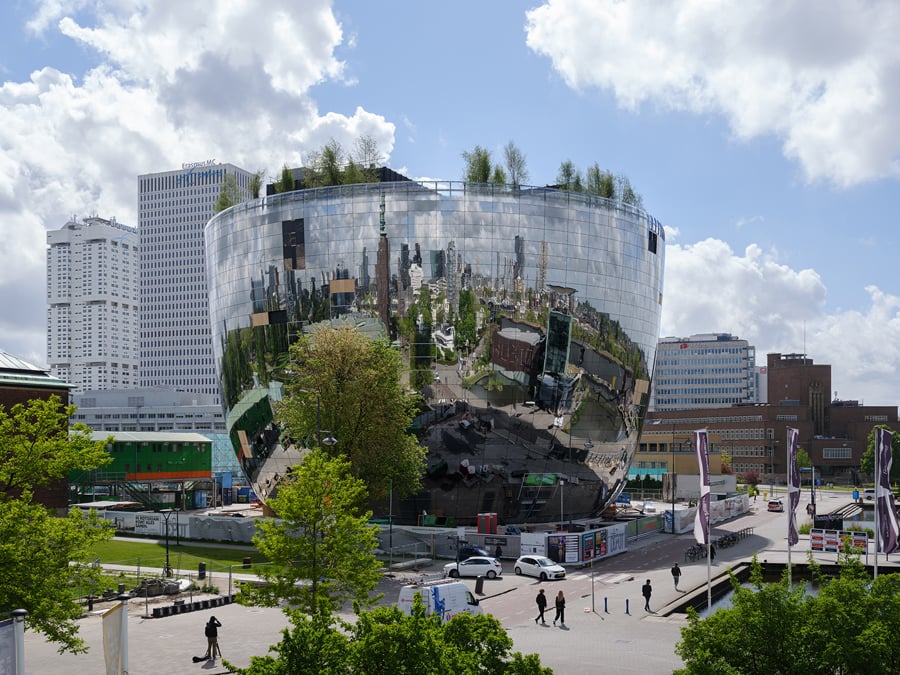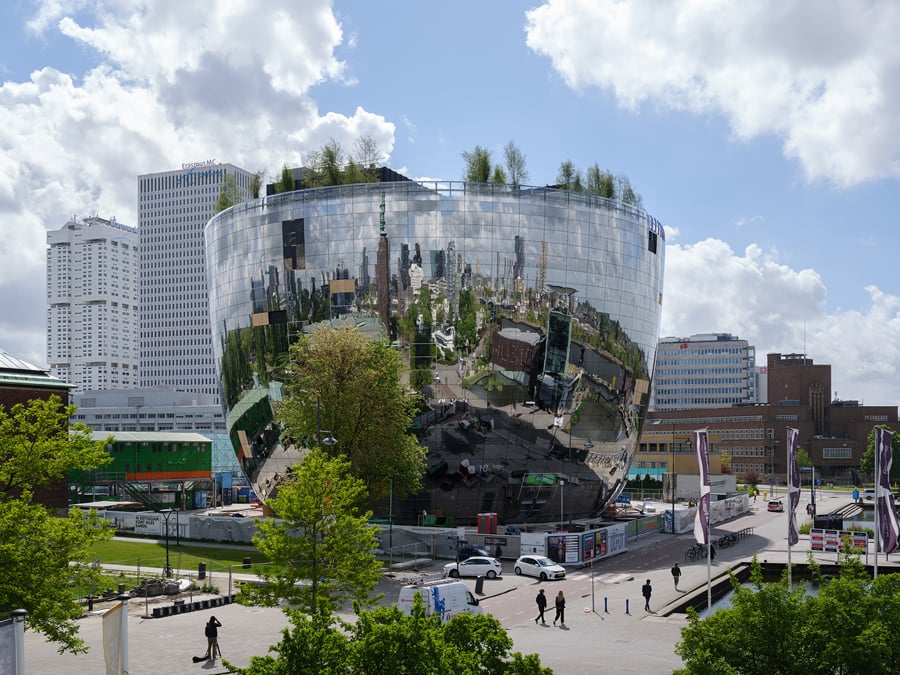 October 23, 2020
In Rotterdam, MVRDV Recasts the Archive as Museum
Museum Boijmans Van Beuningen will put 151,000 works—its entire collection—on public display in a new salad bowl–like structure.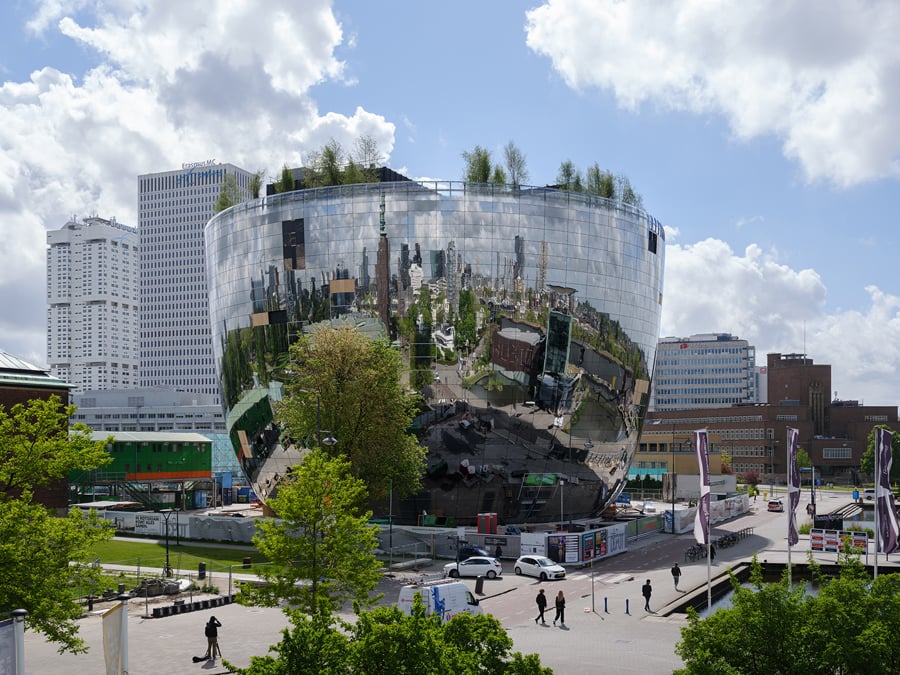 All museums in the world share a problem: They can never exhibit their entire collection at one time. A realistic estimate is that at any given time, about 90 percent of collections worldwide are stowed in storage. Seen from this perspective, all museum buildings are too small—no matter how big they actually are. But like the internet and the universe, their collections are continuously expanding. What to do?
Certainly adding new spaces for education or displaying works is one strategy that we've seen lately with London's Tate Modern, MoMA in New York, SFMOMA, and the Hermitage in St. Petersburg to name just a few well-known ones. Another strategy is to franchise your name and venture into other countries like the Guggenheim and the Louvre do. In Rotterdam, the opening of the Depot Boijmans Van Beuningen promotes a third way: to open the storage spaces to public view.
The new building has already been compared to an oversized flowerpot or salad bowl. Both comparisons fit: It is round and reflective, and it stretches to a height of 130 feet, topped by a circular, 197-foot-diameter roof garden. It's a building shape like you've never seen before, which was exactly the intention of its architects, the local firm MVRDV. They state that this "unprecedented typology" needed an unprecedented appearance. Strengthening this argument, they've clad the unusual form in a mirrored facade of 1,664 panels, making the building both alien and friendly to its surroundings—alien as it appears like an illusion, and friendly as it reflects and enlarges the public Museumpark, of which it occupies a significant part.
---
More from Metropolis
---
This friendly alien is to house the entire collection of Museum Boijmans Van Beuningen—which currently counts 151,000 items, as Rotterdam's largest art museum, sitting in a historic brick building next door. Built in 1935 and designed by Dutch architect Ad van der Steur, the original museum building is listed as a national monument, its slim brick tower rising to 130 feet—the same height as the new building.
Currently, the old museum is closed until 2026 as it is being renovated and expanded by Mecanoo Architects, from the nearby city of Delft. This makes the Depot all the more critical: All items—containing Brueghels, Rembrandts, van Goghs, and Rothkos—will be accessible when the Depot opens fully in 2021. Visitors will be able to book guided tours or sneak around individually, which is why the museum claims this is the world's first completely accessible art storage. (This may not be entirely true, since many of the storage facilities need climate control.) Visitors will only be able to access these with a guided tour and for not more than ten minutes, before the climate changes too much.) But spread across 161,500 square feet and accessed via five large zigzagging stairs through the central atrium, there are many pieces stored in special display cases or rooms which are freely accessible. And many of the inside walls are made of glass, so you can peek into the spaces, also catching a look behind the scenes including ongoing restoration or conservation work.
It is clearly an experiment that will have to prove its innovative nature when it is fully operational. It could well end up as yet another gallery space, albeit one extraordinarily futuristic. Also it has to be seen whether this is comfortable for the staff, who will have someone looking over their shoulders, and for the visitors, who may easily get lost within this archive. But just speaking of the architecture inside and out, it seems very much as if MVRDV has found a fitting design for a new breed of art storage space.
You may also enjoy "OMA Doesn't Mince Symbols at the New Axel Springer Campus"
Would you like to comment on this article? Send your thoughts to: [email protected]
---
Register here for Metropolis Webinars
Connect with experts and design leaders on the most important conversations of the day.