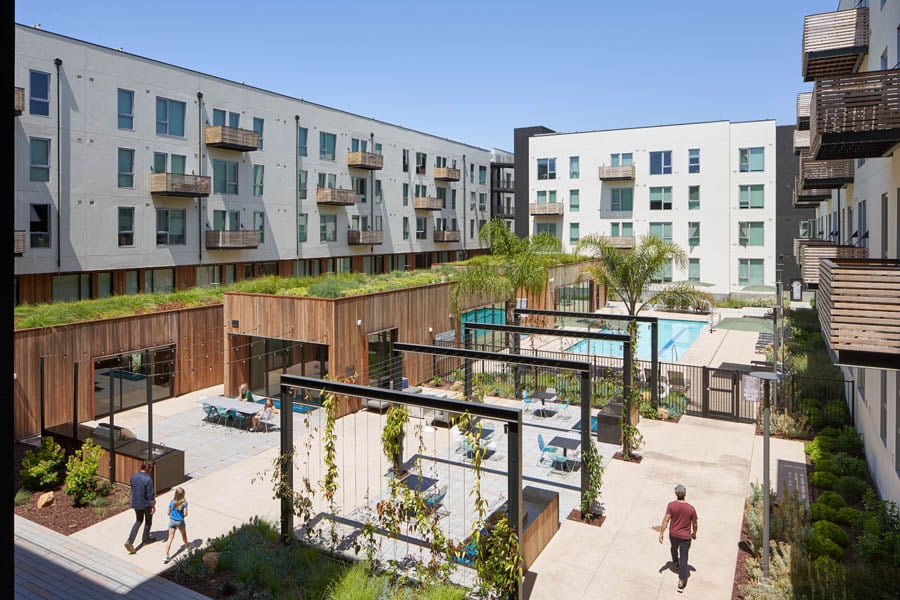 November 19, 2019
In the SF Bay Area, David Baker Architects Bucks the Trend of Dull Modular Housing
Individual units were shipped from Idaho to the Union Flats development, which features a central amenity-filled courtyard and plenty of greenery.
Creating aesthetically pleasing multifamily modular housing is an art—a difficult one, as made plain by the banality of many recent developments. The 243-unit luxury rental complex Union Flats, designed by San Francisco–based firm David Baker Architects (DBA), is an exemplar for the design potential of modular construction—while keeping costs down and expediting delivery. In its debut modular project, the much-lauded firm found a way to customize the cookie-cutter approach, creating a welcoming jolt of urbanism with strong materiality. "The stereotype associated with modular construction is that you get this boxy, unarticulated building that results from simply stacking up a bunch of modules," says Jonas Weber, project architect at DBA. "We took that as a design challenge."
Long used for single-family homes, prefab is becoming more popular for multifamily developments in the United States, offering savings in cost, time, and construction waste in the midst of a nationwide housing crisis. (L.A. architecture firm Brooks + Scarpa recently announced a prefab toolkit for affordable housing.) So when the developer of Union Flats in Union City, California—a bedroom community located between San Francisco and San Jose—proposed modular construction, DBA was excited to see if the promised benefits were all that.
DBA designed the four-story, LEED Platinum–certified complex around a large central courtyard with a pool and communal amenities—a fitness center and community lounge/coworking building. The modular units, mostly one-bedroom dwellings, were prefabricated by Guerdon Modular Buildings and trucked to the site from Boise, Idaho. Because the units are designed by combining various modules, and units arrive completely finished (with painted interiors, cabinets, appliances, and even window blinds), the architects faced a learning curve. And Weber says all told, the construction costs, including materials, labor, and transportation, were about the same as site-built. But even in this initial project, the time savings were apparent: Since the modules were built while the site was being cleared and prepared, the team imagines Union Flats could have been completed in up to 20 percent less time. "While the factory assembly line results in high-quality construction, the real benefit is in reduced construction time," he says.
---
More from Metropolis
---
The team also opted to construct some live-work lofts on site. (On-site and modular construction are categorized as two different building types and thus allowed for a taller overall building under local zoning requirements.) To create a neighborly presence, the architects designed the ground-floor row of live-work lofts with individual front doors to the street. This row of taller volumes is clad with FSC-certified hardwood siding, distinguishing them from the white stuccoed units above, and is pulled back, forming a colonnade of board-formed concrete columns (with deliberate seepage between the boards for an artisanal effect). The modular units overhead have recessed balconies that were a little tricky to implement, recalls Weber, since waterproofing and finishes had to be carefully coordinated between the factory in Idaho and on-site construction team. At the moment, DBA is working on about 15 more projects—primarily in Northern California—that use modular construction. Says Weber, "It lets you quickly bring housing to fast-growing areas."
You may also enjoy "With Its Deep Wraparound Porches and Resilient Design, This South Carolina Senior Housing Project Aims for Comfort and Safety."
Would you like to comment on this article? Send your thoughts to: [email protected]