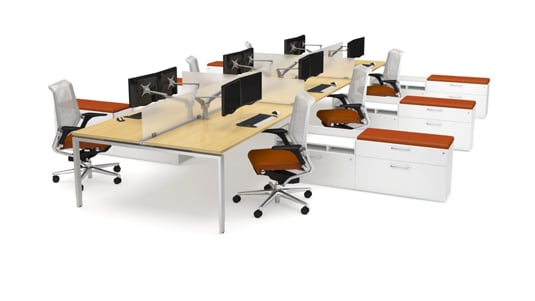 December 7, 2012
Industry Buzzwords Get you Thinking
Changing workplaces require flexible, open environments.
Alternative Workplace Strategies, Collaborative Environments, Co-working, Mobile Working, Virtual Officing or Flex Work space. I thought I was up-to-date on all my industry buzzwords until recently when a designer asked me if I had any information or studies on Agile Facility Management. Caught a little off guard, I told her I would check with my team and see what I could find. I ended up turning to the Internet for more information, and learned it is not a new phrase as it relates to computer programmers and writing code.
The primary struggle with their environment is the ability to bring groups of people together quickly for problem solving. These teams may be brought together for a day or more then a month, and require huge expanses of whiteboards, flip charts and other accessories, but the environment must also provide space for programmers to do heads down work. The methodology associated with these teams and management style is being adapted as a means to the general work environment.
Today, a company's ability to react to social and economic shifts means that the traditional work environment must make adjustments. In recent years, with the growth of more sustainable environments, panel heights are being reduced or eliminated, which can take away the traditional storage an overhead provides. Office footprints and the reshaping and agility of the office environment are also changing rapidly with the acceptance of work-from-home and telecommuting policies. I'm working with a client who is looking at a 60/20/20 split in office personnel: 60 percent work in a dedicated space within the office, 20 percent work entirely off site and the remaining 20 percent work in and out of the office.
---
More from Metropolis
---
It's a cultural shift in the way people work and it allows employees to have a better work life balance. Additionally, it enables an organization to capitalize on the strengths of their employees while allowing flexibility. A common solution for this type of environment is benching, which can help organizations save on real estate costs and accommodate more people into a space. Be aware, these are fixed elements that don't allow the facility to adapt to an individual or group of individuals that may need additional surface space to enable them to work more effectively. Some organizations or designers may suggest assigning mobile pedestals to each worker that could be housed in a central "parking" area, which sounds like an easy solution until you do the math. If a typical floor plan allows for a density of 150 people and 60 percent of them work in the office full time, than 90 of those spaces are occupied on a regular basis. Plus, if an average of 20 percent visit the office two to three days per week, than the space would need to constantly house 120 mobile pedestals somewhere on the floor. If each pedestal took up 15" x 24" of floor space the space would be using 312 square feet of dedicated floor space only to accommodate pedestals.
This is not an efficient use of space. In Europe, some companies provide employees with a personal, lockable storage space to keep office essentials; however, given the same scenario above, if we used the designated floor space per storage unit but stacked the lockers four units high, the useable floor space would decrease 78 square feet.
One way to help create a flexible environment would be to use open storage just below the work surface; low storage helps delineate space and with a cushion on top it can satisfy seating for an impromptu meeting. Also, by varying surface heights within the work environment, it gives users a means to prioritize and organize work and files. The addition of height-adjustable tables and appropriate seating, 98 percent of physical ergonomics, allow organizations to make the workspace more flexible for most users. In a more open environment, lounge seating with a higher back can provide additional meeting areas where privacy is needed, but doesn't warrant the need for a meeting or conference room.
Overall these solutions accommodate open communication or collaboration between workers, and provide for heads-down concentration and a more productive environment. So whether you call it Agile Facility Management, Alternative Workplace Strategies or another term it all boils down to the same idea — provide a comfortable place that entices workers to want to come to the office while giving them the tools to get their work done in an effective manner and contributing to the company's bottom line.
---
John Hindman, IIDA, is a regional design specialist at Kimball® Office.