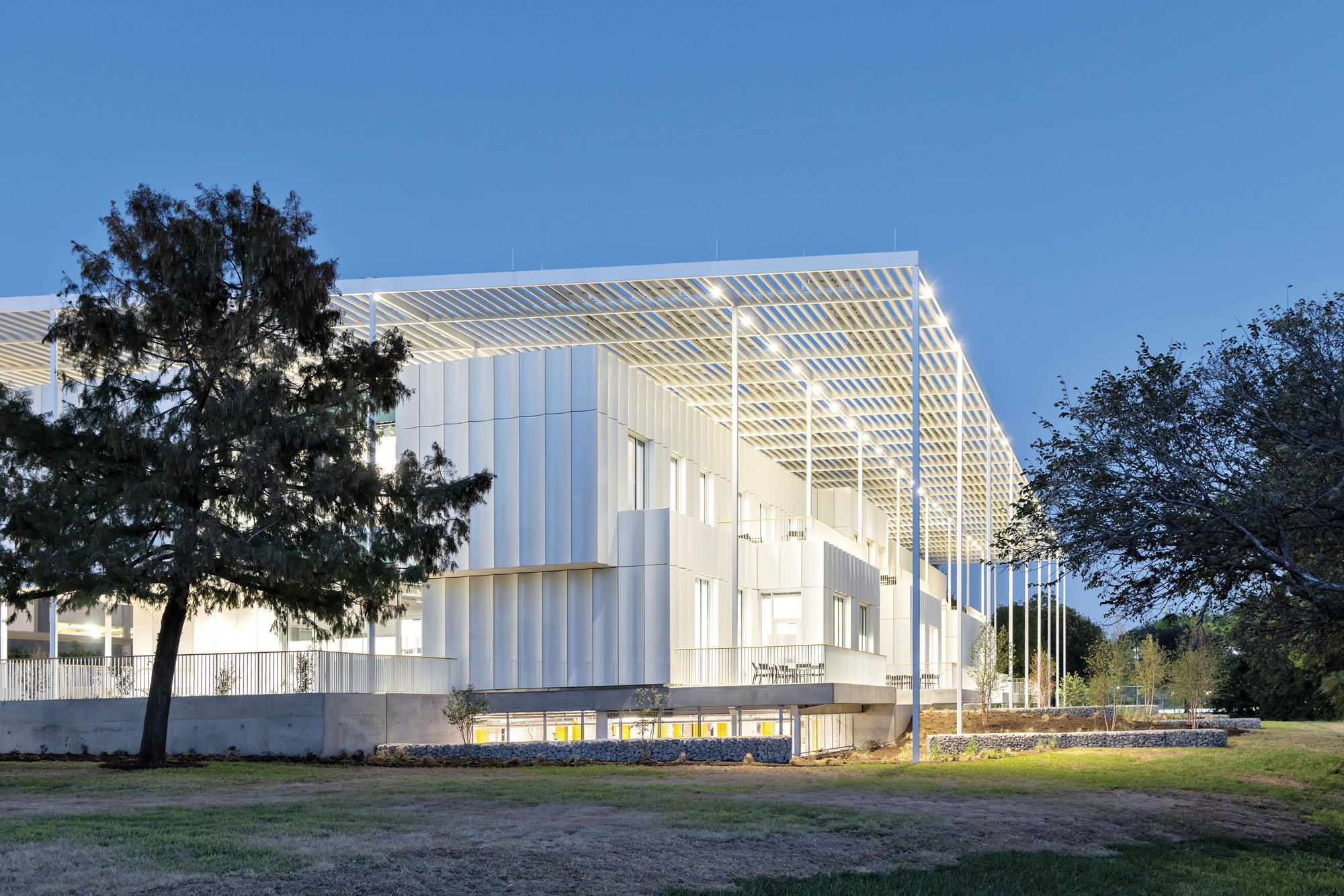 March 3, 2023
Inside the Houston Endowment's New Net-Zero Building
In 2019, Los Angeles and New York–based Kevin Daly Architects and Mexico City's Productora joined forces to vie with 120 other firms in an international competition for the chance to design the Houston Endowment's new headquarters. While the endowment, one of the largest private foundations in Texas, had an existing office, it was an uninviting and somber space on the 64th floor of a downtown skyscraper. "It was much like stepping into an oil and gas firm or a banking executive's office," remarks the organization's president, Ann Stern. "No one wanted to visit our office, and it didn't reflect who we are."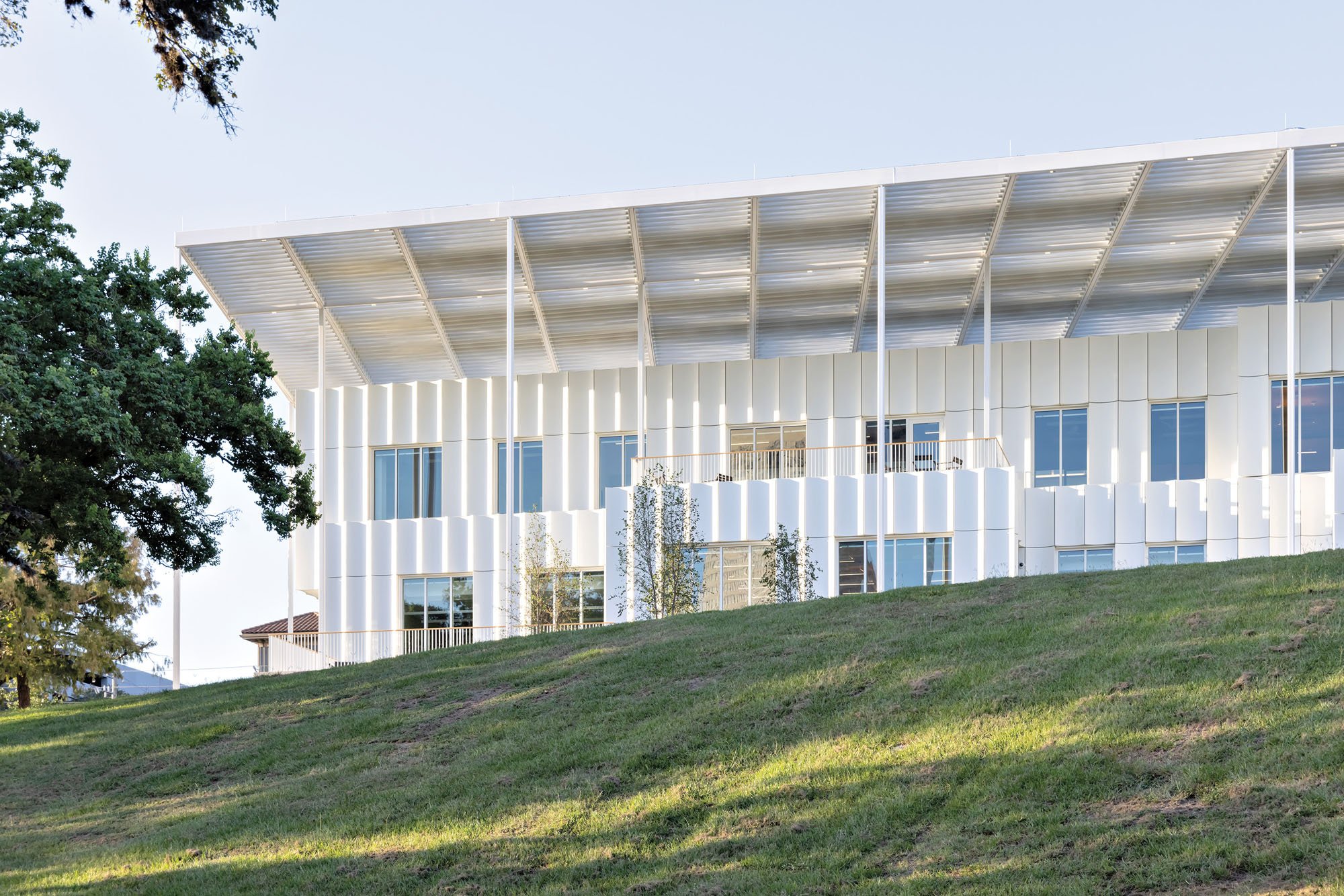 Reflecting the Houston Endowment's Identity
The organization, which supports multiple initiatives and groups tied to parks, arts and culture, and education, needed a headquarters that felt more accessible; it also needed to be state-of-the-art, showcasing enough sustainable features to serve as a net-zero role model for the rest of the community. That imperative was more in line with its identity as a philanthropic organization than something more architecturally showy.
Meanwhile, a restrained profile would also be appropriately contextual: Houston has impressive antecedents of this type—austere buildings in verdant settings amid generous tree canopies such as a recent expansion at the Museum of Fine Arts, Houston; the Brochstein Pavilion at Rice University; and buildings that make up the Menil Collection.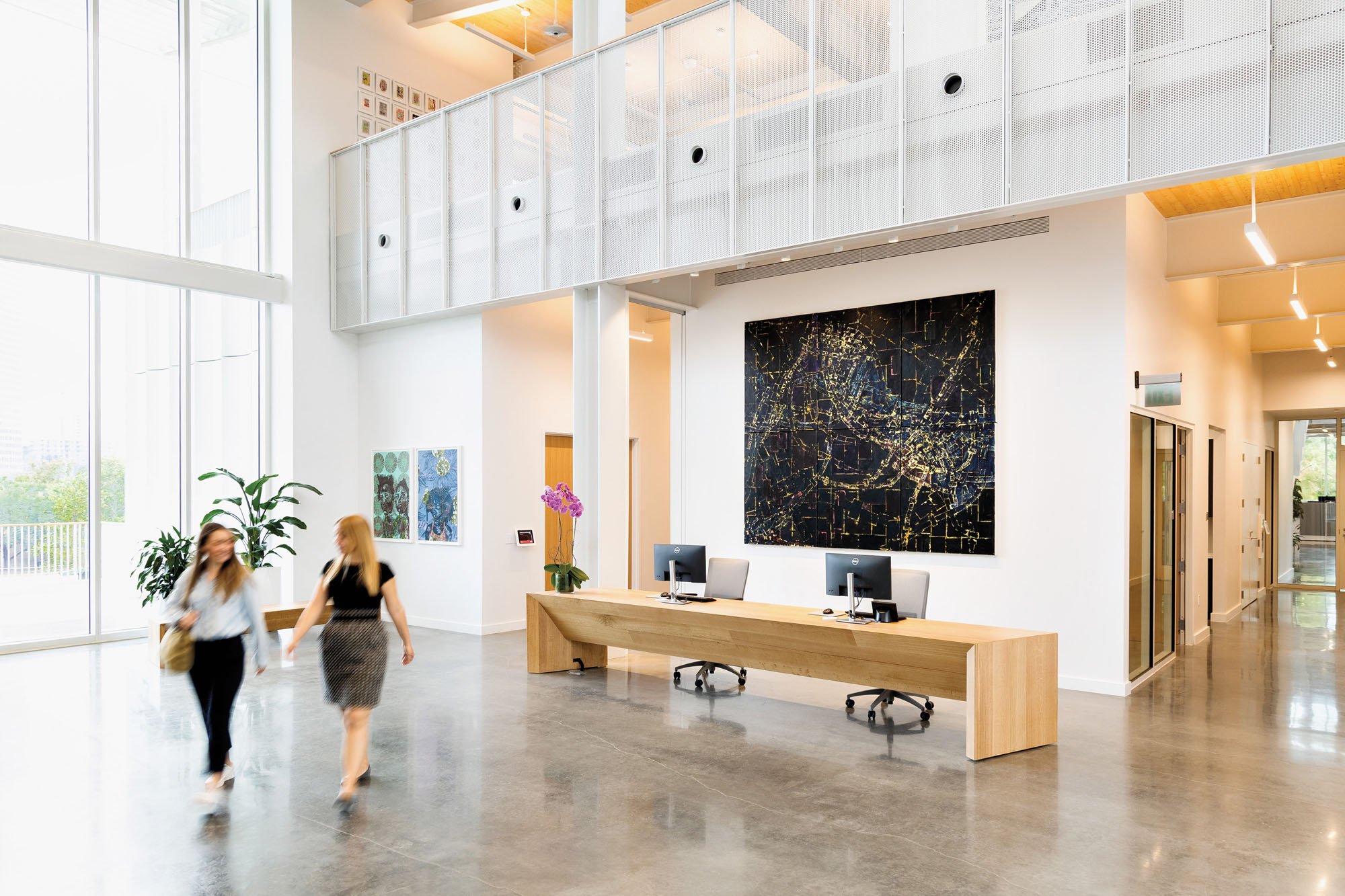 The endowment's prominent shade elements similarly exploit a wealth of greenery by filtering light and shadow from the treetops that shelter its location on a leafy edge of Spotts Park. Although it is highly visible as a lone building peeking through trees, the impact is softened by its use of dappled light, terraces, and clerestory windows. That design celebrates a local effect known as the "zoohemic" canopy, a term coined by architect Lars Lerup, a Swedish-born scholar and Rice University professor, in describing Houston's generous landscape of trees in his 2011 characterization of it as a "suburban city."
"Houston has a tradition of a number of notable buildings that balance this same relationship between building and park, public and private," says architect Kevin Daly.
---
More from Metropolis
---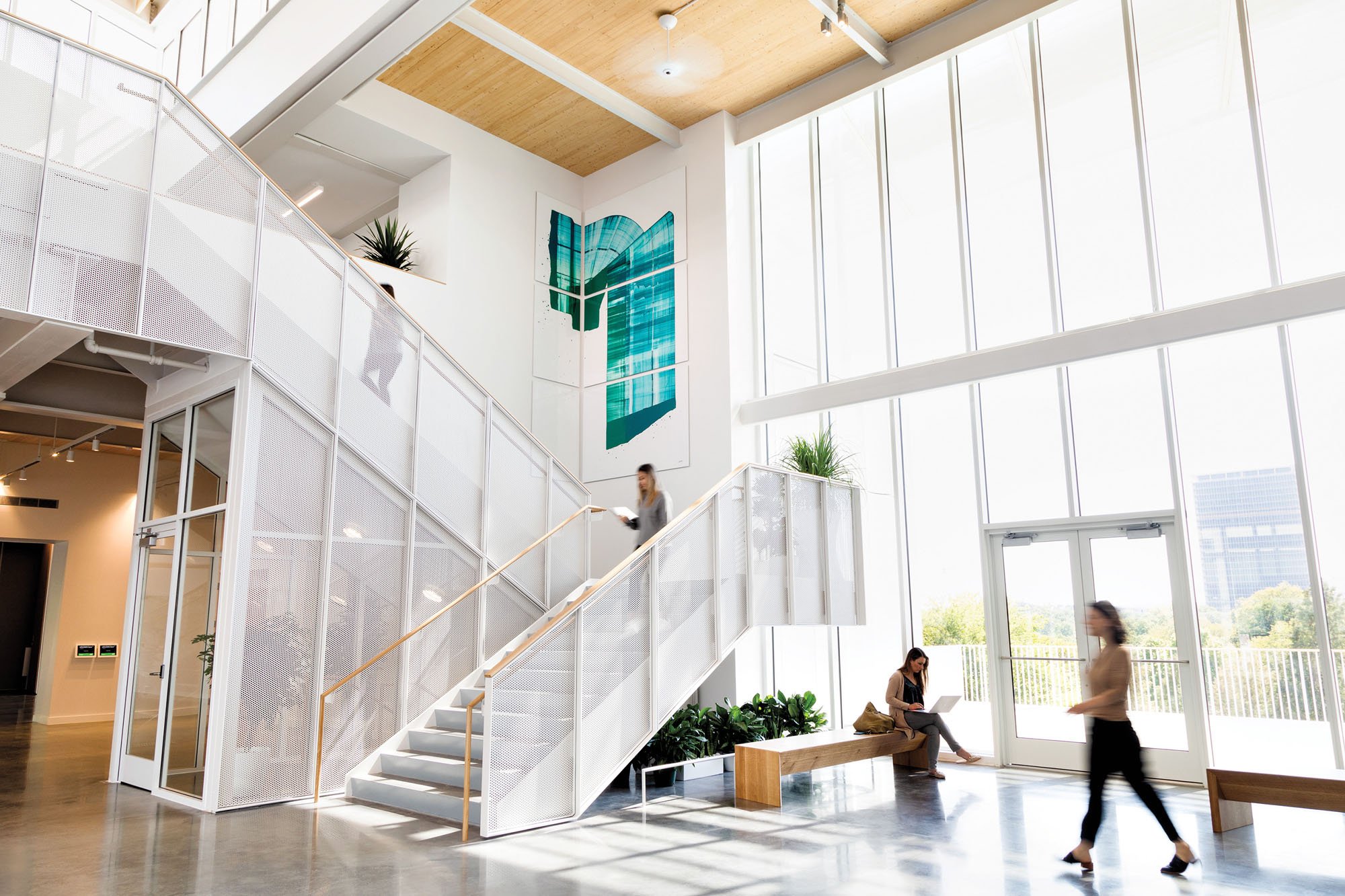 Sustainable Strategies for an Uncertain Future
But while those elements help to align the building with tradition, its engineering is breaking new ground. That's thanks in large part to consulting on sustainability by Stuttgart environmental engineering firm Transsolar. The firm was pivotal in projecting the structure's energy performance and problem-solving within the increasingly warming site. "They have been a really strong partner in establishing a basic approach to evaluating solar control and how to manage the overall heat gain," Daly says.
While such considerations were important to the endowment as well, the goal wasn't to build a "big sustainable achievement" as much as present a "toolbox of possibilities" that could be adopted by the organizations it works with, he notes.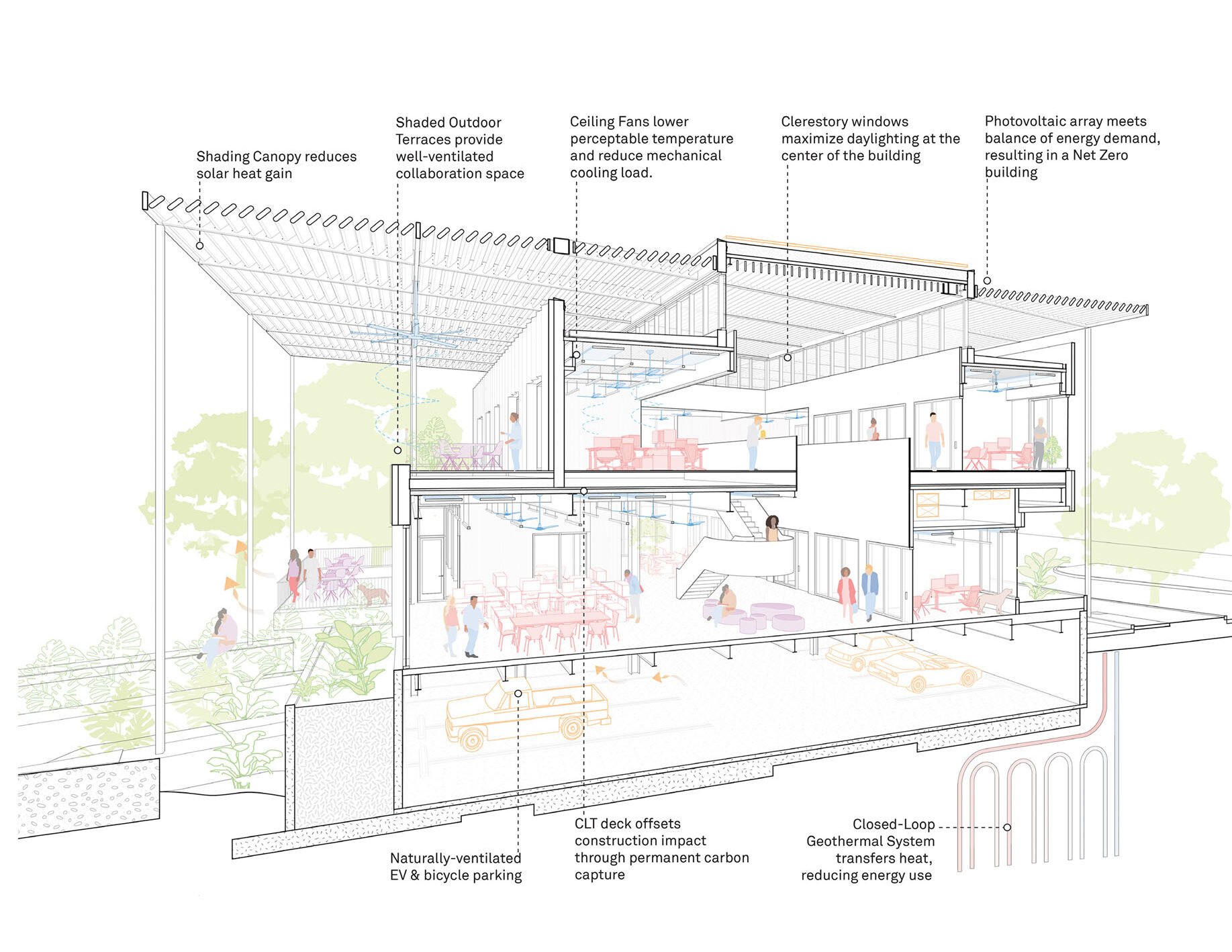 These strategies included utilizing a hybrid structure made of steel and cross-laminated timber; the combination is high-performing and similar in strength to concrete. The team also dug 300-foot-deep geothermal wells that "eject heat into the soil around the building and help warm it during the winter," says the architect.
A scalloped aluminum rainscreen, fabricated by Kinetica in Monterrey, Mexico, minimizes interior cooling demand. The lightweight material, while more energy-intensive initially than, say, terra-cotta, was chosen for its potential recyclability. "A lot of design is now focused on strategies for making buildings completely recyclable," Daly says. "We took the same considerations in mind for this project." And while the project technically checks all the boxes for LEED Platinum certification (the client has chosen not to formally pursue the actual certification), gaining that recognition is less important to the architects than actually achieving carbon neutrality by 2030.
"That's something we aspire to on all projects," Daly says. "After the first year, the building will be energy self-sufficient year-round."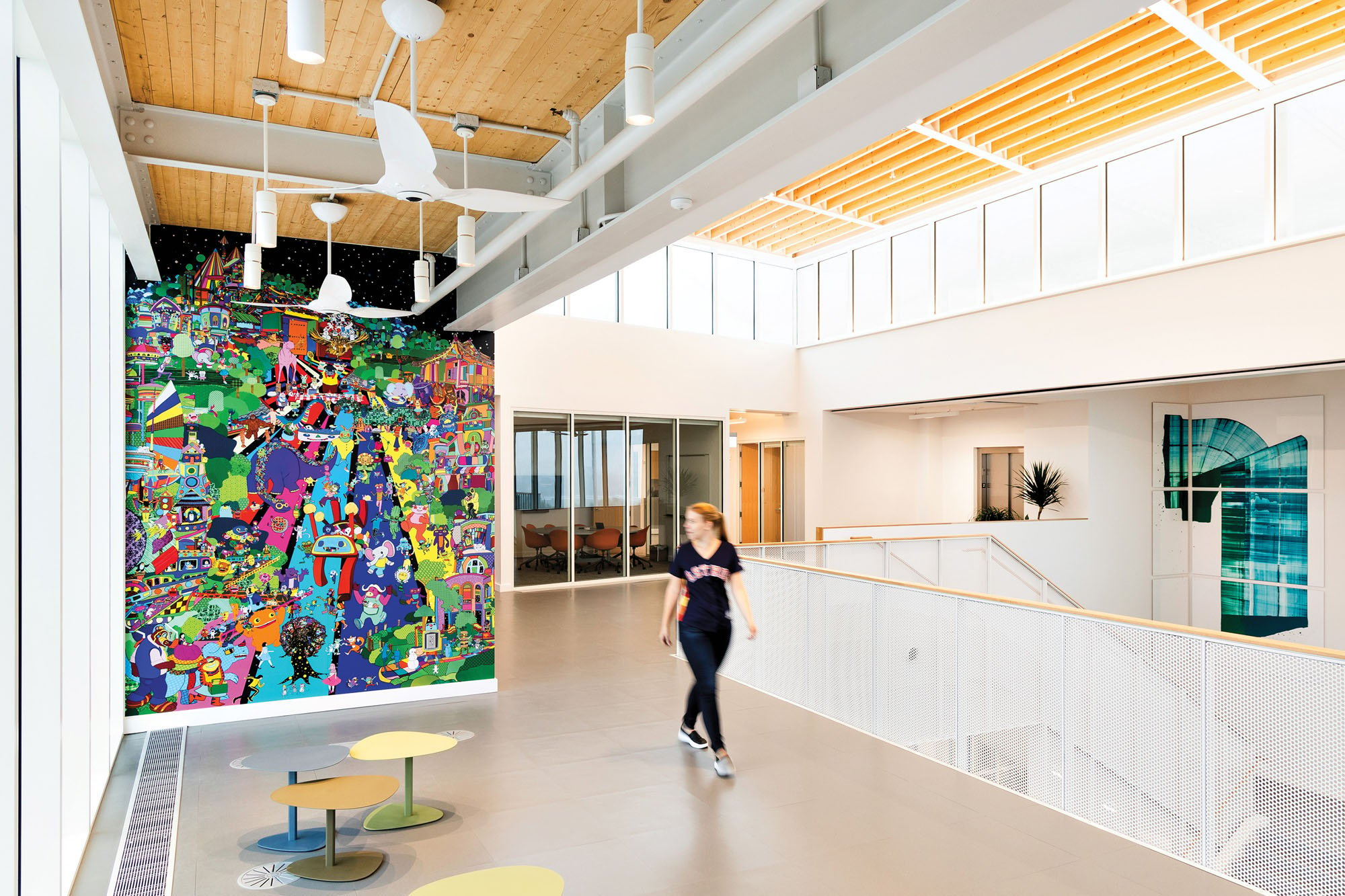 Getting the Houston Endowment Building Right from the Beginning
Opened to the public in October 2022, the 31,718-square-foot, $21 million building has become a place where both endowment employees and partners look forward to meeting and continuing to work toward a better Houston. The organization's new home is a representation of the city and its complex social structure, and it offers solutions to ever-evolving environmental changes and concerns.
"For us, building a [ground-up structure] when we had never done so before, it was incredibly important to find the right design team. Not only did they build a beautiful, sustainable building but they wanted to understand what we do. They got it right from the very beginning," Stern concludes.
Selected Sources
Architects: Kevin Daly Architects and Productora
• MEP engineer: CMTA
• Structural engineer: Arup
• Civil engineer: BGE
• Environmental graphics: MG&Co.
• Landscaping: TLS Landscape Architecture
• Lighting: George Sexton Associates
• Sustainability: Transsolar
• Construction manager: Forney Construction
• General contractor: Bellows
• AV/IT: 4B Technology
• Acoustics: Newson Brown
• Waterproofing: CDC
INTERIORS
• Bath fittings: Toto
• Bath surfaces: Mutina
• Ceilings: Navy Island, Armstrong
• Flooring: Nora, Interface
• Furniture: Allermuir, Normann-Copenhagen, Herman Miller
• Kitchen surfaces: Corian
• Lighting: Zumtobel, USAI
• Paint: Benjamin Moore
• Textiles: Maharam
• Wall finishes: Unika Vaev
• Laminate casework: Fenix
EXTERIORS
• Cladding/facade systems: Kinetica
• Doors and windows: Kawneer
• Glazing: Tristar, Cristacurva
• Lighting: Ecosense, Selux
BUILDING SYSTEMS
• Photovoltaics: JA Solar
• Building management: Johnson Controls
• Geothermal system: Cole's Drilling with MLN