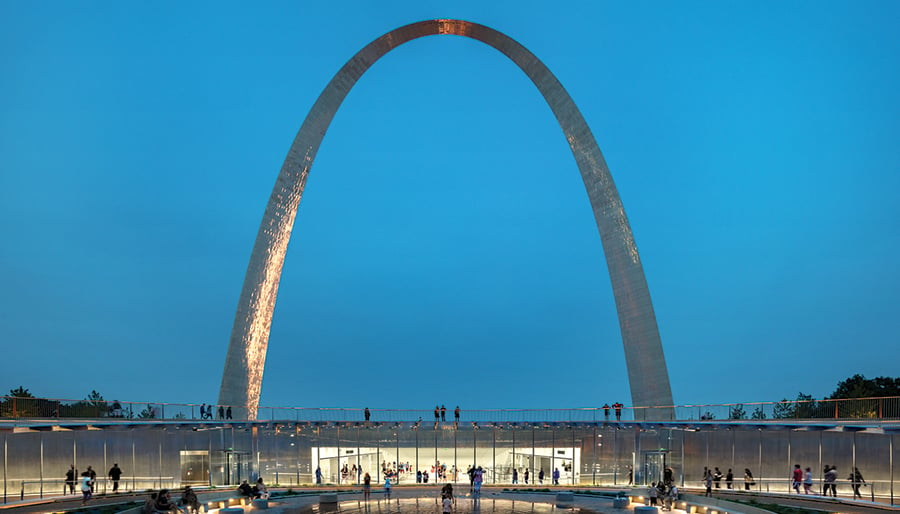 April 12, 2019
At St. Louis's Gateway Arch Museum, James Carpenter Uses Light as an Architectural Material
James Carpenter Design Associates expanded the museum—located at the base of Eero Saarinen's soaring icon—by adding 45,000 accessible square feet for exhibitions.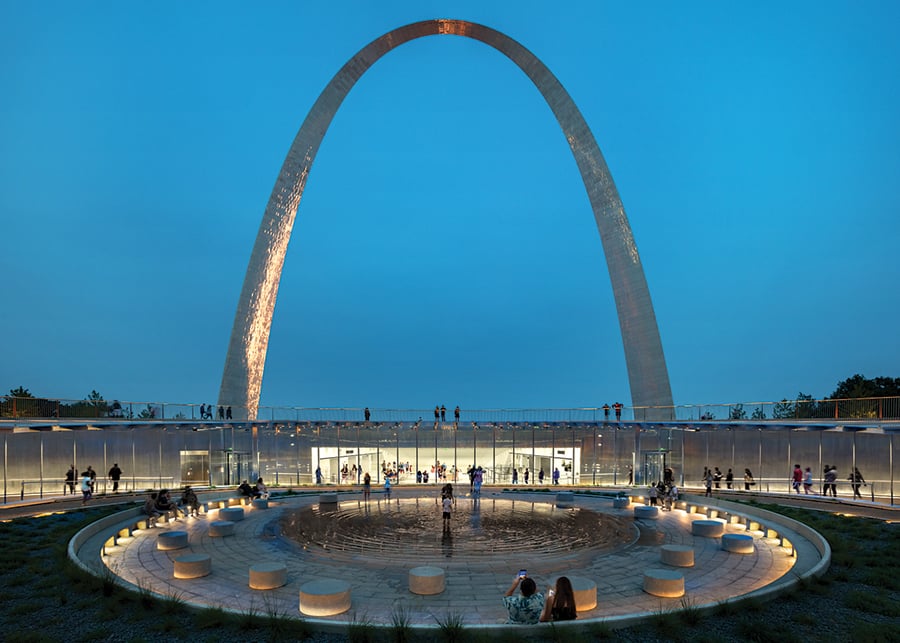 ---
Eero Saarinen's Gateway Arch in St. Louis relies on uninterrupted sight lines for its soaring, sky-reflecting impact. So in a 45,000-square-foot 2018 expansion, James Carpenter Design Associates (JCDA), working with Cooper Robertson, kept the adjoining museum below-ground, revealing just the entrance at the arch's base as a kind of reflection of the icon itself. It, too, is a conic section, and the experience of the procession into the entry hall and gallery space is one of vastness, lightness, and buoyancy. Remarkably, one passes through the threshold, crossing from outdoors to in, above grade and then deep below, without any sense of darkness or compression.
To achieve this continuous sense of space, JCDA had to go granular, mastering not only light but surface, down to its grain and texture. Working with frequent collaborator Tillotson Design Associates, the lighting studio led by Suzan Tillotson, the team designed an artificial lighting system to illuminate the subterranean exhibition hall and create what firm founder James Carpenter calls a "daylit sky-dome"—a room without a lid.
A series of anodized aluminum tubes, each three inches in diameter, runs the width of the gallery's ceiling, with each coffer bay containing LEDs that shine upward. The stream of light particles hits concealed optical aluminum fabricated in Germany whose subtly textured surfaces diffuse and reflect light. The particles scatter, bouncing off surfaces in the space—the round tubes, the buffed floor—all of which have the same softening effect.
---
More from Metropolis
---
"You're using that source of light to provide what we refer to as a volumetric presence of light," akin to the experience of ambient daylighting when outdoors, Carpenter explains. "That's a key part of all of our work…. There's a sense of spaciousness that has almost a material presence."
To add to the effect, the LED system is programmed to match light temperature with daylight colors: coolest at noon, growing warmer as the afternoon deepens into dusk. "You're trying not to duplicate the quality of daylight, but to have a sensibility that the space is dynamic," says Carpenter.
It is, as he puts it, "a type of choreography"—between light source, surface, volume, and the atmospheric conditions of each hour of each day
An earlier version of this article misrepresented the architects in this project. Cooper Robertson and James Carpenter Design Associates designed the project. The article has since been updated for accuracy.
You may also enjoy "NOMA-Nominated: Banc of California Stadium by Gensler Los Angeles."
Would you like to comment on this article? Send your thoughts to: [email protected]