July 6, 2017
Jersey's New "Jenga Tower" Boasts Hotel-Like Homes
The Jersey City Urby, a new 69-story residential tower, seeks to attract residents by invoking the feel of a boutique hotel.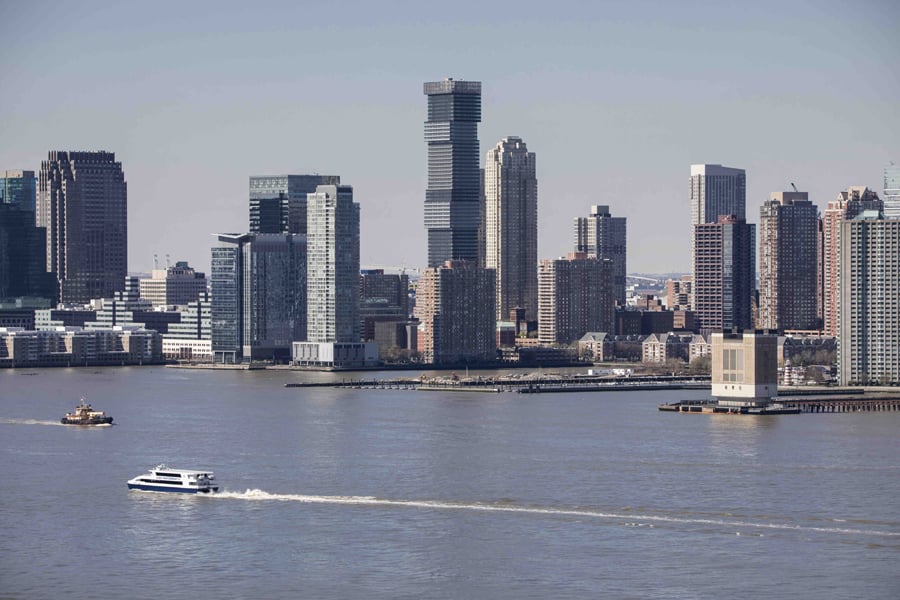 Sitting almost directly across from the Herzog & de Meuron skyscraper at 56 Leonard Street in Tribeca, New Jersey recently acquired a "Jenga tower" of its own. Book-ending the Hudson River with its Manhattan counterpart, the 69-story Jersey City Urby  (which welcomed its first residents in April) resembles a slightly more orderly version of the block game and is among New Jersey's tallest skyscrapers.
The move to New Jersey can be a tough sell to long-time denizens of Manhattan and Brooklyn. The Urby concept seeks to attract its residents by invoking the feel of a boutique hotel (the brand's first property opened in Staten Island last year with others planned for Harrison, NJ, and Stamford, CT). David Barry, president of the firm behind Urby, Ironstate Development, tapped his experience developing hospitality projects, including The Standard, East Village and the W Hoboken, for the project .
"I saw that boutique hotels appealed to guests in ways that went beyond their design," he says. "The entire hotel experience is what makes a property attractive—from its collection of thoughtful amenities, to the opportunities these spaces create for guests to socialize and interact."
---
More from Metropolis
---
Key to that interaction at Jersey City Urby is the exuberantly designed 9 Bar Cafe in the building's lobby, which is open to the public from 7:00 am to 9:00 pm. Residents have ample opportunities to mingle in other communal spaces, including the pool deck, communal kitchen (which hosts special events and classes), garden room, gym, and yoga studio. When they move in, they're also given their own water bottle to fill at one of the filtered water stations in the building.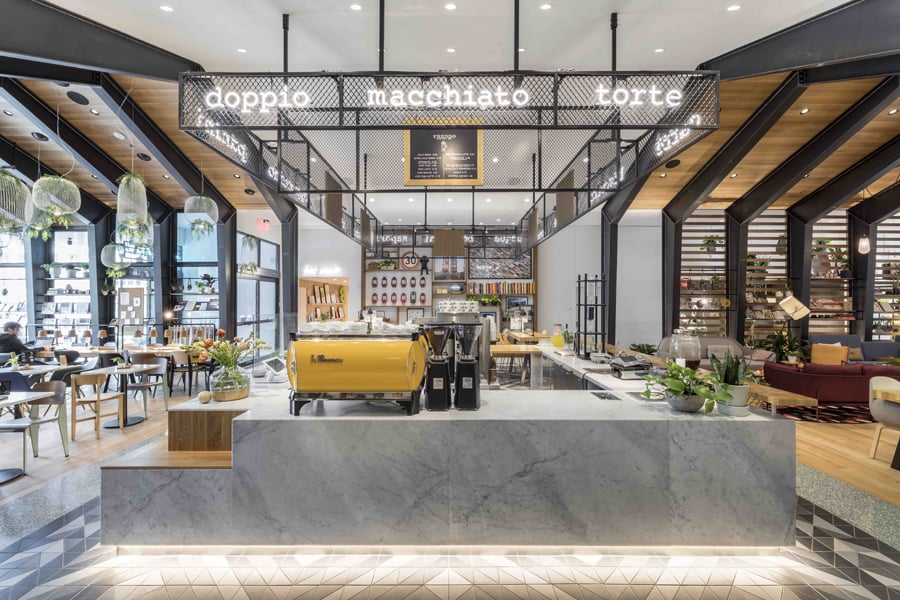 "Urby puts in a tremendous amount of effort in building the Urby family via their events and keep us engaged all the time with a lot of fun activities," says Deepak Khurana, who moved into the building when it first opened. "I love the communal bond it has helped me create with my fellow residents."
Ironstate selected Dutch architecture firm Concrete (known for the architecture and interiors of citizenM hotels, as well as W Hotels in London and Switzerland) for all four Urby iterations. At Urby Jersey City, studios and one- and two-bedrooms comprise the 762 apartments, all of which have expansive windows and hardwood floors.
And then there's the view—you can't really get a better one of Lower Manhattan's western flank. It's proven to be an important salve for new residents dealing with the psychological barrier of, well, living in New Jersey. (In reality, Jersey City is closer to Manhattan than most parts of Brooklyn.) In fact one prospective resident who thought he was going to view an apartment building in Greene Street in Soho, was so enamored by Urby (located on Greene Street in Jersey City) that he decided to move there anyway.
"The same dynamics that appeal to residents of neighborhoods such as Williamsburg and Long Island City—skyline views, waterfront access and ease of commute to Manhattan—also make new development in Jersey City appealing," says Barry. "Many New Yorkers have come to view Jersey City as an extension of New York City when weighing their housing options."