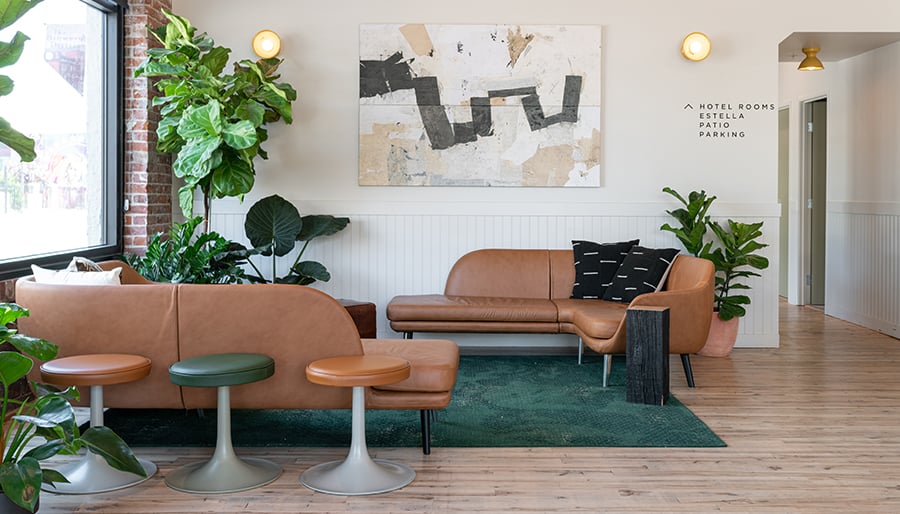 August 19, 2019
Reno's Only Boutique Hotel Blends High Design with Local History
An entrepreneur and Reno native tapped San Francisco–based Studio BBA to transform a modest historic complex into The Jesse, a six-room hotel with food and beverage venues.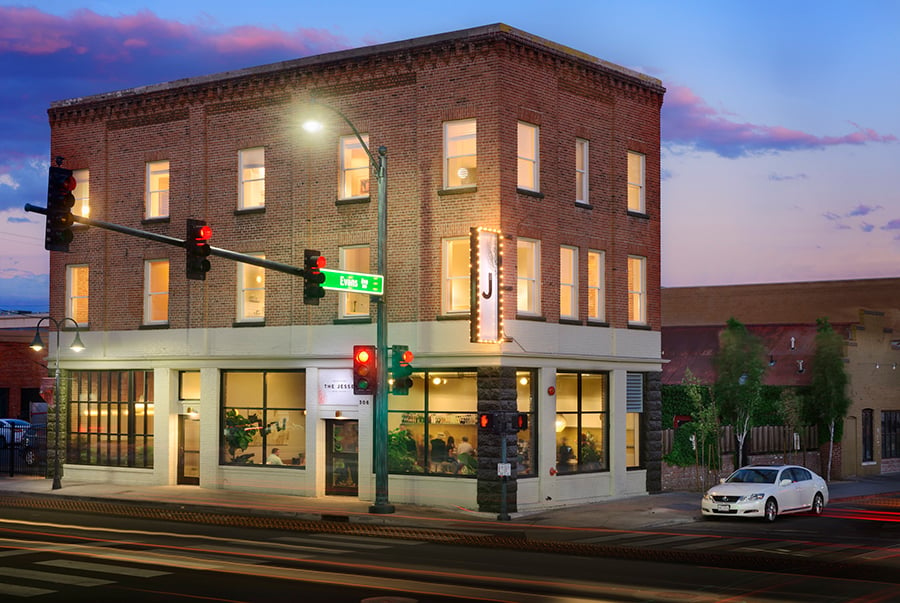 Reno, anointed by civic boosters in 1929 as "the Biggest Little City in the World," can now lay claim to its first boutique hotel. In a city replete with casinos, The Jesse distinguishes itself by its conspicuous lack of craps tables.
"There's a new direction towards non-smoking, non-gaming hotel and nightlife culture that's not about gambling and the Wild West," says Anand Sheth of Studio BBA, the San Francisco–based architecture firm behind The Jesse. "This project is at the beginning of that trend of great urban spaces, [the] revitalization of the downtown, and a food and beverage program that's younger and fresher, and has intrinsic value."
In 2018, hospitality entrepreneur and Reno native Piper Stremmel tapped Studio BBA to help strategize and design the six-room hotel, complete with a bar/cafe and a separate taco shop/mezcal bar. Stremmel, who has previously worked for the Ritz Carlton and Marriott corporations, was living in San Francisco's Mission District when she began noticing aesthetic similarities among her favorite neighborhood spots (including the Sightglass Cafe). The unifying link, she discovered, was Studio BBA, and so she kept them in mind as she began looking to launch her own soup-to-nuts operation.
---
More from Metropolis
---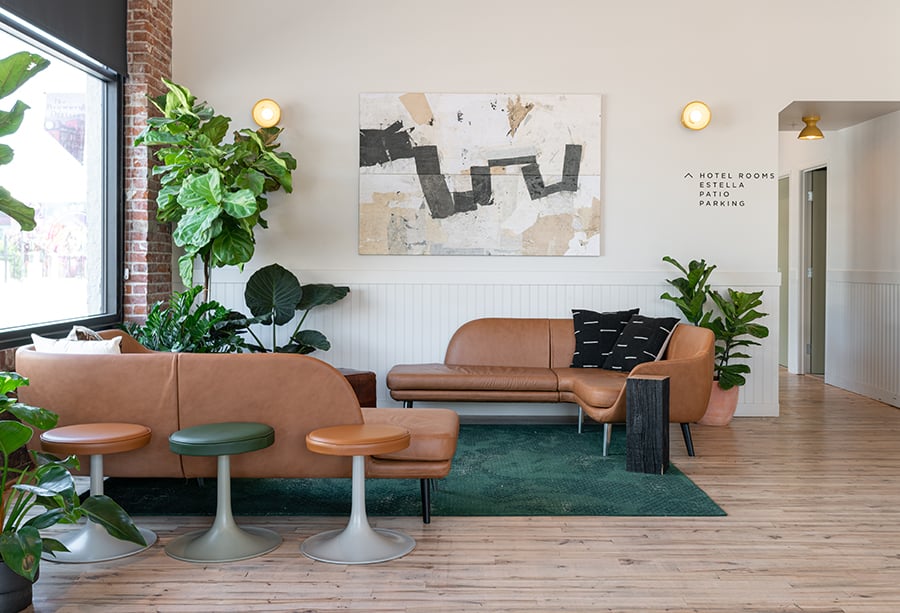 The Jesse is situated within Reno's unofficial Brewery District (on 4th Street, just east of downtown Reno), a hodgepodge of craft breweries, distilleries, and adaptively reused industrial structures. "It's kind of in the perfect central axis point of a few different neighborhoods," Sheth says. "We took it upon ourselves to respect this building, and honor its history as an adaptive reuse project."
The hotel's six guest rooms occupy the top floors of a three-story 1907 brick structure, which has served as a bar and rooming house over its long history. Each room features a different layout and decor. "We let the architecture dictate the rooms," Sheth says, drawing attention to the corridor spaces, which the designers widened to improve circulation around the central staircase. Studio BBA specified a subdued palette that further accentuates the building's features, while also nodding to the surrounding landscape. The team sourced simpatico materials and objects from Concrete Collaborative (terrazzo), Schoolhouse Electric (lighting), Heartwork (cabinets), and Reno-based craftsman Eric Freyer (custom millwork).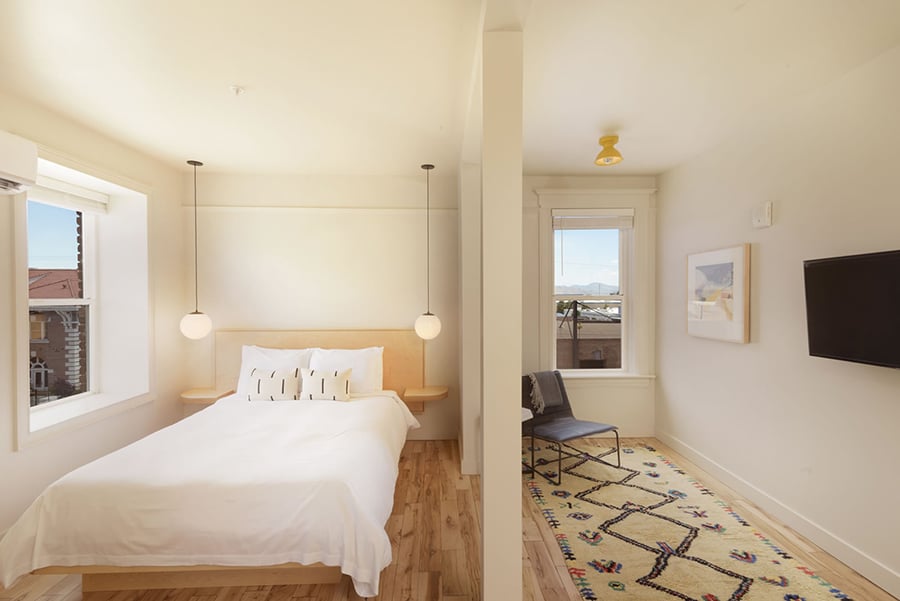 Estella, the taco shop and mezcal bar, is tucked within the shell of what was once a wagon and blacksmith's shop, further tying into Reno's transient Western expansionist history. Sheth describes the outdoor space, which is also available as a private event venue, as "an oasis and urban environment" where hotel guests can mingle under the wisteria vine-covered trellis.
For The Jesse, Stremmel has brought an understanding both of what her hometown has to offer and what visitors want. She's confident that locals are ready for a hospitality paradigm shift. "Reno's really funky, and has a counterculture vibe," she says. "There's the whole Burning Man thing and art-based events. The city is really growing into its own."
You may also enjoy "How Nashville's Nick Dryden and DAAD Are Reinventing Music City."
Would you like to comment on this article? Send your thoughts to: [email protected]