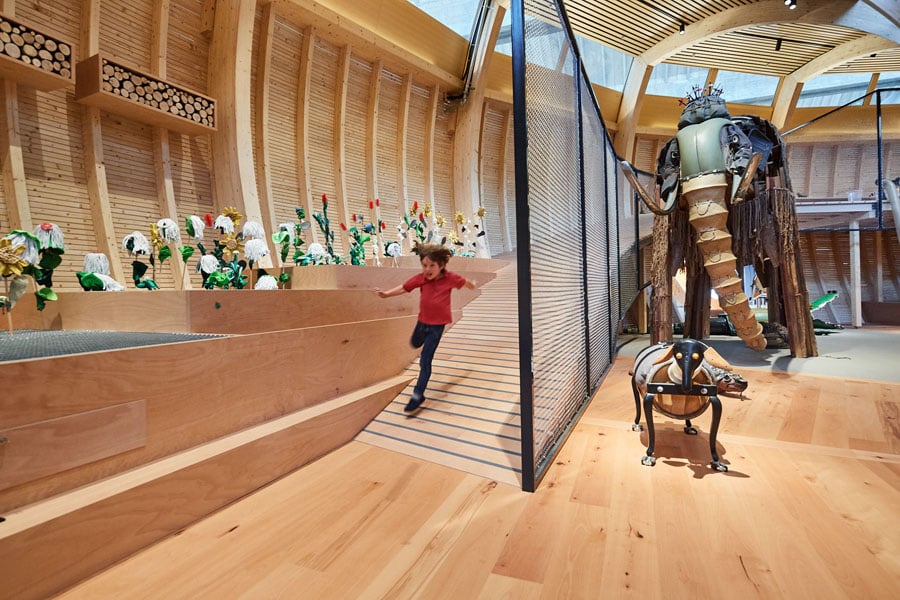 January 29, 2021
A Noah's Ark–Themed Children's Museum Lands at the Jewish Museum Berlin
At ANOHA, the new permanent children's installation designed by Olson Kundig, a 1960s flower market shelters an ark where 150 animal sculptures roam.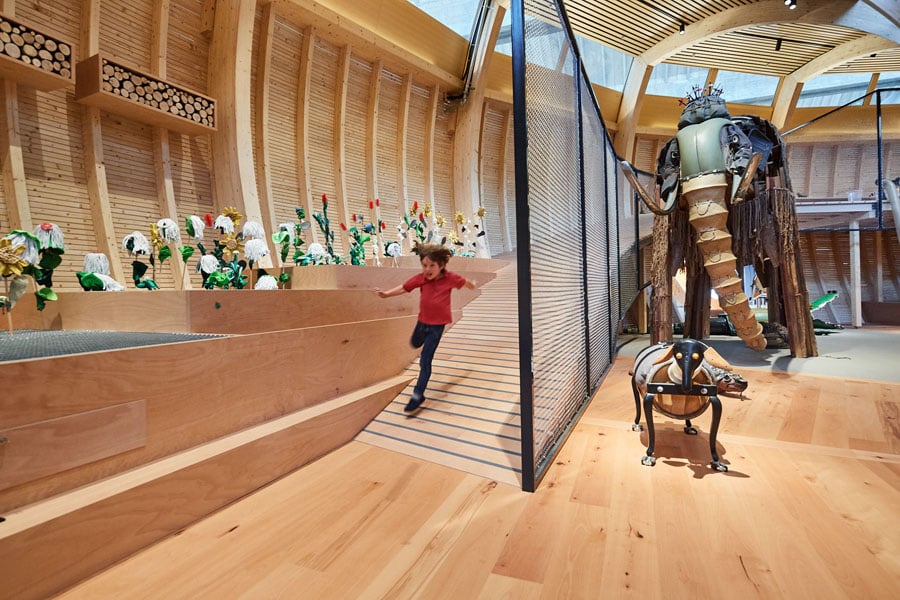 ---
In 2015, Germany met a refugee crisis with open arms. Around that time, Seattle-based design practice Olson Kundig was working on a proposal for a Noah's Ark–themed addition to the Jewish Museum Berlin dedicated to children's programming. "We were inspired by Germany's act of generosity in response to the refugee crisis," says the firm's principal and owner Alan Maskin. "Compared to a traditional ark with distinct front and back sides, our ark has no back or front; instead, it is democratic and unbiased."
The ark was pivotal to the museum's brief and is also a reference to the rising tides spurred by climate change. "There are over 500 flood myths and narratives from all over the world—many of them predating the Old Testament," notes Maskin. Olson Kundig's 6,300-square-foot wooden ark is loosely torus-shaped, as depicted on a little-known ancient Sumerian tablet uncovered during the firm's research and noted in Irving Finkel's book The Ark Before Noah: Decoding the Story of the Flood. With a 92-foot diameter, the ark stands almost 23 feet high. Its honey-hued spruce construction stands in warm contrast to the sparse Brutalist lines of the repurposed concrete hall that used to house a flower market in the 1960s.
Left unheated, the old building wraps the new building like a second skin, and three seasons of the year it provides a sheltered inner courtyard for museum programming. "The existing structure has these beautiful curved concrete light scoops that run the entire ceiling, and they're all north facing so there's a beautiful quality of light," notes Maskin.
---
More from Metropolis
---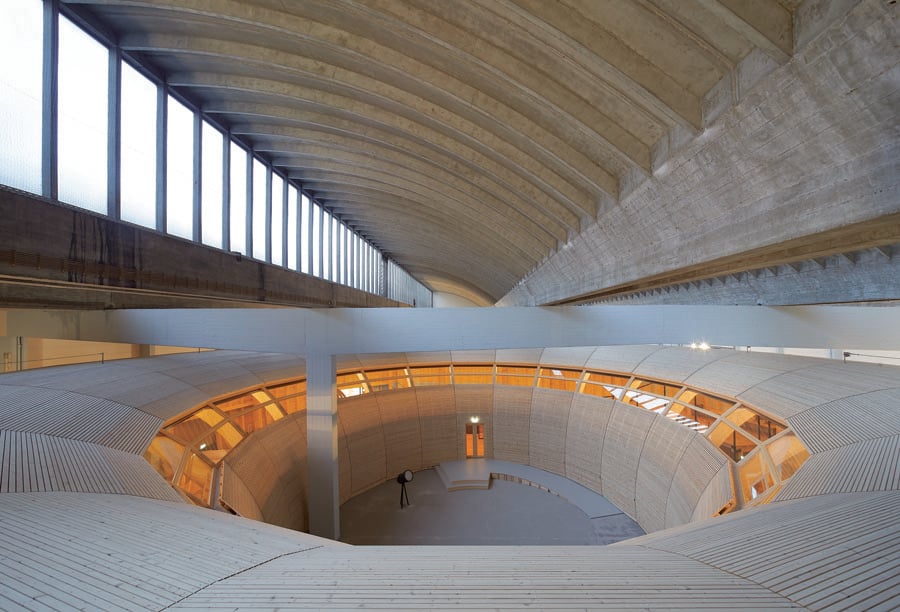 ---
The building-within-a-building concept includes 150 animal sculptures roaming a welcoming space where children—of all ages, faiths, and backgrounds—can play together. Maskin explains: "You might think, isn't that all playgrounds or all children's museums? But due to larger issues of exploitation and discrimination, I don't think the answer is yes."
Evoking childlike wonder from kids and adults alike, the animals are fabricated from found objects and recycled materials given new life by a team of 18 German artists, most local to Berlin. The smallest at just three inches is a humble cockroach made out of an old spoon. A rowboat and the fenders of a VW Beetle can be spotted on a woolly mammoth that towers nearly ten feet. With monkey bars, hammocks, and cozy corners, the animals await interactive play—as soon as the museum can safely reopen in accordance with COVID-19 regulations.
An atypically young advisory committee assisted the Olson Kundig team throughout. The diverse group of 21 local students, ages six to 12, are behind the museum's name, ANOHA—a shortening of "Arche Noah," an initial suggestion they labeled a mouthful. They're also behind one of the museum's most popular animals, one rumored that Noah left behind. Consisting of hundreds of welded spoons, a disco ball, and rainbow-hued yarn, a unicorn returns in full glory.
You may also enjoy "Studio O+A's Toolkit Says Returning to the Office Can Be Joyful"
Would you like to comment on this article? Send your thoughts to: [email protected]
---
Register here for Metropolis's Think Tank Thursdays and hear what leading firms across North America are thinking and working on today.