August 19, 2020
A New School Building in Stuttgart Completes the City's Renowned Ballet Scene
Munich firm Burger Rudacs designed the two faces of the new John Cranko School to interface with the city in contrasting ways.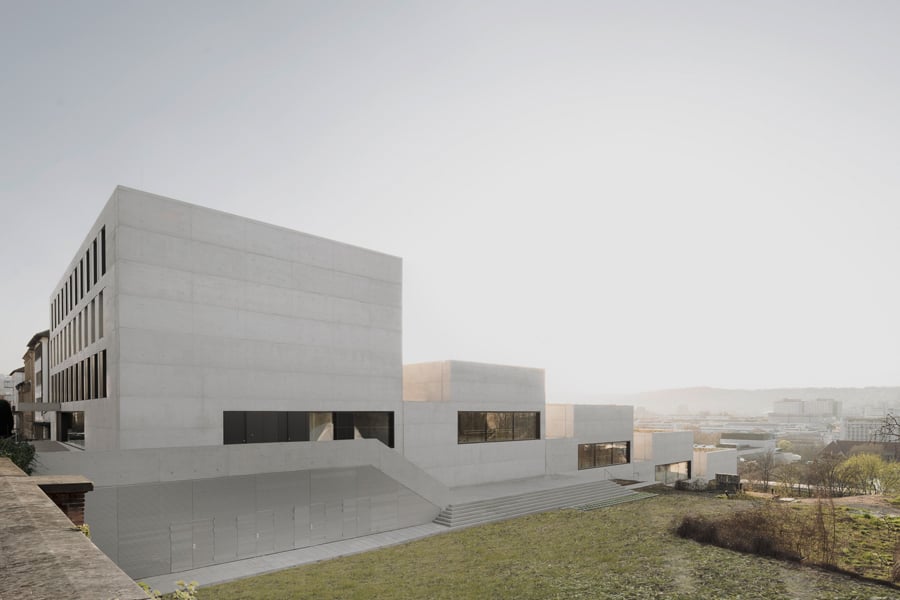 Stuttgart, a hilly city of about 600,000 in the valley of Germany's Neckar River, dates to Roman times, but is today mostly famous for its economy, being home of two of Germany's most well-known car companies, Daimler and Porsche. Yet the town also features a world-known ballet company, the Stuttgart Ballet, which dates to the 17th century. The ballet scene's modern history and reputation is largely based on the South African choreographer John Cranko, who came to Stuttgart in 1961—having fled there after facing prosecution for "homosexual activities" in London. Once in Stuttgart, Cranko quickly assembled an international group of highly talented performers and additionally established a ballet school in 1971, which carries his name since his sudden death in 1973.
Today the John Cranko School still ranks high among the world's finest ballet schools, though it took 40 years for it to gather enough money for a new building with more rehearsal space and accommodations for the boarding school to fit international standards. In 2011, the school bought a steep site in the city center and launched an international architecture competition. Despite many highly prominent entrants including Snøhetta and Zaha Hadid Architects, Munich-based architects Birgit Rudacs and Stefan Burger ultimately won out. In June 2020, the building was completed.
In short, the results are outstanding: Burger Rudacs split the enormous spatial program of 13,000 square meters into five parts, placing them along one straight line over the site. But given the site's steepness, the five parts of this huge building in fair-faced concrete form a terrace-like and repetitive structure, reminiscent of the wine-growing structures of the region. This design enabled the architects to formulate two different faces, each with its own entrance. On the western, lower end lies a public entrance that leads to the theater stage, a sculptural and expressive wall, five stories high and facing a busy city square next to Stuttgart's Staatsgalerie and City Opera. The entrance to the boarding school is placed at the building's eastern end, facing a sleepy residential neighborhood with a quiet facade of concrete and dark anodized aluminum panels. Here, the school forms a four-story building as a moderate and friendly neighbor.
---
More from Metropolis
---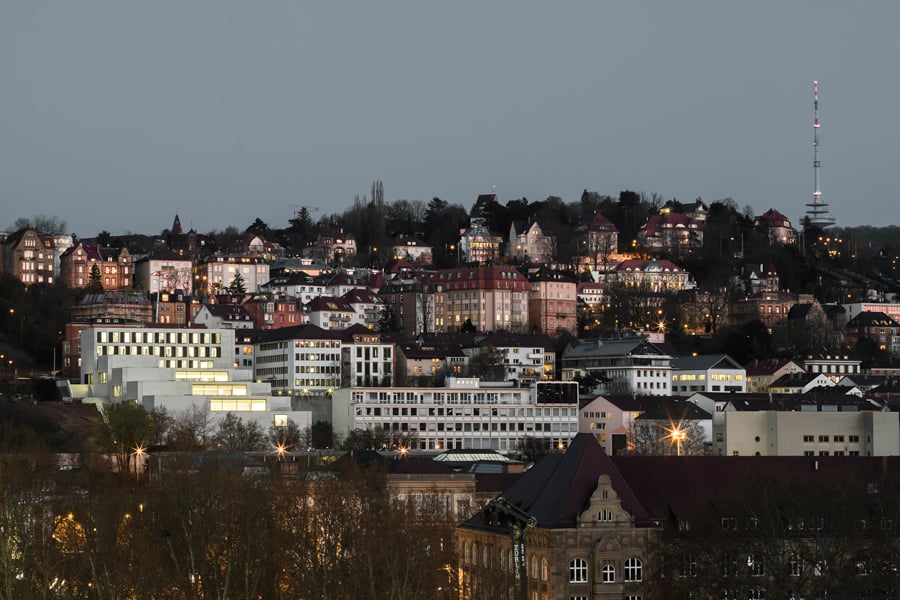 In between those two ends stretches one corridor, wide and long, functioning as an internal street. It links eight rehearsal spaces, each one with a panorama window to the city, a small open courtyard, and an inner window from where schoolmates can watch. Walking down the corridor, one encounters a repeating pattern of spaces and broad views to both the building and the city outside. "We interpreted the different areas of the program as one continuous organism," says Rudacs. "Everyone in this house wants to dance. So dancing is the glue, that keeps everything together. And analogous to dancing, we sorted the spaces in sequences and rhythmic repetitions."
The minimal palette of materials and colors—wood, steel, and concrete in gray, brown, or black—underscores the design's astounding calm and highly concentrated atmosphere, and forms a perfect backdrop for the joy of dancing. With this building, the John Cranko School has finally received a building to fit its world-class reputation.
You may also enjoy "Mahlum Architects' New Office is the First Living Building–Certified Project in Portland."
Would you like to comment on this article? Send your thoughts to: [email protected]
---
Register here for Metropolis Webinars
Connect with experts and design leaders on the most important conversations of the day.