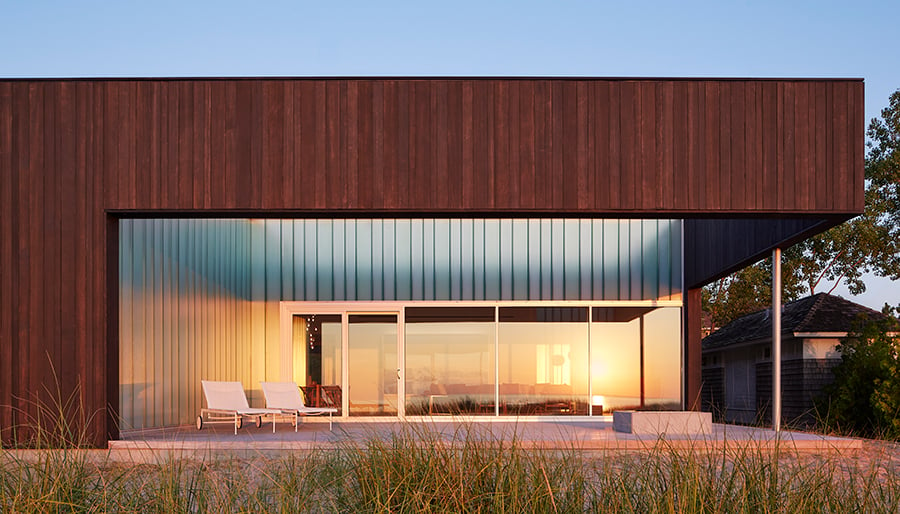 July 20, 2018
John Ronan Architects Designs a Secluded Beach House on Lake Michigan
The house blurs the lines between indoor and outdoor with four courtyards, endless lake views, and materials inspired by the surrounding landscape.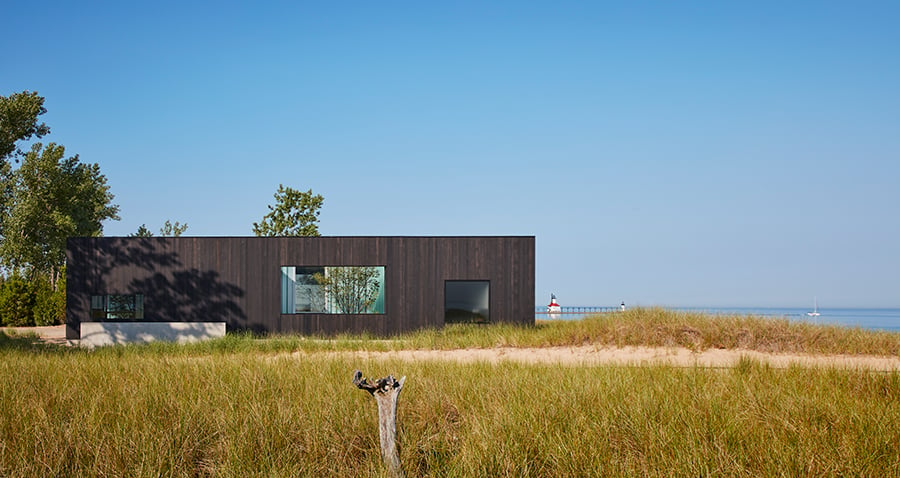 ---
From a distance, it's hard to tell where the Courtyard House ends and where Lake Michigan's sandy shores begin. Located in Saint Joseph, Michigan, an hour and a half drive from Chicago, the one-story vacation house blends into its beachy surroundings, which is exactly the point.
The clients—a lawyer and his wife, the latter of whom grew up in the area—approached Chicago-based firm John Ronan Architects to design a low-maintenance getaway that would replace a small, postwar cottage on the two-acre site. The replacement dwelling would eventually become their full-time residence upon retirement. Having worked with Ronan 12 years prior on a different project, the Chicago-based couple trusted the firm would realize their vision.
Organized around four outdoor courtyards, the abode was designed with seclusion and privacy in mind. "Inside the house, you never have a sense of the other [next-door] houses—it's removed," firm principal John Ronan tells Metropolis.
---
More from Metropolis
---
Shielded from onlookers, the different courtyards are activated throughout the day by the sun. Like regular rooms, each outdoor space serves a distinct purpose. The formal entry courtyard features a pool and bridge leading to the front door. The dining courtyard, situated east of the kitchen, is more informal and has a gravel floor. The lake-facing courtyard features a fireplace and is made for relaxing, while the beach courtyard acts as a service entrance with a shower.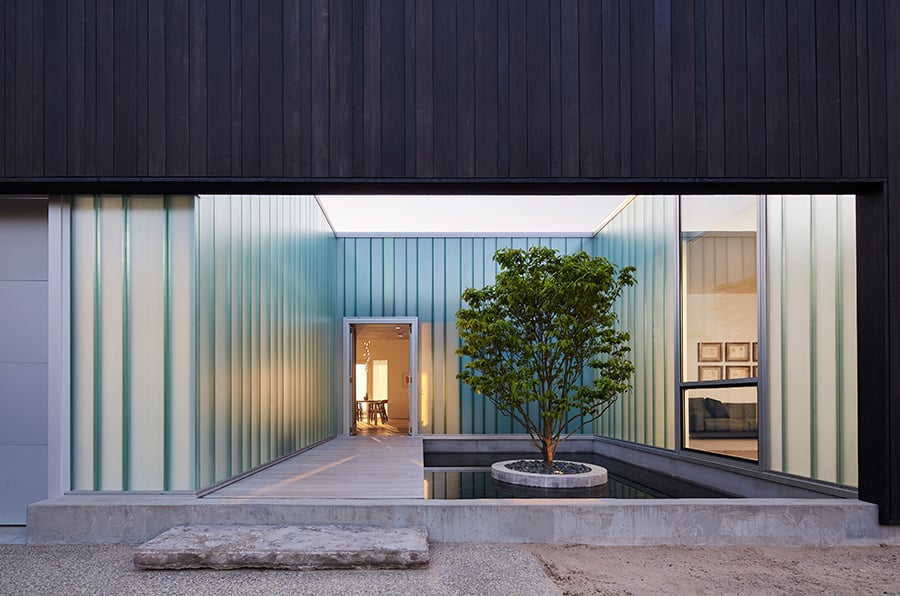 ---
Combining aesthetics and functionality is a running theme throughout the project. Planted beach grass, a natural addition to the landscape, helps keep the site's sand in place. The charred wood exterior, while also making the house insect- and rot-resistant, recalls the beach bonfires common in the area. Bright, sandblasted channel glazing mimics the green beach glass that peppers the sand.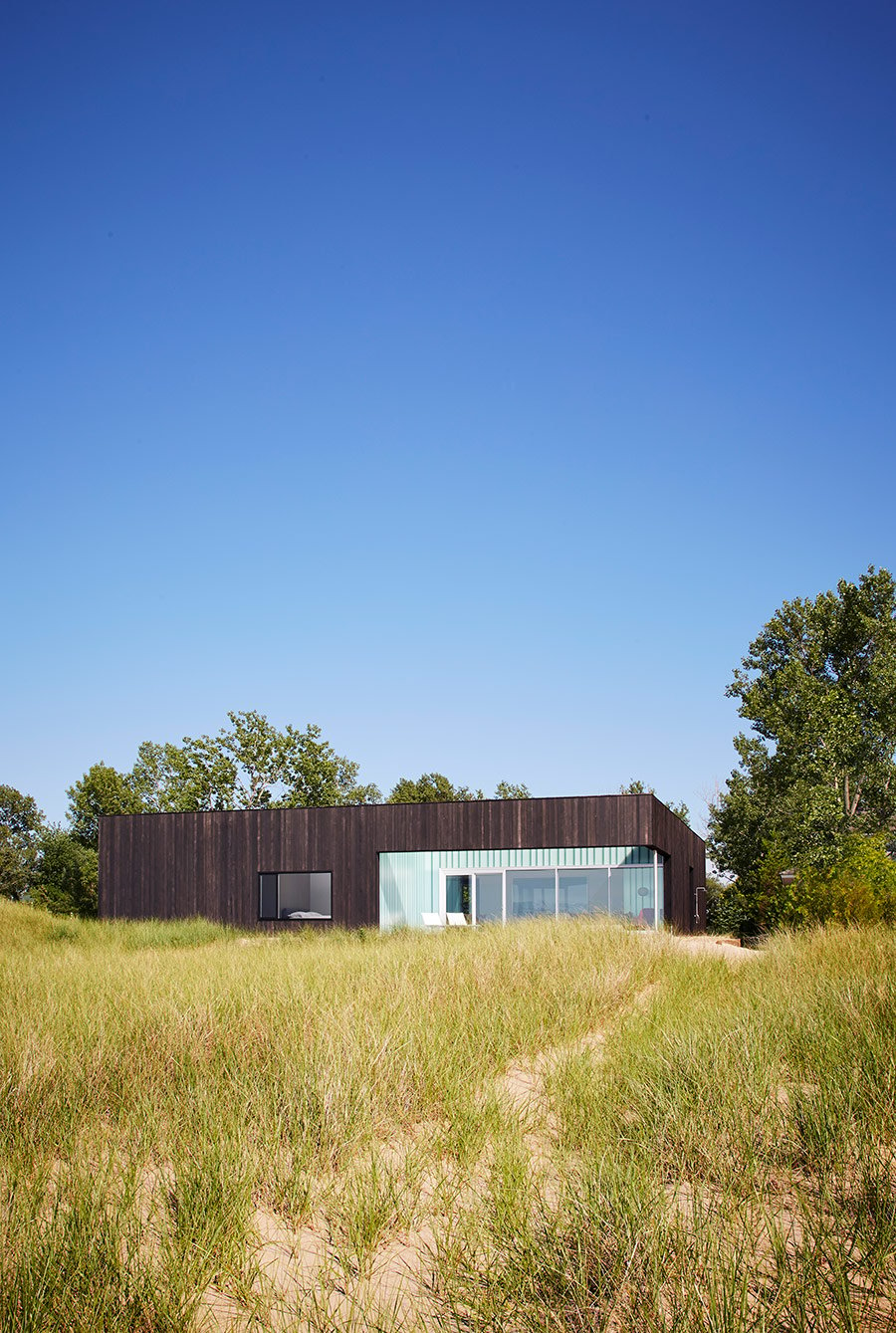 ---
"The exterior of the house is virtually maintenance-free and meant to age well with time," says Ronan. "It's meant to feel like it was in dialogue with the site, and that over time, the site and building would fuse together."
The end result, completed last year, ultimately gave the clients the calm, serene retreat they desired. "The owner calls it her church," says Ronan.
You may also enjoy "Using the Wind, This Home Tells Its Residents When It's Time to Surf."