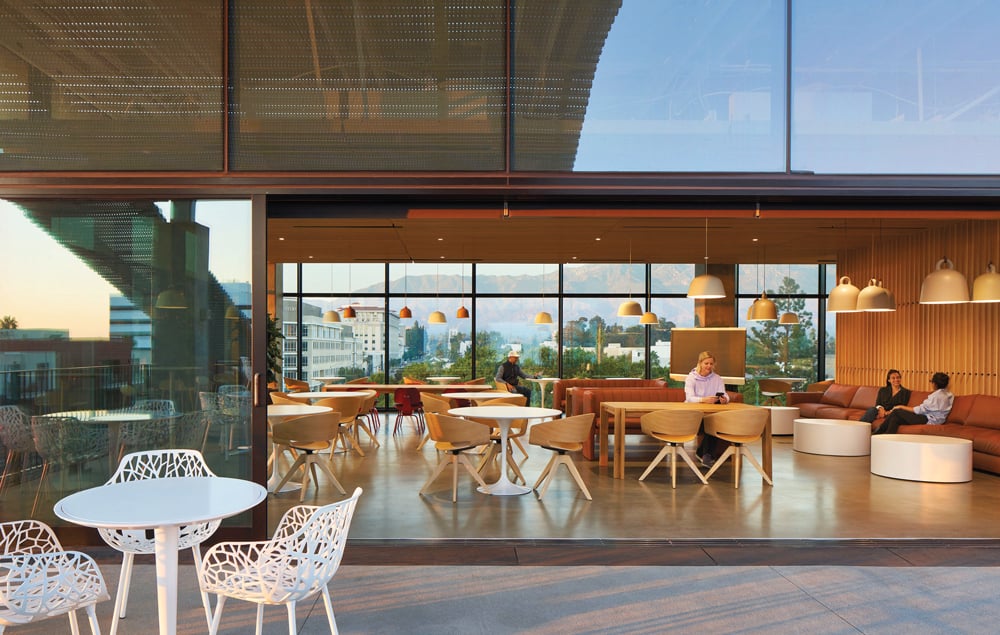 June 25, 2021
Kaiser Permanente and CannonDesign Imagine a Medical School that Prioritizes Student Life
Pasadena's Kaiser Permanente Bernard J. Tyson School of Medicine integrates well-being and holistic healthcare with an emphasis on social justice.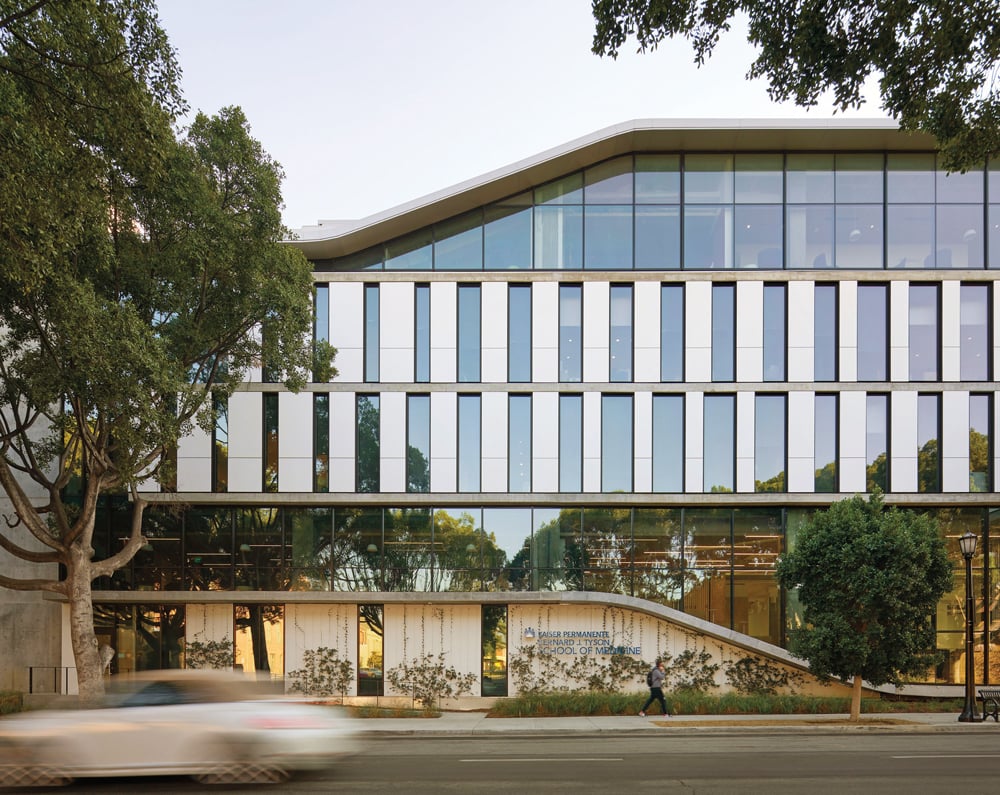 ---
If you design a different type of medical school, will it produce a different type of doctor?
This question is at the heart of the Kaiser Permanente Bernard J. Tyson School of Medicine, which opened its doors in July 2020, smack in the middle of the pandemic. The 50 students in the inaugural class are, by default, part of an experiment that hopes to integrate an education that highlights well-being and holistic care, an emphasis on social justice, and a new vertical campus that embodies these approaches.
The 80,000-square-foot school was designed by the Los Angeles office of the international architectural and design firm Yazdani Studio of CannonDesign and sits on a corner site just off Colorado Boulevard in Pasadena, California. Its four-story facade, a sandwich of glass and concrete panels topped by a sloping shade structure, resists the easy, quasi–Arts and Crafts contextualism that marks much of the new construction in a city that was famously home to Greene & Greene. Mehrdad Yazdani, design principal at CannonDesign's national practice and director of the Yazdani Studio of CannonDesign, calls the building "an exploratory laboratory in medical education," noting that unlike many other medical schools, Kaiser Permanente's didn't have the supporting amenities of a university campus. Instead, the school is directly in concert with the surrounding urban context.
---
More from Metropolis
---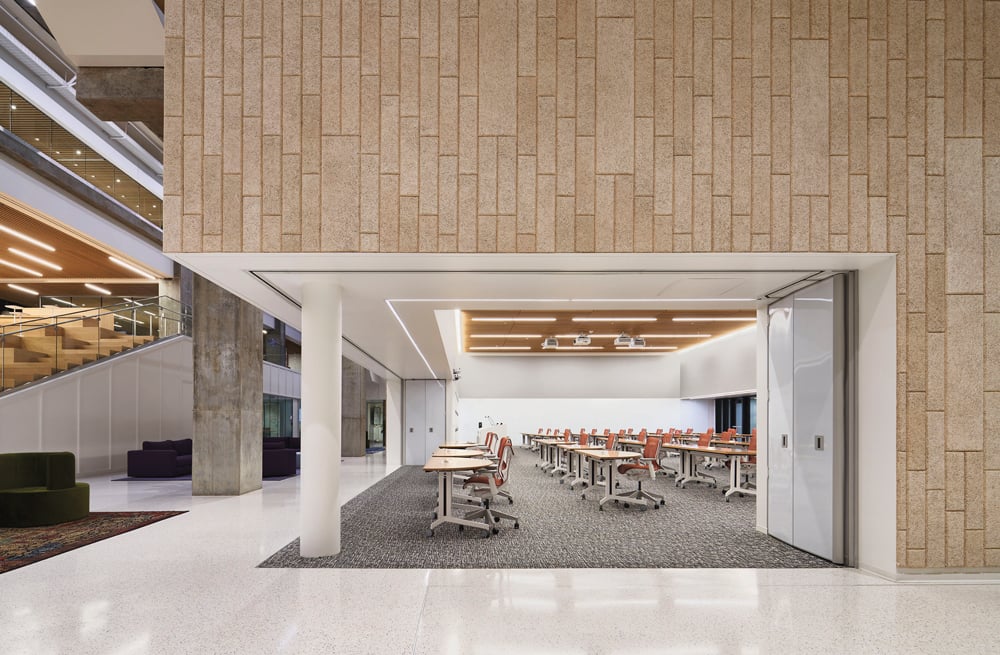 ---
Expansive, double-height windows at street level look directly into the ground-floor lobby, where the sculpture Bridge (Science of Speed) by artist Glenn Kaino hangs as part of a building-wide art program. The 45-foot-long artwork depicts multiple casts of the arm of runner Tommie Smith, who famously raised his fist in protest against racism and inequality at the 1968 Summer Olympics in Mexico City.
"We challenge the way medical education is taught," says Walter Harris, Kaiser Permanente's senior vice president for administration and finance. "Equity, inclusion, and diversity are built into the curriculum. A good doctor understands that patients have various lives that they come from, but no matter what cultural background, we want all patients to be seen as the same."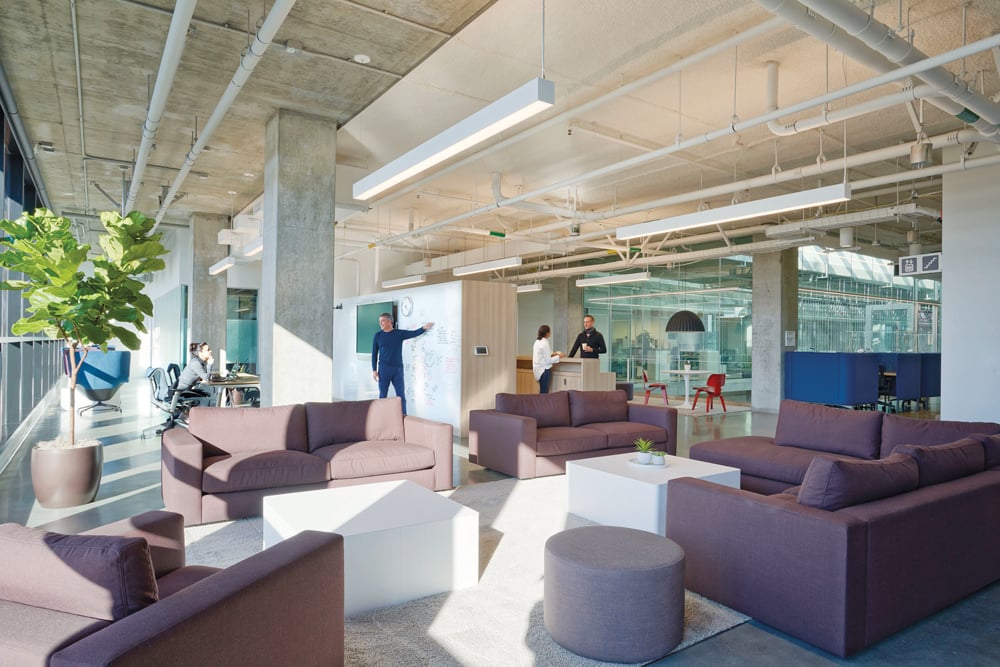 ---
To this end, the architects wanted to avoid producing a space that gave off intimidating, institutional vibes. They focused on creating openness and transparency between spaces, such as the large atrium at the heart of the building. Classrooms, offices, and lounge areas look into this space, which is over 50 feet tall and links other floors by a wide stairway. Toward ground level, this stairway intersects with the oak risers of what Yazdani calls the "town hall," a large, 250-seat auditorium connected to the lobby. There are movable dividers to enclose the space for events and lectures, but most of the time it's left open as a kind of informal amphitheater.
Yazdani and his team approached the design analytically, rethinking the amount of program required to serve administration, classroom, and student needs. Their research found that while typical medical schools allot 25 percent to simulating operating room and doctor-patient experiences, that figure could be reduced to just 6 percent on the Pasadena campus.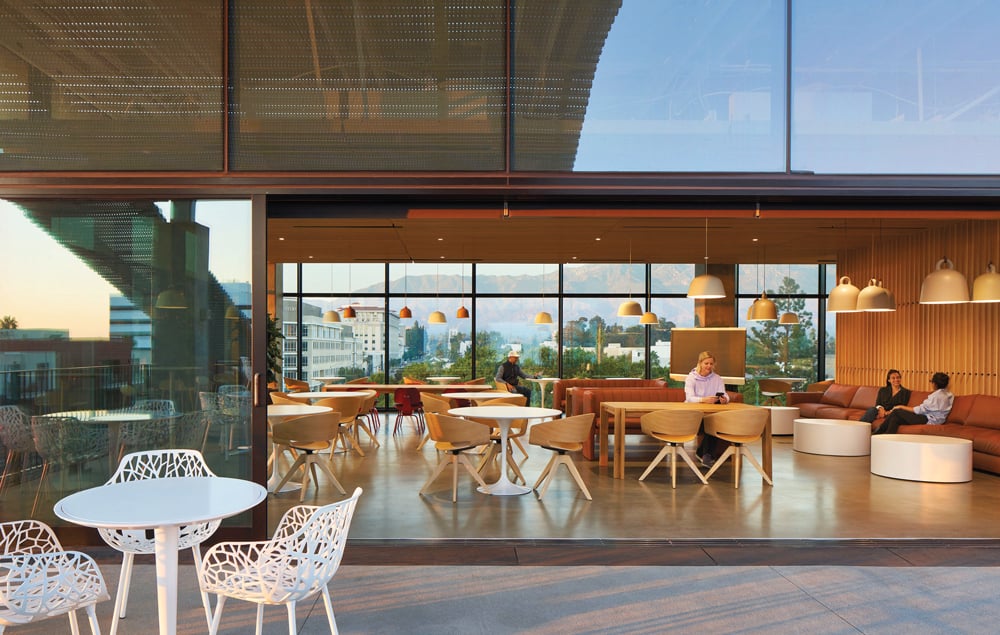 ---
The design team was able to reduce simulation areas because of Kaiser Permanente's pedagogy; student doctors engage in early hands-on clinical training in the organization's hospitals, which pervade the state, as California is home to Kaiser's headquarters. The school invested in new technologies such as augmented reality, which are on view in the Anatomy Resource Center on the third floor. The space boasts multiple plasticized cadavers, which reduced the need for wet labs, as well as interactive virtual bodies that can be dissected digitally.
"It is an evolving model that makes a feedback loop between education and practice, and is responsive to the real world," says Yazdani. "Because this isn't an academic campus, we needed multifunctional spaces that could be social spaces but also classrooms, places for student rest and contemplation." A reevaluation of administrative and other areas freed up more than 50 percent of the building to be programmed as flexible, almost hospitality-like zones for students to study, work out, and even meditate, a far cry from the 8–18 percent of "student life" square footage in the precedents the designers dissected. There's an outdoor theater and a gym on the largely open-air fourth floor. In the rooftop cafeteria, floor-to-ceiling windows offer dramatic views of the San Gabriel Mountains while a full teaching kitchen provides students with classes in nutrition and healthy eating. "Medical school is extremely intense and stressful. We built wellness into the space, and there are lots of spaces to decompress," says Harris, noting the high rates of depression among medical students.
One of the unexpected advantages of the focus on flexibility is seen in how the school has adapted throughout the pandemic. Small-group learning, not big lecture classes, is part of the pedagogy and the design, so classrooms could be easily modified for a reduced-size, socially distant cohort, and meetings take place in plentiful outdoor spaces. Ultimately, as pandemic restrictions ease, up to 200 students will fill the campus. And if Kaiser Permanente's experiment plays out as planned, they will become 200 physicians who have learned firsthand the connections between health and equity.
You may also enjoy "Three Adaptive Reuse Projects in North Carolina Reinvent Historic Mills"
Would you like to comment on this article? Send your thoughts to: [email protected]
---
Register here for Metropolis's Think Tank Thursdays and hear what leading firms across North America are thinking and working on today.