September 28, 2021
Kevin Roche's Union Carbide Headquarters Gets a Second Chance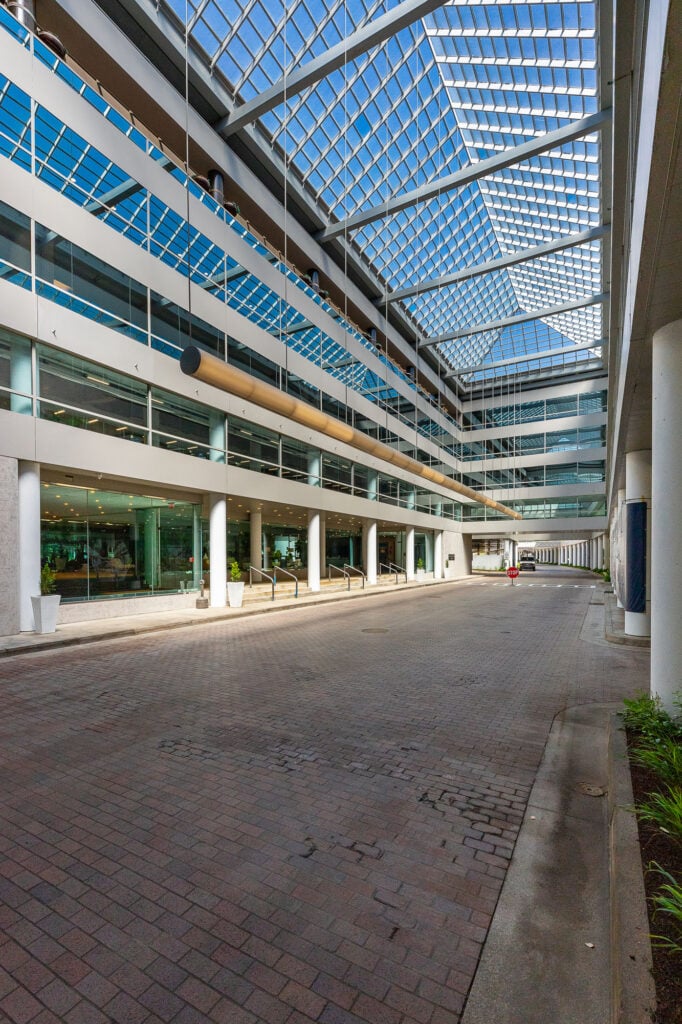 Some elements had been defaced by prior owners (paint had to be pressure-washed off granite exterior walls) but a largely intact design shines through decades of neglect. Deferred maintenance was considerable, to the tune of thirty thousand lightbulbs and extensive mechanical overhauls. Tile, marble, glass, and stainless-steel elements just required a cleaning.
Since requirements and expectations for multitenant spaces in 2021 are quite different from single corporations in the 1980s, tweaks have been necessary. Charney observes, "they brought everybody into the building in this dark parking garage. We put a new road in that allowed us to create a new [entrance]." The road runs between the west wing and the garage, lined with ample lighting and is far more welcoming than taking an eerie ramp into a vast garage.
---
More from Metropolis
---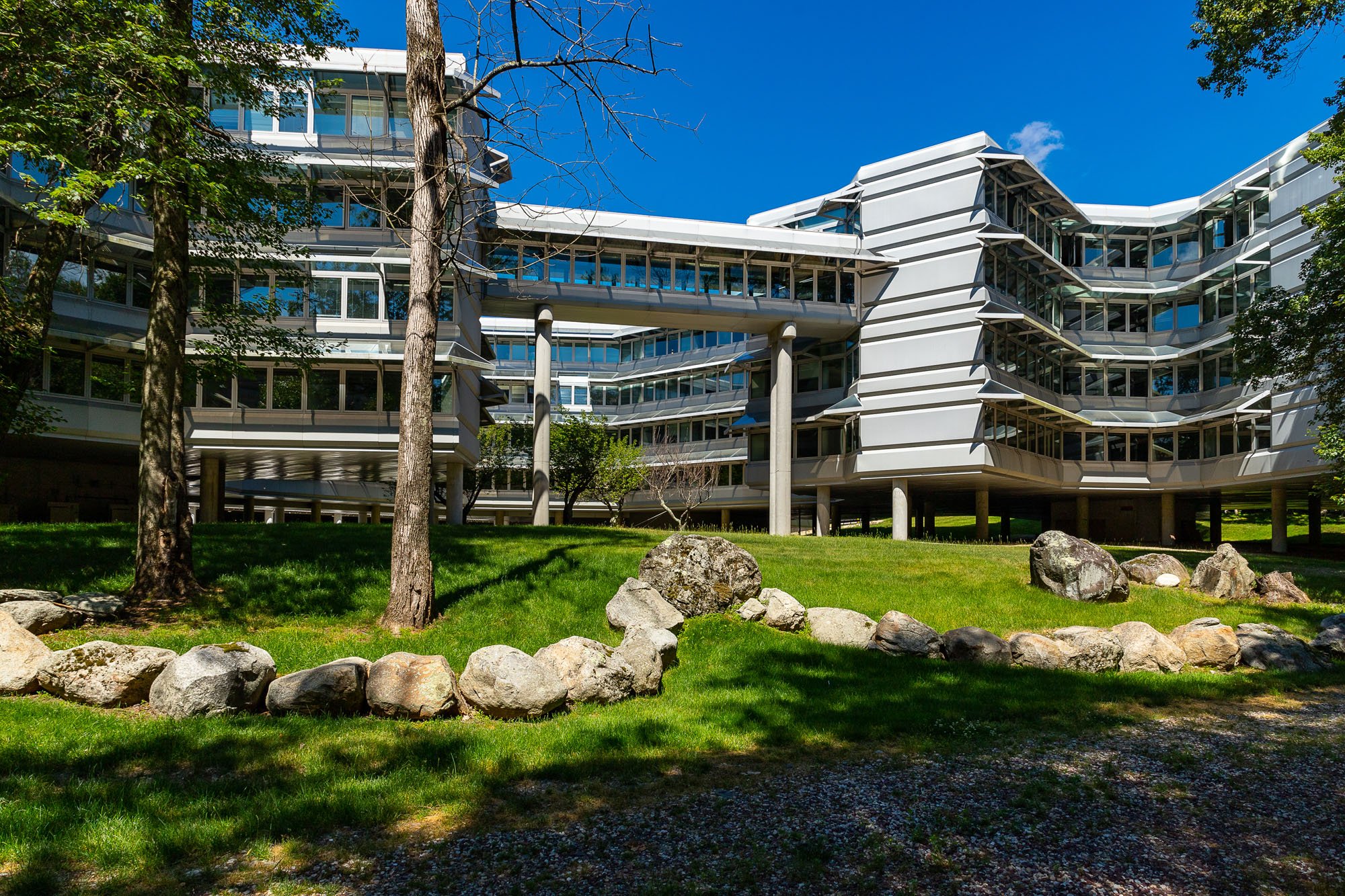 Union Carbide was organized as a series of autonomous pods. One had to know where they were going or they probably wouldn't get there. The renovation aims to open the complex in a variety of ways. The lobby has been rendered more transparent by eliminating walls that once concealed stairs. Some of the translucent Kalwall panels lining all the garage-facing corridors have been removed to provide additional light and visibility. For a complex that was previously notable for its opacity, wayfinding is also a priority.
The building's layout is, in ways, highly adaptable. At the time, the original configuration of individual offices—a capacious thirteen by thirteen feet—was revolutionary but askew of today's workstyles. Most internal walls have been removed in office suites, with the "pods" still offering prime forest views.
One unusual feature is its ceiling height: a diminutive eight feet in its exterior offices and lower along corridors. Mechanicals run in the ceiling under the lower office corridors and HVAC and other elements beneath windows. Windows occupy a full six feet of the space though, allaying any feeling of compression. While the windows weren't previously operable, they can now open.
This squat configuration posed greater challenges for residential conversions, which required clustering Wetwalls and risers along interior walls, enabling the preservation of the full ceiling height in exterior rooms.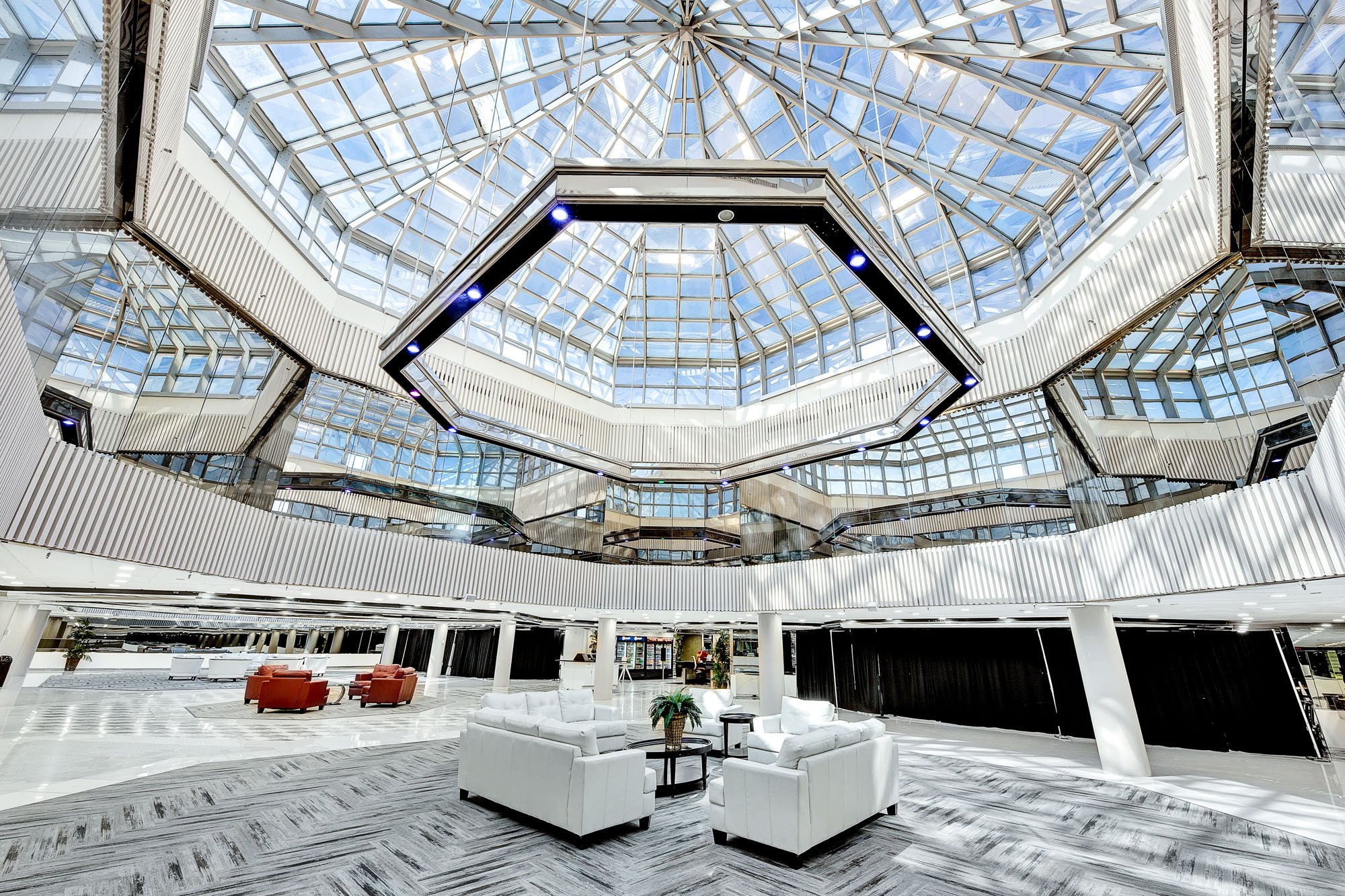 Residential development is being done pod by pod, with an aim of 180 eventual units. A local school, the Danbury Career Academy, will fill over three pods. A Godard School is already operating, as well as a gym café, salon, yoga studio, and barbershop. There are hopes for additional recreational features. Charney noted that these are private operators, attracted by a burgeoning mixed-use community. "Because of our size we're able to bring a higher level of amenitization to the building." He called the building "a shining example of the benefits of collaborative development." The building's extravagantly-skylit conference spaces are still used for a variety of rental events.
Overall. the renovation updates a tired facility while showcasing the excellent bones of Roche's design. What remains unclear are the plans for the building's postmodern gem of a cafeteria, whose stainless-steel stepped ceiling and gelato-pastel marbles remain intact and dazzling, in one of the finest examples of Roche's Art Deco-meets-Crystal Palace-Alice-in-Corporate-Wonderland phase of the eighties. Reflective surfaces were one element of Roche's dual strategy to create implied space. Gary Leonard, who worked on Union Carbide's construction as an associate noted that "the cafeteria has been somewhat decimated" by the prior owners. The stainless steel and marble remain as fragments of Roche's original aim to "bring a bit of glamor and real contrast to the work environment."
Roche's Ambassador Grill in New York, which boasts a very similar aesthetic, was landmarked in 2017. The operator of the dining area did not respond to requests for comment, but one can hope this space prompts similar appreciation.
Liz Waytkus, executive director of Docomomo USA visited the complex in 2020 and praised the remnants of its original design in an email. "We encourage the developer to prepare a Historic Structure Report so the property's history and existing conditions can be thoroughly considered before significant alterations are made." She noted that "Union Carbide is a wonderful example of the perpetual nature of history and landmarks, and we believe it has survived this long to be enjoyed and reused." 
Union Carbide is not just any building, it is an exceptionally unusual office space whose creation was only remotely conceivable during a very narrow window. It's excellent to see such a curiosity brought back to life and can only be hoped that its most luminous features endure.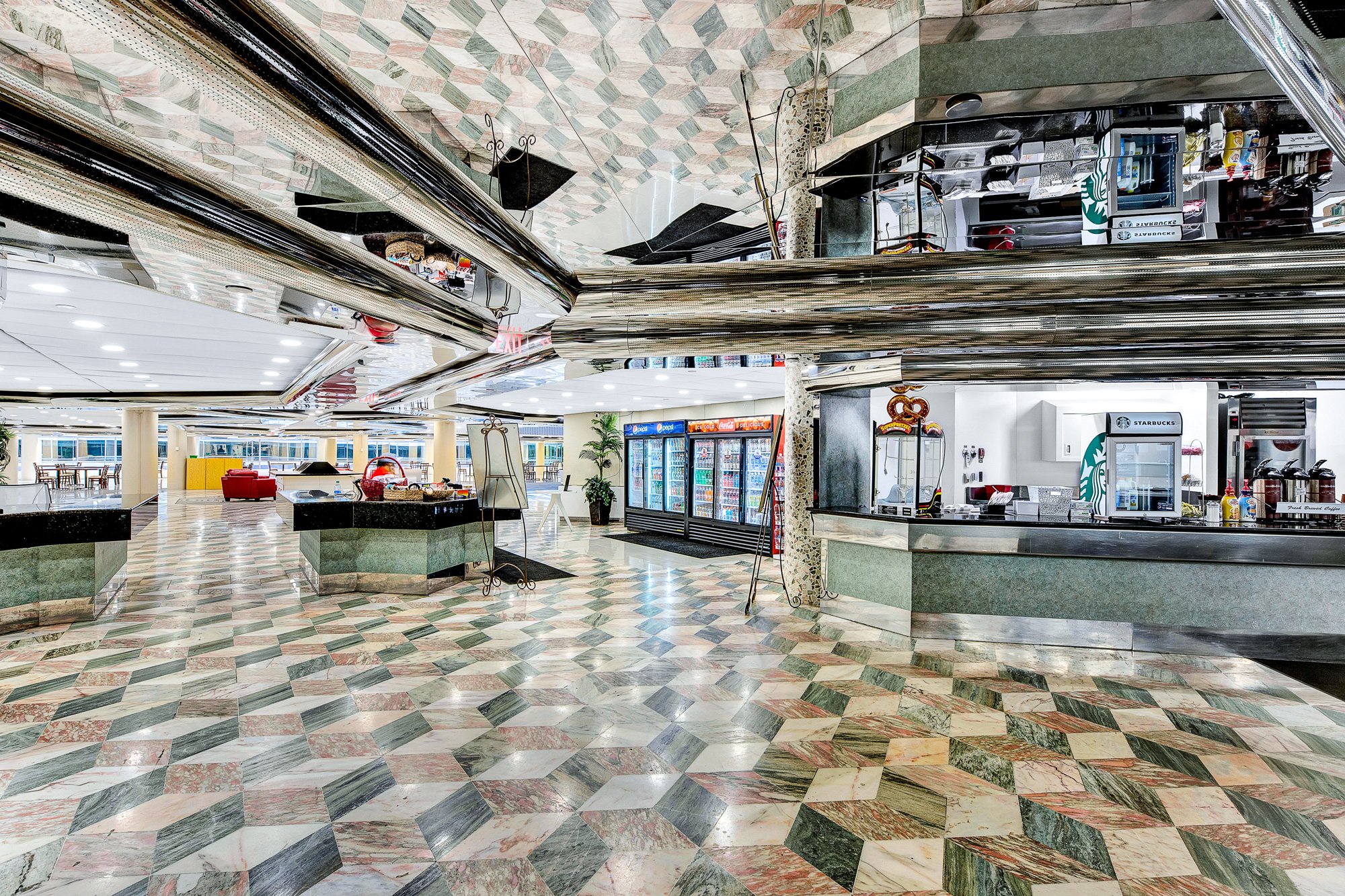 Would you like to comment on this article? Send your thoughts to: [email protected]