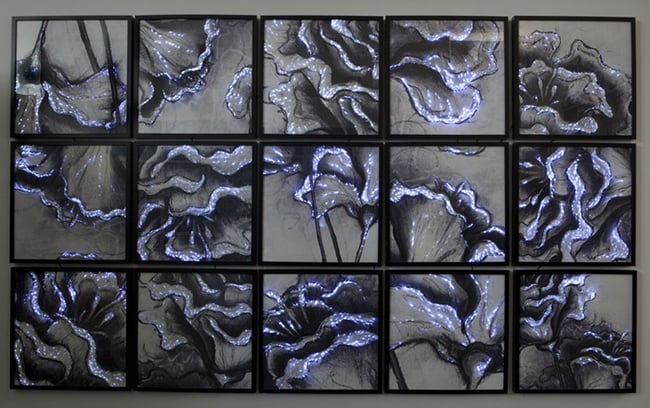 August 10, 2013
Kickstarting Fiber Optic Art for Healing Environments
Product designer Lyn Godley explores the potential of a thousand points of light for healing environments
Visitors race through museums and galleries, stopping in front of a work of art for only a moment  to snap a picture with their phones. Research confirms this behavior; we spend an average of 30 seconds looking at an individual artwork. But a recent exhibition by Lyn Godley at Gallery Art68 in Cologne, Germany triggered very different reactions. Curators observed viewers spending hours in the gallery, absorbed by the installation.
Lyn Godley, artist, product and lighting designer, creates digital images that are drawn over in charcoal and pastel. Into each drawing she threads hundreds of fiber optic cables that create little bursts of light throughout the installation. These subtle modulations of light draw viewers in, forcing them to pause and meditate on the images in front of them.
---
More from Metropolis
---
Following her success in Cologne, Godley began to think about how this combination of art and light might produce a calming effect on viewers. She researched the measurable physiological effects caused by juxtaposing effective imagery and particular light wavelengths.
Realizing the importance these properties might have for healthcare, Godley and her team launched a Kickstarter campaign to help fund four fiber optic installations in healing environments. Their goal is to document and analyze the physiological effects of fiber optics, which would pave the way for future implementation in various health centers.
The project has struck a chord with the general public. In the two days since the Kickstarter campaign has been running, it has garnered over 85% of its $10,000 goal. "We are currently in discussion with a number of hospitals to [realize] multiple installations of the artwork" says Godley. As more people are becoming interested in the potential use of light in healthcare, the future looks bright for fiber optic art and its ability to help us slow down.
Dora Sapunar is a design writer and a graduate student of Design Studies at Parsons the New School for Design.