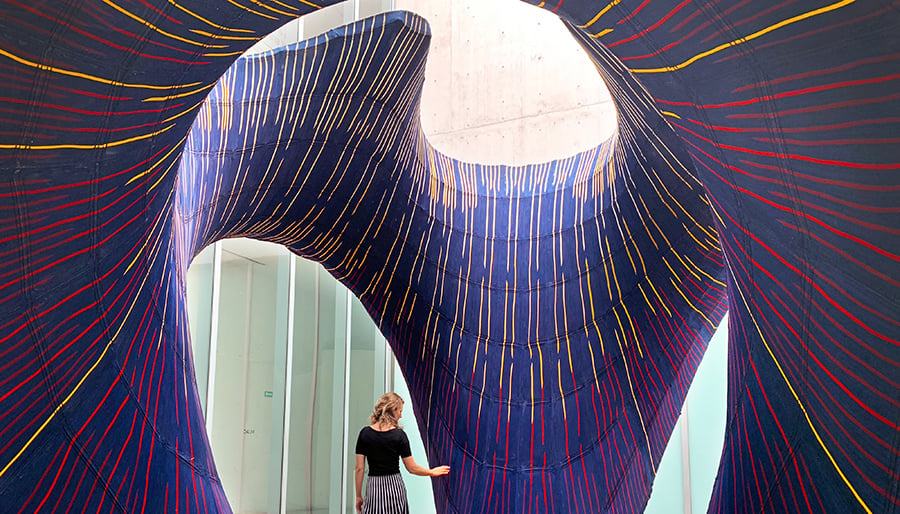 January 29, 2019
In Mexico City, a 13-Foot Installation Explores a New High-Tech Approach to Casting Concrete
The design, which could unlock previously unattainable forms and reduce material waste, is collaboration between teams at ETH Zurich, Zaha Hadid Architects, and research studio Architecture Extrapolated.
---
This story examines a Mexico City installation at three scales: It starts with the overall scheme ("The Poncho"), then moves to its design details ("A Hybrid System"), and culminates in its material composition ("Built-In Intelligence.")
The Poncho
In the courtyard of Mexico City's Museo Universitario Arte Contemporáneo sits an intriguing, curved concrete shell. The 13-foot-tall structure's fabric underbelly resembles the colorful traditional garments from Jalisco State on the country's Pacific coast. Nicknamed Sarape—or striped poncho—by its builders, the fabric is in fact a 3D-knit formwork that supports the weight of the entire pavilion.
This is KnitCandela, on view through March 3 as part of Design as Second Nature, a retrospective of Zaha Hadid Architects' four decades of material innovation. A collaboration between ETH Zurich's Block Research Group (BRG), Zaha Hadid Architects' computation and design research group, and research studio Architecture Extrapolated, KnitCandela is an homage to Félix Candela, the midcentury Spanish-Mexican architect known for pushing the structural limits of thinness in parabolic concrete shells.
---
More from Metropolis
---
---
A Hybrid System
Candela's method of aggregating hyperbolic paraboloid surfaces allowed him to build with relatively simple straight-line formworks, but more complex curves that could stand alone escaped him. KnitCandela picks up where the architect left off, employing a cable-net knitted fabric system—dubbed KnitCrete—that molds five tons of fiber-reinforced concrete into gravity-defying curves. According to Mariana Popescu, a doctoral candidate who developed the technology with BRG, the system is a breakthrough for casting geometries that typically require elaborate, expensive formworks: KnitCrete is light and easy to transport and readily integrates with the final structure.
To develop it, the research team created a digital 3D pattern for a flatbed knitting machine that can produce a construction-ready formwork in just 36 hours. With more than 200 miles of polyester yarn—chosen for its ready availability and low cost—the machine knitted four double-layered fabric panels that were then shipped to the construction site.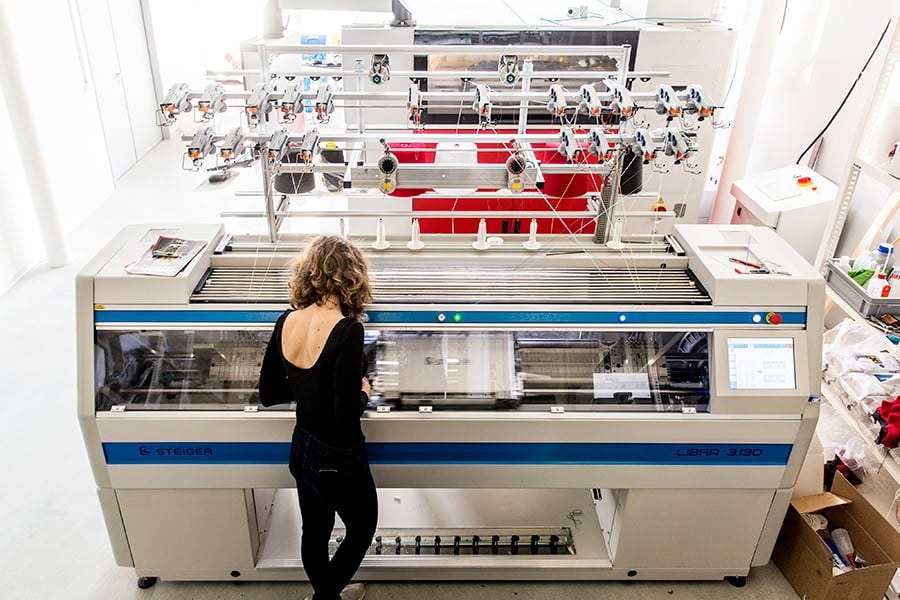 Built-In Intelligence
Weighing just over 55 pounds, the entire textile arrived in Mexico City from Zurich in two suitcases, checked like standard baggage. The fabric's striped side would become the pavilion's inner walls, while the other side was designed with a series of sleeves for connecting to cables equipped to support the formwork in tension. Once on-site, the assembly was strung up on a steel-and-wood frame. Following that, workers filled built-in pockets with modeling balloons to create wafflelike voids, which were sprayed with a coating of cement paste formulated to be strong but fast-setting. The concrete was then poured into this structure.
Popescu envisions KnitCrete supporting even larger structures than the pavilion, ones that span public spaces or even highways, where the ability to build without obstruction is a tremendous advantage. In this way, KnitCandela may presage a new construction-inspired language.
You may also enjoy "At Gagosian Show, Marc Newson Highlights Uncommon Craft Techniques."