January 20, 2022
Knoll Meets the Moment with a Resimercial Rebranding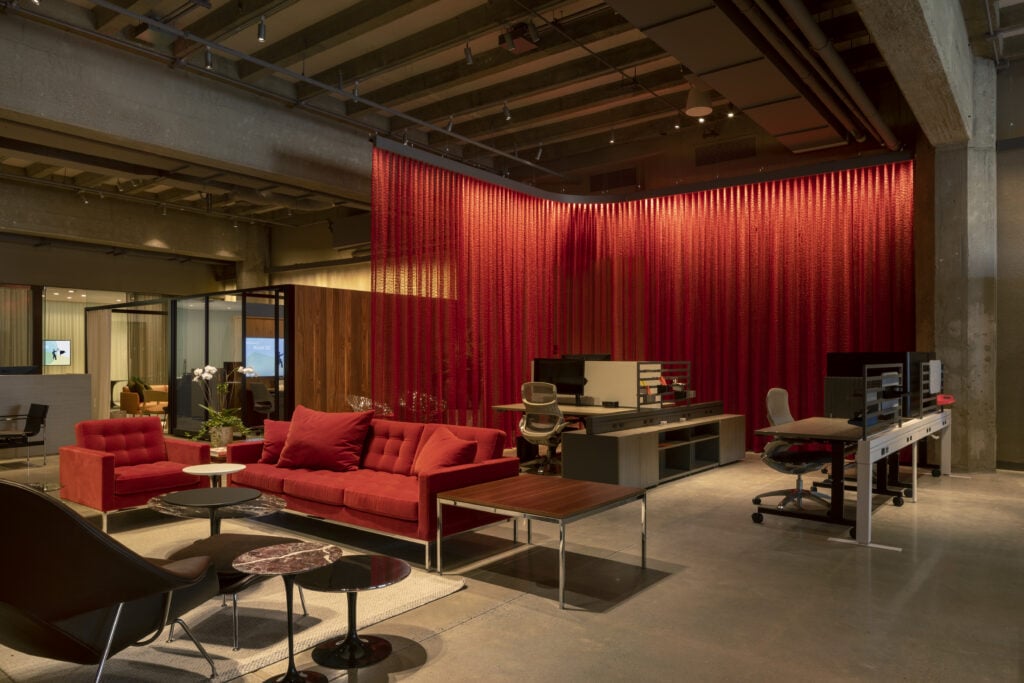 Multifaceted firm Architecture Research Office (ARO) has been essential in shaping the company's ever-evolving identity. For a decade, the practice has worked closely with Knoll developing its showroom and office outposts in Houston, Los Angeles, Philadelphia, and San Francisco. These dynamic venues deftly blend immersive retail space with open-plan and private workspaces. First articulated in 2012, the format was ahead of the curve in its consideration of the hybrid environment.
The desire to incorporate the comforts of home into commercial spaces has become a central tenet of the heritage company's ongoing rebranding. ARO recently built on this model by revisiting the Knoll New York flagship it originally designed a decade ago, transforming it into a space that better reflects the resimercial trend. "Knoll has always challenged us to create spatial coherence within an environment that ultimately shows very diverse furniture and finishes," says ARO principal Stephen Cassell. "That robust design framework has stayed consistent even as Knoll's showrooms and offices have evolved in response to the changes in client preference."
Over the past ten years, the firm has imbued these spaces with innovative acoustic solutions that simultaneously answer the increased demand for privacy while introducing striking aesthetic details. ARO-conceived sound-absorbing felt products feature prominently throughout both the NY and D.C. outposts. "Any space designed for flexibility runs the risk of not doing anything well," ARO principal Kim Yao adds. "Successful hybrid spaces must transcend the nuances of everyday use, creating a backdrop that supports diverse occupants and diverse needs. At the forefront of workplace design, Knoll has always prioritized welcoming in its clients by fostering a sense of comfort. During the pandemic, this sensibility has been further amplified."
---
More from Metropolis
---
The brand's 7,700-square-foot D.C. showroom and office space was uniquely positioned to highlight Knoll's foray into hospitality furnishings. A bar adorned with these new products serves as a central focal point. With large glass doors providing direct access to the surrounding neighborhood, the space is Knoll's first to be entirely street-facing. Drapery sourced from the illustrious KnollTextiles range helps define intimate workspaces and conceal exposed ductwork.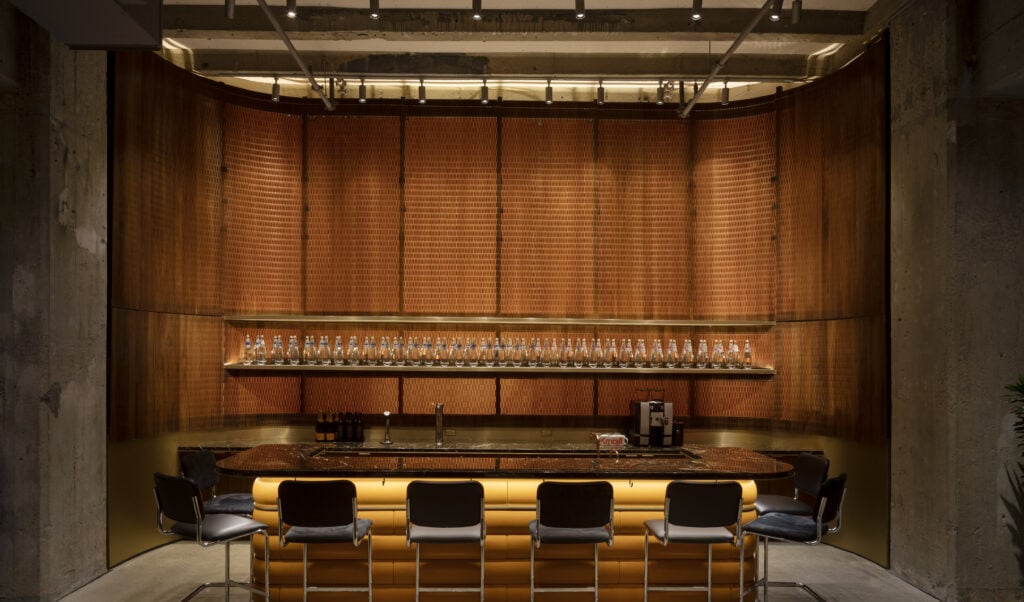 ARO added a 7,000-square-foot extension to the existing New York flagship, redistributing executive offices to a dedicated sixth floor better suited for an integrated sales and meeting experience. This new elevated level also incorporates an executive suite complete with a private bar.
"Returning to our first Knoll project in New York and working on the Washington D.C. location reinforced commonalities in both designs but also our overall approach," Cassell concludes. "Both projects support a shift in contemporary workplace culture toward a more informal aesthetic that we've long advocated for."
Would you like to comment on this article? Send your thoughts to: [email protected]