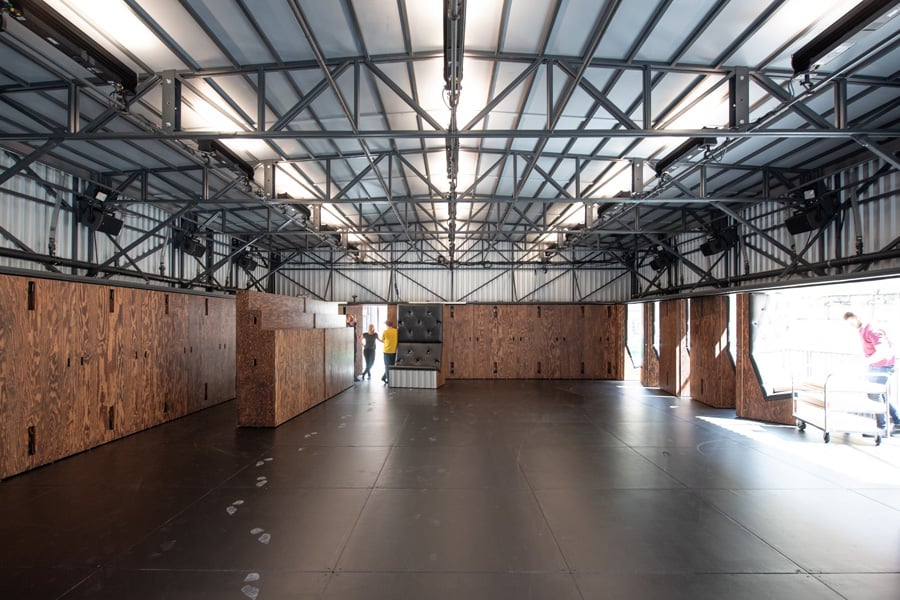 May 1, 2018
Kunlé Adeyemi's 'Prelude to the Shed' Pavilion Opens Today
The Nigerian architect designed a steel-topped structure that can accommodate a diverse array of programming, from lectures to rap concerts.
---
New Yorkers are still more than a year away from the opening of the Shed—the highly-anticipated cultural temple and engineering marvel underway in Hudson Yards. In the lead-up to its opening, the Shed's curators are mounting a series of free public programs in a temporary pavilion up the street designed by architect Kunlé Adeyemi of the Amsterdam-and-Nigeria-based firm NLÉ Works.
Adeyemi wanted the pavilion, which will host the Prelude to the Shed event series, to be a response to the Shed itself. But where the Shed will dazzle with its futuristic form, expandable enclosure, and bubble-like ETFE skin, Adeyemi's aims to be more down-to-earth: "My interest is in how I can bring architecture closer to human scale and how to mobilize human capacity," the architect tells Metropolis.
Adeyemi, who won the Silver Lion at the 2016 Venice Architecture Biennale, was tapped for the job last year by the Shed's artistic director Hans-Ulrich Obrist. Initially, the architect (who also worked closely with artist Tino Sehgal on the design) grappled with architecture solutions—especially in terms of creating a flexible yet contained environment within a neighborhood as frenetic as Hudson Yards. They wanted to create something that played off the Shed's mission, without being something of a cheesy architectural facsimile. "At some point we were like, 'The answer is right inside the question!'" recalls Adeyemi. "We're trying to create a space for the Shed, so why don't we just look at a shed?"
---
More from Metropolis
---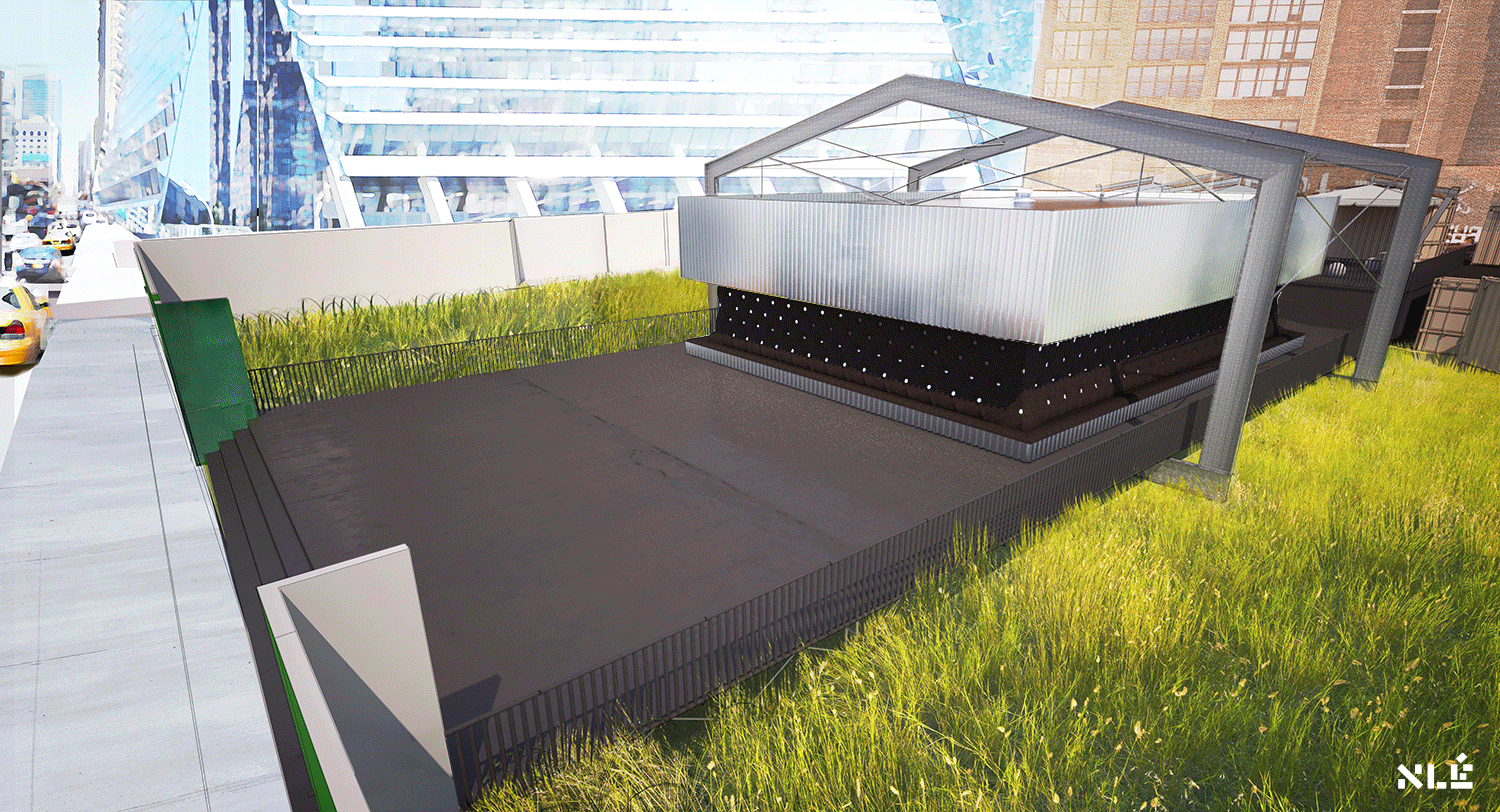 Officially opened to the public today, the pavilion is set within a muscular steel structure. Using this sturdy, pitched skeleton, Adeyemi and his team suspended a horizontal corrugated steel roof above a black stage floor.
Like it's $500 million neighbor, the Prelude pavilion will expand: its plywood walls are in fact 38 individual seating modules that can be rolled away to accommodate diverse programming needs throughout the day. Each is upholstered in quilted black leather and features a profile inspired directly by Mies van der Rohe's classic Barcelona chairs.  "I wanted something that was comfortable to contrast with this very hard industrial thing, something inviting and pleasant," Adeyemi explains.
Over the course of the pavilion's two-week run, Adeyemi's pavilion will accommodate lectures, dance performances, and even an Azealia Banks concert, and in the process, the structure will expand and contract each time—a performance in its own right.
You might also like, "Famed Set Designer Puts Artsy Gloss on BIG's New Chelsea Towers."