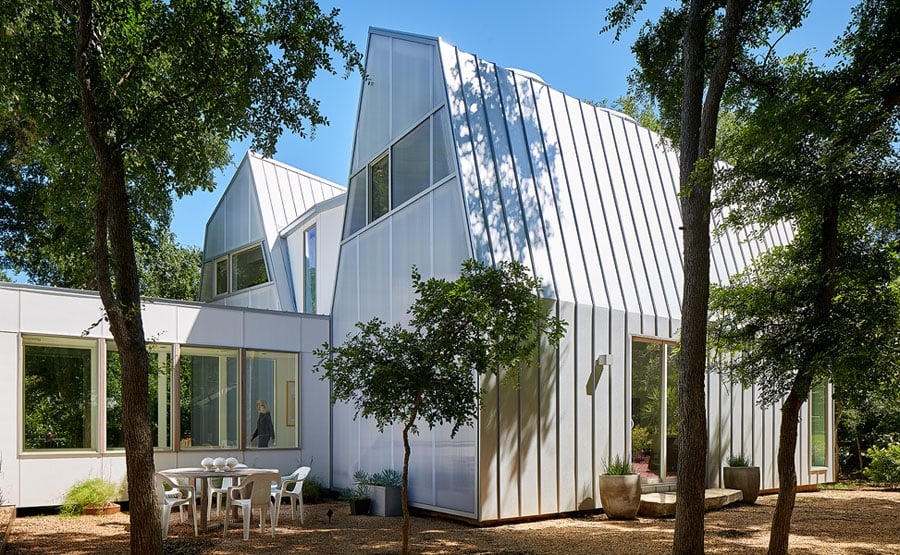 August 6, 2020
Inside an Airy Texas Home Addition That is Just as Sculptural as the Artwork Inside
A.GRUPPO Architects delivered the ultimate workshop and gallery space for two retired Texas State professors.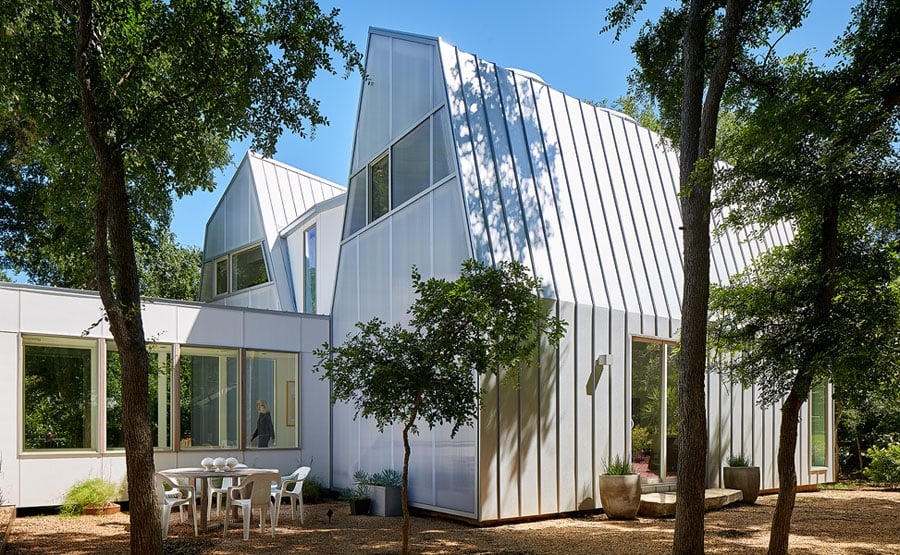 ---
For Jene and Jean Laman, retirement didn't mean slowing down, it meant transitioning into their next creative undertaking. The former professors, who taught for 40 years at Texas State University, Jene in the interior design program and Jean in fiber arts, were ready to add on to their home, which was originally designed in the 1970s, and called on Andrew Nance and Thad Reeves of A.GRUPPO Architects.
"I used to teach at Texas State and met Jene back in 2005," remarks Nance. So, when the couple finally had the time to devote to a remodel, they decided to hire the pair to renovate their 1,800-square-foot stucco home with a call for more gallery space, a painting studio, library to house their impressive collection of art and architecture books, and a larger master suite.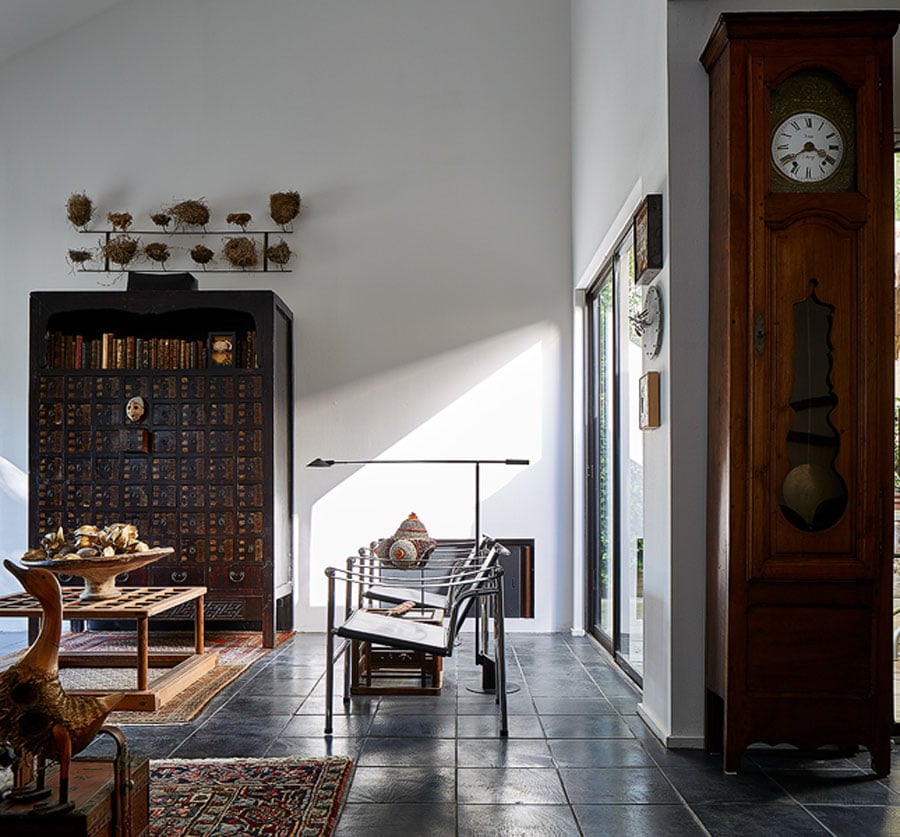 ---
But unlike many remodeling briefs, the home itself, which the Lamans built in the 1980s from a Heritage Homes plan book by architect Henry D. Norris, there were no qualms with the layout or the lighting. They simply needed more room. "It was intimidating when they said they wanted to add on," Nance says. "We wondered where we would even add on. Everything was so wonderfully maintained and curated."
---
More from Metropolis
---
Designing for the couple was like being back in school. Planning sessions were a collaborative effort, and Jean Laman called for an addition that was just as bold as her personality, as she pushed Nance and Reeves to think outside the box, continually critiquing their work during each meeting.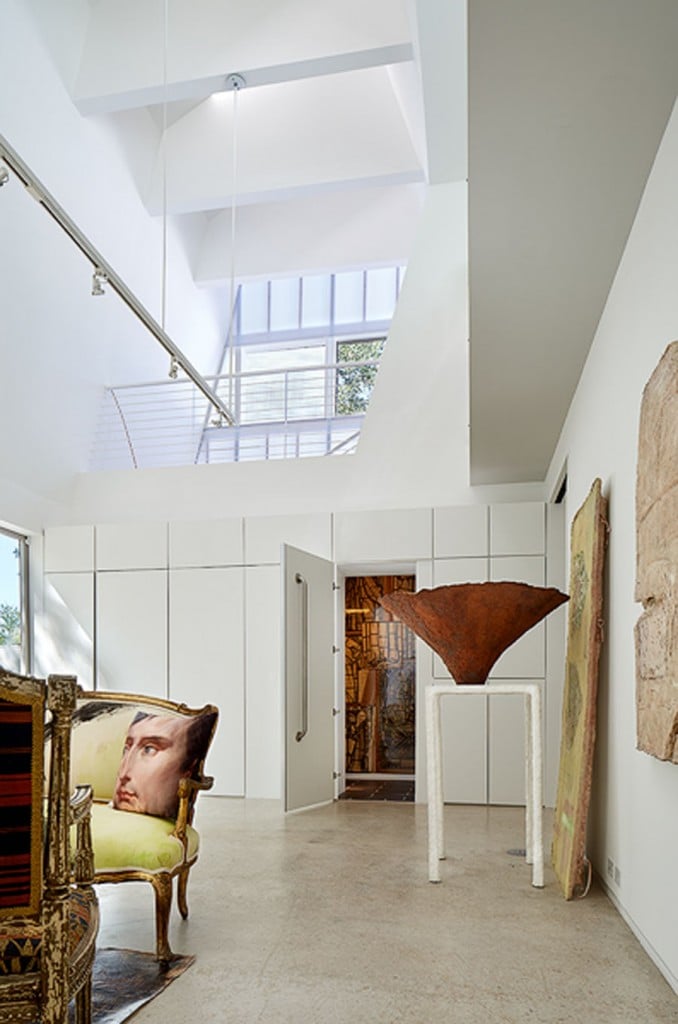 ---
In lieu of creating a back addition, which is often the go-to, Nance and Reeves built two long, linear forms, silos that somewhat nod to a cleaned up, sophisticated version of agricultural architecture. The one-acre lot, which is heavily wooded with grand live oaks and elms, meant the original structure was pushed back onto the deeper part of the property, leaving the front yard as the only space left to add on to. In order to arrive at the front door, guests are left to pass through the couple's many gardens. "Jene called it the Hansel and Gretel path," Nance says.
The addition had to be sculptural and large enough to accommodate the couple's hopes for plenty of work and exhibition space. The two stucco-clad towers would house a gallery on the left, painting studio on the right, and library space above, with skylights to bring in a cool, northern painter's light, moments of direct sun and warmer tones throughout the day. Built to be as seamless as possible with the original structure, the addition looks as if it's been there all along.
Inside, a myriad of collected vintage pieces, like the large Chronicles of Narnia-Esque wardrobe, an antique secretary's desk, as well as uber-modern items that spark the ideal balance between minimalist and vintage complement the architecture. With a structure that's a piece of art itself, it's hard for the architects to pick their favorite element of the Lamans new addition.
You may also enjoy "Bridging Spatial and Budgetary Limitations, a New House in Portugal Celebrates the Fragmentary"
Would you like to comment on this article? Send your thoughts to: [email protected]
---
Register here for Metropolis Webinars
Connect with experts and design leaders on the most important conversations of the day.