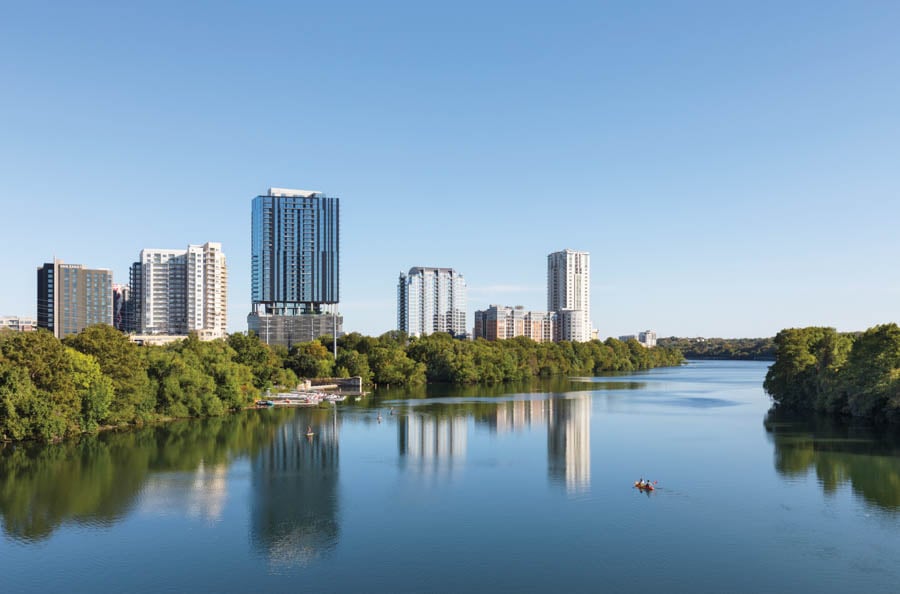 September 23, 2020
70 Rainey in Austin is a Park in the Sky
Page Architects delivers unexpected green space and premier views in Austin, Texas, with downtown high-rise 70 Rainey.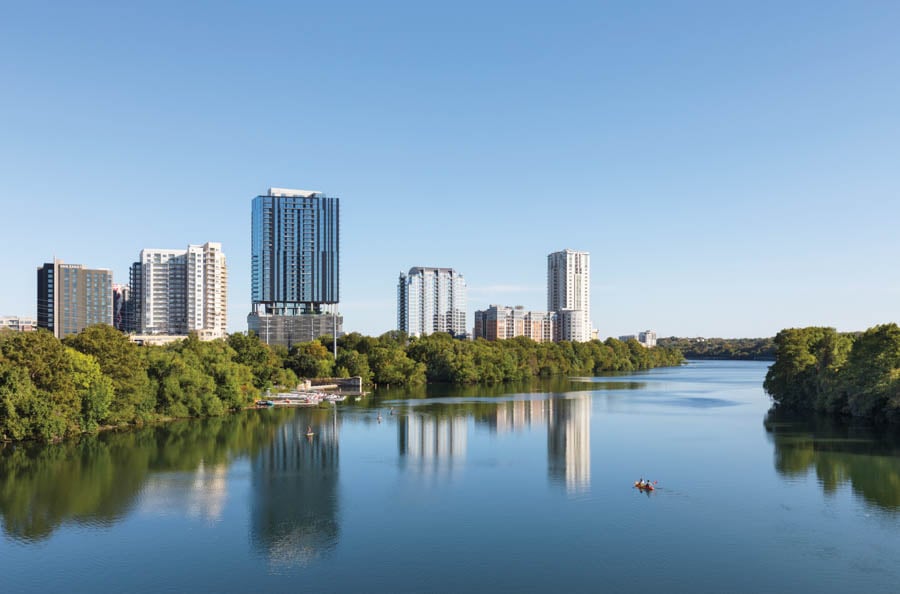 Unlike any other spot in the city, Austin's Rainey Street offers a transformative sense of both time and space. During the day, it's a calm, meandering row of 1930s-era structures, a quiet midday walk for those coming from nearby downtown; at night, it's packed with Ubers and 20-somethings spilling out of the busy bars. But at 70 Rainey, a 34-story, 164-unit condo building located on the edge of Rainey and River Streets, that daytime tranquillity is a 24/7 occurrence thanks to impressive acoustical engineering, more than 28,000 square feet of amenity spaces, and generous swaths of vegetation. "We wanted it to be a park in the sky," remarks Page's Brandon Townsend, who was the project architect.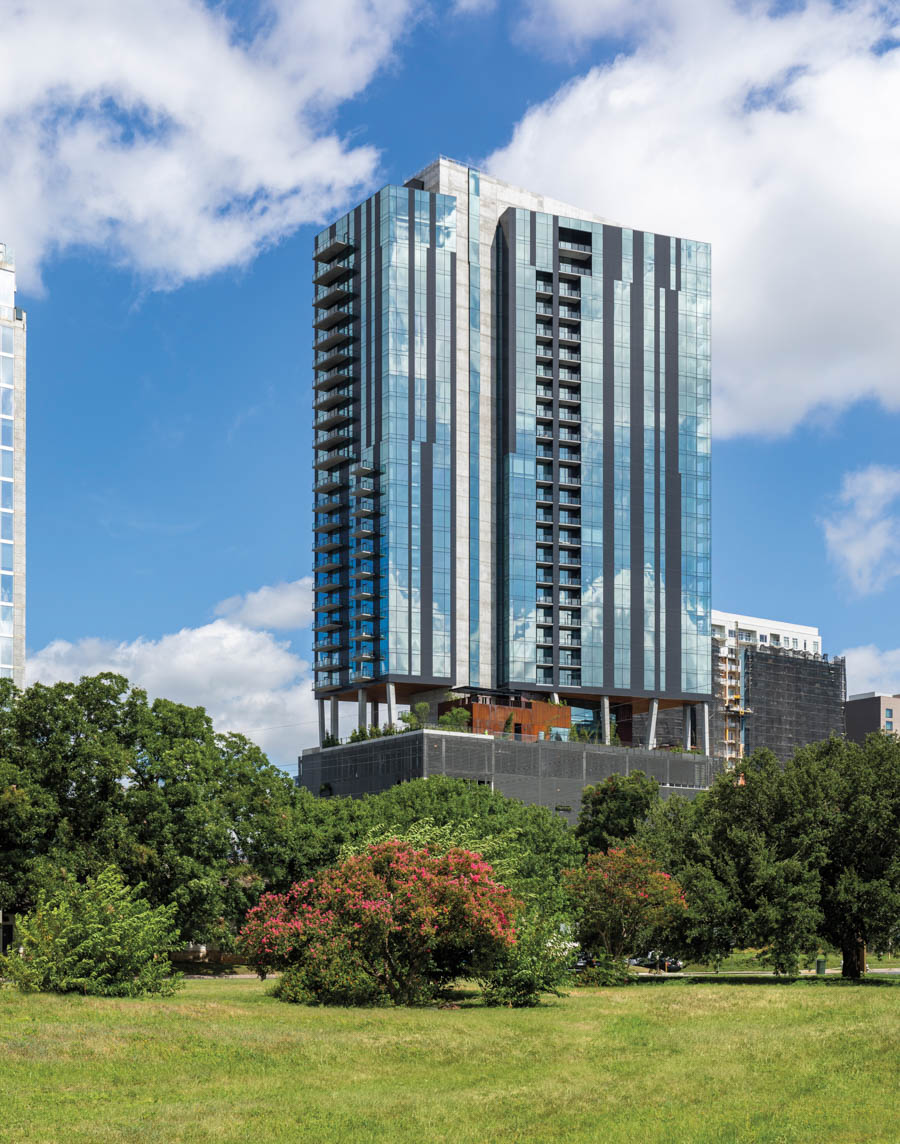 The base of 70 Rainey is dedicated to a nine-story parking block, which accommodates the building's residents and visitors to the Rainey Street District. This stark, highly structured feature juxtaposes the lush, draping planters that seep out of the podium, adding to the street's already dense canopy of greenery. Exposed steel awnings reflect the architectural character of the neighboring bungalow porches, while on the tenth and 11th floors, sloped concrete columns rise from the parking-deck base to support the 14-degree angle change for the residential tower above, ultimately stitching the two structural grids together and adding a sculptural flourish.
"The question we asked was, How would we set a large building into a neighborhood that was already established with single-story homes?" says Townsend. Page began plans for the development in 2015 under the guidance of developer Sackman Enterprises Inc., partnering with MARKZEFF for interior design. Construction commenced in early 2017 and was completed in September 2019. This lengthy four-year design, build, and finish-out process ensured that 70 Rainey made a name for itself in local news before it ever broke ground. In developing the project, sustainability and community value were top of mind: Project leaders wanted to achieve at least a minimum two-star rating under the city's Energy Green Building standards, plus offer a streetscape that was pedestrian-friendly. The project surpassed this energy minimum, attaining a four-star rating on the five-point system—and so impressed its evaluators at Austin Energy with its unique usage of foliage that the group is considering integrating emission offsets into upcoming standards.
---
More from Metropolis
---
From the amenity decks, which are strategically lifted 110 feet over street level to escape the view of a city power line, residents are treated to a 360-degree panorama, encompassing the edge of Lady Bird Lake, East Austin, and all the way down the local Colorado River to the west. The Mexican American Cultural Center, which is protected parkland, flanks the building, meaning the views will most likely always be clear. There are also more than 50 types of native plant species, a 72-foot infinity-edge pool, a gym, a dog park, a private plunge pool, a fire pit, a yoga deck, and smaller conversation areas, all hovering under the building's Brazilian wood–covered overhangs.
"We wanted the amenity space to feel like an authentic backyard experience," says co-design principal Joshua Coleman.
Design Workshop, the landscape architecture firm, was instrumental in "shaping the entire integrated landscape of the project, including the streetscape, vertical facade plantings, and exterior amenity desk," adds Townsend.
And while the amenity spaces are impressive on their own, the units them – selves offer a welcome retreat, ranging from a 450-square-foot studio to a sprawling two-level penthouse at 3,800 square feet. The units feature European white oak plank floors, neutral wood veneer cabinet options, opulent brass hardware, and floor-to-ceiling windows, further capturing the views beyond. And to make sure residents aren't bothered by nighttime noise or traffic from the highway, the exterior facade includes unbalanced insulated glass. A thicker outer pane and thinner inner pane vibrate at differing speeds to deflect noise.
But for those hoping to live at 70 Rainey, they'll most likely have to enjoy it from below at the building's second-floor bar, The Tipsy Alchemist, and up-and-coming restaurant at street level, as nearly all of the units are sold out. Not only is 70 Rainey an example of clever architecture that plays off its unique site, but it's the perfect fit within the beloved Rainey Street District. In the uncertainty of our current world, this project showcases the importance of green space— and Page hopes it acts as inspiration for high-rises to come.
You may also enjoy "Recessed Apertures and Atypical Heft Distinguish a Mexico City Apartment House."
Would you like to comment on this article? Send your thoughts to: [email protected]
---
Register here for Metropolis Webinars
Connect with experts and design leaders on the most important conversations of the day.