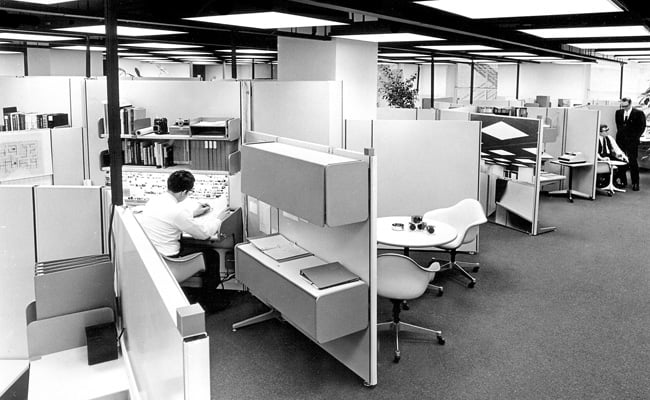 June 6, 2013
The Living Office—The Action Office for the Digital Age?
Almost 50 years after the Action Office, Herman Miller embarks on the next big rethinking of the workplace: the Living Office. It is the ultimate twenty-first-century work-in-progress.
Birth of the cubicle: Introduced in 1968, Action Office II demonstrated how a modular-panel system, incorporating work surfaces and storage units, could shape a seemingly organic workplace.
Courtesy Herman Miller
---
In Billy Wilder's 1960 comedy The Apartment, an anatomization of sex and power in the white-collar workplace that anticipated Mad Men by half a century, the great director offered a brutally funny, spot-on portrait of the postwar office, depicting the fictitious Consolidated Life of New York as a cornfield-size, perfectly rectilinear grid of anonymous, identical desks. How long ago and far away that seems. Though in places the old model still prevails, today's ideal office paradigm could not be more different: fluid rather than fixed, less hierarchical and more egalitarian, and encouraging (mostly) of individuality, creativity, and choice.
---
More from Metropolis
---
A new story requires a new stage, and into this brave new world comes Herman Miller's Living Office, the initial components of which the Zeeland, Michigan, furniture company is introducing at this year's edition of NeoCon. The first wave of an anticipated two-year rollout, the Living Office's first three product portfolios—called PUBLIC Office Landscape, Metaform Portfolio, and Locale, and designed, respectively, by fuseproject, Studio 7.5, and Industrial Facility—represent the company's carefully considered response, not only to the ways in which a changed business culture has transformed workplace design, but to where our personal aspirations may be headed, and how the office can support them.
It's a resolutely forward-looking vision. Yet this emphasis on what the company calls "human-centered problem-solving" has been the hallmark of Herman Miller since 1930, when Gilbert Rohde, its first design director, famously declared, "The most important thing in the room is not the furniture—it's the people."
In fact, the past is prologue to the Living Office in a central way—specifically, a slender, significant book, published in 1968, called The Office: A Facility Based on Change, by Robert Propst, at the time the company's head of research. Under George Nelson, the second design director, Herman Miller had produced many of postwar America's most iconic objects, by the likes of Charles and Ray Eames, Isamu Noguchi, and others, including Nelson himself. But by the late 1950s, the residential and commercial businesses had plateaued, and the company's out-of-the-box-thinking president D.J. DePree began casting about for untapped revenue streams. DePree discovered Propst at the 1958 Aspen Design Conference, and was immediately taken with the artist/teacher/inventor. "Propst was truly brilliant, an innovative thinker," explains Mark Schurman, Herman Miller's corporate communications director. "D.J. figured, 'We'll set him up with a research division, and he'll find new opportunities.' One of his first directives was, 'Anything but furniture.'"
Studio 7.5's lightweight, tiered modules can be combined to create enclosures of varying sizes and shapes, which support shelves and presentation materials as well as an adjustable-height communal worktable.
Courtesy Herman Miller
---
Despite the company's mandate, Propst became increasingly absorbed by the idea of reinventing the office, an interest that dovetailed with Nelson's, who as early as 1948 had talked about the ideal working environment being a "daytime living room" that would be welcoming and humane. Propst, too, concerned himself with the human factor—specifically how flexible floor plans and porous, intercommunicating spaces might empower both the individual and the organization.
Nelson and Propst came up with the Action Office, which debuted in 1964. "It was a series of freestanding elements, beautifully executed, but not a success," Schurman says, due partly to price, but largely because it was furniture-driven and didn't fully embrace Propst's notion of a modular system based on space-dividing vertical panels, incorporating work surfaces and storage elements, that could be easily and swiftly reconfigured.
The design team went at it again, and four years later Herman Miller introduced Action Office II, the principles of which Propst described in his lucid, droll, exceedingly farsighted 71-page manifesto. In it, Propst talked about the "new iron mistress, the exponential change in the rate of change," and described the then-existing office modality as utterly maladapted to the ever-morphing modern condition, one that reflected a management style based on "ordering and forbidding as a means to assure performance." The alternative, embodied in Action Office II's 12 "principles of operation," encouraged a workplace in which "the individual can participate in goal setting and thus behave like a manager at any level." Propst's environment remained "responsive to the goals of the user," changed gracefully and with minimal disruption, and enabled rapid replanning. It also thrived on contrast: between neatness and chaos, sitting and standing, solitude and collaboration, privacy and community, and, critically, "geometry versus humanism"—that is, a traditional, grid-based floor plan versus a more organic layout.
Industrial Facility's office-within-an- office includes communal meeting areas, display systems, and curvilinear desks that accommodate both two-person and small-team gatherings.
Courtesy Herman Miller
---
The second time proved the charm. In 1968, when Action Office II hit the market, Herman Miller had annual sales of $15 million. Two years later, the figure had risen to $25 million. Alas—and despite Propst's injunction against the "four-sided enclosure"—by the late 1970s, the dominant application of the Action Office (and its multiple imitations) had become that most despised of office conditions: the cubicle. Propst, who died in 2000, had sought to liberate humankind from the grid, but his invention wound up locking the worker even more tightly into it.
Yet good ideas die hard, and the Living Office—which expresses Propst's vision in a new-century way—suggests that, 45 years on, it's an idea whose time has come. For one, when the Action Office appeared, the world depicted in Wilder's film had its roots in the blue-collar assembly line, an essentially Victorian model. "There was a small group of people who made decisions, and a whole lot of people lined up executing," says Greg Parsons, Herman Miller's vice president of New Work Landscape. Today, Parsons points out, "the office is a facility based on creativity, and we need an organizational structure that reflects that." As well, the anchoring effects of technology, which worsened in the 1980s and 1990s as ever more devices appeared, have been swept away in our wireless world. Both philosophically and physically, the office is far more flexibility-friendly than it was a half-century ago.
No less important is what might be called the Marissa Mayer Effect. Though the Yahoo! CEO's ban on work-from-home may have been poorly handled, according to Gary Smith, director of design facilitation and exploration at Herman Miller, her point was powerful. "We're talking about a shift of emphasis, away from housing and technology, capabilities that could exist only in the office," Smith explains. "Now there's a different thing that can exist only in the office, and that's my access to you. I want to tap your potential, because what humans do best is connect and communicate"—something the Living Office is meant to encourage, by creating a multiplicity of differently scaled settings and making the connections between them more logical, adjustable, and fluid.
Centered on the ergonomic-friendly Social Chair, the system includes desks configured for individual or group use, storage bins, and mobile privacy screens. "People today work in flexible and fluid ways that defy traditional cubicles and conference rooms," says fuseproject's Yves Behar. "So we designed individual workstations built for short or long collaborations right at one's desk."
Courtesy Herman Miller
---
In keeping with its people-first philosophy, the company focused its predesign research on gathering insight, not information. "Research will expose the manifest behavior of a population, but it won't reveal innovation," observes Smith. Instead, Parsons says, "We asked, 'What's going on in the world? What's fundamental about all human beings, and what do they really want to do?'" Toward this end, Herman Miller engaged in a process that Maryln Walton, of the insight and exploration group, describes as "informed dreaming." Since 2001, the company has completed three rounds of scenarios, in which it looks five years ahead at potential futures; these enable the company to think about how the world might change, and adjust its product development and business strategies accordingly. The brainstorming process begins with a dozen people from different parts of the organization, followed by a two-day "expert workshop" with six individuals representing multiple disciplines—the most recent, which looked ahead to 2018, included two cultural anthropologists, a specialist in Asian HR policies, and a political science professor—to challenge the in-house assumptions.
The team then takes what it's learned and imagines (and reimagines) the future until it arrives at three possible scenarios. For 2018, these include Datasphere, which looks at how the digital information generated by individuals worldwide can be innovatively repurposed; New Normal, a consideration of potential push-back against organizations, institutions, and governments; and Polarized World, in which the U.S. and China emerge as the two great economic powers. "We ran workshops with groups of people thinking about each scenario," Walton says. "Then we spent a lot of time synthesizing the results, and developed what we believe are likely workplace realities in 2018."
These realities— called propositions—are the gold nuggets sieved from the sand of the scenarios. "We don't think any one of the three stories will come true," says Walton. "But the eight propositions are things that we really believe."
---

PUBLIC Office Landscape
Yves Behar & fuseproject
BRIEF
What was clear to me in the last 11 years is that the way people are working is changing dramatically, but the office furniture isn't. People want to collaborate easily but instead, they're faced with friction everywhere around them. So the brief was to design the ultimate collaborative office environment.
APPROACH
We found this statistic: 70 percent of collaboration happens at the workstation. This hit me like lightning, and I wrote on the project wall: "THE MAJORITY OF COLLABORATION HAPPENS AT THE DESK, YET DESKS HAVE NEVER BEEN DESIGNED FOR INTERACTION." Our approach became to think of every place in the office, including one's individual desk, as a place for collaboration. We came up with the notion of Social Desking.
SOLUTION
We believe collaboration doesn't just happen in conference rooms—it happens everywhere. PUBLIC Office Landscape supports fluid interactions and spontaneous conversations. The seating elements flow into desk surfaces, the fabric elements flow cleanly into hard surfaces. The result is a visual connection that encourages new functionality and casual postures.
---
So what has all this visioning produced? "We're trying to create Living Office products that function in group and community as well as individual zones," Katie Lane, Herman Miller's director of product development, tells me as we tour the cheerfully cluttered, bustling obeya space, the company's fancy name (obeya is Japanese for "big room") for the R&D skunkworks in its Design Yard, one of several facilities scattered around Zeeland. PUBLIC Office Landscape, the first system Lane showed me, supports areas in which two to six people typically cluster, and is designed specifically "for knowledge transfer and cocreation to occur," she says. The heart of PUBLIC is the Social Chair, which supports the casual nature of the contemporary workplace by elevating the ergonomic levels of what looks at a glance like hip lawn furniture. Equally suited to perching, slouching, or sitting on the arm rests, the Social Chair, which can be easily pulled up to a desk or arranged in clusters, invites the quick chat or collaborative bull session, and supports what fuseproject principal Yves Behar (noting that "70 percent of short meetings happen at a person's desk") calls "collaborative density." PUBLIC Office Landscape also speaks to one of the most compelling of the 2018 propositions: Swarm-Focused Work, in which—like bees—groups of individuals quickly zoom together to one spot to accomplish tasks.
These drawings illustrate the Social Desking concept that drove a lot of the thinking behind the project.
Courtesy Yves Behar & fuseproject
---

Metaform Portfolio
Studio 7.5
BRIEF
There was no brief for Metaform. We had been working on this concept for quite some time with Herman Miller in mind, but without any request from them. When we finally found the right material to suit our needs, we presented a first full-scale setup to them three years ago. From there, in many small and a few giant steps, it became what it is now.
APPROACH
Our approach was based on our observations in American offices: We saw a shift from individual to collaborative work patterns, we saw the walls being lowered to 42 inches to introduce natural light to the floor plan. We observed a huge amount of content and the transactions associated with work moved to the digital realm, leaving drawers and cabinets empty. We were looking for an environment to support the creative class.
SOLUTION
Metaform Portfolio is a new way to delineate interior space and create a multitude of settings and places to work in. It consists of a collection of modular blocks. Together with a range of work surfaces and an array of designated accessories, they form a system that supplies groups and individuals with everything they need to feel at home in their office.
---
Metaform Portfolio addresses a proposition called Hackable and Kinetic Nodes, a vision of the workplace as a campsite that can be arranged opportunistically and moved when necessary. The design challenge, according to Studio 7.5's Carola Zwick, involved achieving "an architectural quality that can still be transformed by the inhabitants, since traditional planning cycles miss the needs and dynamics of today's knowledge workers." Accordingly, Metaform's core element is a tiered block of polypropylene, weighing about 18 pounds, which can be combined with identical units to create a semi-enclosed space. The arrangement Lane shows me is formed into a half-circle, with squiggly shelves called Centipedes cantilevered off the tiers, and magazines and work displays tucked into the narrow spaces between them. An adjustable-height table, large enough for small-group collaboration, bisects the half-circle. Vertical versions of the shelving—called Vertipedes—are connected to the top tier and provide light visual screening. Utility aside, it's an appealing creation: the colorful, undulant screens and shelves recall the iconic fabric designs created for Herman Miller from the 1950s through the early 1970s, by Alexander Girard.
A plan view of the system. "We strongly believe that interior architecture should create landscapes with an urban quality that allows both informal encounters, and also a retreat in order to focus," says Studio 7.5 partner Carola Zwick.
Courtesy Studio 7.5
---

Locale
Industrial Facility
BRIEF
There was not really a distinct brief, but more of a conversation about how work is changing. Briefs are generally written in relation to market conditions and so they inherently become historic quite quickly; cultural shifts remain more interesting and have greater longevity.
APPROACH
In our office, we all travel from our own neighborhoods to a place where we can collaborate in person, so we thought: Why not design an office landscape that behaves like a good neighborhood? In our first thoughts we talked a lot about how social networks behave. Locale is a physical version of how social networks function; the most relevant participants are kept close so that communication is easy, fast, and frequent.
SOLUTION
Locale works like a small high street where everything you need is clustered together. The architect or specifier can build small clusters out of different functional modules to form what we call a Workbase, so that the disparate functions of the office reside comfortably together. The library, social setting, working desk, and meeting table are al formed into an architectonic line.
---
In Sam Hecht and Kim Colin's Locale, "individual work areas mix with group and collaborative elements to give a high-performance team everything it needs within a neighborhood on the floorplate," Lane explains, leading me into a zone shaped by standing-height screens, storage/shelving units incorporating sliding easels, and with a low circular coffee table, stand-alone refreshment center, and a row of curved adjustable-height desks. Locale grew out of what Hecht calls an "autobiographical approach" to design, wherein he and Colin thought about how unnatural it felt to have an impromptu get-together in their own office. "You're sitting, they're standing, it's not very productive," he explains. "We wanted to create a system in which people would collaborate very naturally—every table can be a meeting table."
The desks and partitions can be configured for both collaborative and heads-down work.
Courtesy Herman Miller
While the products' utility remains evident, Herman Miller recognizes that success depends on the American office's ability to comprehend their potential, which is where Lori Gee comes in. The company's vice president of applied insight, Gee's teams "help people moving from the current reality to embrace new ways of planning," a process that involves both assessing an organization's particular needs and "understanding how far they want to stretch. Then we go quickly to what that could look like." To do so, Greg Parsons recalls, "We came up with ten modes of work that are repeated in virtually every organization"—including "administer," "contemplate," "create," "quick chat," "converse," "warm up/cool down," and "gather and build"—"and tied them to the kinds of settings we can create," he says.
Once an organization's programmatic needs are understood, and what the mix of work modes might be, Gee's group develops study plans that suggest how an office's square footage can be best apportioned. The ones she showed me resemble urban site plans, which seems appropriate: A well-functioning business environment, after all, is akin to a neighborhood, different parts of which cater to varying needs and interactions. "Our team uses a lot of urban planning metaphors when we talk about this," Gee says. "Because getting the settings right is just part of the equation. That would be like getting one building right in a whole city."
But do these products, and the ones to come, capture the Living Office philosophy and its supporting research? The responses I receive to this question reflect both the company's culture and the challenge, in design, of hitting a moving target. "We're not saying the furniture is the optimized solution," Schurman replies. "We're saying it's part of the solution"—one that embraces the complete existing portfolio of Herman Miller products. According to Gee, this dovetails with what they've been hearing from commercial interior designers. "They talk about how many of their clients are asking for a more eclectic style, to counter-act the sea of sameness," she says, a residential quality that harkens back to Nelson's 1948 vision. More significantly, everyone admits that the Living Office is a work in progress—in Schurman's words, "a down payment on a concept." Says Parsons, "You begin a journey, you're consistently adjusting as you go. That's where the value is—in those moments of correction and choice."
Which is, for a company like Herman Miller, as it should be. "When D.J. was asked what was truth in design, he said, 'Durability, unity, integrity, and inevitability,'" Smith relates. "I hope the Living Office will achieve that. The market will tell us if we did or not," he adds—"inevitably."
Though the open-plan Action Office ultimately devolved into the much-derided cubicle system, its enduring philosophical underpinnings, as described by Robert Propst in 1968, animate Herman Miller's new-century Living Office.
Courtesy Herman Miller