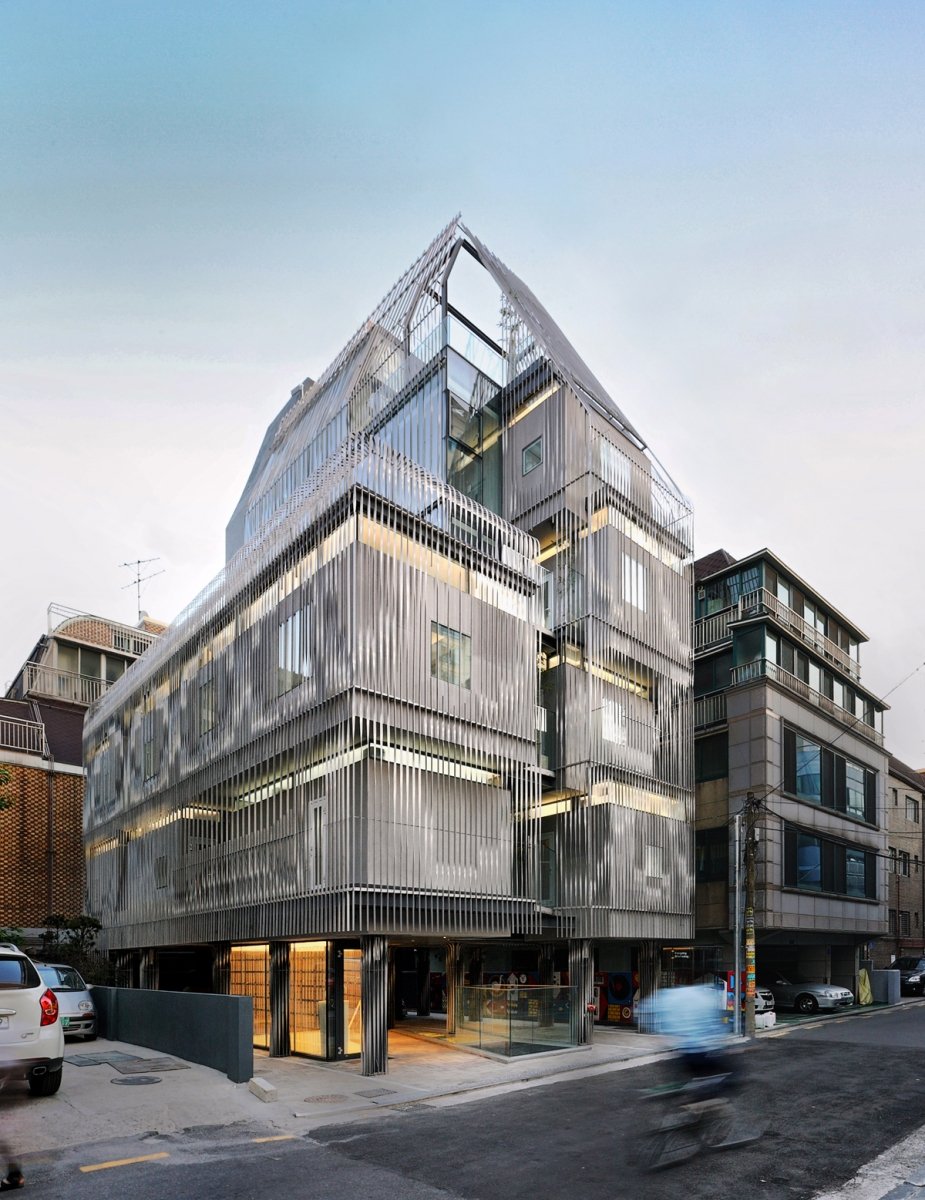 January 20, 2015
Living Social: Single Speed Design's Innovative Take on Micro-Housing
Through generous communal spaces, the Songpa Micro-Housing project in Seoul encourages inhabitants to interact with their neighbors.
All images courtesy Single Speed Design
How much personal space do we actually need? A mere 120 square feet suffices for residents of Single Speed Design's (SsD) Songpa Micro-Housing project in Seoul, Korea. Placing emphasis on shared public areas rather than individual living space, the 14-unit block features semi-public residual spaces such as a mini theater, café, and toy gallery—called the "shared living room" by SsD's principals (and 2004 Metropolis Next Generation Design Prize winners) Jinhee Park and John Hong.
"We coined the term 'tapioca space'," Hong says. "If you look at a tapioca pearl, there's gel around it. And with a lot of micro-housing, you have the corridor and then you have the housing. But we're focused on the kind of 'gel' around the unit that's semi-public—the shared corridors and balconies." Corridors throughout are filled with natural light, ventilation, and views, making them natural gathering points for social interaction for residents and their guests. The parking area below—a necessary requirement for buildings in the area—also works as a shared public space for gatherings.
---
More from Metropolis
---
The units themselves can be combined to create a larger living space—for a growing family, for example—and they can also be contracted for changes in living arrangements, such as a relationship breakup (provided the parting was amicable enough to remain neighbors, of course). "We wanted to create a new prototype for housing," Park explains. "It used to be one-bedroom and two-bedroom, which was prescriptive but at the same time also vague. So we saw the potential for a different type of space that was flexible so that people could stay there longer. They can just buy or rent another unit if they need it."
SsD's design ensured that the bathrooms and the sewage wall were arranged in a way that allows them to be easily combined without too much demolition or construction. The project's most striking feature, however, is its stainless-steel facade, a composition of 0.13-inch-thick flat bars twisted into nine curvatures, creating patterns that serve many functions: railings, drainage paths, privacy barriers, vine trellises, and bike racks. Then there's the aesthetic function—concealing conduits and gas lines—which was one of the primary reasons for the screen. "Because of tight development, the facades of the surrounding buildings have elements that were added later—drain pipes, security bars, privacy screens—which make them look very crowded," says Park. "So we saw the opportunity to make the screen a design feature."