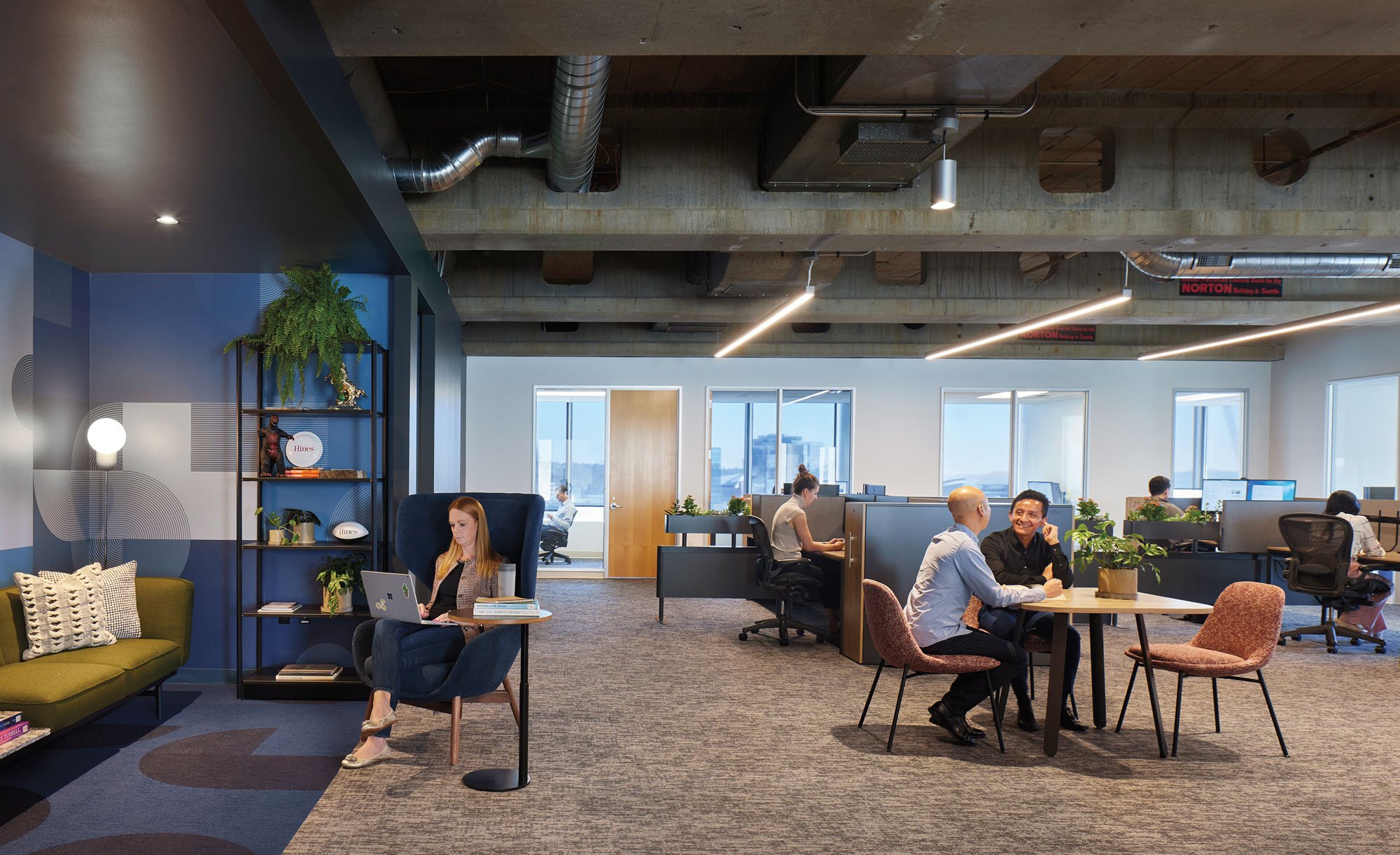 May 16, 2023
Creative Reuse Slashes an Office Interior's Carbon Footprint
Global commercial real estate giant Hines bought Seattle's handsome Norton Building in 2021 with designs to plant its Pacific Northwest headquarters on a floor formerly occupied by a coworking space. While the existing layout of 7,120 square feet arranged with a ring of partitioned offices worked for Hines's plans, the aesthetics were lackluster by the standards of a property firm known for its design acumen.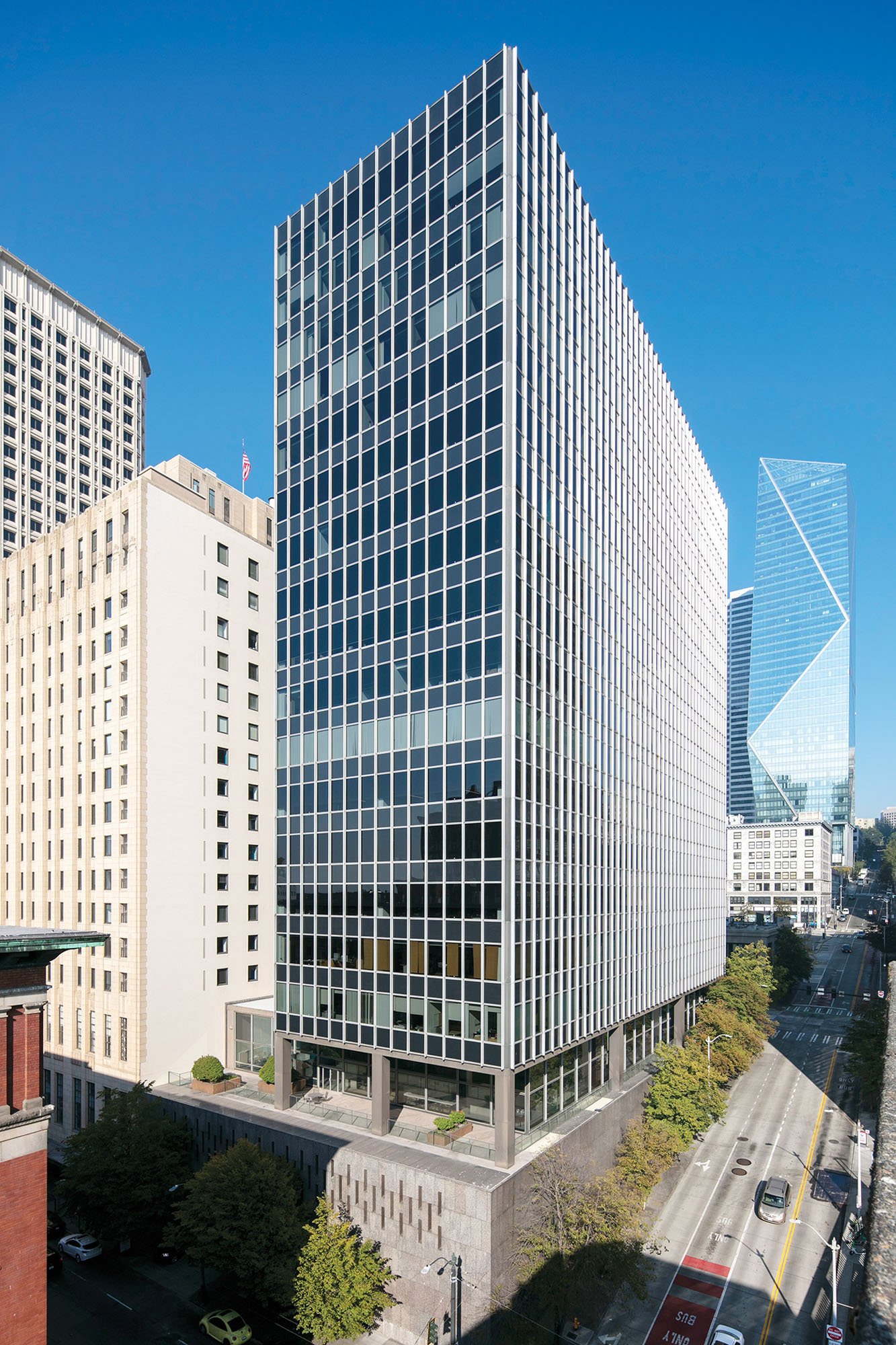 Calculating the Embodied Carbon Footprint of Interiors
When Hines began working with its longtime partner LMN Architects—conveniently located three floors down—it expected that basics such as the carpet and doors would be replaced with brand-new materials. But LMN has been on the forefront of addressing the embodied carbon of interior design decisions. They studied the impact of their own offices after a 2013–2015 remodel and determined that over 60 years, interior renovations can generate as much embodied carbon as the construction of framing and building envelopes—even though the latter receive far more attention from industry groups, standard setters, and regulators.
LMN suggested that Hines's redesign process could center the impact of embodied carbon in a first-of-its-kind implementation of the firm's research. Given Hines's pledge to achieve net zero operational carbon by 2040 without buying offsets, and its admiration of LMN's own office, which leans into the timeless aesthetic of Seattle's finest International Style building, the new landlord gave the architects the design reins.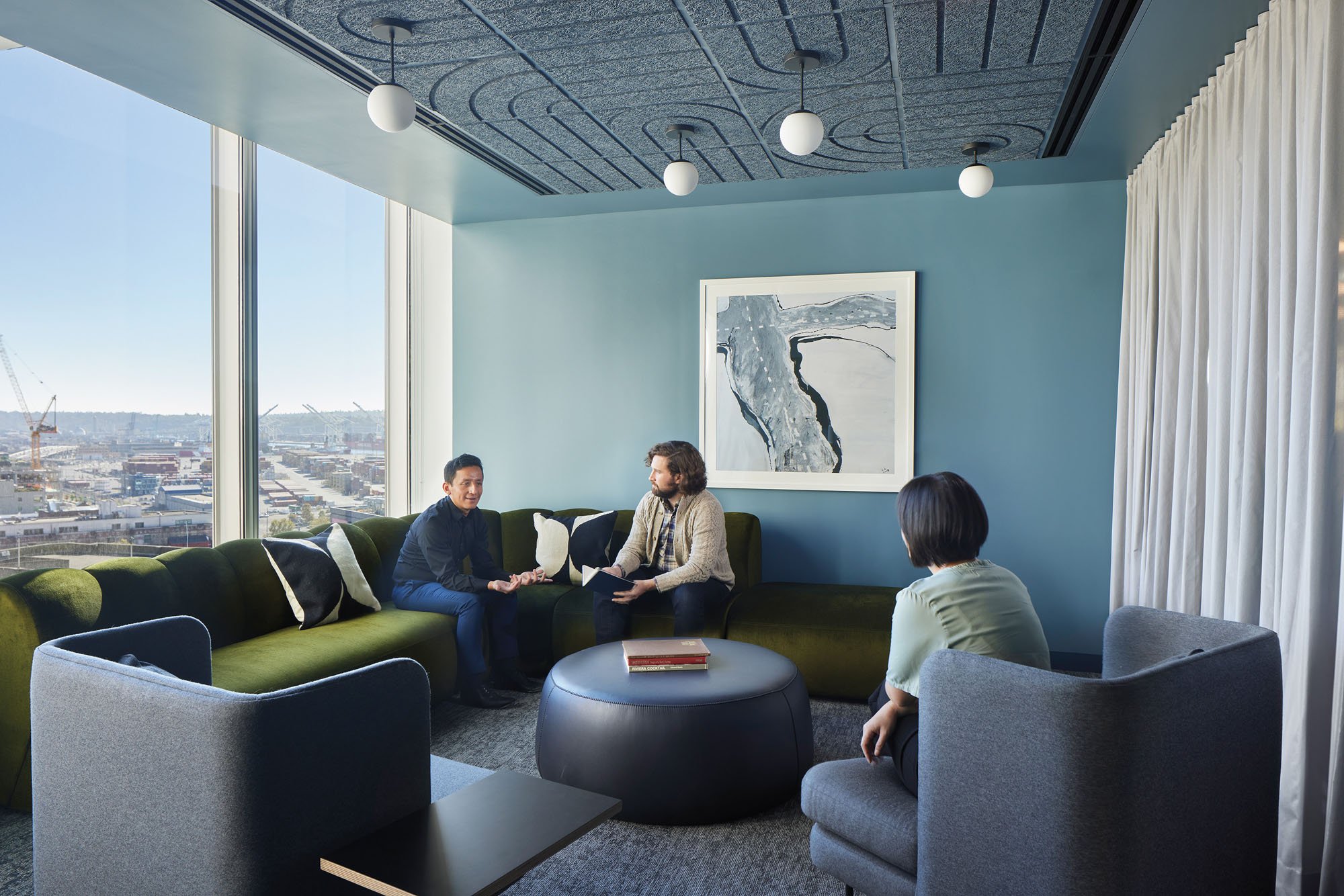 Tackling Carbon-Heavy Decisions
The first step: The LMN team quickly got to work resolving the biggest in a number of usually carbon-heavy decisions—how to treat the unloved carpet that had been installed just a year or two prior. When presenting a new palette to the client, they kept the original gray carpet. Set against other colors, like blue walls and red chairs in Hines's signature hue, the client didn't recognize the carpet and signed off.
"Finding a way to reuse the carpet is a big, easy win," says Justin Schwartzhoff, LMN's embodied carbon research lead. Together with Kjell Anderson, director of sustainable design, the team tracked the impact of every existing or potentially new material down to the square foot in a spreadsheet. While less sexy than renderings, the spreadsheet was a powerful tool in client meetings to inform the team's decision tree. Suddenly, each new material chosen incurred an additional embodied carbon penalty, as the spreadsheet noted the cost of sending existing material to the landfill.
---
More from Metropolis
---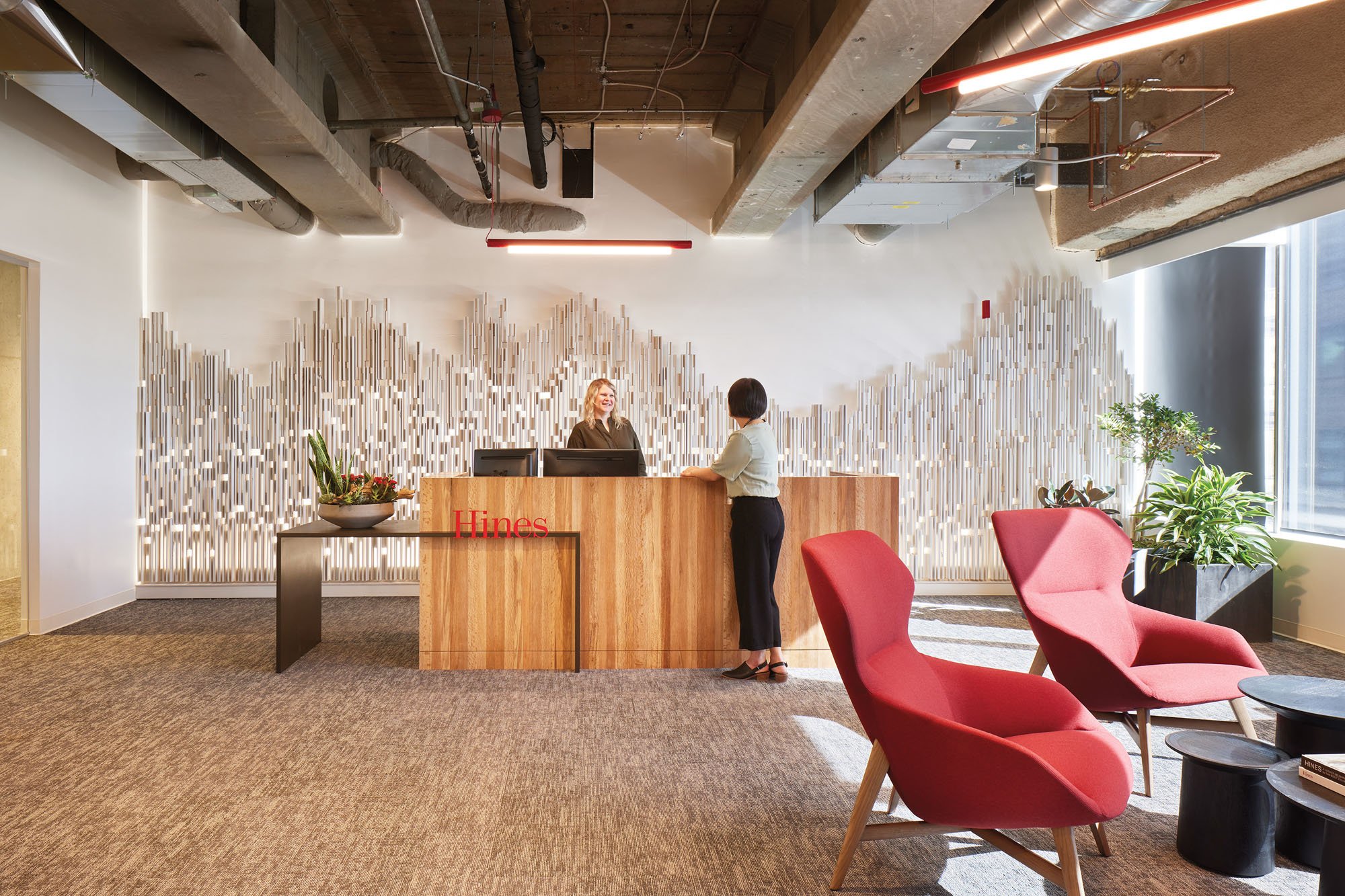 Finding Creative Ways to Cut Carbon
That approach led the LMN team in several unexpected directions. Discarded wood became a barn door. Conference room demolition yielded 100 square feet of glazing that was repurposed for the entry. For a feature wall framing the reception that abstracts the topography of Seattle, fabricators relied on 1,100 square feet of discarded offcuts from wood manufacturers. The resulting design reduced embodied carbon by an estimated 65 percent versus a standard remodel of an empty shell. Adding a kitchen, for example, would have been carbon-intensive given the need for new plumbing, appliances, and finishes.
As for that carpet? Reusing it left the team with an area of 485 square feet that needed new flooring. They lucked out with overstock from a flooring distributor and found a similar color scheme with a different pattern that now demarcates the elevator entranceway from the office zone.
The end result was both cheaper—thanks to fewer new materials purchased—and quicker, as sourcing locally avoided the supply chain bottlenecks facing designers who rely heavily on catalogs. Most importantly, the renovation lived up to the client's high standards, including meeting nooks and a community table that make the intimate office welcoming to its occupants.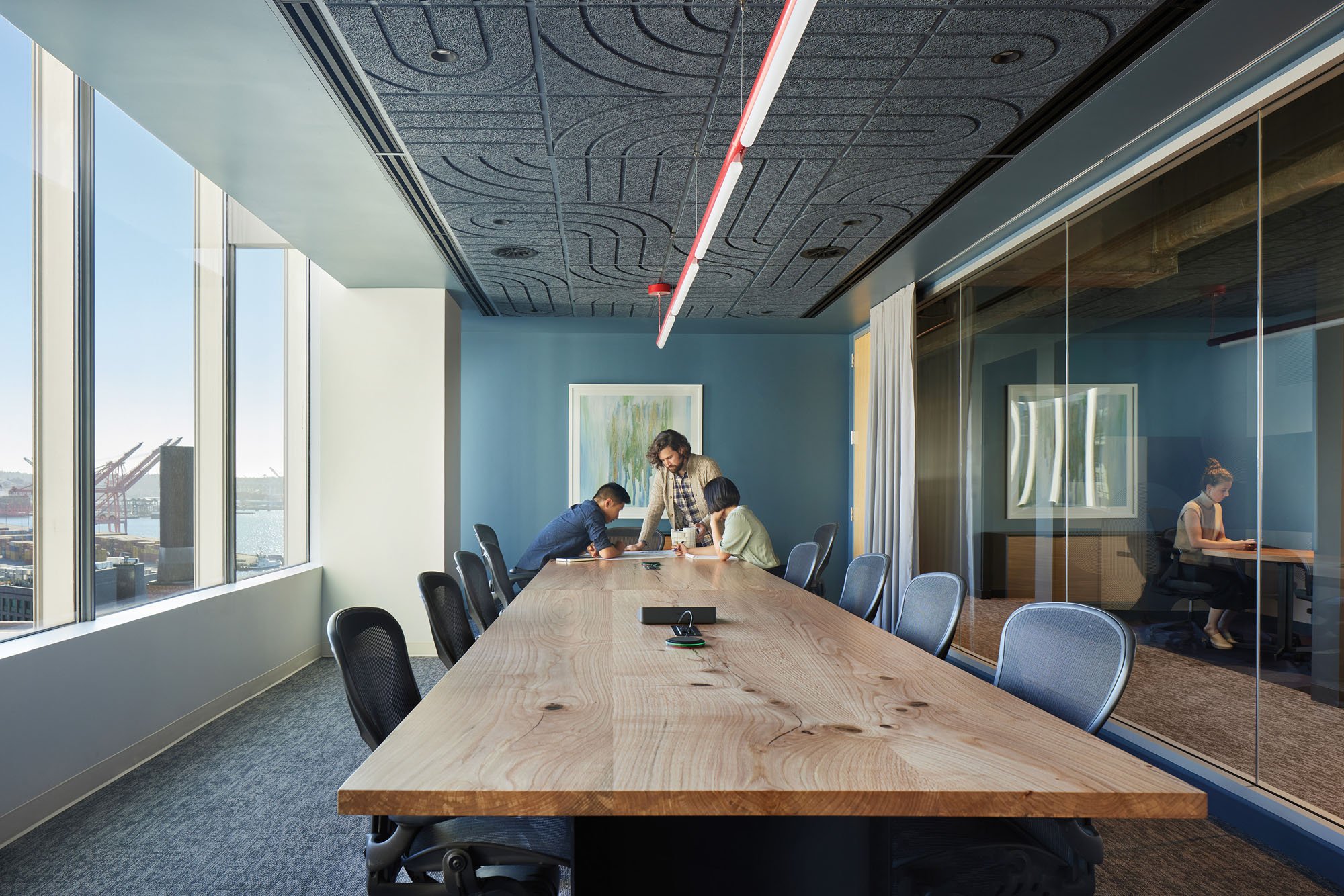 Making Old Things Feel New
LMN had the benefit of working in the environmentally conscious Pacific Northwest, with access to suppliers like Seattle salvaged wood specialists Urban Hardwoods and Portland recycled wood engineers Formology Architectural Products. But the trend toward a circular economy for construction material is growing nationally, as local and state governments adopt increasingly aggressive deconstruction ordinances and industry groups like All For Reuse create maps to guide architects and designers toward recycled materials.
LMN hopes to inspire imitators. It recently published 11 articles in its Path to Zero Carbon Series through its research arm. LMN principal Jenn Chen, project lead for the Hines Seattle Headquarters, has advice for those seeking to follow this successful proof of concept.
"It takes a little bit of muscle to think differently during the design process," she says. "Get out of your comfort zone. You can make old things feel new and shiny."
Selected Sources
• Design Architects: LMN Architects (Kjell Anderson, Hank Butitta, Jenn Chen, Erik Larson, Curtis Ma, Chris Martin, Justin Schwartzhoff, Pamela Trevithick)
• Client: Hines Interests Limited Partnership
INTERIORS
• Lighting Design: Titan Electric with LMN Architects
• MEP Engineer: Hermanson Company LLP
• General Contractor: Sellen Construction
• Furniture Selection: Porter
• Material Vendor: Formology Architectural Products
• Ceilings: Armstrong, Tectum
• Carpeting: salvaged (Legacy Group), new (Flor, Interface)
• Workstations: Watson
• Seating: Keilhauer, Bernhardt, Steelcase, Blu Dot, Aeron Chairs (reuse)
• Adjustable Height Table: Coriander Designs
• Lighting: Resolute Lighting (custom elevator lobby and kitchenette fixtures); ANDlight (red accent lighting)
• Paint: Sherwin-Williams
• Drapery: Carnegie, Alphacoustic
• Feature Wall: Formology, Custom Interiors
• Interior Glazing: EastSide Glass
• HVAC: Hermanson Company LLP