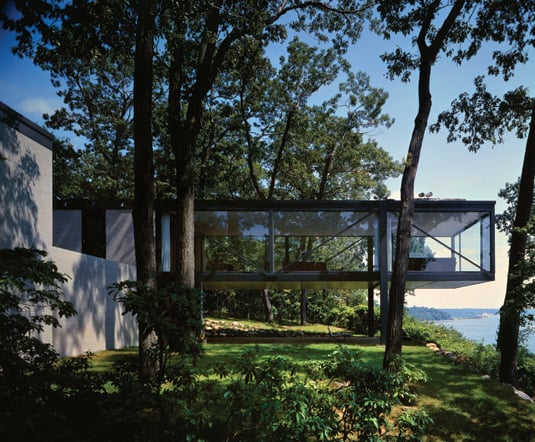 October 2, 2012
Pockets of Long Island Once Went Crazy for Modernism. Why?
Long Island at the mid-twentieth-century, you might have heard, was a place of explosive growth. Most of this was not very interesting. Sprawl. Tract housing. Billy Joel. They came with the island's rapid suburban development.For a brighter look at the considerable architectural benefits of the period, there's Long Island Modernism 1930-1980 by Caroline Rob Zaleski. […]
Long Island at the mid-twentieth-century, you might have heard, was a place of explosive growth. Most of this was not very interesting. Sprawl. Tract housing. Billy Joel. They came with the island's rapid suburban development.
For a brighter look at the considerable architectural benefits of the period, there's Long Island Modernism 1930-1980 by Caroline Rob Zaleski. The book is an erudite tour from Great Neck to Montauk through a vibrant half-century of architectural experiment, incorporating stylistic eddies from the late Prairie Style to Brutalism to high modernism and hitting such curiosities as a canvas-walled home and the only Mies van der Rohe–renovated barn along the way. Yes, that's right. The Northern State Parkway, the Southern State Parkway, and Long Island Expressway, plus all additional tendrils of Robert Moses' road-building offered countless new prospects for residential construction in the New York market. Affluent clients rapidly seized upon the opportunity, often lured by rising waves of architectural fashion and promise.
---
More from Metropolis
---
Leonhardt house
Courtesy of Ezra Stoller (c) Esto
The story is, in large part, about New York City wealth grafting Bauhaus and Taliesin ideas onto picturesque spots in an empty countryside, and Zaleski does an excellent job of explaining both the cultural and design background in detail. Wright's Rebhuhn house appears, as do three homes by Antonin Raymond, Wright's collaborator on the Japanese Imperial Hotel. The volume features four homes by Marcel Breuer, six by Breuer's sometime director of design, William Landsberg, one by his partner Hamilton Smith, and one by Jane Yu, an interior designer in the firm. Richard Neutra, early Viennese émigré and fallen Wright disciple, designed two homes. Herman Herrey, also of the German diaspora, designed two. Round the list out with works by Sert, Durrell Stone, Philip Johnson, Richard Meier, and a handful of others from an amply-interconnected modernist pantheon and suddenly you have an island worth close attention.
Rebuhn House
Courtesy of the Ronald Rebhuhn Collection
Most clients were seeking homes, either permanent or seasonal, outside New York City, and were frequently driven by architectural exhibitions or magazine articles. New York museums of that time seemed to function much like auto-showrooms for architects, making countless design deals for forward-thinking clients. The 1932 International Style exhibition at the Museum of Modern Art featured a range of modernist architects and connected Neutra to the heirs of the Brown family (of the University) who were seeking a modern design for a Fisher's Island home. Marcel Breuer's 1948 Exhibition House at MoMA minted fresh clients.  Wright's 1954 Usonian House started life as an exhibition at the future sight of the Guggenheim. Mass-market publicity helped them as well. An August 1949 Time cover story launched several Neutra Long Island commissions. Holiday Magazine commissioned a model home from Gordon Chadwick and George Nelson, built in Quogue, and unsurprisingly, lead to several commissions.
Holiday House
Courtesy of Ezra Stoller (c) Esto
Some homes proved a riot of architectural experiment. The Fort Salonga Colony, a coterie of modernist homes, featured a Canvas Weekend House, a Villa Savoy-like elevated structure with walls of a waterproofed textile. There was David Leavitt's "Box Kite" House on Fire Island, which had cable-stayed Mylar Sliding windows, adjusted almost daily, like rigging, responding to prevailing wind conditions.
Geller House
Couresty of Ezra Stoller (c) Esto
But it is winds of taste, not of nature, that register most strongly throughout the volume, with idiosyncratic design characterizing countless small projects. Wright, to the dismay of his apprentices, turned to an early, Prairie-styled design for his 1938 Rebuhn house, yet still accomplished a design of bold asymmetry, complete with a tree incorporated into the dining room. Marcel Breuer's second Geller House is a marvel of unusually graceful concrete construction, with a gentle shell framing a soaring yet peaceful interior space. There's Paul Rudolph's Deane House, a deep-eaved pyramidal wonder that evokes, as Zaleski notes, not abstraction, but traditional Arts and Crafts and Japanese construction. And of course there's the Mies barn. Romance always induces changes of some sort. Mies's affair with sculptor Mary Callery resulted in a barn renovation. He covered interior walls with beaverboard painted white, retaining structural beams in their original color, and replaced the barn doors with plate glass windows. While moving the barn to provide a superior view, he left the exterior almost entirely as he had found it.
Calderone theater
Courtesy of the Special Collections Research Center, Syracuse University Library: William Lescaze Papers
Municipalities might remain purely residential, but no counties and certainly no 118-mile island will. The accretion of civic, educational, and commercial needs on Long Island soon evoked modernist attention. There is I.M. Pei's amply columnar and cantilevered Roosevelt Field Mall design, since mangled beyond recognition. There's William Lescaze's sumptuous De Stijl-inspired Calderone Theater in Hempstead (also spoiled by subsequent renovations). Sinuous and turreted, Paul Rudolph's brutalist Endo Laboratories building is an education itself; its nuanced use of concrete, with a careful interplay of hammered, striated, and smooth varieties in interior construction, purposefully contrasts with walnut paneling and furnishings. As Zaleski notes, "it was widely admired, although apparently not by Robert Moses, who, as president of the Long Island State Park Commission, ordered the planting of rows of hemlock trees along the Meadowbrook Parkway to block passing motorists' view of the building." On the other hand, Moses, who slips in and out of the narrative to bestow favor and distaste, like an Old Testament God, did bolster Philip Johnson's New York State Pavilion, a rare but understandable inclusion in the volume within the New York City limits.
Roosevelt Field
Courtesy of Ezra Stoller (c) Esto
Long Island proved the greatest beneficiary of the mixed architectural legacy of then governor Nelson Rockefeller's expansion of the State University of New York system, with both the Old Westbury and Stonybrook campuses standing out from their upstate peers. The John Johansen-designed Academic Village at Old Westbury is an arresting brutalist-medieval sprawl, prefiguring Rewal's Asian Games Village in New Delhi and other such traditional-contemporary fusings. As Zaleski writes: "Johansen described the Academic Village at Old Westbury College as a picturesque hill town and as an organic cluster of forms that 'had grown together casually over time.' In profile, the concrete buildings are characterized by their blocky irregularity, with towers projecting here and there like turrets. In plan, the complex has the meandering quality of an ancient village positioned on a gently sloping hillside. According to Johansen, 'the idea was to have the hill determine the organization and character and life of the project,' a planning strategy that he described as 'a great success'."
SUNY Old Westbury
Courtesy of  Avery Architectural and Fine Arts Library, Columbia University
SUNY Stonybrook also boasts an intriguing campus alignment, plus three typically space-aged Bertrand Goldberg towers in its Health Sciences Complex. These public spaces are, for the most part, accessible to the public, which, as the author has pointed out in some recent interviews, is decidedly not the case for most of the homes profiled.  Such is the nature of pastoral retreats. Sean Hannity owned a Richard Neutra house; you do not. Happily, if you'd like a look at some of these wonders, Long Island Modernism now offers a handsome and informative alternative to trespassing.
---
Anthony Paletta is a writer living in Brooklyn. He has written for The Wall Street Journal, The Awl, Bookforum, City Journal, and The Millions on urban policy, cinema, historic preservation, and literature, and Metropolis on Boston city planning, the preservation of Brutalism, Socialist automobility, and fallout shelter design.