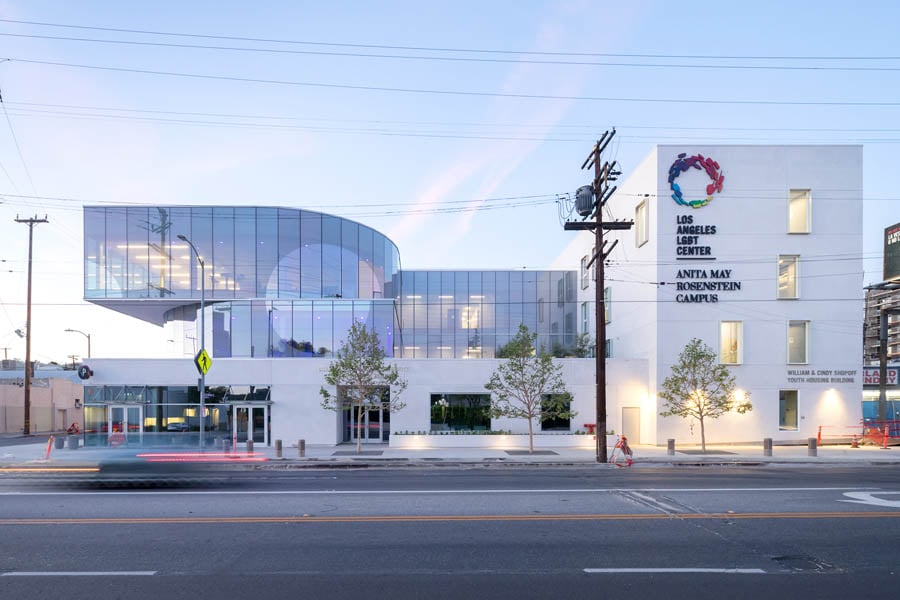 September 19, 2019
This New Hollywood Landmark Is Best Understood Inside Out
The Los Angeles LGBT Center, designed by Leong Leong and KFA, packs heart and soul into its secondary spaces—on a nonprofit budget.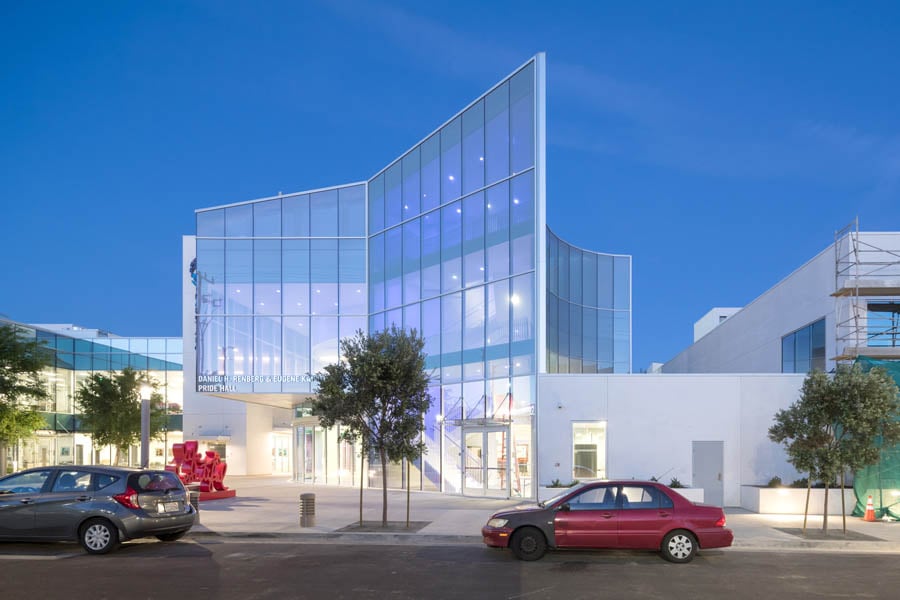 It's not typical for a building to count among its liveliest and most compelling spaces a modest commercial kitchen hidden away in the back of the house. But the more I have thought about the Anita May Rosenstein Campus, the Los Angeles LGBT Center's newest Hollywood home, the more this space jumps out as key to the entire project.
This practical, stainless steel–clad kitchen does far more, both socially and architecturally, than might otherwise be expected for a space of its type. In contrast to the visual language of the building's massing, which emphasizes exuberant and delineated form, the kitchen is an infrastructure of blurring, shared by all groups—senior clients, youth clients, staff—and located where their program areas meet. Such spaces of overlap recur throughout the project with various degrees of personality, but wherever they appear, they play as essential a role as the mechanical conduits: They open arteries where people may breathe freely, mingle, and flow.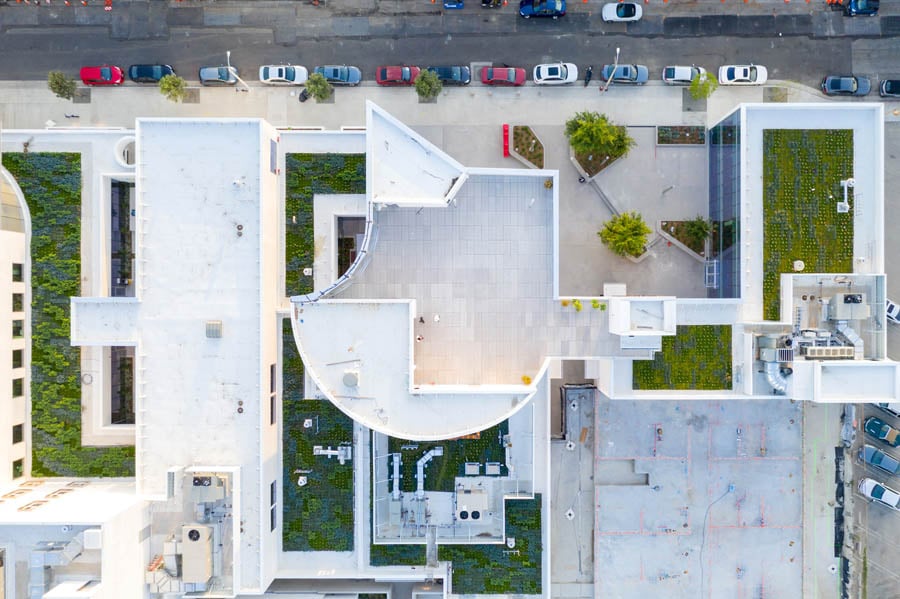 Opened in April, the Anita May Rosenstein Campus occupies an L-shaped  site at the corner of Santa Monica Boulevard and North McCadden Place in Hollywood. The project is the work of New York–based Leong Leong (design architects) and Los Angeles–based KFA (executive architects), and consists of two phases, of which this 72,000-squarefoot building is the first. (Phase two, expected to wrap in 2020, will add two long-term-housing structures to the complex: 98 affordable units for seniors and 25 supportive-housing units for young people.) With more than half a million visits a year, the Los Angeles LGBT Center claims to be the world's largest provider of services to LGBTQIA+ individuals. Its roots on Santa Monica Boulevard go all the way back to 1969, when it was founded out of a small rented structure on the same street, and its clientele shares a deep, ongoing history with the neighborhood. Today the center runs an impressive range of programs, from health services to housing, from a number of Hollywood-area locations.
---
More from Metropolis
---
Among them is The Village at Ed Gould Plaza on McCadden Place, a block from Santa Monica Boulevard. In 2014 the organization purchased ten contiguous parcels—nearly two acres—across the street for $12.7 million, and set about creating an intergenerational home base that would bring together youth and senior services with administrative offices at one address. The center also wanted to provide shelter and housing, given the vulnerability of the LGBTQIA+ population to homelessness, an issue with particular visibility in L.A. (Nationally, a reported 48 percent of LGBTQIA+ seniors experience discrimination when applying for housing. Forty percent of homeless youth identify as queer.)
In Leong Leong's competition-winning design, the young firm hit upon the matbuilding as a point of departure—not for its potential as dynamic armature but for its spatial qualities, which manage to provide intimacy, privacy, and security within a vast square footage. The parti melds the three main program blocks— senior center, youth center, and admin—atop two levels of subterranean parking. As needed, it then expands certain programs and opens others with voids, recalling a courtyard house.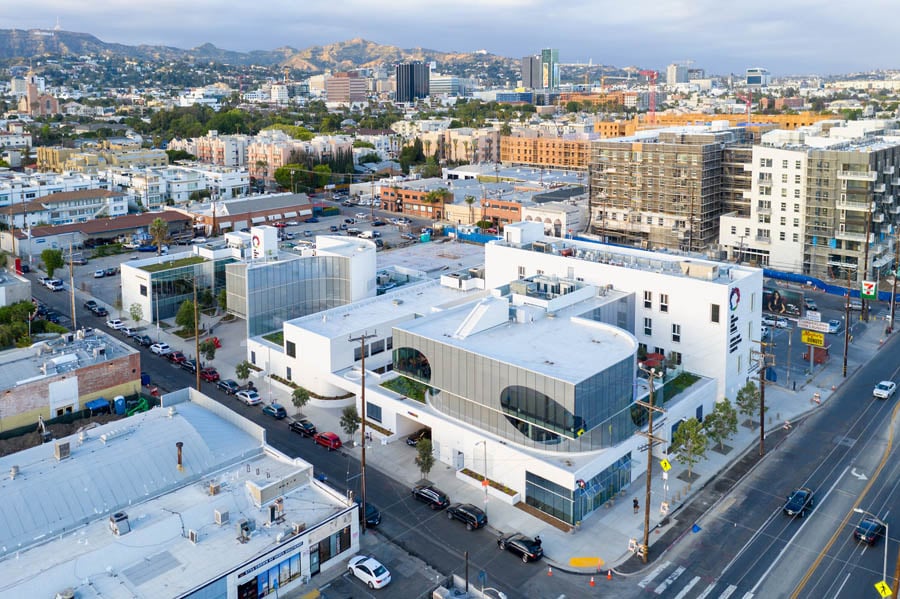 The resulting building is a dense, low-slung, porous base in white stucco capped and abutted by distinct abstract extrusions, some glazed, others white. To wit: The administrative offices occupy two jauntily stacked, fully glazed, curving volumes atop a third concrete one; adjoining this, a four-story extruded rectangle with punched windows is devoted to transitional youth housing. Oriented around a public plaza on McCadden Place, the building forms a diagonal axis between its double-height event space (Pride Hall) and separate Village across the street. The variation in volumes breaks up the bulk while rendering the 12 programs, and their six entrances, legible to visitors arriving on foot.
As I walked the perimeter, the building variously recalled an adobe cliff dwelling, an ocean liner, and a New Age spa, and was in clear dialogue with the Michael Maltzan–designed Regen Projects building parked catty-corner across Santa Monica Boulevard. The architects devised a striking face for the southwest corner: a bold, lenslike anamorphic projection etched on the curtain wall that straddles two stacked volumes. Beside it, one face of the campus's tallest volume—the transitional housing—doubles as a billboard bearing the L.A. LGBT Center logo.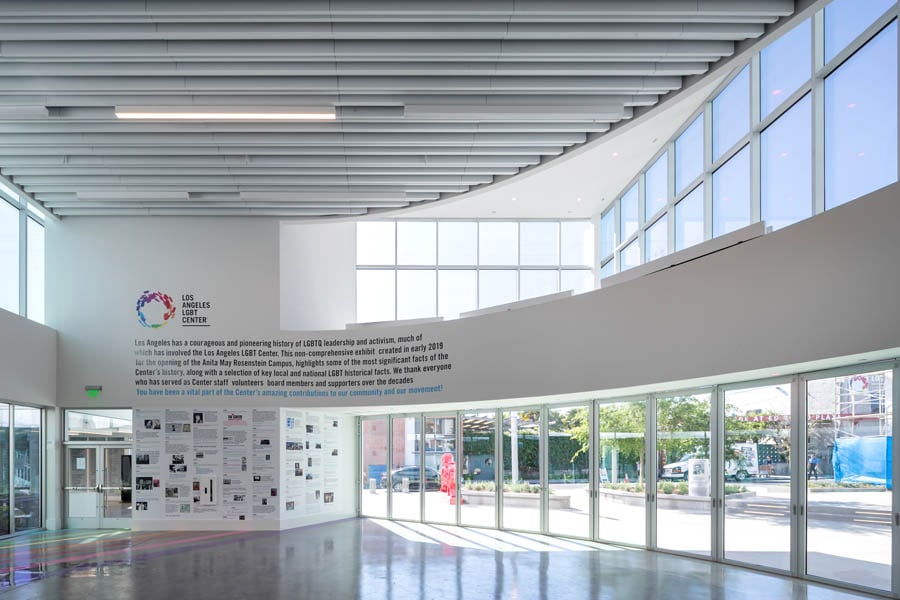 And so this is a building for the city, the pedestrian, the drive-by encounter, a building for the public. It gives gathering spaces for the queer community a place of prominence. The atrium at Pride Hall, for example, is a kind of ambassador for the complex at large. It opens up to the plaza with an operable curved facade, allowing spillover and crossover with events at The Village. On the same plaza, an elevator tower takes visitors up three stories to the roof atop Pride Hall. With views over Hollywood and wind off the mountains, the space made me feel, even as a recent New York transplant, like some queen of Los Angeles.
But at its heart, this is an inward facing building, one that unfolds among snug programs, a building for individuals. Such was the impression I had as I exited the commercial kitchen into a nondescript corridor leading to the mosaic-like youth center. I'd entered some minutes earlier through a service door on the plaza and, not having eaten lunch, was still reeling from the scent of rosemary and roasted ham.
There the center has launched a cross-generational culinary arts program, an obvious embodiment of the building's mission to bring together people who blazed trails in the gay rights movement and teens and young adults who are coming out and up today. The program, funded late in the design process, literally feeds its own—serving hot meals at the youth and senior centers and occasionally catering events in the adjoining Pride Hall— before it places graduates in internships with participating Hollywood restaurants.
It's through such typically auxiliary spaces that the design team has brought ease, imagination, and intergenerational connection to a building that might have otherwise felt compartmentalized and even overwhelming to its longer-term residents. Their intimate scale helps, rather than hinders, their success.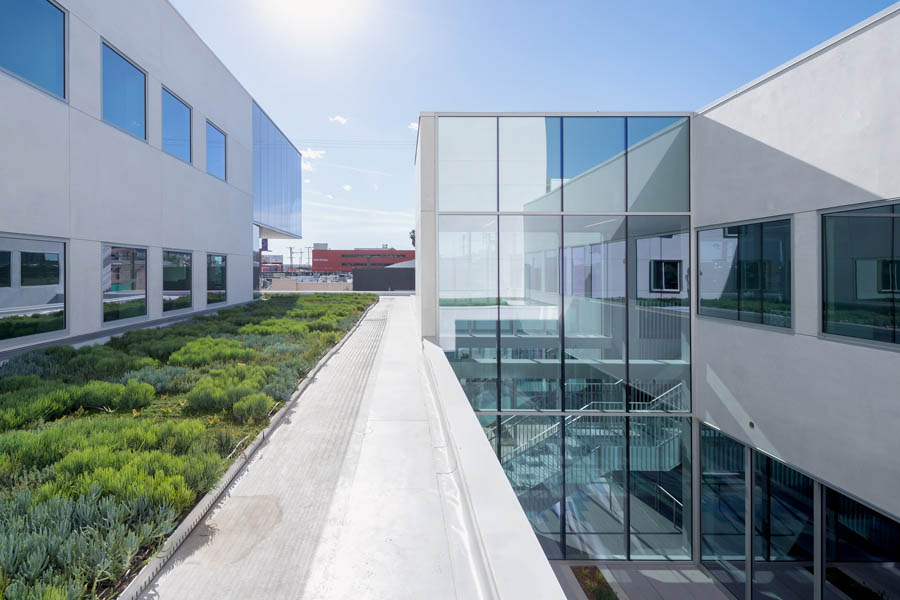 Another example: the four accessible, planted, glassed-in courtyards embedded throughout the dense plan. Besides letting in light, they also help organize the interior spaces. In the youth center, two courtyards form a cheerful hub around which the rest of the plan revolves, delineating circulation between case management and administration on one side, social spaces on the other, and career services upstairs, while, at least in theory, opening understated lines of supervision in between. (The architects admit that the glass is too reflective for this to work well at any time other than at night.)
Leong Leong and KFA made an effort to use curtain walls wherever privacy is not a concern. The rows of long glass panels make a vertical counterpoint to the building's overall horizontality. In the three main stairwells, the glazing opens views to the outside, releasing the sense of compression in some of the private areas and unveiling relationships between wings. These are pleasant, airy places to pause thanks to bright white walls, colorfully speckled terrazzo, and ample sunlight, and reveal another major aspect of the building's design: the succulent-studded green roofs, which cycle stormwater and soften solar gain.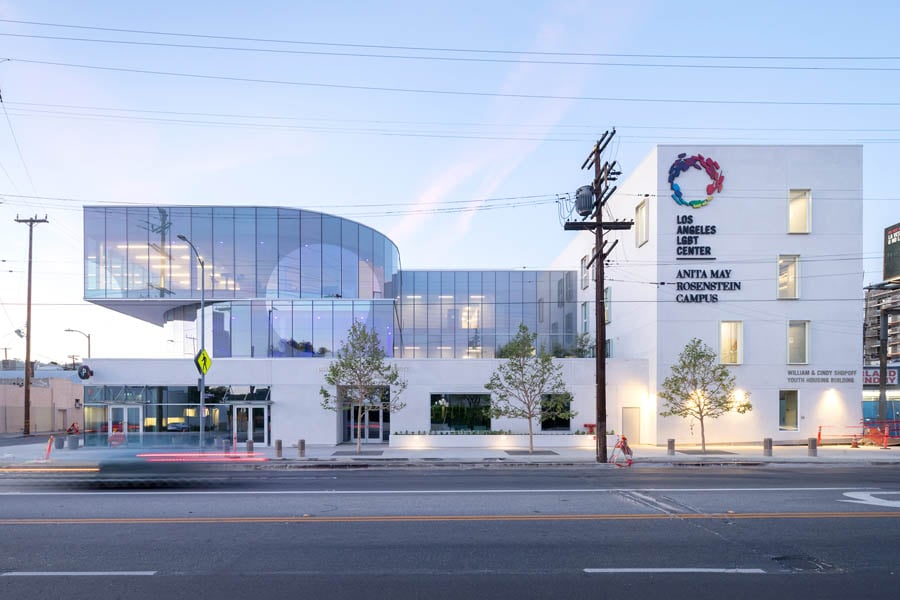 The impact of such choices is huge. On the youth center side alone, the building provides 100 emergency and transitional living program beds, along with a lounge, a career center, a computer lab, a record – ing studio, and case management offices. The foremost challenge was balancing quantity with quality—the need to serve as many people as possible without under – mining mental and emotional well-being. Because of the realities of budget, the ground-floor room of emergency beds is a simple rectangular open plan and gets its humanity from furniture. (Storage units double as privacy screens.) Upstairs, in the transitional-housing program, which mixes small doubles and singles, the design team created dormlike rooms that people can call their own, but which they will also eventually be able—even wish—to leave. That there are courtyards for lounging outdoors makes all the difference to people who have previously felt unwelcome or unsafe outside.
Some institutional environments become places to love and care for; others become places against which to rebel. The reasons why have much to do with the details, even in those spaces that might otherwise be afterthoughts. Here the architects, on a nonprofit budget, have taken secondary spaces and turned them into the complex's heart and soul, using them to connect what and who might not otherwise meet. Restrained but lighthearted material choices—fritted curtain walls, rainbow-speckled terrazzo, green roofs, bold colors in the welcome areas, slatted wood benches in the courtyards— have brought a sense of joy and tender – ness to these conditions. When I visited in July, only a few months after move-in, the spaces were already being layered in signs of success: paper butterflies taped to doors, rainbow lanterns decorating the courtyard lighting.
On the day I dropped by, the commercial kitchen, tucked away as it is, clattered with the school's second class of students—teens and seniors—busy with lunch prep. Today, it was oven-roasted brussels sprouts and rosemary ham. Tomorrow, something even better.
You may also enjoy "WORKac Crafts a Progressive New Student Center for RISD."
Would you like to comment on this article? Send your thoughts to: [email protected]