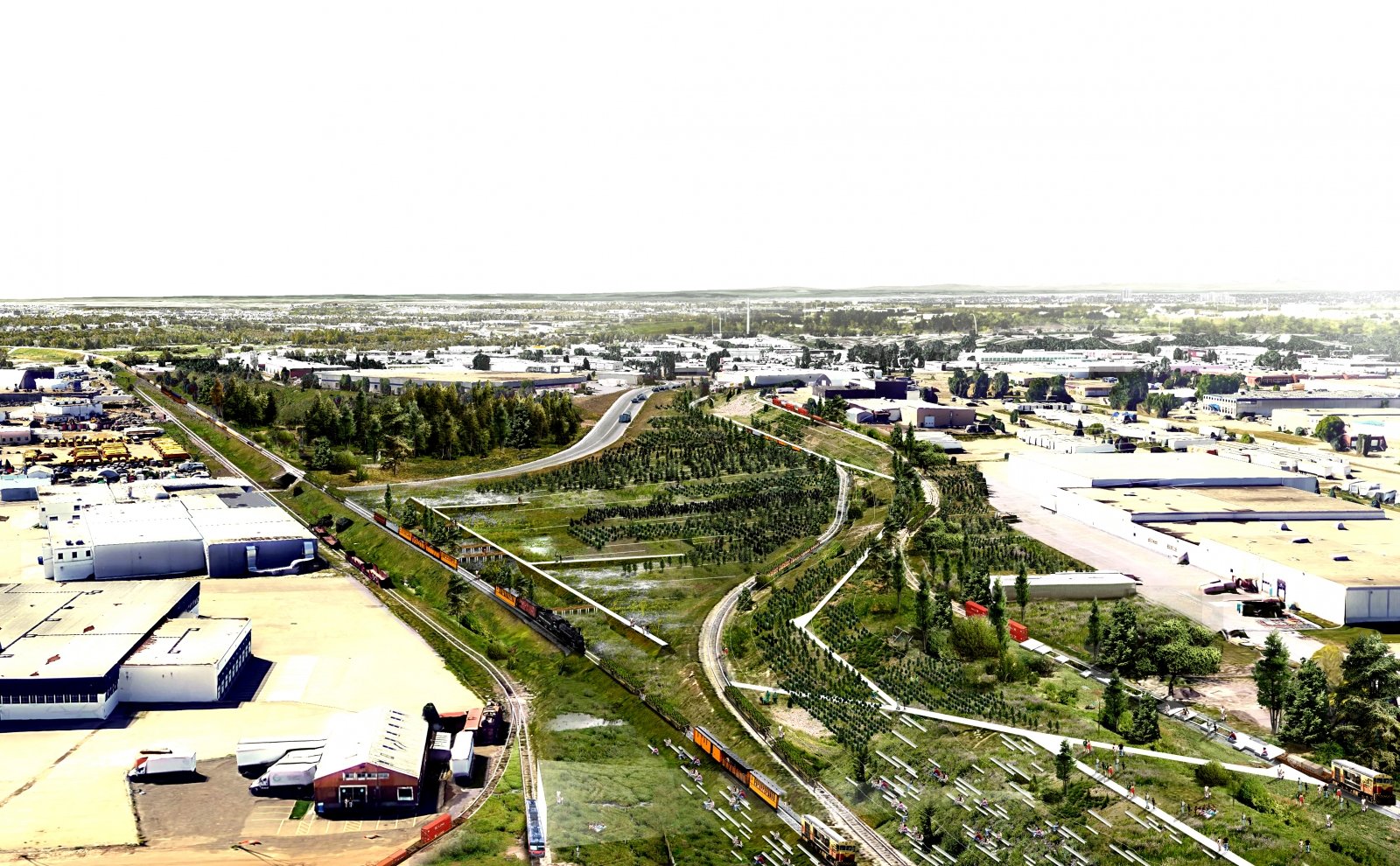 August 4, 2015
Lost Spaces 2015: Restoring Calgary's Neglected Urban Spaces
The Lost Spaces 2015 Ideas Competition asked designers to produce projects that would restore Calgary's forgotten or neglected urban spaces.
First place prize in the Lost Spaces 2015 Ideas Competition was the project Lost Railways by Laboratoria de Arquitectura y Paisaje, Edgar Mazo, Sebastian Meija, Iojann Restrepo, Glenn Pouliquen. The project sought to use the layout of train tracks and pre-existing roads that have fallen into disuse to explore and better reveal the fragmented layers of Calgary's landscape.
Courtesy Laboratoria de Arquitectura y Paisaje
---
The rapid growth of 20th-century cities left us with a baseline of solutions for global urbanization in this century. Densely planned neighborhoods linked by efficient rapid transit, wide sidewalks, street furniture and plantings, parks of varied sizes, and water features—all of them are there for us to evolve, to connect with the people who live and work there and the environment that supports all life. Yet all this early growth also spawned mean streets, rusting bridges, crumbling roads, abandoned buildings, and left us with decimated city blocks, dangerous pollution, and spaces that seem untamable and uninhabitable.
Enter Calgary. This Alberta city of skyscrapers—fueled by the oil industry while nurturing its roots in farming culture—puts on a really big show every July. "Cowtown," as this chunk of Western Canada's prairie is known, hosts the massive Calgary Stampede. Another show that should have an equally long-lasting and dramatic influence on city planning was organized by a group of concerned citizens, artists, designers, and public officials. They came together this past spring for a public discussion about the ideas presented in the Lost Spaces competition.
---
More from Metropolis
---
Calgary's concerned citizens, artists, designers, and public officials collaborate to invite humane and environmentally sound ideas to fix the city's Lost Spaces.
My invitation to serve as a competition juror came from two energetic local organizations—the Design Talks Institute (d.talks), an advocacy group for the built environment, and WATERSHED+ of the city's Utilities & Environmental Protection Public Art Program. During the jury process, we were able to consult with public officials who enlightened us on bee keeping, indigenous plants, remnants of old rail lines that brought the original settlers to this far-West outpost, and other local knowledge and lore.
Judging from the competition entries, the idea of Lost Spaces hit home in cities everywhere—entries came from places as far afield as Colombia, England, and Sweden.
Sterile traffic roundabouts, boring bus routes, and abandoned rail beds came under scrutiny, among other Lost Spaces. Ideas to revitalize these and other tears in the urban-natural fabric focused on developing bee habitats, strategic plantings of flora native to the prairie, and a resilient food system.
As I left Calgary the next day, I glowed with the energy of the people I met, the smart ideas that will surely fuel their future plans, and an appreciation that cities in our digitally connected century have a lot more human resources than they had in our industrial, fragmented, and rationalized past.
UnderSky by Jorge Sanfulgencio, Julio Romero proposed the idea of using transportation overpasses throughout the city to regenerate the constellations and stars of the urban sky with a retro-illuminated membrane attached to the underpass roof and extending the length of the underpass. This project won the Public Art Field Prize.
Credit Jorge Sanfulgencio and Julio Romero
The proposal of Occult Prairie by Judit Urgelles won this year's Transportation Field Prize. Urgelles proposed a design that would rediscover the lost spaces of Calgary through the dynamic forms of native prairie plants, which once blanketed the land where the city now stands.
Credit Judit Urgelles