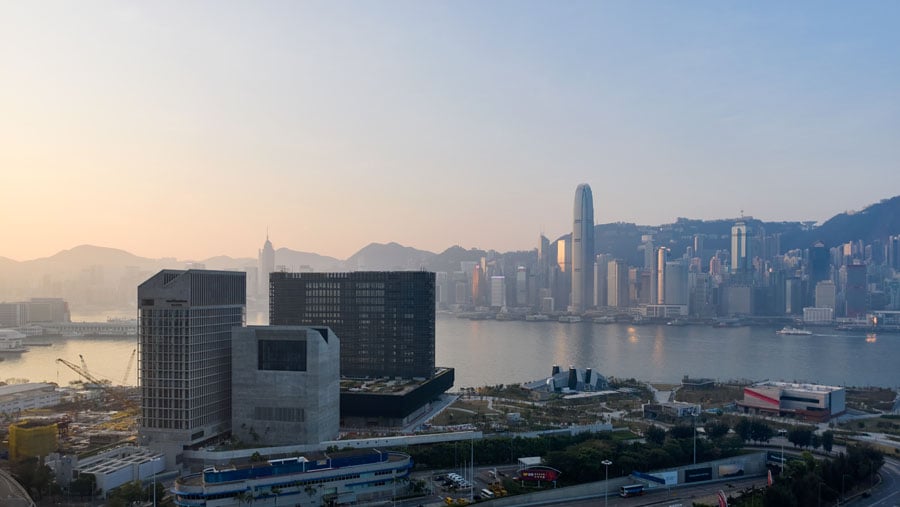 March 31, 2021
Herzog & de Meuron Completes the Colossal M+ Museum in Hong Kong
The building's T-shaped profile is made up of intersecting vertical and horizontal volumes that will hold a mix of public galleries and private offices.
Shining bright along Hong Kong's tower-lined Victoria Harbour, the M+ museum emerges as a new podium for the cultural ambitions of this densely populated metropolis. After a long and, at times, complicated process, the West Kowloon Cultural District development agency announced earlier this month the topping out of the 215,000-square-foot building and its plans to open the sizable facility at the end of the year. "I believe that M+ will become one of the most iconic architectural landmarks in [the city] and a must-visit landmark for local residents and tourists in the future," said the government organization's acting chief executive officer Betty Fung.
The museum is billed to become one of the only Asian institutions devoted to contemporary art, design, architecture, and moving image. While M+ will have a distinctively international focus, it will also exhibit Hong Kong's own visual culture from the 20th and 21st centuries. Set on land reclaimed as part of the Airport Core Programme developments in the early 1990s, the museum joins the Chinese Xiqu Centre theater, Freespace contemporary theater, and the Art Park to form the complete the West Kowloon Cultural District. 
Swiss firm Herzog & de Meuron teamed up with planning agency TFP Farrells and engineering company Arup to conceive the all-encompassing project and to make the most of the site. The building's T-shaped profile is made up of two intersecting vertical and horizontal volumes. The latter will incorporate a fluid program of 33 gallery spaces, interspersed with cinemas, learning hubs, research centers, shops, restaurants, and lounges. The tower will hold offices and other non-public spaces.
---
More from Metropolis
---
Above, a sprawling roof garden will offer sweeping waterfront views. An excavated subterranean void that surrounds a preexisting rail tunnel helps to anchor the building and will host outdoor installations. M+'s louvered facade is made with textured ceramic tiles that respond to this locale's changing weather patterns, a sharp contrast to the glass and steel of nearby skyscrapers. One face of the tower also serves as a massive LED screen. 
With construction complete, museum staff has begun to move in and place important collections, among them 1,463 works of contemporary Chinese art donated by former Swiss ambassador to China Uli Sigg and the Archigram archives, acquired in 2019. "Our opening preparations are in full swing," said M+ museum director Suhanya Raffel. "We have moved into our permanent home."