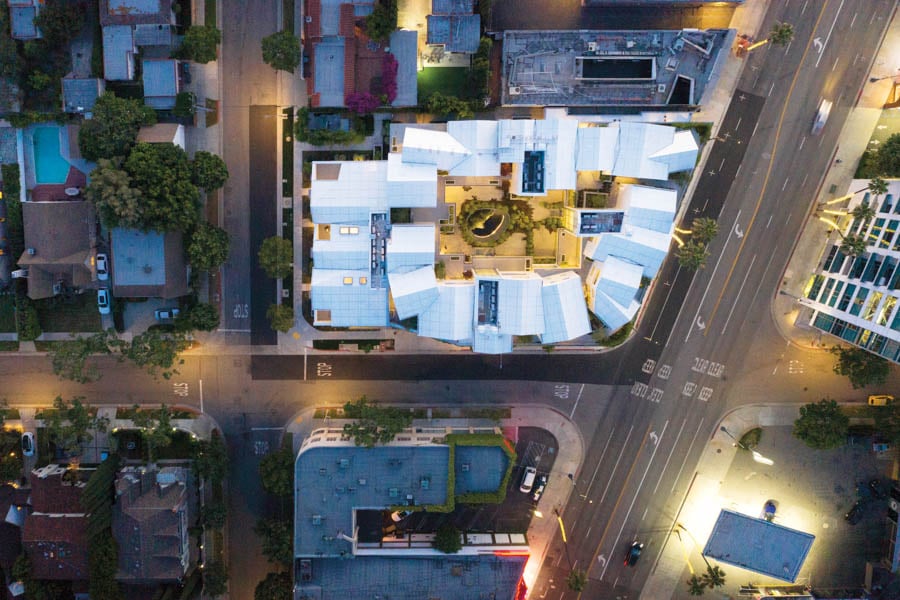 October 27, 2020
This Luxury Housing Concept is MAD Architects' First U.S. Project
Located in Beverly Hills, Gardenhouse is intended to provide a bridge between city life and nature.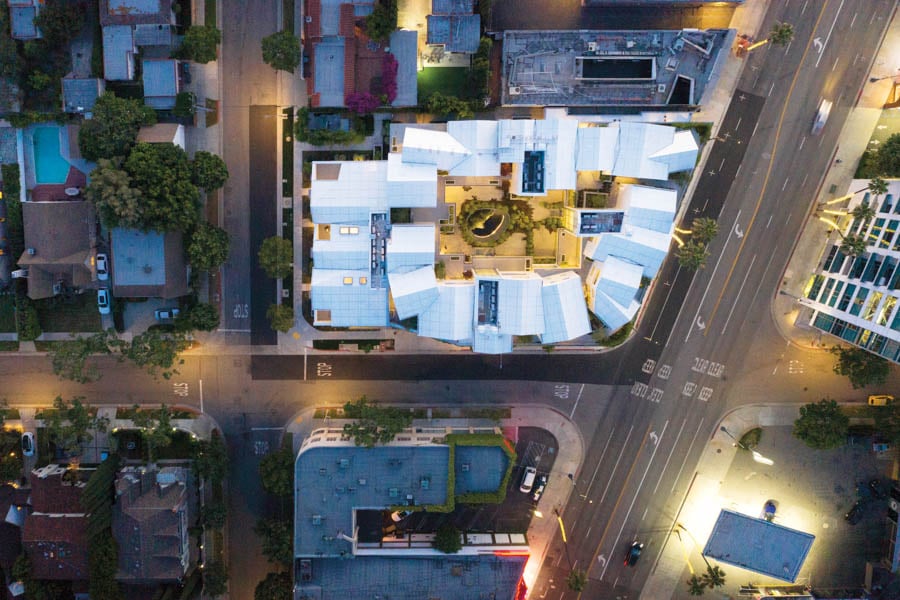 Inspiration for MAD Architects' projects often comes from the natural world: moon, mountain, cave, bubble. Simple words, which barely sum up the scale and complexity of the firm's work, primarily undertaken in China.
MAD's founder, architect Ma Yansong, has a kind of preoccupation with nature, but it is neither tree-hugger environmentalism nor scientific biophilia. His interest, spelled out in his 2015 monograph Shanshui City (Lars Müller Publishers), lies in the relationship between humans and nature. He adapted the term shanshui from traditional Chinese painting, extending what translates directly as "mountains and water" into a philosophy that links China's rapid urbanization (and subsequent push into undeveloped ecosystems) with an aesthetic affinity for picturesque landscapes and organic forms.
The architect's first building in the U.S. is Gardenhouse, an experiment in luxury housing. With this commission from real estate developer Palisades Capital Partners, Ma brings the Shanshui City concept to Los Angeles. The project's 18 units finished construction in Beverly Hills this past spring, just before COVID-19 hit California. (Substantial construction on a second project in Los Angeles, the Lucas Museum, will complete by late-2021.) Located on Wilshire Boulevard, Gardenhouse is billed as a "mountain village." "Beverly Hills is where the city meets the mountains," Ma explains. "We needed to make a building that transitions from those mountains to the flats."
---
More from Metropolis
---
A tiny township of peaked-roof houses perches atop a mound of greenery—an artificial mountain meant to evoke Los Angeles's hills. "It's almost a cartoon," says Ma, adding that he was struck by the tall hedges that surround L.A. houses, whose foliage conceals all but the rooftops from prying eyes. And yes, the concept is borderline too cute. Still, MAD Architects, with L.A.–based executive architect and landscape architect Gruen Associates and interior designer Rottet Studio, deftly introduced a novel housing type to the city.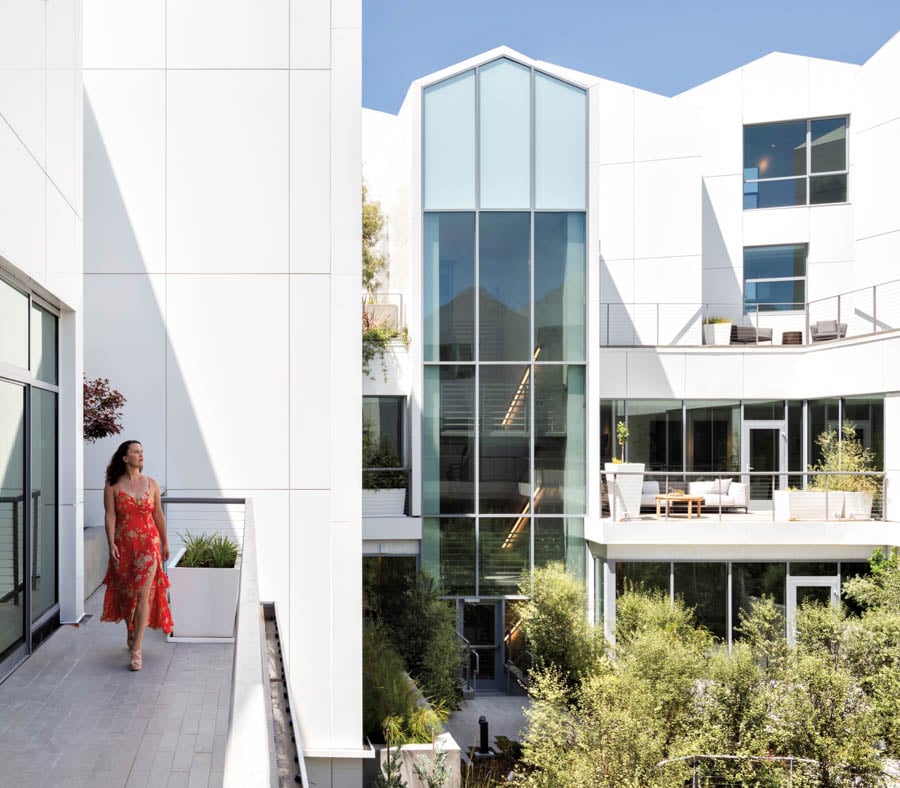 Ma mixes known typologies: courtyard apartment building, single-family home, live/work loft, and townhouse. The result is a pricey hybrid that blends city-mouse and country-mouse sensibilities. Marketing materials advertise units starting at $3.7 million to clients who want a pastoral enclave close to the shops.
"Urban life has something that really attracts people," says Ma. "When I moved to L.A., I lived in a single-family house with a garden. I felt lonely compared to my Beijing apartment. Then I remembered my childhood when I lived in a courtyard house with a shared common space, which had a community feeling."
Gardenhouse is made up of three types of housing—single-family homes, townhouses, and live/work lofts—clustered around an interior courtyard centered on a water feature. Inward-facing, individual garden patios are lush with trees and hedges. In a utopian vision, one could imagine neighbors waving from patios at each other and having collective weekend barbecues: an upscale Melrose Place. In a darker scenario, homeowners would use curtains, umbrellas, and plant life to increase privacy. Four "little houses" sit at the uppermost level—though "little" is relative, as they range from 2,096 to 2,916 square feet, roughly the size of the median U.S. home. Each two-story, three-bedroom/three-bath "Sky Villa" is freestanding. Wood framed and clad in bright white aluminum panels, they feature vaulted living room ceilings, some upwards of 23 feet, and ridgeline views.
A threesome of three-story townhouses, ranging from 2,324 to 3,096 square feet, line Charleville Boulevard, a residential block to the south. Also clad in white aluminum panels and with cheeky peaked roofs, they are scaled in keeping with the neighborhood context, but they are hardly modest. Each one has its own dedicated elevator, which takes residents from the underground parking garage directly to their unit. In fact, there's a staggering total of seven elevator cores in the whole 49,200-square-foot complex.
"Garden Flats," loftlike apartments buffered from Wilshire Boulevard by a blanket of succulents, are the most conventional of the residences on offer. Single-story, with patios that open onto the central court, the units are slightly smaller than the other types and range from 2,173 to 2,606 square feet. As with all the units, each one packs a lot of high-end amenities into the footprint, from Miele kitchen appliances and custom Italian cabinets in the kitchen to TOTO fixtures and radiant heating in the bathroom.
Designed by Scott Hutcheon of Seasons Natural Engineering in collaboration with Gruen Associates, a 7,600-square-foot living wall envelops the exterior and is the most distinctive feature of Gardenhouse. Home to 26 varieties and some 40,000 plants, the wall employs a layered felt hydroponic system, where felt takes the place of soil. Plants are tucked into the felt and fed nutrient-rich water via emitters at the top of each approximately 30-foot wall of succulents: jades, crassula, and aeonium.
The wall, like Gardenhouse as a whole, is a kind of organic billboard that celebrates the concept of shanshui with both idealism and artificiality. It's also a risk. Initial renderings of the project were first made public in 2015, and it's taken a long five years to bring it to completion because of the cost and complexity of the construction. (Ma gives the example that the village effectively required that every unit have a different angle—a move that created in-between spaces between residences, and thus doubled the amount of material needed.) When Gardenhouse was completed prior to the pandemic, Los Angeles's luxury housing market had started to contract. Now its future is cloudy.
One measure of success for Gardenhouse is not necessarily sales, or even raising eco-consciousness, but rather the degree to which it sparks innovation among other designers and developers: Even under stay-at-home orders and a so-called "new normal," Los Angeles, like much of California, is still short on housing stock and desperate for fresh ideas.
Selected Sources
• Design Architect: MAD Architects
• Interiors: Rottet Studio
• Landscaping: Gruen Associates
• Developer: Palisades Capital Partners
EXTERIORS
• Cladding/Facade Systems: MillerClapperton
• Lighting: Bob Ward Electric
• Windows & Glazing: Arcadia Inc.
• Doors: Advanced Door Assemblies
OUTDOORS
• Furniture: Vesta Home
• Lighting: Bob Ward Electric
BUILDING SYSTEMS
• Conveyance: Otis Elevator Company, Residential Elevators
• HVAC: World Mechanical
• Security: ExacqVision, HID
INTERIORS
• Kitchen & Bath Surfaces: Battaglia Tile
• Kitchen Products: Miele
• Bath Fittings: TOTO
• Wall Finishes and Ceilings: QPS
• Flooring: Artistry Hardwood Flooring
• Furniture: Vesta Home
• Lighting: Bob Ward Electric
You may also enjoy "A Different Kind of Climate Change"
Would you like to comment on this article? Send your thoughts to: [email protected]
---
Register here for Metropolis Webinars
Connect with experts and design leaders on the most important conversations of the day.