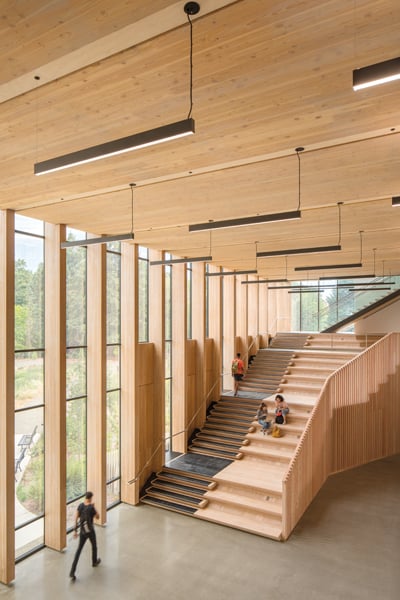 February 4, 2021
Michael Green Architecture Designs a Mass-Timber Research Complex
The Oregon Forest Science Complex is a proving ground for mass timber's sustainable, seismic, and even psychological benefits.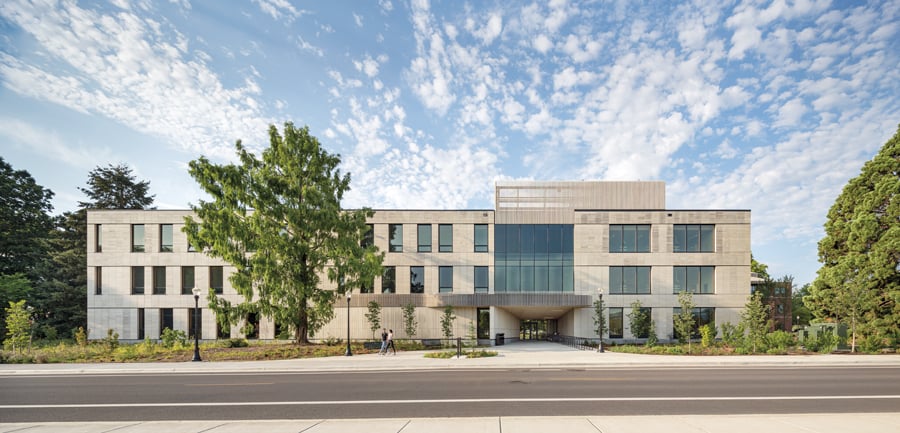 Today a new generation of mass-timber buildings has become the talk of world architecture. Thanks to products like cross-laminated timber, with its increased structural strength, surprising fire resistance, and reduced construction timelines, not to mention wood's natural ability to sequester carbon, this ancient material has become a 21st-century alternative to concrete and steel. Yet wood's greatest impact may also be aesthetic and emotional: It's just cozier.
At Oregon State University's College of Forestry in Corvallis, two new buildings designed by Vancouver's Michael Green Architecture, collectively known as the Oregon Forest Science Complex (OFSC), balance scientific rigor and soulful placemaking. "It's a living laboratory," says Tom DeLuca, dean of the College of Forestry. "The intent was to demonstrate the versatility and potential of mass-timber construction for the future—not just that you can build structurally tall with wood but also in terms of mass timber being different from historical use of large solid beams and stick-framed buildings."
Creating the OFSC began with an extensive predesign phase that included several student and faculty workshops. "There was quite a rich discussion about what forestry looks like," explains Michael Green Architecture principal Natalie Telewiak. "From soil levels to monitoring building vibration in real time, how can the building itself be a teacher?"
---
More from Metropolis
---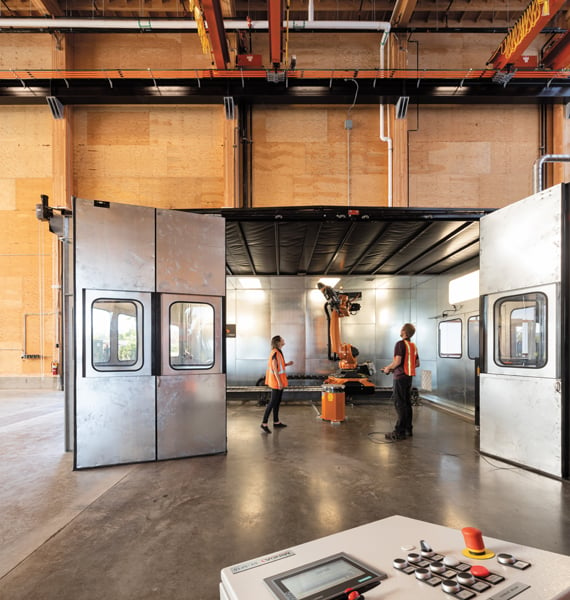 At the heart of the complex is the rebuilt George W. Peavy Forest Science Center, which includes classrooms and laboratories but centers on an 80,000-square-foot, two-story atrium that gives students the kind of large gathering space they previously lacked. Massive Douglas fir glulam columns anchor the space, which features floors and shear walls made with locally sourced CLT. The atrium's wide stairway, built with timber glulam beams salvaged from the previous building, doubles as auditorium seating. Because the building is linked to the existing Richardson Hall (which houses the college's Department of Wood Science and Engineering as well as its Department of Forest Science), once the pandemic is over Peavy figures to be a major campus crossroads. "The old Peavy and Richardson never lined up right," says DeLuca. "Now there's this seamless connection and people flow between them more easily." Peavy's atrium also opens directly onto Peavy Arboretum, a curated collection of plant species and mature trees around a retention pond that rises and falls with the seasons.
Though few institutional buildings use wood exteriors owing to the material's added maintenance requirements— particularly in rainy Oregon—the OFSC utilizes red alder siding. This decision too is instructive: The alder—a product called Accoya—has undergone acetalization and is warrantied for 50 years.
Across a parking lot from Peavy, the A.A. "Red" Emmerson Advanced Wood Products Laboratory, home to the TallWood Design Institute, provides the College of Forestry's largest research and testing space. Structures up to three stories high can be tested here.
A signature of the OFSC is its innovative seismically resilient rocking shearwall system. The first of its kind in North America, it was designed with technology pioneered in New Zealand after the 2011 Christchurch earthquake. Borrowing from the science behind reinforced concrete, which is embedded with steel rods, it essentially breaks down wood walls into separate sections, enabling them to not only move during a quake but self-center back into place.
"The rods stretch like a rubber band and the wall goes back to the middle. It always comes back to its original position," explains Eric Karsh, a founding principal with Vancouver's Equilibrium Consulting, the OFSC's structural engineer. The rocking-wall system is complemented by a composite concrete and glulam structure that helps absorb additional seismic energy. Such wall systems are not cheap, Karsh adds, but their components can be individually switched out as needed instead of fully replacing them, helping to reduce waste and cost. The use of these systems in Christchurch has also showed that such investments can reduce insurance rates.
DeLuca believes the OFSC—through its resilient, sustainable mass-timber architecture—symbolizes something greater: a changing approach not only to buildings but to forests themselves. "Forestry started in response to cutout logging in the 1800s, but that slipped away to profit motives," he says. "There's a real emphasis to return to that conservation perspective, and mass timber is a big part of that. Forestry done right is a highly sustainable land management approach."Building with wood is also about something even more elemental: its conduciveness to placemaking. "You can see the story of that material and understand its value and its connection to something so much bigger," says Telewiak. "It extends beyond that building."
You may also enjoy "A Historic Shoe Factory Serves as a Model for Environmental and Social Sustainability"
Would you like to comment on this article? Send your thoughts to: [email protected]
---
Register here for Metropolis's Think Tank Thursdays and hear what leading firms across North America are thinking and working on today.