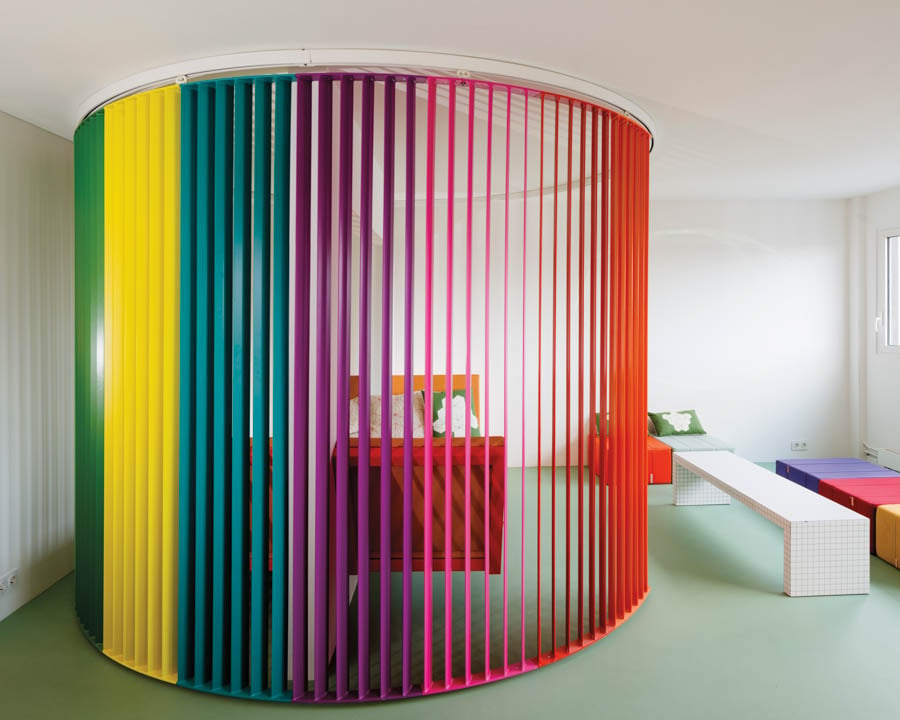 May 13, 2020
Matali Crasset Designs a Flexible, Rainbow-like Apartment for a Paris Jewelry Designer
A clever, highly variegated screen can be reconfigured to toggle the living area between guest room, entertainment space, and impromptu showroom.
In a compact apartment with views of two famous gray Parisian towers—the beloved Eiffel and the much-maligned Montparnasse—local designer Matali Crasset has inserted a rainbow. Made of ten slatted aluminum panels fastened together, it takes the form of a playful screen that can, with a push, transform the entire space.
"It's not massive, not a piece of furniture," says Crasset, whose cheerful approach to product design has roots in her education at ENSCI–Les Ateliers and in her early work in the office of Philippe Starck.
However, it does have the visual appeal of an art installation, a quality that makes it appear deceptively simple. In Crasset's redesign of the approximately 860-square-foot unit, the device (which required her to remove a bedroom) had to multitask, creating not only the illusion of more space but also the mood of a 1970s conversation pit. "Thematically, it was a more interesting way to expand the space," she says.
---
More from Metropolis
---
The screen's transparency and unobtrusive curvature allow an uninterrupted sight line from the living room window to a wall of glass doors that open onto a balcony at the other end of the space. Nudging it along a track in the ceiling encloses a partial wall beneath it, where Crasset has anchored two wall-mounted chaise longues that seat six.
But the best feature might be the partition's low-tech operation, so the owner, jeweler Michèle Monory, can easily toggle the living area between guest room and entertainment space. The colorful panels can even provide a showroom-worthy backdrop when the adjacent open kitchen–dining zone is used to host events and display Monory's lines of rings and pendants (including some by Crasset). But the rainbow was inspired more by Monory's personality, Crasset says: "She's very optimistic. I wanted this interior to match that quality."
You may also enjoy "Reimagining Community at Treehouse Co-Living in Hollywood"
Would you like to comment on this article? Send your thoughts to: [email protected]