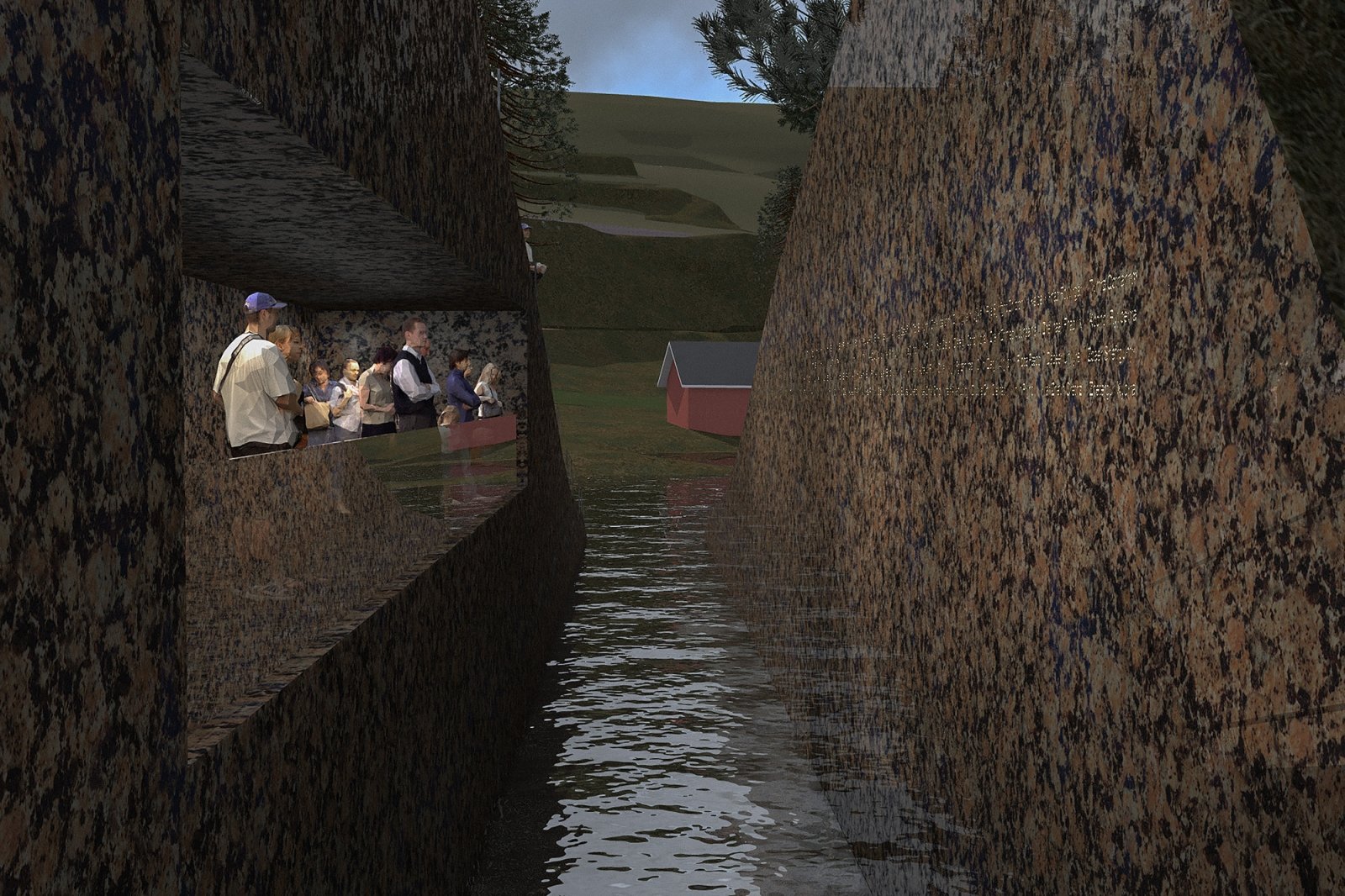 March 10, 2014
Memorial to Slice Island-Site of the Utøya Massacre in Half
The artist Jonas Dahlberg will drive a 3.5-meter void straight through a small Norwegian island, site of a ghastly massacre.
A version of this article originally appeared on Archdaily under the title "Memory Wound" Fractures Landscape, Commemorates Victims of Norway's Massacre.
---
The small island of Utøya, just northwest of Oslo, bears an invisible scar. There, Anders Behring Breivik, a lone gunman and right-wing extremist, massacred 69 people and injured dozens more, many of them teens attending a regional summer camp. Now, the winning proposal for Oslo's July 22 Memorial competition wants to open up the wound. Envisioned as a three-and-a-half-meter wide gash across the landscape, Swedish artist Jonas Dahlberg's powerful monument hauntingly commemorates those lost in the 2011 Utøya terror attacks.
"My concept for the Memorial Sørbråten proposes a wound or a cut within nature itself," Dahlberg said, speaking of the project. "It reproduces the physical experience of taking away, reflecting the abrupt and permanent loss of those who died." The excavation will slice through the top of the headland at the Sørbråten site, to below the water line and extends to each side. Unable to reach the end of Utøya's headland, visitors will be led through a forested pathway, a "contemplative journey" that will ultimately lead them underground to a "dramatic edge of the cut" and the void itself. Opposite, observers can scan, but not reach a stone wall that frames inscriptions of each victim's name.
---
More from Metropolis
---
The 1,000 cubic meters of stone excavated, as well as all trees and plant life affected, will be used to build a foundation for a permanent memorial and amphitheater at the Government Quarter in Oslo, where on the same day, Breivik detonated a car bomb  that killed 8 people. Family members of the Utøya victims reportedly expressed their approval of Dahlberg's design. Upon announcing their selection, the jury stated: "The proposal is radical and brave, and evokes the tragic events in a physical and direct manner."
The name of the 69 victims will be inscribed on a stone wall, which will be separated from visitors by a narrow canal.
The design symbollicaly inflicts a "wound" on the island's topography.
The "void" will be created by excavating 1000 cubic meters of stone, which will then be used as fill for a second permanent memorial in Oslo.