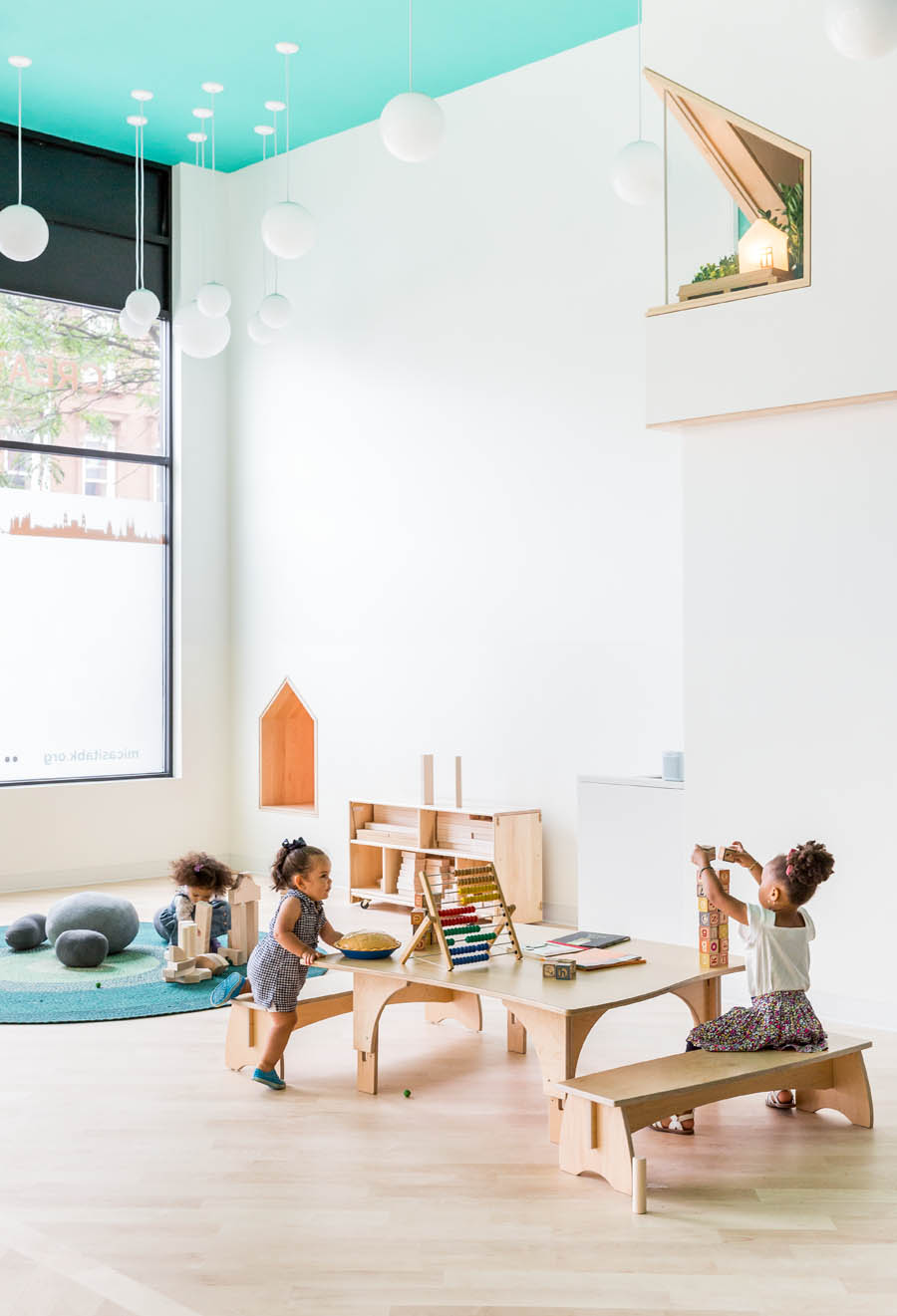 November 20, 2019
A New Bilingual Preschool Is a 'Home Away From Home' for Children in Bed-Stuy
Two Brooklyn architecture firms integrated residential design into Mi Casita Preschool and Cultural Center, creating a bright and playful environment.
"What can we do to make this environment really fun for a kid?" asks 4|Mativ design architect Priya Patel. An answer can be found at the Mi Casita Preschool and Culture Center in Bedford-Stuyvesant, Brooklyn. The bilingual preschool's founder, Eva Ruiz, commissioned Barker Associates Architecture Office (BAAO) and 4|Mativ—two Brooklyn-based architecture studios—to realize a space that exceeds the basic expectations of a preschool. The studios' residential experience helped inform their approach to create a playful composition of color, light, and shape that cultivates a sense of warmth and interest for both schoolchildren and the community.
The 2,500-square-foot building's lower level houses Mi Casita's artists-in-residence, co-working areas for working mothers, and lactation rooms. The ground level accommodates various functions from naptime to artist events using furniture produced by Community Playthings and Natural Pod. Their versatile pieces can open up or partition the floor into smaller sections as needed. Multifunctionality extends even to the L-shaped sink in the bathroom, which can double as a space for both hygiene and water-play for children.
The interior's colors and materials evoke a playful ambiance that is simultaneously refined and hospitable. Bright orange house-shaped wall cut-outs complement the teal ceiling, adding more brightness to the daylight-infused room. To foster a sense of familiarity and comfort, homey furnishings and tiling are pieced into the space. Tile mosaics seen in residential bathrooms, for example, are rendered here as an abstract mosaic of a city skyline on the bathroom walls. "I do think that having experience with residential work brought a 'home away from home' reference to the finishes in the space," says BAAO principal Alexandra Barker. "I think these bright colors and patterns really makes it a little bit more special."
---
More from Metropolis
---
As a preschool, Mi Casita fits the proportions of a small child to encourage exploration and curiosity. This essential design consideration extends from tile patterns and surfaces to vantage points based on a child's height. "It was worth understanding a kids' visual access and realizing that they have a different viewpoint," says Barker. "So it was important to create moments where they can see things that adults can't see. I think it's empowering for them."
You may also enjoy "This House in Rural Germany Merges Alpine Vernacular with Venturian Postmodernism."
Would you like to comment on this article? Send your thoughts to: [email protected]