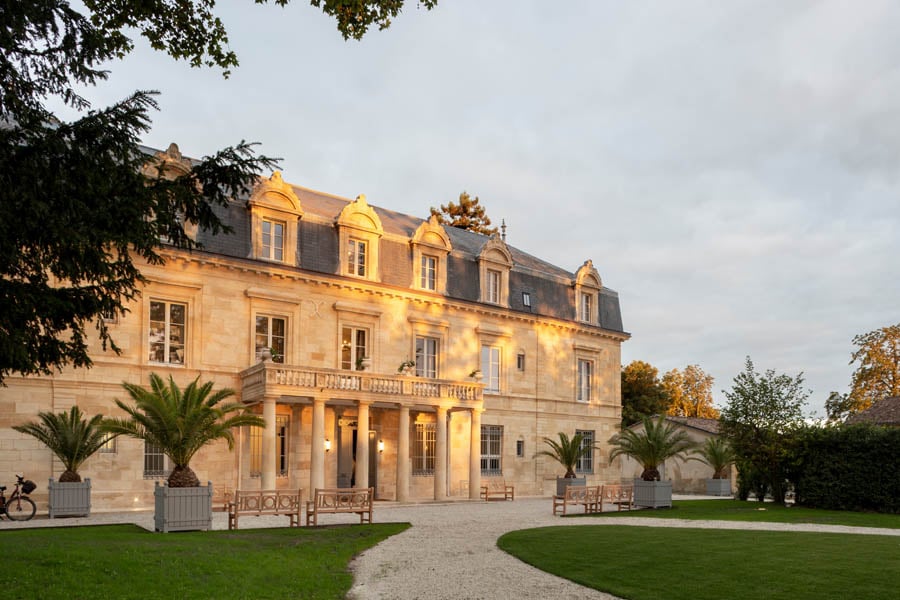 December 2, 2019
Michaelis Boyd Rehabs a Sumptuous Hotel in French Wine Country
The London design firm excavated the original detailing and long-obscured layout of the regal structure, which was originally a residence.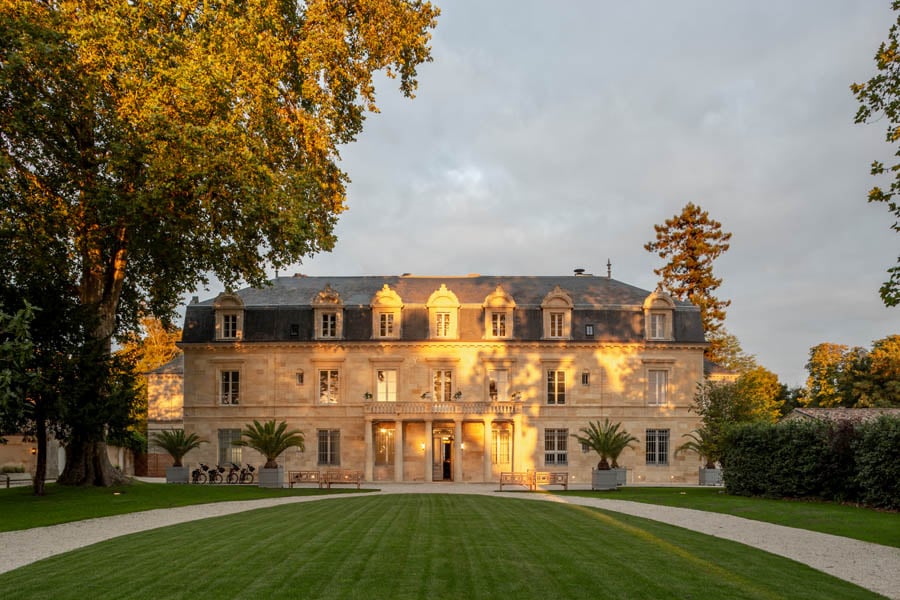 For centuries, while the Château Pomys near Bordeaux, France, was a residence, it was called a hôtel. Hundreds of years later, when it became a hotel, it came to be called a house (maison). Today, La Maison d'Estournel—reanimated through the attentive interior design of London firm Michaelis Boyd—is a hotel that once again feels like home.
The first mentions of the house in Saint-Estèphe, about 35 miles north of Bordeaux, date to 1789. Exactly 200 years later, the house was turned into a 10-bedroom Italian villa–style hotel that hotelier Michel Reybier later bought, along with its adjacent 12-acre vineyard (this being French wine country, after all). When Reybier called Michaelis Boyd to visit the site in 2017 , "it was a study in magnolia and brown," partner Alex Michaelis recalls. Nineties decor filled the building's interiors, whose regal proportions had been muddled by partition walls, but grand windows and high ceilings remained, providing clues to its original layout.
---
More from Metropolis
---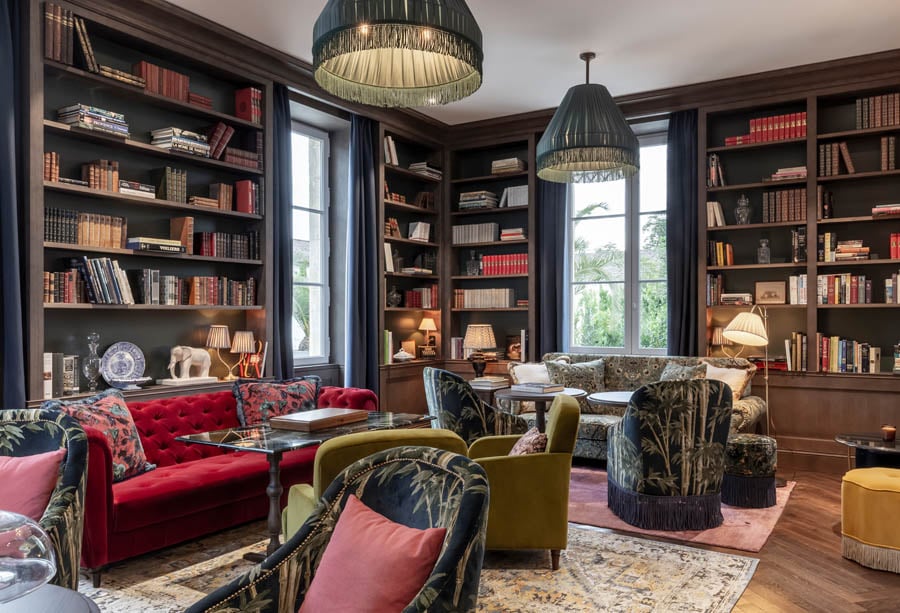 Today, the hotel, with the express sensibility of an authentic "country house," comprises a series of a reception and dining spaces and 14 guest rooms distributed over four floors. The interiors are anchored by the building's original staircase, with its delicate iron balustrade, spindles, and curved timber handrails that flank cantilevered stone steps. There is no formal reception; the front entrance decants visitors into a voluminous ground floor, where they are free to flow between the living room with its splendid fireplace into the dining room, library, and even kitchen, where the chef may be at work. "Our approach was to create a hotel where the staff could welcome the guests as though this was their home," says Michaelis.
After the designers recovered and preserved the building's greatest virtues, especially the staircase, they remained attuned to the original architect's intention while adding contemporary furnishings and decor. They also bridged the house's Italian and French architectural influences, with features like black-and-white checkered floor tiles in the main corridor, and throughout the building, new wall panelling and cornicing typical of the region, timber floorboards, and solid oak parquet. In the library, with patterned wallpaper and wall-to-wall joinery, "the shelves fill the walls and are intended to act as an ever-changing backdrop collage," explains Michaelis. Above, the guest rooms share certain features: curved tiled showers that reference the curve of wine barrels, plus timber floors and plush upholstery. In four rooms, the bathtubs sit beside the bed.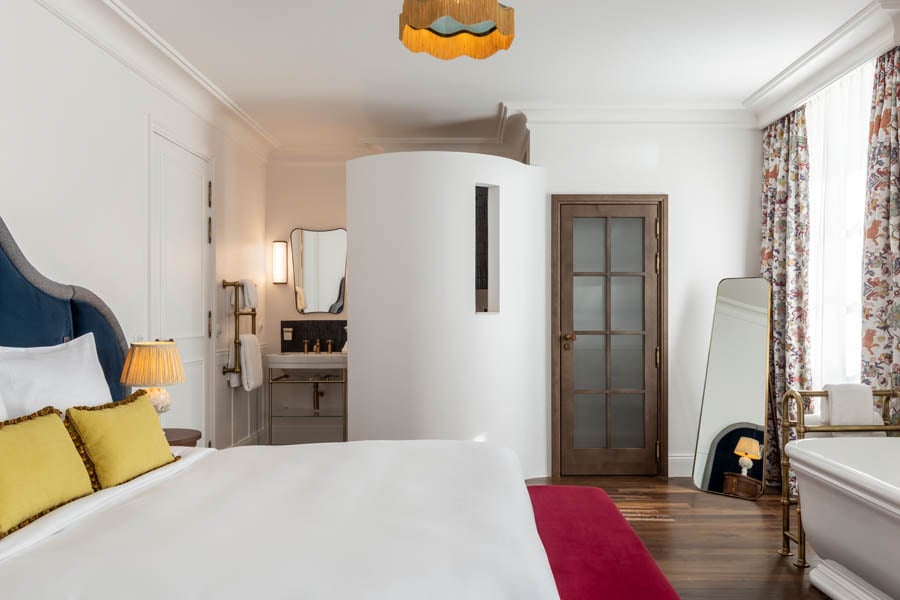 Artwork, books, fabrics, and decor revolve subtly around the aesthetic themes of outdoor living, boating, the grape, and the pastoral. Punctuated with quietly insistent pattern, texture, and color, Michaelis Boyd rendered the hotel in predominantly muted tones. Organic materials like stone, wood, marble, cotton, and raw linen also evoke the earthiness of the country house, Michaelis says: "There is nothing too zingy or poppy." The furniture featuring dark green marble with heavy veining, for example, echoes the leafy tree-lined drive and the foliage in the garden and surrounding vineyards, says Michaelis. "They're a continuation of the outside world indoors."
You may also enjoy "Hospitality Ward: A Centuries-Old Lyon Hospital Is Converted into a Five-Star Hotel."
Would you like to comment on this article? Send your thoughts to: [email protected]