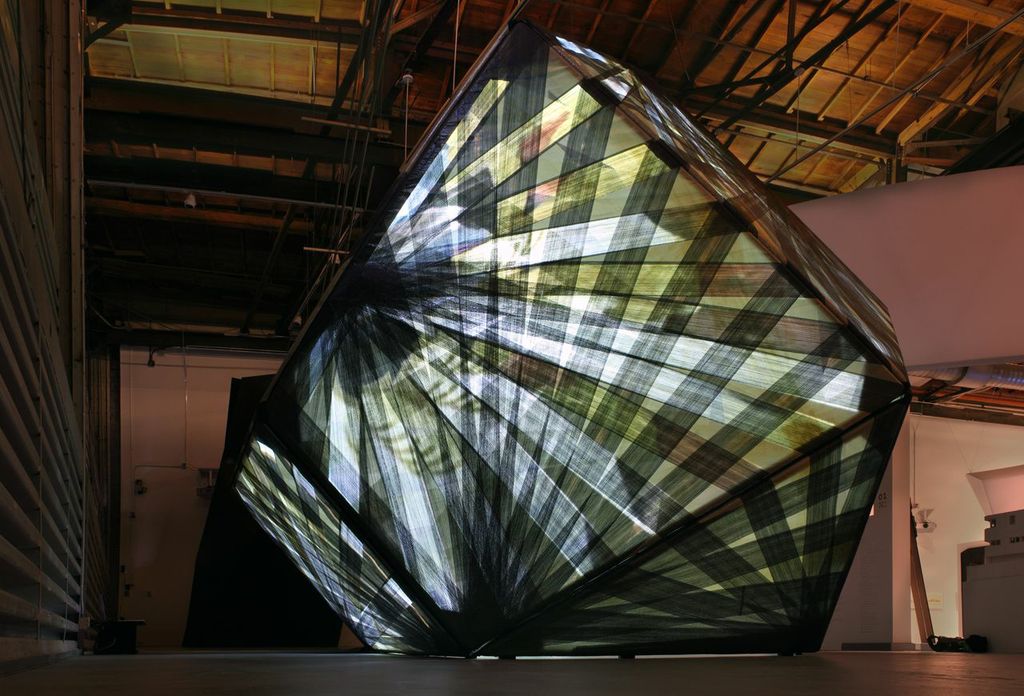 August 9, 2013
For MOCA, P-A-T-T-E-R-N-S Experiments with Carbon Fiber
Integrating advanced manufacturing, architectural design, and digital media create an alternative mode of production for architecture
Los Angeles-based P-A-T-T-E-R-N-S is among the most intriguing and progressive firms working in architecture today. They seem relentless in pushing boundaries in areas like ultra-light-weight high-tech materials and immersive media. They are also very thoughtful and patient in the way they approach design.
This is good because what they are engaged in and the way they work takes time. By collaborating with engineers and innovators in different industries they are slowly changing the way architecture is carried out and conceived on material and ontological levels. They don't do spec homes, they do what's new, and sometimes try to do what hasn't been done yet.
Founder and co-principal Marcelo Spina and co-principal Georgina Huljich both teach, he at SCI-ARC and she at UCLA, where they pursue research interests with students and then reflect that back into their small but energetic practice tucked away in one of Los Angeles' rustic urban edges, Atwater Village.
---
More from Metropolis
---
One thing to recently emerge from this office is the experimental carbon fiber pavilion they call Textile Room.
Courtesy Monica Nouwens
It's one of the first things you notice when you walk into, "A New Sculpturalism: Contemporary Architecture from Southern California," the controversy-plagued show currently underway at the Museum of Contemporary Art in Los Angeles.
The project, a crystal-shaped, quasi-rigid object, seemingly physically and experientially blurs the line between hard and soft, tactile and tectonic, intimate and public, and hints at future possibilities for extreme lightweight high-tech materials in architecture on a broader scale. It behaves like a "room" in that you step into it, but it is more like an event, a deeply engaging space for the senses.
P-A-T-T-E-R-N-S was selected for the show by curator, Christopher Mount, for their interest in integrating digital design, fabrication, and experimental materials. They were asked to propose a pavilion that would embody the spirit of the show: addressing the on-going formal and material innovation that defines architecture in Southern California, particularly Los Angeles.
By partnering with high-performance sail-makers, North Sails, P-A-T-T-E-R-N-S was able to develop a custom carbon fiber surface layered and patterned through robotic manufacturing. Spina and Huljich worked closely with North Sails' Flexible Composite division to develop and refine the properties of this ultra-lightweight and tension-resistant material.
But they didn't stop there. They engaged it as an expressive surface to produce dense and shimmering environmental effects through video projection. For this they tapped Casey Reas, video artist. Reas produced a continuous, generative video collage assembled from clips of movies set in Los Angeles that feature the city, its growth and transformation. Film sequences were cut into strips and positioned onto the carbon fiber grid of the pavilion. Textile Room becomes activated through this re-presentation of Los Angeles' urban infrastructure and architecture as the film clips interact with the material properties of the carbon fiber's weaves and tapes.
Courtesy Monica Nouwens
Rayner Banham's The Four Ecologies (1971) and related BBC documentary Rayner Banham Loves Los Angeles(1972) and Thom Andersen's documentary Los Angeles Plays Itself (2003) are the foundation for this component of Textile Room. The film clips are grouped into themes that feature different areas of the city and shift from day to night. From a list of nearly 50 films, two dozen were selected to represent the city. They range from Double Indemnity(1944) to more recent films like Jackie Brown (1997), from classic dramas to action thrillers. Many of the films focus on driving and moving through the city with a quick pace, such as Gone in 60 Seconds (1974), Speed (1994), and The Fast and the Furious (2001) and the tradition of noir films, such as Point Blank (1967) and Drive (2011).
This integration of advanced manufacturing, architectural design, and digital media points to an alternative mode of production for architecture, extending well beyond traditional approaches to design and construction. This has far-reaching implications for how buildings and spaces could be conceived and constructed.
Huljich sees the project as a way forward for larger things. "It's about patterned materiality and 2D effects at the crystalline level," she says. "The idea that surface articulation can be achieved at the internal level of material rather than form is something we hope to be able to do in our larger work." This is the primary reason why they work so closely with industry to advance the materials and technologies they hope to deploy architecturally. She adds, "They are not quite there yet, but hopefully one day."
As an example, the knowledge gained from Textile Room, directly fed into the development of their new project currently underway at SCI-Arc's Arts District campus, the iconic landmark event space called League of Shadows.
Courtesy Monica Nouwens
P-A-T-T-E-R-N-S designed League of Shadows to be a neighborhood attractor. "We believe that if executed correctly, the pavilion could potentially activate a new node within the downtown area," says Spina. Like Textile Room, League of Shadows exploits material and technological advances to produce dynamic environmental effects. The architecture itself will be technology in action and a communicator of new media, occupying a prominent corner in one of LA's most rapidly transforming neighborhoods.
What P-A-T-T-E-R-N-S gains from their novel use carbon fiber is a range of variables they can manipulate to great effect as designers. As Spina says, "The material is not neutral at all, but rather something we can engage creatively. We saw a lot of possibility for texture, phenomenal translucency and material articulation, and our intention was to tease these things out through a project like this."
Textile Room will be on display at MOCA's Geffen Contemporary through September 16.
Project Team
Architect: P-A-T-T-E-R-N-S / Marcelo Spina & Georgina Huljich
Project Architect: Daniele Profeta
Design Team: Matthew Kendall, Robert Panossian, Ashley Sholder, Viola Ago, Mike Wang, Jeff Giuducci, Harrison Steimbuch, Andrew Choi
Media Projection: Casey Reas / CB Reas Studio
Advanced Material Manufacturing: Bill Pearson / North Sails
Structural Engineering: Matthew Melnyk / Nous Engineering
Structure Fabrication: Tortoise Industries
Photography and Video: Monica Nouwens
Textile Room 03 FULL from Metropolis Magazine on Vimeo.
Guy Horton, a writer based in Los Angeles, is a frequent contributor to Metropolis and other design publications. His blog, The Indicator, can be found on ArchDaily.