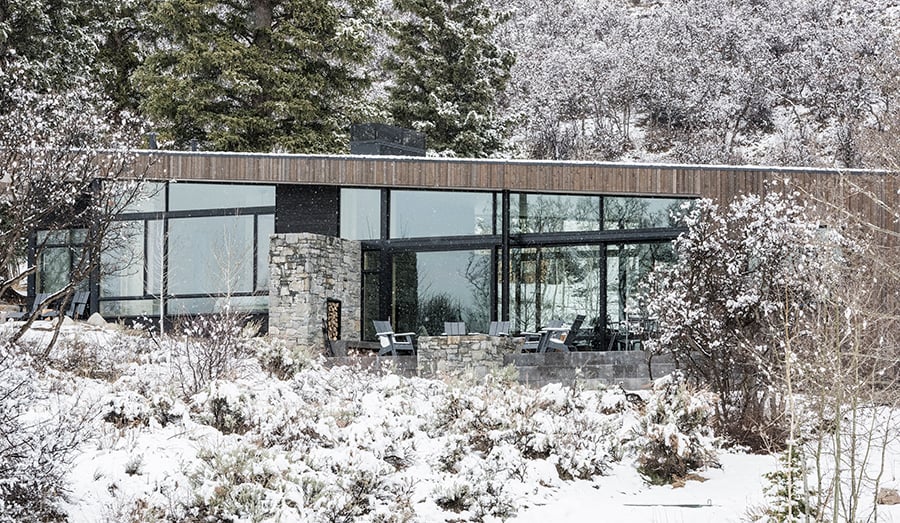 August 30, 2018
This Modern Cabin Blends Into Its Rocky Mountain Landscape
Built atop a sloping hillside in Colorado, this CCY Architects–designed house balances its rustic inspiration with steel, glass, and concrete.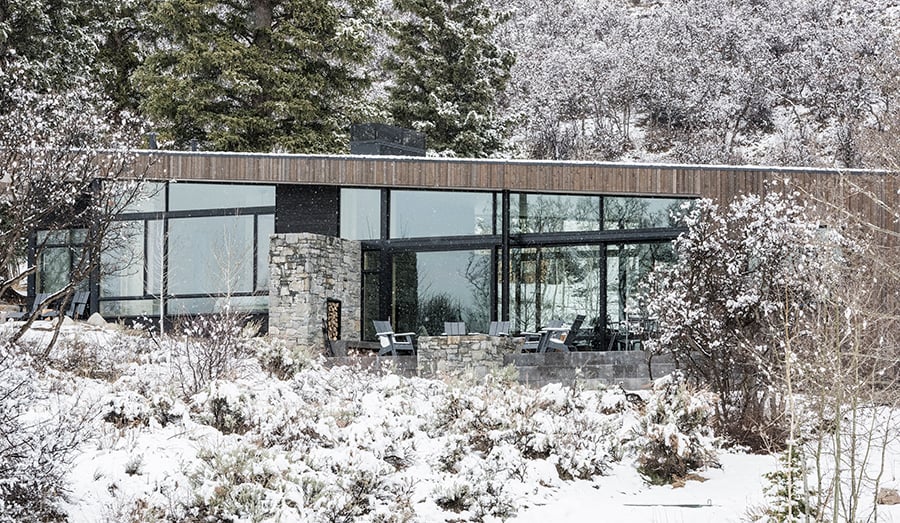 ---
Just outside Aspen, Colorado, the aptly named hamlet of Old Snowmass boasts miles of natural Rocky Mountain beauty. When a Chicago-based Norwegian-American couple settled on a nearly 12-acre site in the area to build a family retreat, dubbed Old Pond, they chose local firm CCY Architects to bring their vision to life.
The clients came to the project with a particular design inspiration in mind: they owned a traditional wooden cabin in Norway, one that was almost indistinguishable from its landscape. Creating a modernized cabin–like atmosphere based loosely on the Norwegian house, while also minimizing site disturbance and preserving the many spruce trees on the lot, were the main project goals.
However, building Old Pond didn't come without its own unique challenges. Originally, the house was meant to be situated higher on the sloped property, but that placed it in the sight lines of neighboring houses, losing much-valued privacy. The problem ended up precipitating a distinguishing feature of the house. "We saw we had the opportunity for the home to really nestle into the seven 100-foot-tall-plus spruce trees," says Todd Kennedy, principal architect at the firm.
---
More from Metropolis
---
An arborist was brought to examine the trees' health to make sure they didn't pose a risk of falling on the house. After passing inspection, the grove of trees became the new site. The house was designed so that, "it could feel like it had been there since these trees really were in their youth," says Kennedy.
Now, around four 100-foot-tall spruce trees are within approximately 20 feet of the house, says Kennedy, and the clients will continue to bring out an arborist every few years to ensure the trees are in good shape.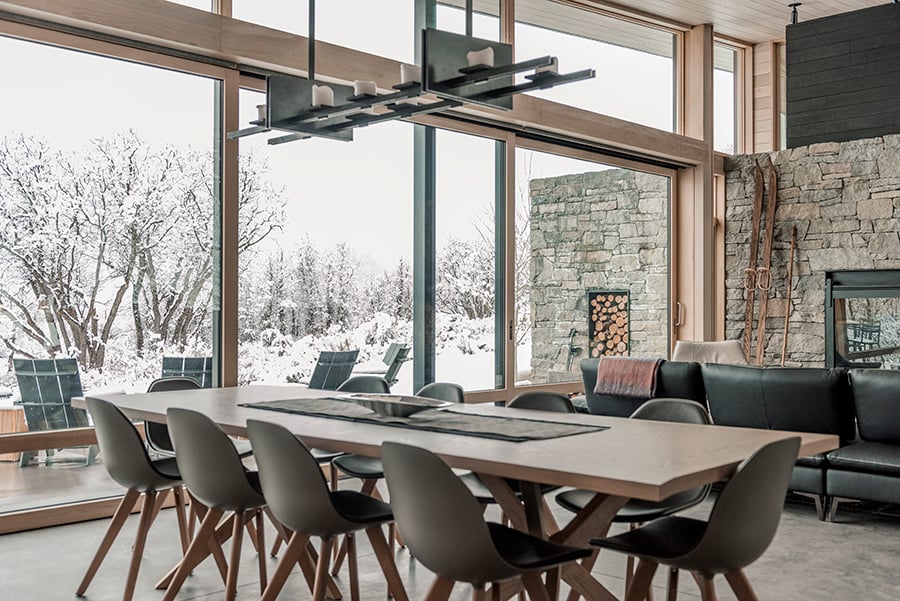 ---
That link to nature is a key theme throughout the house. "It was about pulling the building apart and allowing the landscape to flow between different elements of the building," says Kennedy.
He's referring to thoughtful features like the glass bridge that connects the guest wing to the primary one-bedroom cabin, and a roof-sheltered outdoor area that links the house's main entry with a detached garage. The sheltered space is used to prepare for outdoor activities like cross-country skiing.
When building residences in remote, natural areas, another inevitable issue arises: wildlife. In security camera footage from the clients, mountain lions can be seen lounging on the patio at night, though they are generally scared of people, adds Kennedy. Bears, on the other hand, tend to be more of a problem. For exterior door handles, door knobs are chosen over levers because, "bears can push open a door with a lever, but can't turn a knob," explains Kennedy.
After using the vacation house for about a year and half, the clients spend more time in Old Pond than their Chicago residence. "They were spending originally 40 percent of their time here, but now it's closer to 60 percent," says Kennedy. "We envision that continuing to evolve."
You may also enjoy "Built into a Lebanese Mountain, This Summer Retreat Maximizes its Underground Real Estate."