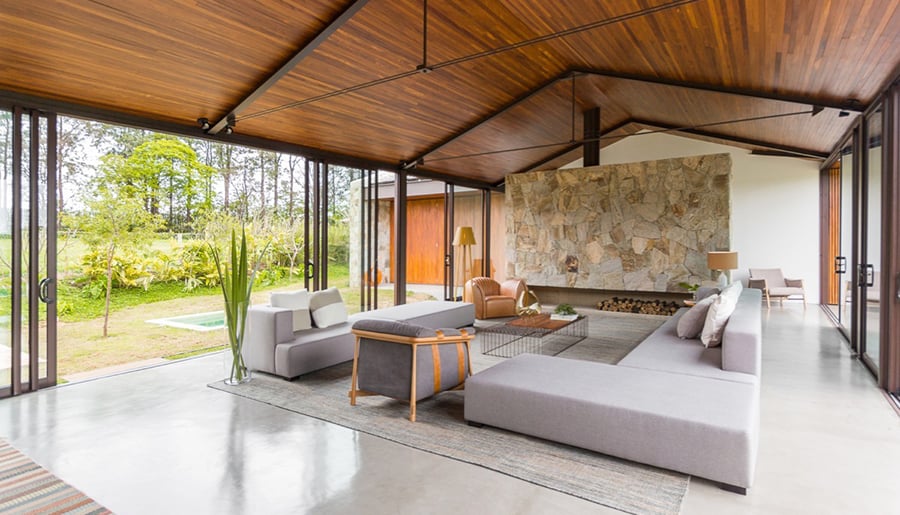 July 1, 2019
This Brazilian Getaway Is Designed for Indoor-Outdoor Living
Floor-to-ceiling windows and sliding door create ample access to two sheltered outdoor spaces created by the house's H-shaped plan.
---
After a stay at a contemporary winery, a couple decided to build a Modernist getaway of their own. Spotting a published project with the aesthetic they had in mind, they called up the architecture firm behind it, commissioning 24 7 Arquitetura to build a residence upon a 12,400-square-foot lot on a farm 80 miles outside São Paulo. However, condo regulations quickly put a dent in the couple's plan. "A flat slab or a built-in roof was not permitted," explains Inacio Cardona, who spearheaded the project with fellow principals Giuliano Pelaio and Gustavo Tenca.
By many definitions, you can't have a Modernist house without a flat roof. It is a genre that celebrates the purity of rectilinear geometry. Could 24 7 Arquitetura create the same feel with a pitched roof?
The result is the firm's first project with a pitched roof. The 4,800-square-foot, one-story Haras House (a haras is a horse breeding farm in Portuguese) is organized around three volumes. Two parallel structures, with northeast-southwest orientation, are connected by a third perpendicular structure, creating an H shape in plan. That layout helped facilitate the creation of ample spaces for socializing, both outside and in.
---
More from Metropolis
---
The outdoor living areas comprise two zones, both with water features. In the primary zone, a patio overlooks a swimming pool, while the more private, secondary zone features a spa, reflecting pool, and bonfire. The central perpendicular volume—its ceiling lined in cumaru, a Brazilian hardwood—separates the two areas but does not obstruct the flow of space between them. The architects, Cardona says, worked to "increase the sensation of the built space and strengthen the use of external areas as a continuity of the built environment."
Inside, the 1,200-square-foot central pavilion becomes an extensive social area with open dining and a fireplace. The master suite, three additional bedrooms, and service areas are placed in the parallel wings. Burnt cement flooring in a soft grey hue runs throughout the house, while many of the furnishings celebrate homegrown talent—the Castro dining table by the young Brazilian designer Theo Egami.
As for the initial Modernist ask, that's there, thanks to some clever material usage. Glazing and honey-hued pine slats on the facade help accent the rectilinear mass and de-emphasize the roof's profile. Squint, and the gently sloping grey wood roof above fades into the sky.
You may also enjoy "Inside Nani Marquina's Spanish Vacation House."
Would you like to comment on this article? Send your thoughts to: [email protected]