July 13, 2021
At this Tyrolean Abbey, a Museum Bridges Centuries and Architectural Styles
MoDus Architects devised a tripartite addition to the 12th century religious campus to house museum facilities and galleries.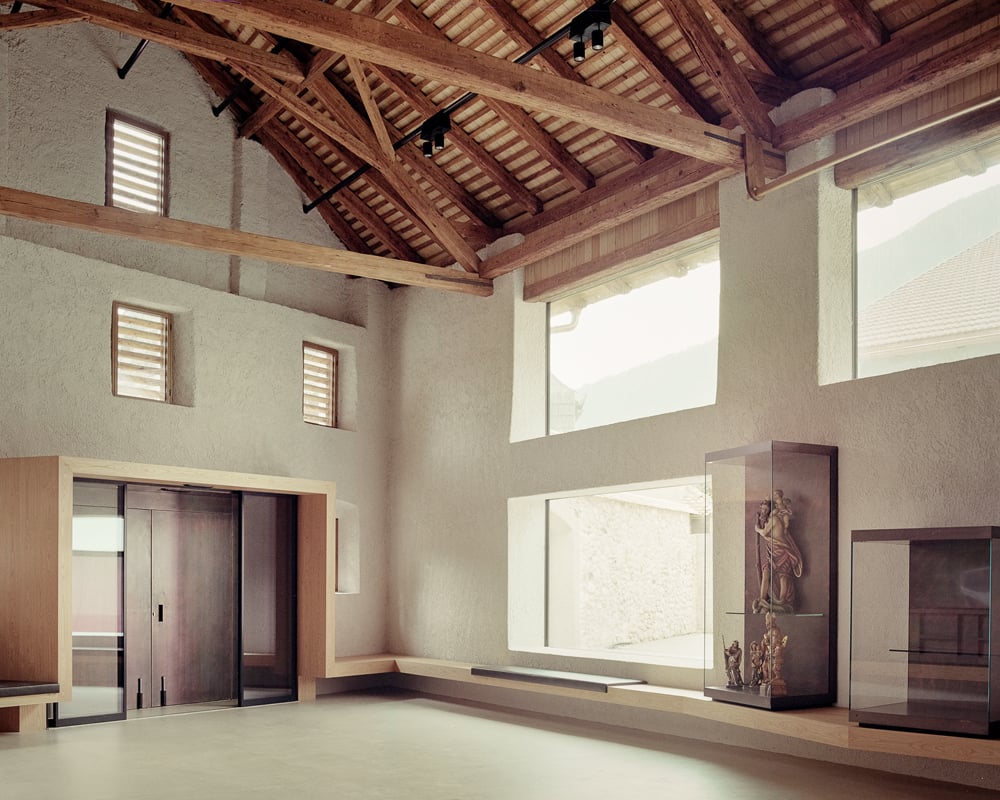 Although it dates to 1142, the Novacella Abbey still plays a 360-degree role in the life of the South Tyrol region outside Bressanone The complex is an epicenter of spiritual, scholarly, viticultural, community, tourist, and business activities in the picturesque alpine community. As in a village, these disparate enterprises are manifest in an almost 900-year accretion of architecture: Diverse detached buildings range from chapels, residences, and classrooms for boarding school students to a historically significant library and one of the oldest active wineries in the world. This June, a new entrance and extension opened in three converted, abutting buildings to host the abbey's museum, a collection of cultural artifacts that includes altarpieces, religious sculptures, liturgical objects, frescoes, and even scientific devices. Designed by Cairo-born Sandy Attia and Trieste-born Matteo Scagnol of MoDus Architects, the project—equal parts demolition, restoration, and renovation—embraces and unifies the abbey's conspicuous heterogeneity.
On a simultaneously dense and sprawling property, the project turns once unrelated buildings—a storehouse, warehouse, and laundry service room or lavatorium—into what Scagnol describes aptly as a "triptych". The first building now serves as the museum entry hall, hosting a ticket counter, museum shop, and the permanent exhibition. The second is a hall containing a stairway and elevator tower wrapped in a botanical-themed artwork by Paul Renner, while the third contains a temporary exhibition space and event room. From the outside, however, the only evidence of change is a sleek blackened copper-clad elevated bridge between buildings.
Even as they echoed the architectural variety outside, Attia and Scagnol used limited materials inside—copper, glass, concrete, and wood—to blend new with existing elements like freshly exposed wooden eaves and rough plasterwork. The scheme amplifies the contemplative atmosphere while establishing relationships and subtle distinctions among old and new. "We found affinities between materials," says Attia. "The bush-hammered, exposed concrete is a reinterpretation of the roughhewn stucco work, the wooden rafters of the roof are revisited in the custom-built lighting element hung above the ticket desk, the copper gutters found throughout Novacella are reconstituted as an entire facade, and the glass of the bottle bottoms that filter light through small apertures in the historic structures repurposes the large apertures of the rural storehouse as generous windows."
---
More from Metropolis
---
From an entry hall now suited to gathering and dispersing, the museum inhabits disparate parts of the Abbey with connections that would otherwise be difficult to discern. The addition offers a clear beginning and end point while orienting and ferrying visitors across various historical eras. "The architecture itself, however, is discreet," explains Attia. "It grafts itself into the existing conditions to elevate mundane structures into a cultural experience that fuses historical and contemporary vocabularies."
You may also enjoy "For Asheville, North Carolina–based Samsel Architects, Sustainability Is an Ongoing Process"
Would you like to comment on this article? Send your thoughts to: [email protected]
---
Register here for Metropolis's Think Tank Thursdays and hear what leading firms across North America are thinking and working on today.