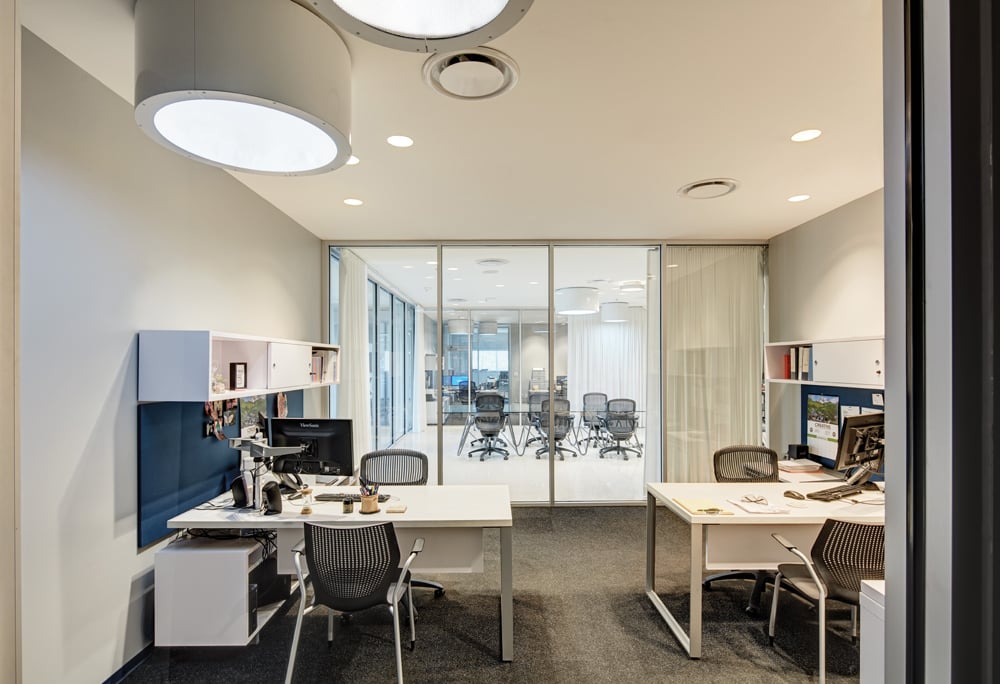 August 2, 2021
Monica Ponce de Leon's Studio Designs an Ohio Office with an Unusual Daylighting Scheme
The MPdL Studio–designed Amanda Manufacturing headquarters democratizes daylight with skylights and a striking brise-soleil system.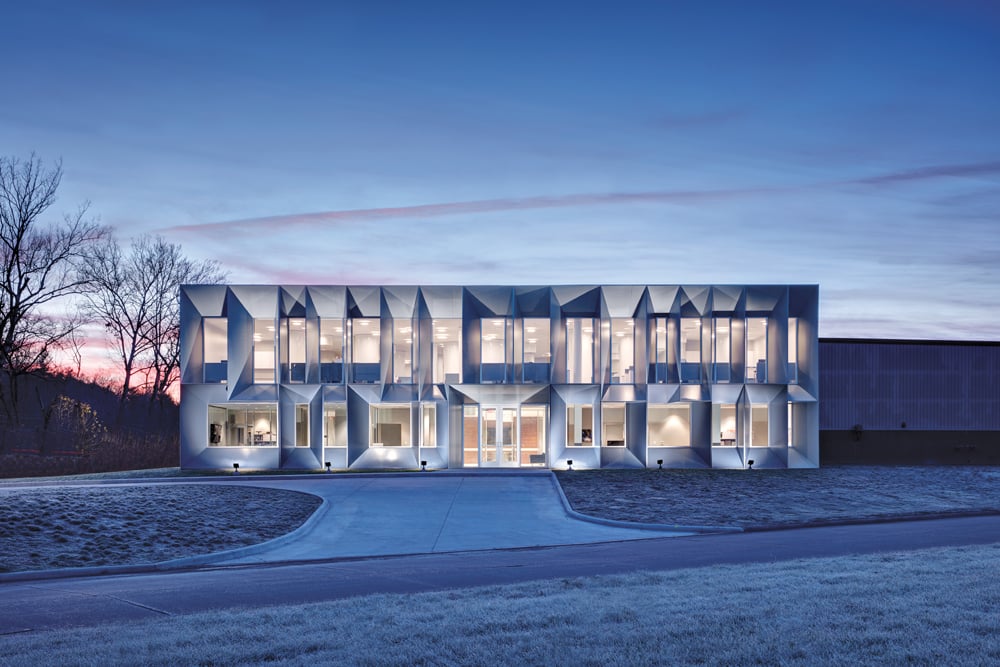 As immortalized in the 1990s cult-classic film Office Space, the American workplace typology is one of rigid hierarchies stratified by spatial allocation. Executives at the top of the food chain inhabit the most coveted space on the curtain wall perimeter—solar heat gain be damned—monopolizing natural light and outward views, while those stuck in the bullpen are relegated to a maze of artificially lit cubicles (or even basements). While recent interior designs are guided by new ideals of collaboration and alternative working styles, they often fall short of fundamentally challenging ingrained programmatic orthodoxy. However, the MPdL Studio–designed Amanda Manufacturing headquarters bucks that tradition with a thoughtful rearrangement of program and sleight of hand to democratize access to daylight.
The two-story structure is located on the outskirts of Logan, Ohio, 50 miles southeast of Columbus, which was a postwar industrial hub known for blending vehicular supply chains with scientifically managed production. So it is perhaps fitting that the new 15,000-square-foot headquarters hosts an auto parts manufacturer— Amanda designs and produces rod and wire products for the Big Three in Detroit—and is appended to its existing 130,000-squarefoot manufacturing facility.
The primary elevation faces west toward the entrance of the complex and the town of Logan, and features MPdL Studio's curtain wall, which is shaded by a striking turquoise aluminum brise-soleil system whose orientation and projection were calibrated to lessen glare for desk occupants. MPdL Studio founding principal Monica Ponce de Leon notes: "The slight blue tint of the panels approximates the character of an industrial object, and less that of a building. We spent a great deal of time working on the right shade so that it would keep good company with the blue of the sky while still being clearly metallic."
---
More from Metropolis
---
The interior's material palette and furnishings are relatively sparse: Polished poured concrete and white terrazzo are used for flooring, and rectilinear off-white desks with squat dividers colored to match the facade's brise-soleil crisscross the space. For the upper level, MPdL opted for a nonhierarchical open plan, while that of the lower level is more cellular.
"The upper level fosters collaboration and exchange of ideas, regardless of rank, while the lower level accommodates staff at all levels whose work requires privacy," continues Ponce de Leon, who is also dean of Princeton's School of Architecture. "Both floors are different versions of nonhierarchical systems. There are no corner offices in this new building type."
Going deeper toward the center of the floor plate, MPdL deployed a Solatube system—tubular skylights more typically associated with factories across the country thanks to their ability to twist and turn through the deep trusses of long spans—to broaden access to natural light for workers located farther from the perimeter and eliminate the use of artificial light during working hours. The tubes are clustered with the structural columns and the roof drainage pipes, an arrangement intended to further a sense of enclosure within the office space. "I think of the upper level as a non-gridded hypostyle hall of 'columns' of various sizes, a not-so-veiled critique of the Johnson Wax building," concludes Ponce de Leon. "Some of these columns are structural, some are roof drainage, and some are shafts of light."
You may also enjoy "After Years of Renovation, One Prospect Park West is Set to Open its Doors"
Would you like to comment on this article? Send your thoughts to: [email protected]
---
Register here for Metropolis's Think Tank Thursdays and hear what leading firms across North America are thinking and working on today.