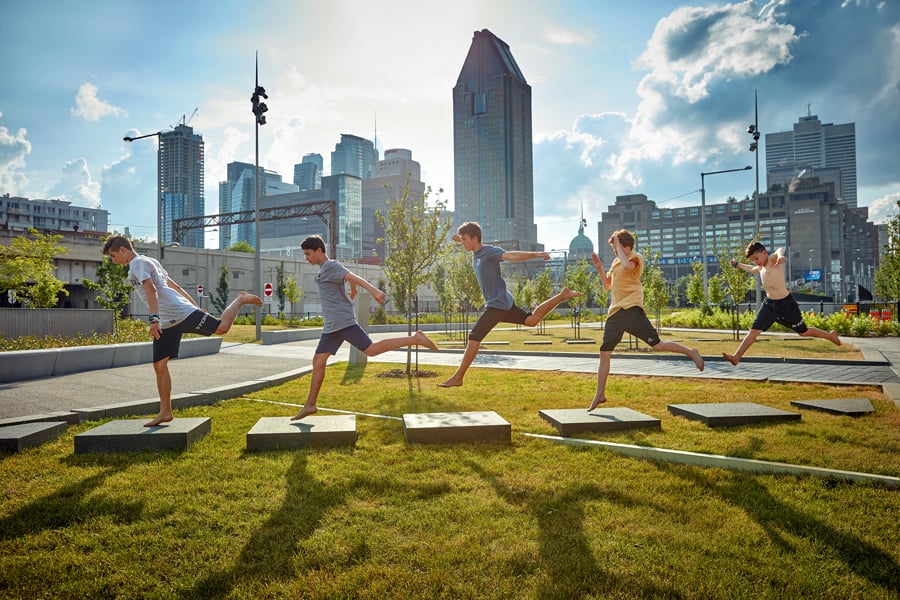 June 21, 2019
A Public Park in Montreal Aims to Right the Wrongs of Past Development Schemes
The city and local firm Groupe Rousseau Lefebvre turned a 1960s expressway into "a prestigious, functional, and user-friendly gateway to downtown."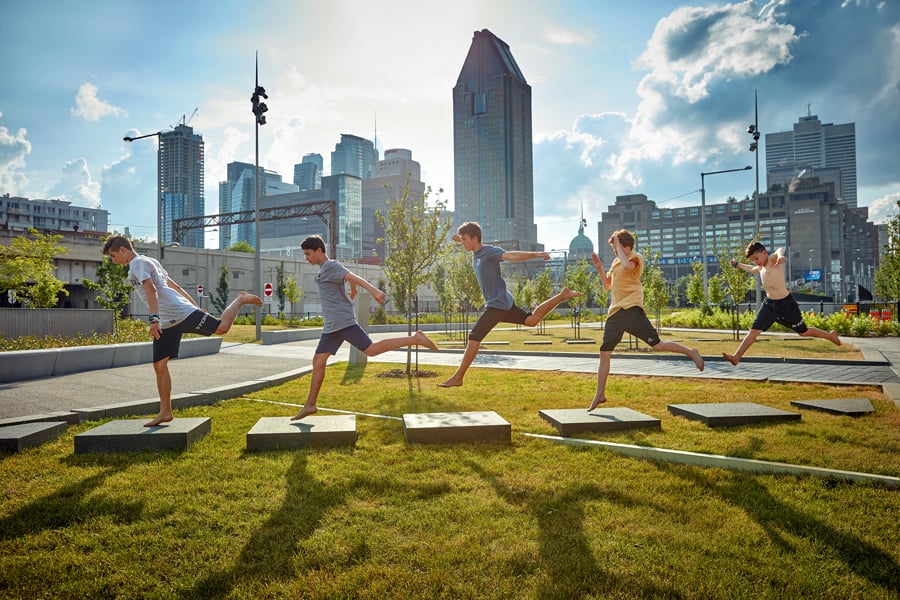 ---
Until recently, entering Montreal from the south required crossing the Champlain or Victoria Bridge and driving along the elevated Bonaventure Expressway, which delivered travelers to the heart of downtown. The concrete highway was designed to get tourists visiting the city for Expo 67 in and out as directly as possible, but like much of Montreal's infrastructural glut from the 1960s, it was poorly conceived and executed haphazardly. A low-quality build and decades of neglect saw Bonaventure all but crumbling by the early aughts.
In the intervening time, the vicinity had evolved from an industrial zone into a viable residential district fueled by property development. So in the run-up to Montreal's 375th-anniversary celebrations in 2017, the city decided to reclaim the adjacent public space that had been lost for decades. "Adding six acres of new public space made a lot of sense, especially considering the rapid growth in the population of the area," says City of Montreal urban designer Simon Pouliot. "We wanted to create a prestigious, functional, and user-friendly gateway to downtown."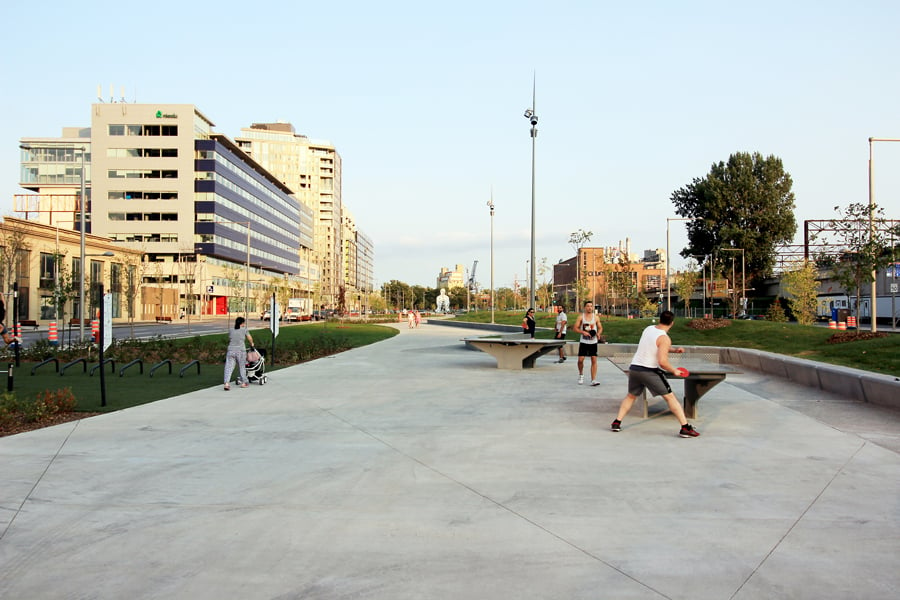 ---
A central challenge was to ensure that the new space would be enjoyable for residents while still handling the incoming stream of traffic. After public consultations, the city tapped local firm Groupe Rousseau Lefebvre to spearhead the construction of a new park, known as Parc Bonaventure. Prioritizing green space, footpaths, and various installations, the landscape architects decided to relegate roadways to the site's edges.
---
More from Metropolis
---
Where the elevated expressway once stood is now blooming with rich vegetation punctuated by public exercise equipment, playgrounds, and public art. More than 300 trees and 30,000 shrubs and perennials—53 percent of which are native to the region—were planted, explains Mélanie Glorieux, project director at Groupe Rousseau Lefebvre. "We have deciduous trees and shrubs chosen to thrive in the dense urban environment," she says. And to create some concrete surfaces, the equivalent of more than 40 wine bottles was used instead of overharvested sand.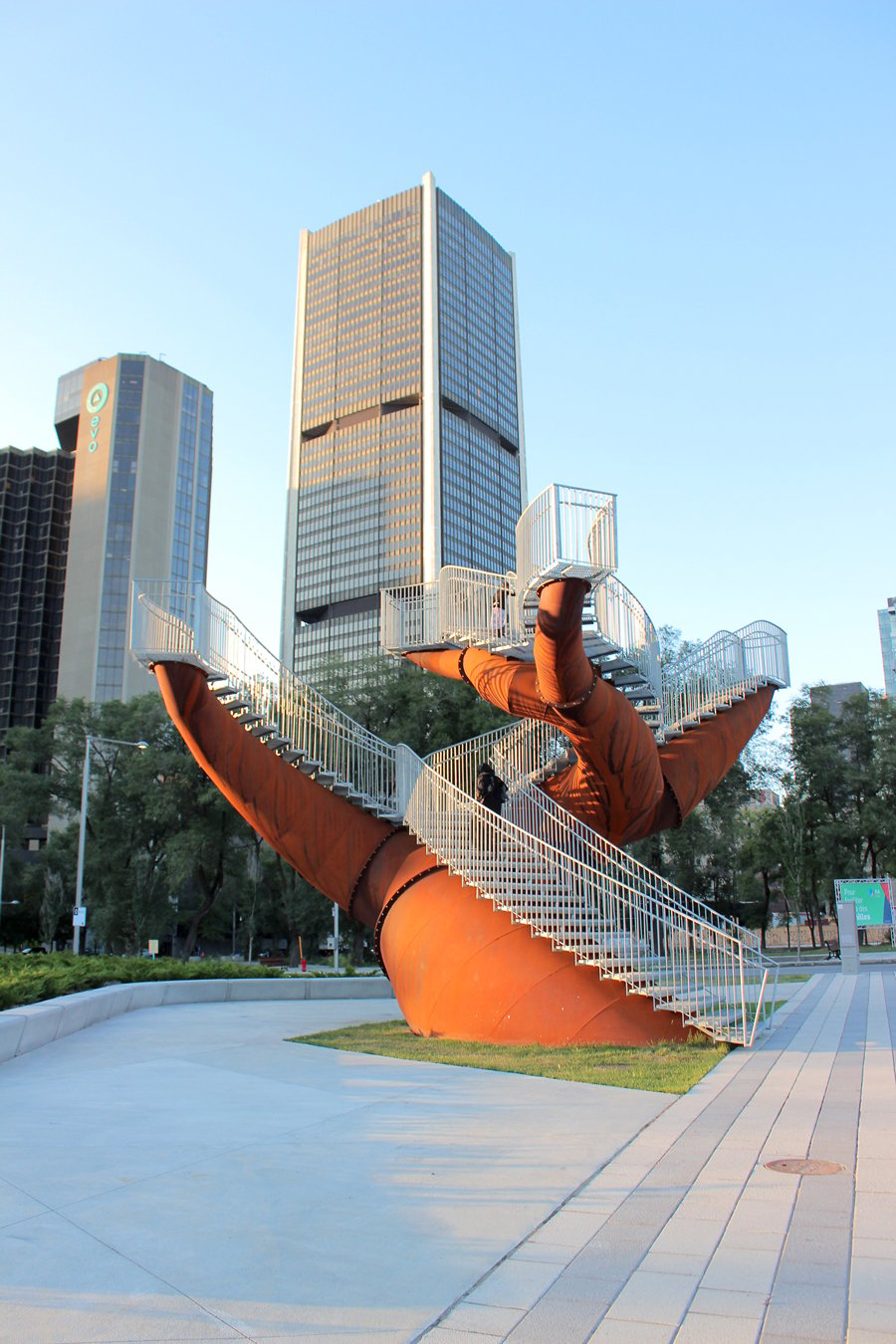 ---
Elsewhere, the team employed clever design moves to orient the park more toward nature and less toward the whooshing vehicles nearby, says Daniel Lefebvre, founding partner of the firm. A central footpath winds across the site, uniting two large-scale sculptures installed at opposite ends. Visitors can climb the tentacle-like staircases of Dendrites, by local artist Michel de Broin, to take in sweeping vistas of Montreal's eclectic skyline and the towering Mount Royal beyond.
Open now for just a year, Bonaventure has scooped up a number of prestigious awards internationally, including the 12th Grand Prix du Design and a SITES accreditation from the U.S. Green Building Council, but Lefebvre says the real triumph is its assiduous use by the local population. "Landscape architects are integrators of everything in a city," he reflects. "This park is a place for the community."
You may also enjoy "A New Headquarters Revitalizes the International Olympic Committee."
Would you like to comment on this article? Send your thoughts to: [email protected]