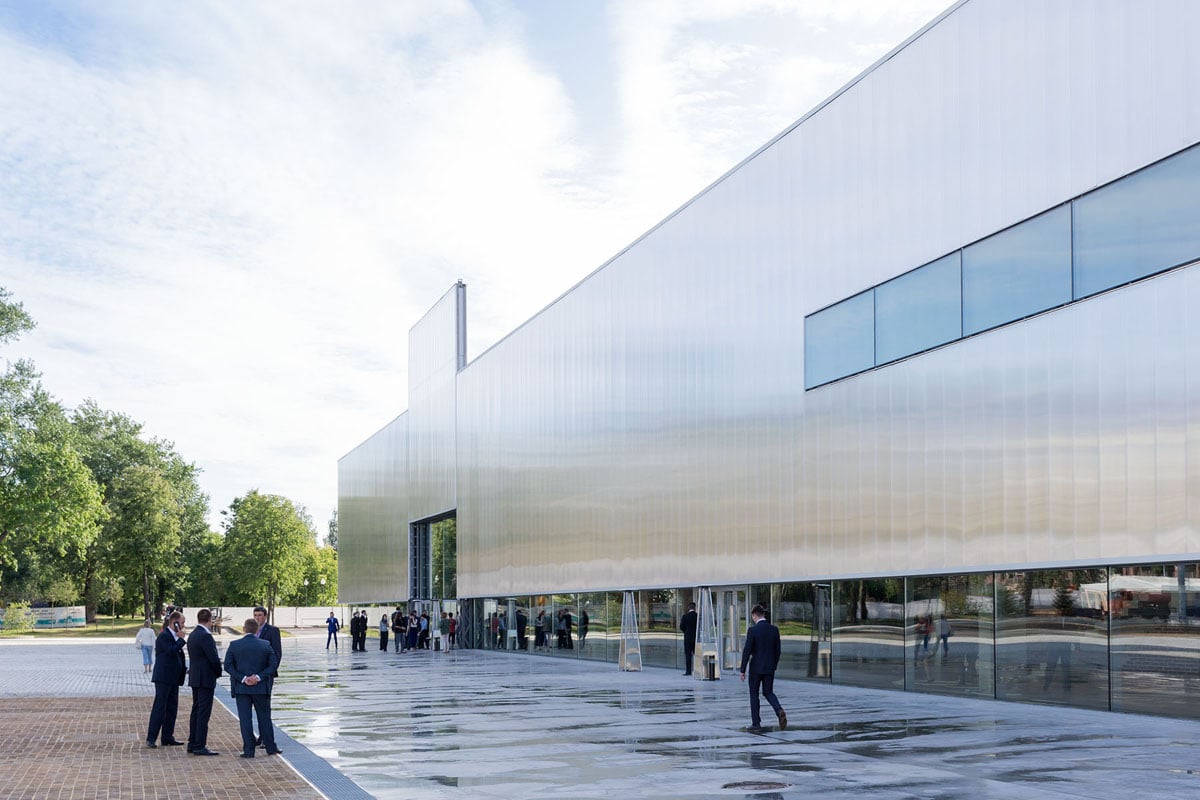 August 25, 2015
Cold War Casual: In Moscow, Rem Koolhaas Channels the History of Modernism
At Moscow's Garage Museum of Contemporary Art, Rem Koolhaas channels Modernism toward historicist ends.
​
Garage's double-polycarbonate facade conceals a battery of technical equipment within its three-foot-deep envelope.
Courtesy Iwan Baan
---
Soviet design—some of it, anyway—occupies pride of place in nearly all foundation myths of modern architecture. No chronicle of 20th-century building design would be complete without homages to Melnikov, Ginzburg, the Vesnin brothers, and their confreres in the avant-garde architecture circles of 1920s Moscow. Yet the ensuing decades of Soviet architecture usually receive short shrift, if any—perhaps a note about eclectic Stalinist skyscrapers, or a fleeting mention of the Khrushchev-backed rehabilitation of Modernism. The architect Igor Vinogradsky, for instance, was a prolific designer of Modernist public buildings from the 1960s through the 1980s, but remains a virtual unknown. His newly minted intercessor, Rem Koolhaas, is considerably more famous.
Although the Garage Museum of Contemporary Art in Moscow is OMA's first building in Russia, the structure isn't altogether new. The 58,100-square-foot art center, which opened in June, stands on the site of Vinogradsky's erstwhile Seasons of the Year canteen in Gorky Park. The largest restaurant in the Soviet capital when it was built in 1968—it comfortably sat 1,200 patrons—the mess hall fell into disuse by the early 1990s and settled into disrepair. Koolhaas contends that OMA's intervention is a preservation project: Remnants of the Seasons' concrete core, a disfigured ruin by the late aughts, have been repaired and repurposed or left untouched (where possible). Elsewhere in the Dasha Zhukova and Roman Abramovich–funded museum, a touched-up socialist realist mosaic flanks the foyer, and an original terrazzo staircase leads to the second-floor galleries.
---
More from Metropolis
---
On the exterior, a translucent gray double-polycarbonate facade filters daylight and provides views into the museum, creating a visual, if blurred, connection to the popular surrounding park. Two operable panels are affixed to both the front and rear facades, sliding upward to reveal full-height display vestibules for monumental sculpture. Container and contained are in stark relief, but the contrast between interior and exterior—between Vinogradsky's original structure and OMA's contemporary reimagining—is not as sharply delineated as Koolhaas claims.
In both projects, the trope was directive. In the early 1960s, Modernist design was deployed as a kind of state-sponsored lifestyle initiative, one that sought to impress upon Soviet consumers the linkage between good taste and minimal, functionalist effects. At Garage, that implied austerity became an overt architectural credo—Koolhaas wanted "to see whether [OMA] could maintain as much as possible the qualities of the original building," he explained at the open­ing. But ultimately, resumption of the Modernist project during the Thaw period was a response to the search for a pervasive style that would abrogate the ornamental, decorative "excesses" of Stalinist architecture. Today, OMA's Garage building offers another corrective, reusing Modernism toward historicist ends and thereby eschewing the sculptural form-making and egomaniacal mythmaking that preoccupy leading contemporary architects.
​
The preserved but not restored mosaic stands in the center of the museum.
Courtesy Iwan Baan
​Koolhaas first traveled to Moscow in 1965, a sojourn that has since entered the architect's personal lore as transformative. A journalist at the time, he visited the Shchusev State Museum of Architecture, saw there the drawings of Constructivist Ivan Leonidov, and was moved to pursue architecture himself. "[Leonidov] was trying to achieve the maximum effect with absolutely minimum means," observes Koolhaas exactly 50 years later, surveying his firm's handiwork at Garage.
OMA's architectural insertions at the museum draw on Leonidov's principles, even if the source isn't always acknowledged. Polycarbonate makes for an inventive facade solution—the ribbed panels conserve heat, modulate daylight, and act as a tidy depository for a good deal of the building systems—not least of all because the material is relatively inexpensive. "The facade is a very contemporary kind of device," notes project architect Ekaterina Golovatyuk, but in fact, Le Corbusier was first to develop the double-skin facade in Moscow (he tried stubbornly, without success, to erect such a mur neutralisant at his nearby 1933 Centrosoyuz building).
Inside, the mosaic showpiece—depicting a massive orange-hued representation of "Autumn"—was lightly cleaned and pointedly not restored. It overlooks an expansive ground-floor foyer, whose lofty proportions were maintained as testament to what Koolhaas deems the generosity of Soviet public architecture. Garage's small galleries are arranged around extant brick walls that were preserved intact; some of these exhibition spaces are equipped with drop-down white panels to imitate the effect of a white-cube gallery space when need be.
OMA's Garage building offers another corrective, reusing Modernism toward historicist ends.
"Our ambition was to do very, very little inside the building," Golovatyuk says. The most intensive interventions are hidden inside the two cores on opposite sides of the building: one contains an elevator, the other offices and children's spaces. The latter core also accommodates a small bookshop, cloakroom, and café decorated with quotidian Khrushchev-era furniture specially manufactured for Garage. (In fact, OMA located the archives of a Soviet industrial design institute in provincial Samara and fabricated these replicas according to technical drawings found in the vaults there.) The overall effect is neither precious nor nostalgic. Indeed, the interior's commonplace materials—old and new brick, aging mosaic tile, birch plywood, ribbed cement—create a liberatingly casual atmosphere precisely because they do away with the usual hallowed hallmarks of institutional space.
That is to say, Garage does not look like a museum owned by oligarchs. The relative modesty of its materials and building scale obscure the relationship between the institution and its financial backers in a process that entrenches and normalizes the already pervasive influence of private capital over public cultural life. And yet, Garage is not a monument to private capital; the building lacks the usual ego-driven flourishes of wealth and gilded markers of affluence that so often divert attention from a museum's programming to the ranks of its patron's circle.
At Garage, Koolhaas offers no concise set of prescriptions for contemporary architecture. Yet his self-styled preservationist agenda lays bare the Modernist myth of the tabula rasa—the blank slate does not beget progressive architecture, he suggests. Changing the world is just as much a matter of deciding what to keep. "Preservation is not only valid or important in terms of preserving the best," Koolhaas affirms. "It's also important to preserve everyday things, so that you can explain to your children how people used to live….That, for me, is as important as the preservation of the Kremlin."
Courtesy Vasily Babourov