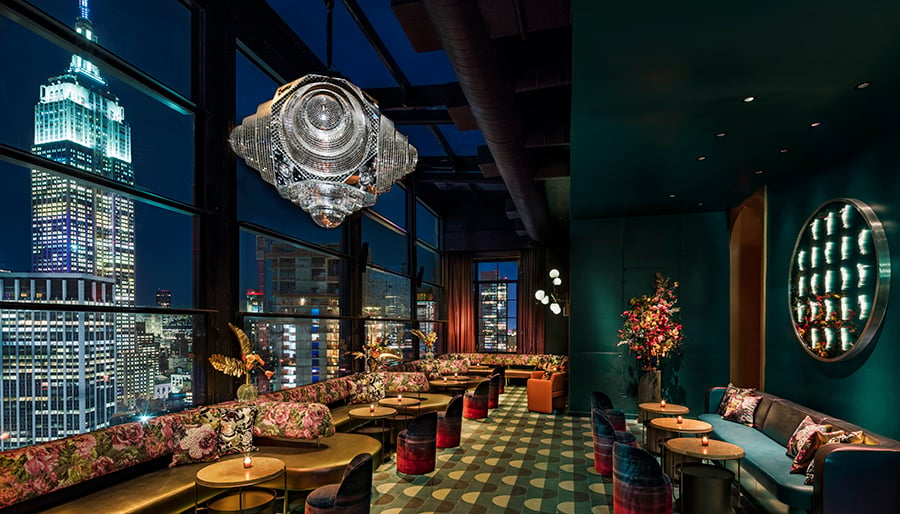 June 20, 2019
The Moxy Hotel Chelsea Offers an Italian Holiday in the Heart of Manhattan
This iteration of the Moxy marks the second collaboration between Yabu Pushelberg, Rockwell Group, and Stonehill Taylor, who also worked on the brand's outpost in Times Square.
---
Finding an oasis of calm in Manhattan is a tall order, but the Moxy Hotel Chelsea, nestled in New York's Flower District, is that rare treat. With nods to Art Deco and Italian Futurism, this 349-room hotel, which opened in February, ushers you into a Roman idyll that compliments the offerings of the nearby NoMad and Ace Hotels. Occupying a new 35-story building designed by architects Stonehill Taylor, this Moxy—the third to open in New York City and the second Moxy developed by Lightstone—leans on its Italian heritage (the first Moxy was in Milan) and its neighborhood's legacy as a botanical marketplace. This new iteration of the Moxy also marks the second collaboration between Yabu Pushelberg, Rockwell Group, and Stonehill Taylor, who also worked on the brand's outpost in Times Square. "Our goal for Moxy Chelsea was to craft a narrative that draws upon and celebrates its surroundings," says Greg Keffer, a partner at Rockwell Group, who designed the venue's eateries and hospitality spaces. "Each room, from the restaurant and café, to the lobby, bars, and rooftop lounge, has its own unique identity yet remains connected."
To enter the standalone hotel, visitors must first pass through a streetside forest of roses and miniature palm trees. This is the Putnam & Putnam Flower Shop which, despite its historic look, was built for Moxy by Yabu Pushelberg. Once inside, travelers will discover a 15-foot-tall "botanical library" of planter boxes displaying fragrant bouquets.
---
The check-in area and lobby feature four suspended butcher blocks—a reference to the hotel's adjacent Meatpacking District. (This entry area and the sleeping quarters are also designed by Yabu Pushelberg.) On the guest-only suite levels, economically-sized bedrooms are stocked with what press materials call "micro-amenities"—such as foldable furniture that can be hung on hooks—plus European-style in-room lava-stone sinks and TVs. Interiors are muted in palette and illuminated by floor-to-ceiling windows. Some of the rooms include campy touches, like hostel-style bunk beds. Others, like the MONDO Suite—which truly is "mondo" by Moxy standards, at 680 square feet—boasts more of a modern, sophisticated environment. "Moxy was exactly what Chelsea needed. It's youthful, sophisticated, and intriguing all the while also being efficient and multi-purpose," says George Yabu, cofounder of Yabu Pushelberg. "The rooms are functional without compromising essentials."
---
More from Metropolis
---
With three dining options on site, there's no shortage of restaurant options at Moxy. Up the exposed-concrete and oak-paneled stairs of the hotel's lobby is Bar Feroce, an Italian snack bar and lounge. An extension of the hotel's library, the space serves as a hospitality-meets-coworking venue, with stiff cocktails and crispy thin-crust pizza (cooked in a terra cotta oven in the hotel's garden terrace) both on order. And flanking Moxy's entrance is the Feroce Caffè and pasticceria, a European-style eatery with glass airplane-hangar doors that can be pulled back in warmer months to create a sidewalk café. Feroce Ristorante, a more buttoned-up establishment, serves regional pasta platters with wine pairings in a space lined with vintage-inspired Aperol and Campari ads and racing-striped leather banquettes.
---
"This is a new, young brand for Marriott, with smaller room size but robust amenities," says Paul Ridguard, general manager ("captain") of Moxy Chelsea. And the best amenity by far is access to the Fleur Room, a 35th-floor rooftop lounge and nightclub which Moxy claims as the "tallest cocktail bar in Manhattan," where revelers can take in 360-degree views of the city. Interesting decorative touches include floral resin cocktail tables, blown-glass lights, and a disco ball salvaged from the decadent 1980s L.A. nightclub Vertigo. In a dramatic twist, the lounge's glass walls can transform on command, turning the space into an open-air terrace. Call it a garden of earthly delight.
You may also enjoy "Chain Mail Now Protects Charles Rennie Mackintosh's Renowned Hill House."
Would you like to comment on this article? Send your thoughts to: [email protected]