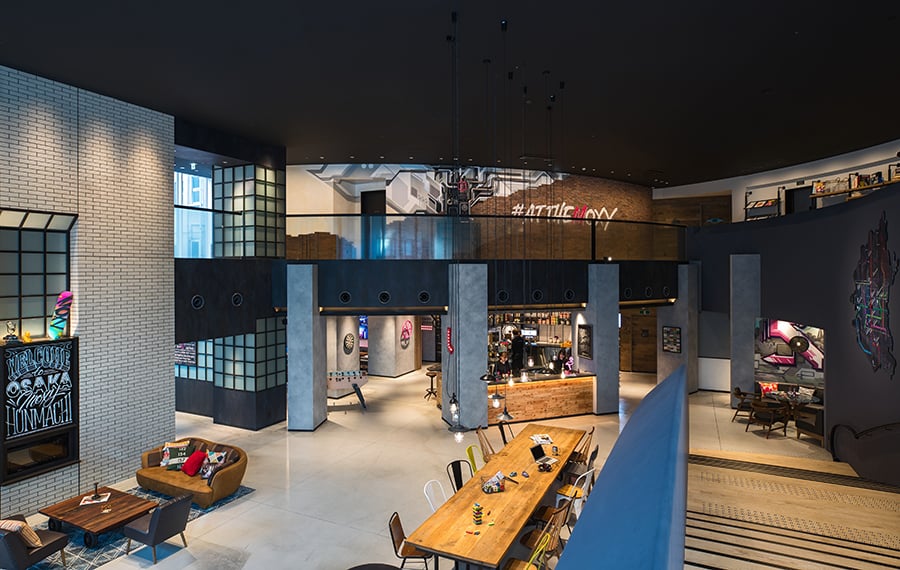 February 27, 2018
Japan's Two New Moxy Hotels Aim for Laid-Back Hospitality
The Moxy brand, owned by Marriot, seeks to appeal to the "next-gen" traveler, doing away with traditional amenities in favor of a budget-friendly, design-focused experience.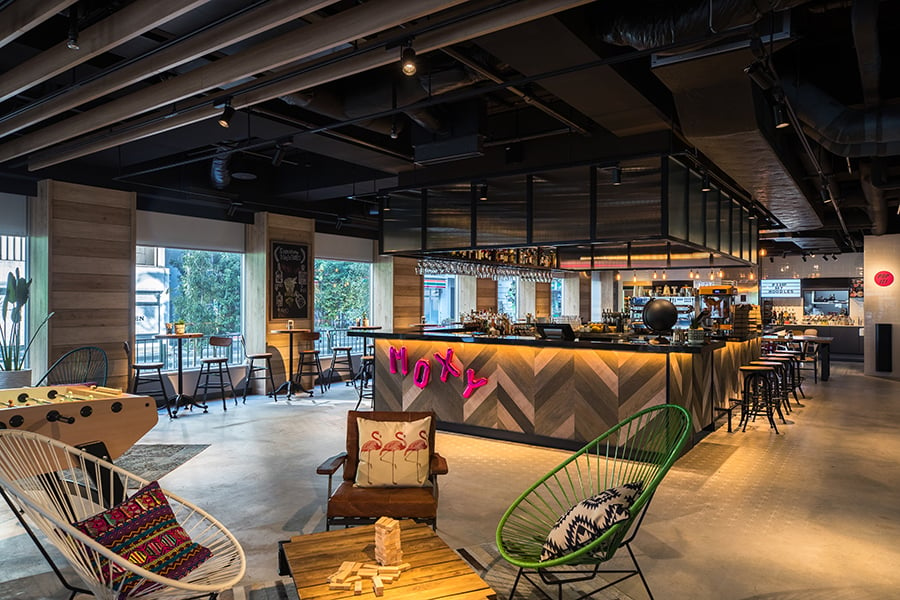 ---
There's a good chance you've stayed in a Marriott hotel without even realizing it belonged to the brand. In an ever-mercurial market, hotel chains have realized that a one-size-fits-all approach is well outdated—what may enamor one guest may completely deter another.
Marriott has been particularly savvy in this respect, growing and diversifying its stable of hotels to cater to niche demographics and psychographics. Its 2015 purchase of Starwood Hotels brought to its stable several key brands that cater to a more niche, design-savvy market: W Hotels, Aloft, Tribute Portfolio, and hospitality maverick Claus Sendlinger's Design Hotels. And that's not to forget Ian Schrager's Edition brand, of which Marriott has quietly been a part since its inception.
The hotel behemoth's latest conquest is the millennial market (or, as it likes to say, "the young and the young at heart"), through its Moxy brand. Since launching in Milan in late 2014, Moxy hotels have cropped up at a steady pace across the globe. Its basic formula seeks to appeal to the "next-gen" traveler, doing away with traditional amenities like the front desk in favor for a budget-friendly, design-focused experience.
---
More from Metropolis
---
Most recently Moxy has dipped its toe into the Asian market, opening iterations in Osaka and Tokyo in Japan (as well as in the rather unconventional location of Bandung, Indonesia). Surprisingly for a culture so devoted to design, the concept of the boutique hotel has been relatively slow to take off in Japan.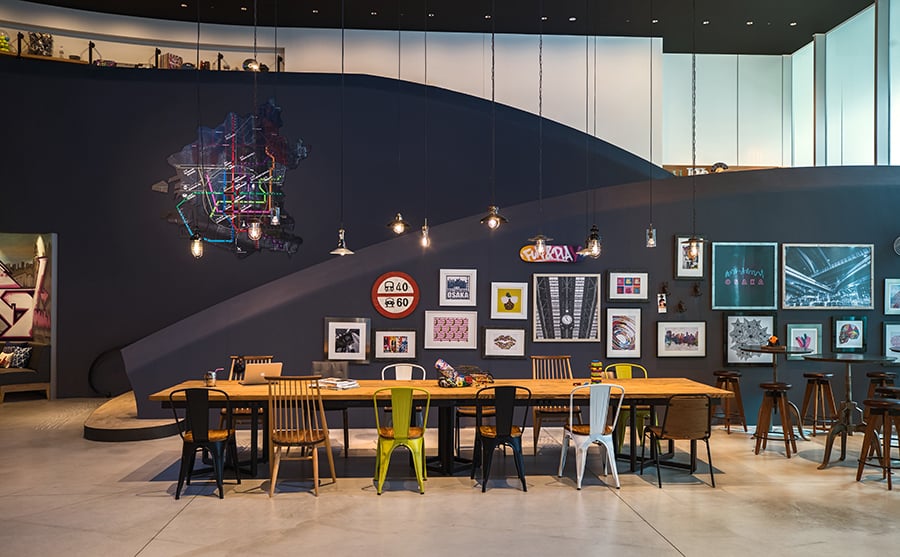 ---
Mitsuru Sakairi, president and chief designer of Wise Labo—the design studio behind the Moxy Osaka—says that the lag perhaps stems from the Japanese approach to travel. Generally, he says, Western-style hotels with full amenities are used only for business trips, while the ryokan-style inns are for recreational trips.
"But in line with the changes in lifestyle in Japan, the requirements of the younger generations who want to experience many things can't be met by offering a limited style of accommodation like Japanese ryokans," he says. "At the same time, younger generations can't afford accommodation at expensive resort hotels and tend to accept the hotels where they can experience many things more easily in a casual way without formalities."
True to the increasingly popular hotel ethos that guests would rather spend most of their time in the public spaces (in Moxy's case, the communal living room equipped with foosball tables and other games, the library, and the grab-and-go dining hall), the guest rooms are compact. But in a clever economizing of space—originally designed for Moxy Times Square and then reiterated in the brand's following properties—a custom wall-peg system designed by Yabu Pushelberg holds most of the room's furniture.
"Given the room size, every inch counts," says Glenn Pushelberg. "The peg system was designed to be robust enough to hold custom-designed furniture, including foldable tables, chairs, and stools that can be flattened and hung on the walls. It provides endless configuration options, based on the guests' needs, allowing each individual to experience the same room in new and different ways."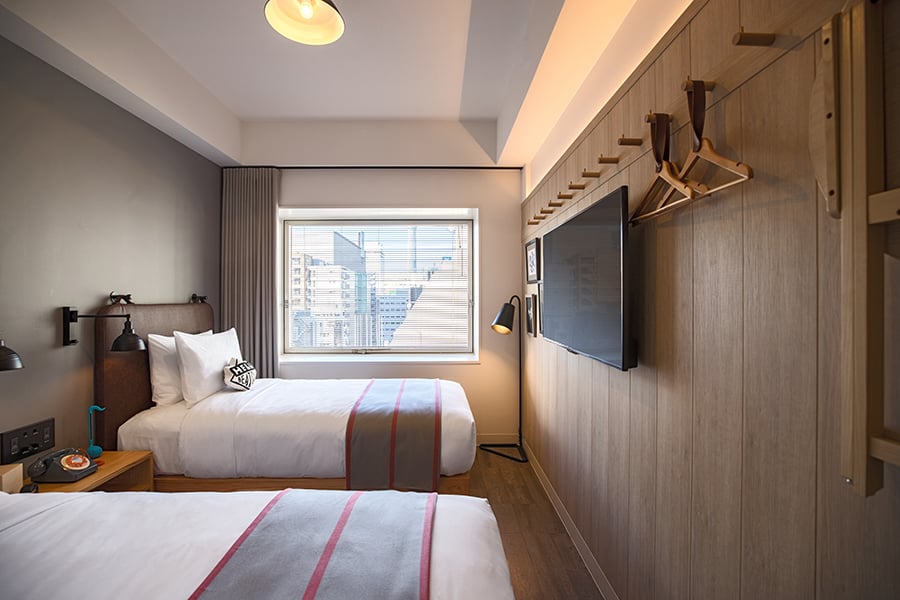 ---
While the Moxy offers a design-led experience, it does so at a significantly lower cost. Focusing on a minimalist, tech-led, and social experience amenities, in many ways the youthful brand is the antithesis of traditional Marriott properties. Toni Stoeckl, global brand leader and vice-president of Marriott's Distinctive Select portfolio, says that, in cultivating Moxy, they kind of threw the rulebook out the window. "It's the opposite of a classic, traditional hotel experience and that's what we challenge ourselves as a team to always think about," he says. "If it starts to become safe or, on the other hand, trying too hard, then we don't want that. It's a very fine line."
While guest rooms share typical features such as the peg wall across Moxy properties, the lobbies are custom-designed with a localized aesthetic. "People in Osaka like designs that are not traditionally appreciated by the people in other Japanese cities," Sakairi says. "For example, while the people in Tokyo like stylish and sophisticated things, the people in Osaka prefer striking, interesting, and straightforward expressions."
"No one should ever say, 'I've seen this Moxy already—I stayed there in another city,'" says Stoeckl. "There should always be a moment of new discovery for guests with each hotel."
You may also enjoy "With the Public Hotel, Ian Schrager is Reinventing Luxury Hospitality. Again."