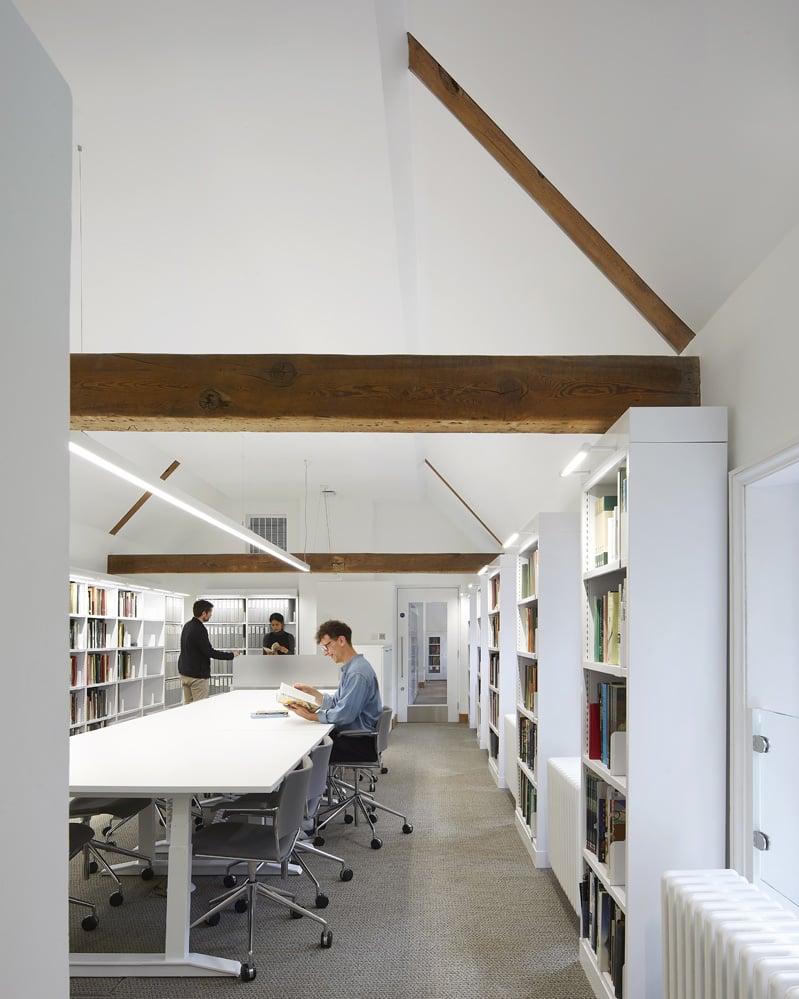 July 7, 2021
Wright & Wright Expands London's Museum of the Home, Set in a Historic Complex of Almshouses
Dedicated to the history of domestic life, the expanded museum makes the most of its centuries-old digs and includes two small new volumes.
"The Geffrye Museum was hugely popular because the building was a museum object in its own right. It was fragile and precious and had these small domestic-sized rooms that creaked as you walked around." So says Clare Wright, partner at the London-based firm Wright & Wright, which recently renovated the museum. Located in East London, it reopened on June 12 with a new name—Museum of the Home—and 80 percent more exhibition space, achieved, remarkably, without extending or radically altering the existing 18th-century brick almshouse buildings that house the main galleries. The museum is dedicated to the theme of the home through the centuries, explored through detailed tableaux of domestic life among different social classes and displays of everyday objects and materials (such as the thermostat or the humble brick) that have transformed our homes.
When the architects got to work they immediately noticed that only one of the three stories of the original almshouses was in use. "The museum had taken out the party walls, staircases, and floors to turn it into an exhibition space," explains Wright. The lower floor, a former washing space that was at the same level as the charming back garden, was unused with its windows and doors boarded up. "We realized that if we just dug down a meter they would have a proper volume of space they could use that would connect to the garden," says Wright. "And if we opened up the roof they would have an extra floor there as well."
The redesigned museum has a new walled entrance that faces Hoxton overground station, improved circulation and visitor facilities, an extra floor of galleries, and a collection library that will make the museum's archive accessible to the public for the first time. Two new sleek one-story pavilions for workshops and educational activities are clad in dark gray and black brick and timber and bookend the almshouses and landscaped back garden; the latter is an exhibition space in its own right, as it explores the changing urban garden since the 1600s. A Victorian-era pub on the corner of the site that had been closed since 2000 and bought by the museum to consolidate their site perimeter has also been restored and expanded outwards and upwards. It now contains an airy café with a terrace and two duplex flats upstairs that, combined with the sale of a new block of six apartments next door, have helped to cross-subsidize the makeover and, importantly, reinstated the street facade on the western side of the plot.
---
More from Metropolis
---
Before Wright & Wright came on board, a David Chipperfield scheme for the site had planned to add a long new two-story building next to the almshouses and demolishing the pub to make way for a contemporary, low-slung restaurant. That concept was eventually scrapped after strong local opposition. "I think people don't always like everything old to be swept away," says Wright. "As a practice we tend to feel that we are part of a continuum and that cities are messy things that you stitch into." In a low rise part of London transformed in recent years by demolitions and the construction of glossy (and often tall) new buildings, this approach is a breath of fresh air.
You may also enjoy "Site-Specific 'Art Environments' Find a Home at Wisconsin's Art Preserve"
Would you like to comment on this article? Send your thoughts to: [email protected]
---
Register here for Metropolis's Think Tank Thursdays and hear what leading firms across North America are thinking and working on today.