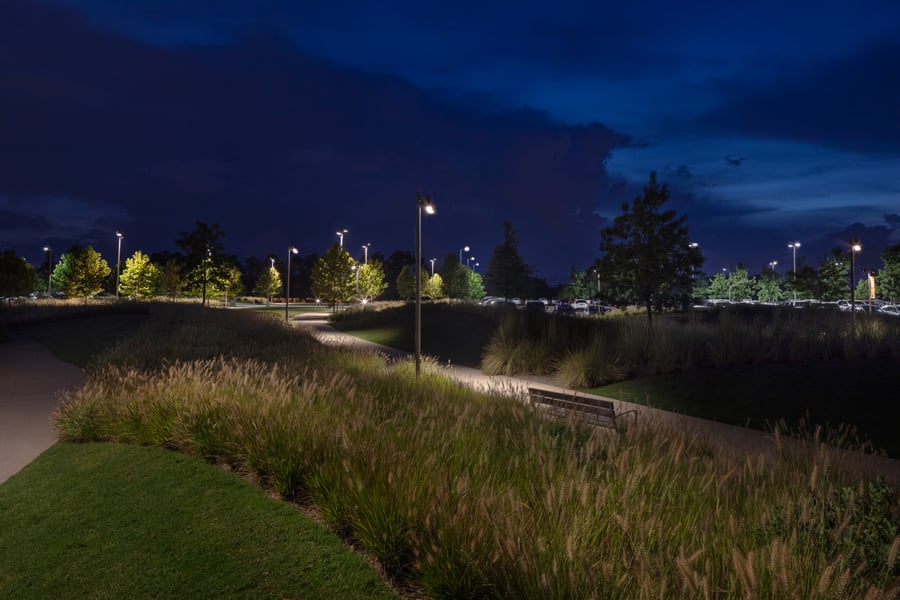 May 6, 2020
To Illuminate Raleigh's Museum Park, Less is More
At the North Carolina Museum of Art's popular park, careful changes in color temperature follow the progression of outdoor spaces.
A few years ago, the North Carolina Museum of Art (NCMA) approached the Denver-based landscape architecture firm Civitas with an interesting request. Principal Mark Johnson and his team were asked to "extrovert" the Raleigh museum, reimagining the arrival experience and transforming the grounds of the 160-acre campus into a place for art and recreation. Integral to the project's first phase, the (subsequently named) Ann and Jim Goodnight Museum Park, was the careful progression from one outdoor space to the next, which is mirrored in the material language and color temperature of the lighting. Parking areas are bathed in a cool white light, while in the park, "we're warming that up because we get better rendition on plants," Johnson says.
While Johnson's practice is fluent in the language of illumination, it relies on trained professionals like Linnaea Tillett for the more technical and finer-grained questions of, say, fixture selection and control protocols. Because the park is used at all hours of the day, including early in the morning—its trails are a favorite among local runners and cyclists—lighting played an important role in creating a sense of safety and welcome. To reduce glare and enhance visibility, Tillett placed shielded light fixtures at regular intervals along pathways, providing an even amount of low-level light, then added a secondary layer of light to the "wave garden," an area of carefully crafted landforms and crescent moons of lawn bisected by branching paths. Here, focusable luminaires bathe benches and lawn areas in warm pools of light, inviting intimate gatherings.
Although lighting is often the last element of a park to be installed, Tillett says the most successful collaborations are those in which consultants are brought in early and given opportunities to visit the site in person. "It's site-specific," she says, "how people experience dusk, and then twilight, and then darkness, and then dawn. Darkness has its own quality and norms of behavior. It has its own culture."
---
More from Metropolis
---
You may also enjoy "At Toronto's Bentway, Lighting Is a Base Layer for Artistic Intervention."
Would you like to comment on this article? Send your thoughts to: [email protected]