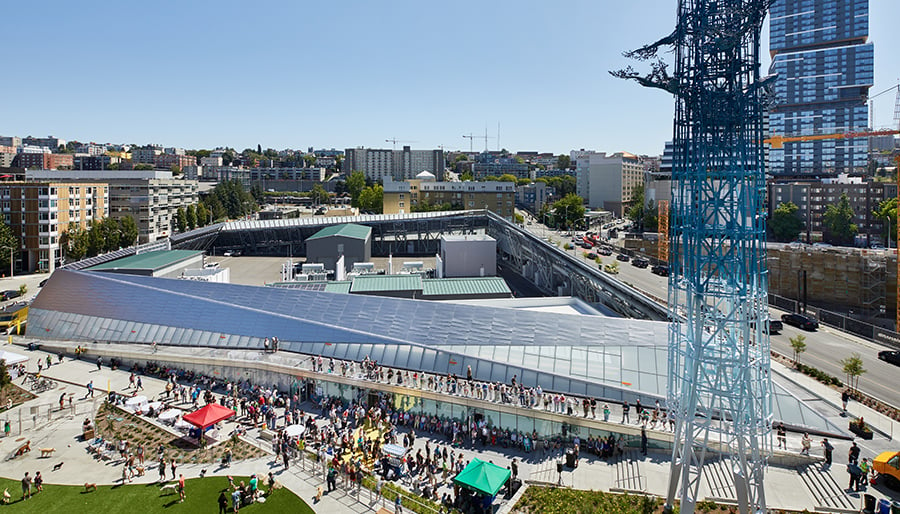 August 20, 2019
NBBJ Reimagines a Piece of Seattle Infrastructure as a Sustainable Civic Landmark
The recently-completed Denny Substation includes an elevated path, dog park, open plazas, meeting rooms, and an art gallery.
Follow the quarter-mile pedestrian path that encircles Seattle's new NBBJ-designed Denny Substation and you'll encounter many unexpected amenities: A slim, light-filled space with community meeting rooms and an art gallery; a verdant dog park surrounded by public plaza; an elevated view of the city's skyline. The entrance features six resonant words, printed in white letters: "The future of power starts here." Without this message, it might be easy to miss that this new block-and-a-half-long public hub conceals a electric grid substation within its 35-foot-high steel and glass walls.
The building, which was designed for public power utility Seattle City Light, opened this past July and is Seattle's first new substation in over 30 years. As a development, Denny Substation speaks to its city's future on many levels. From a practical standpoint, it addresses the need for an increased power supply stemming from Seattle's rapid growth—development that has focused largely on the surrounding South Lake Union neighborhood, a hub for major technology corporations, including Google, Facebook, and Amazon. The area also houses biotech organizations, social service and community nonprofits, and thousands of residents.
Furthermore, the project's public-facing components reflect the city's push to create quality urban spaces. "My initial thought was, 'This will probably just be a fancy, artistic fence.' But then we realized how much was involved in terms of the logistics," recalls Jose Sama, a partner at NBBJ and the project's lead architect. The 10,000-square-foot substation's construction required a street to be vacated, an action the city of Seattle only approves for efforts yielding a long-term public benefit. The challenge became what Sama describes as finding "a sweet spot" between the client's needs and the goal to create a civic space. Finding an existing exemplary project to reference was difficult: "There are a lot of utilitarian structures that have a beautiful wrapping, but no public benefit," says Daniel Skiffington, senior associate and director of communications at NBBJ. "Or, there are substations covered in grass, but they don't involve as many things coming together."
---
More from Metropolis
---
The firm began by identifying Seattle City Light's functional requirements. The necessary clearances around the substation equipment played a significant role in shaping the elongated structure, which resides largely underground. NBBJ also met extensively with city government officials and South Lake Union locals to determine the public benefits that were of greatest need. Although the neighborhood brings together a diverse collection of residents—including low-income apartment renters, a retirement community, and those living in newer, high-end complexes—there was a unifying need for open space. This was translated to the design's elevated path, dog park, and open plazas.
The design team also had to address concerns that a windowless structure would become a target for vandalism. As a counter, the architects used clever lighting design: During the day, the slanted path maximizes sunlight and creates an inviting, pedestrian-friendly environment. After dark, interiors and exteriors are wrapped in a warm, recessed glow. Wind-activated panels designed by environmental artist Ned Kahn and an industrial, tree-like structure by the Seattle collaborative Lead Pencil Studio add even more dynamism to the station's facade.
Beyond its aspiration to create an enduring civic landmark, NBBJ's design for the Denny Substation also prioritizes the future through sustainability. Solar panels and a heat recovery system will warm the project's interior spaces, thereby generating 105 percent of the facility's energy needs. The architects are currently targeting a Petal Certification from the International Living Future Institute. "A park in and of itself is just a park. A substation in and of itself is just a substation," Sama tells Metropolis. "But what's unique about this project is the priorities overlap in ways that are interesting…and they create unique opportunities that you normally would not anticipate."
You may also enjoy "How Olson Kundig Renovated and Expanded Its Seattle Office."
Would you like to comment on this article? Send your thoughts to: [email protected]