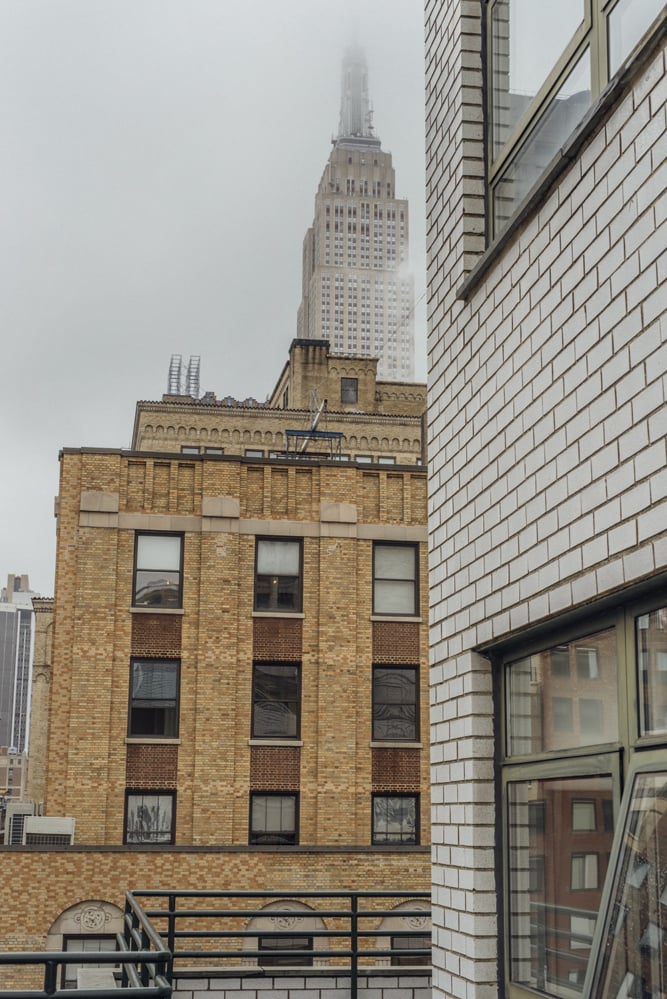 June 20, 2016
New York's New Design District?
Metropolis's new neighborhood is fast becoming a hub for design businesses, from established companies to up-and-coming initiatives.
A wraparound balcony at the Metropolis office looks out over 32nd Street and Lexington Avenue, offering an overview of the emerging design district.
---
New York City is always in a state of creative flux, and its urban patterns are going through another transformation. Neighborhoods like Flatiron, the financial district, and Dumbo are seeing a surge of architects and technology entrepreneurs, while new clusters of design influencers are slowly taking shape. Metropolis's new neighborhood—an area roughly bounded by Third and Sixth Avenues, and 23rd and 34th Streets in Manhattan—is among the latter. (Read more about the magazine's new digs.) Anchored by the New York Design Center, it has welcomed a number of design businesses, including established ones like DDC and up-and-coming initiatives like the Ernest Collective (which houses D'Apostrophe and Royal Botania). They will soon be joined by Sicis. And just outside the vague boundaries of the district are heavyweights like Herman Miller, Maharam, Porro (as part of West NYC Home), and, by the end of the year, Carl Hansen & SØn. Following in the footsteps of success stories like Soho or Tribeca, it may be time to finally give this neighborhood a name—New York Design District, anyone?
---
More from Metropolis
---
NEW YORK DESIGN CENTER
200 Lexington Avenue
Located across the street from Metropolis's new office, the New York Design Center ranks among the oldest trade buildings in the city. The center, which has consistently been one of New York's largest design resources, houses nearly 100 showrooms in its 16-story space and provides a comprehensive platform for the furniture industry. New showrooms in the building include Crosby Street Studios (suite 1303), FAIR (suite 601), Seguso (suite 431), and Plexi-Craft (suite 914).
DDC
136 Madison Avenue
One of the companies that spearheaded the design industry's move to the strip of Madison Avenue between 30th and 40th Streets, DDC can be credited with transforming the area into a formidable furniture district. Ten years after opening the doors of its first showroom in the neighborhood, DDC launched a second storefront in 2010, a mere three blocks away from the first, Philip Johnson–designed space.
DOVER STREET MARKET
160 Lexington Avenue
The stately Beaux Arts building on Lexington Avenue does little to convey the chaotic energy of the fashion emporium housed within it. Conceptualized by Rei Kawakubo, Dover Street Market is home to more than 50 established and emerging brands over seven floors of its artfully designed space. The New York venue, which follows London and Tokyo as DSM's third location, receives a complete overhaul twice a year, providing its visitors with a shopping experience that is half commercial spectacle and half avant-garde art installation.
MOOOI
36 East 31st Street
When the Dutch brand was looking to open its first showroom and store in the United States, in time for NYCxDESIGN 2015, the decision of where to put down roots was relatively easy. According to Moooi's cofounder Marcel Wanders, the company was drawn to the area by the neighborhood's affordable rents and the opportunity to be at the forefront of a new design district.
FLORIM
152 Madison Avenue
The Italian porcelain manufacturer was drawn to the emerging design neighborhood by its electric creative environment and growing sense of community. Florim's Madison Avenue flagship store spans more than 5,400 square feet and, aside from its extensive showroom space, boasts a series of lecture halls dedicated to conferences and events covering a range of architecture and interior design topics.
DURAVIT
105 Madison Avenue
As the first bathroom manufacturer to take up residence in the neighborhood, Duravit wanted to make a strong statement. The company tasked Stuttgart-based architects Schmutz & Partner with designing its 6,350-square-foot showroom, now a flowing, ethereal space bathed in shades of soft blue light.
B&B ITALIA
135 Madison Avenue
Expanding to its second New York location, the Italian furniture manufacturer is ready to join the emerging design neighborhood of Madison Avenue. Like its predecessor, B&B Italia's new 9,000-square-foot showroom will be designed by Antonio Citterio & Partners and is set to offer New Yorkers a new opportunity to dip into the world of Italian design.