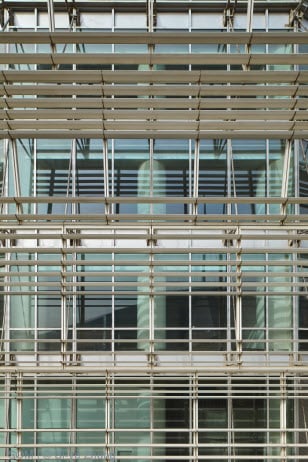 January 30, 2013
With New Zhengzhou Tower, SOM Looked to Early 20th-Century Solar Technology
The new tower by Skidmore, Owings & Merrill becomes the centerpiece of Zhengzhou, China.
The city of Zhengzhou in central China recently opened the doors of a new 60-story skyscraper, now the tallest building in the city, providing a new centerpiece for the surrounding area.
All photos courtesy Si-ye Zhang/SOM
Designed by Skidmore, Owings & Merrill (SOM), the circular tower known as Greenland Plaza is shrouded in a screen of aluminum panels and incorporates a roof-mounted heliostat. Both features are designed to maximize daylight inside the structure, reducing the amount of energy used and heat generated.
The aluminum screens, which obscure the building's glass walls when viewed from below, are mounted with an outward lean, and calibrated to reflect the greatest amount of daylight through the windows. At night, the panels switch duties, and shine with artificial light that illuminates the entire façade like a beacon.
---
More from Metropolis
---
The heliostat, another sunlight-driven feature, is mounted on the roof, and uses mirrors to evenly redirect daylight down into the atrium of the building's upper floors. The use of this technology allows natural light to fill the large interior space rather than electrical lighting. A computer-monitored system measures the interior sunlight and contributes additional electrical lighting when necessary.
Daylight is directed into the atrium.
Though heliostat technology is not new, the feature is rarely used in skyscraper design. As early as the 1930s, Japanese engineers toyed with the idea of using heliostats to redirect sunlight into cavernous underground skyscrapers, however they never existed beyond the concept phase. An actualized and more recent example is the Hong Kong and Shanghai Bank Corporation headquarters, designed by Foster + Partners. The project, which was completed in 1985, uses a custom-designed system of 480 mirrors to redirect sunlight from the roof, through the building's atrium, and onto a public plaza. The day lit, sheltered space has become a popular public gathering space (and recently has been the site of several Chinese occupy protests).
A heliostat used in this Japanese "depthscraper" concept. Image from blog.modermechanix.com
The interior of Foster + Partners' HSBC headquarters. Image from arup.com
SOM's most recent foray into the realm of heliostat use, while not radically innovative, is the latest example of this technology being applied to light the interior of a skyscraper. Though it will never fully replace the need for electrical lighting, it is a simple concept that perhaps too seldom sees the light of day.
---
Brian Bruegge is an undergraduate student at Fordham University, majoring in communications and media studies, and history. He also studies visual arts and environmental policy, and has previously written for several other websites and publications on a range of topics.