August 2, 2019
How Nashville's Nick Dryden and DAAD Are Reinventing Music City
A third-generation architect, Dryden brings cosmopolitan sensibilities and Southern charm to the restoration of some of the town's most beloved landmarks.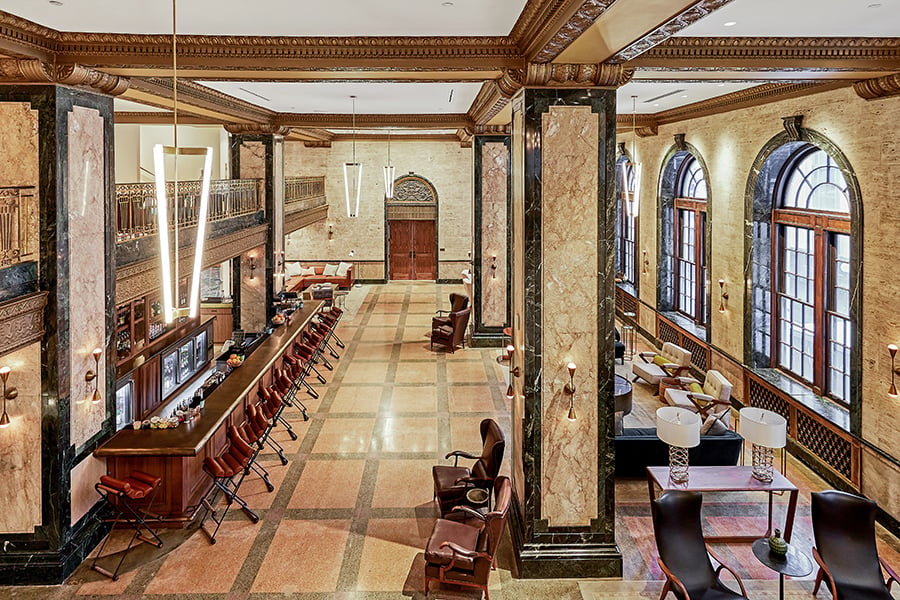 ---
"This project just came to us," explains architect and Nashville-native Nick Dryden, barely believing his luck, over drinks at Makeready Libations & Liberation. Makeready is a rustic-modern bar and restaurant the designer helped craft with his studio, DAAD, for the recently opened Noelle Hotel, where he also served as an architect and interior designer.
The decidedly plum assignment came about serendipitously: The developer, Jim Merkel, CEO of Rockbridge, had come across several DAAD projects throughout Music City, from Golden Sound, a coffee shop built inside the bones of an old recording studio, to eclectic restaurants and modern boutique hotels. Drawn to DAAD's mix of cosmopolitan chic and authentic Nashville vibe, Merkel reached out with an intriguing proposition—what if we gave your team full creative control over the design concept, architecture, and interiors of one of the city's most beloved landmarks? And from this offer came the Noelle, built inside a stunning (and cavernous) Art Deco space that formerly housed a bank. The venue sits on Printer's Alley, an energized hub near Nashville's honky-tonk strip, which has long been a local hot spot for nightlife and culture. Dryden and his studio tapped more than 55 local creatives for the collaborative Noelle project, from Barista Parlor Coffee—who co-created Drug Store Coffee, the downstairs cafe area—to artist Bryce McCloud. And since its opening in late 2017, the hotel has become a Nashville touchstone, entailing retail, luxury lodgings, fine eats, and a rooftop bar. "Sometimes, you fantasize how projects can come your way," Nick explains, incredulously, "and, in this case, it actually happened."
Dryden comes by his know-how in design organically: His grandfather, Allen N. Dryden, Sr., studied in Chicago under Frank Lloyd Wright and Louis Sullivan, and won the Rome Prize. After graduation, the elder Dryden was hired by the team who represented George Eastman, which at the time was intent on expanding Eastman Kodak from Rochester, New York, to a new town it hoped to build in East Tennessee called Kingsport. Much of its conceptualization and execution was left to Dryden Sr., who held onto the many blueprints that would later serve as inspiration for his grandson, sparking his interest in a wide range of projects, from city-shaping to furniture and textiles design—"what defines those bigger spaces within architecture," as Nick describes it.
---
More from Metropolis
---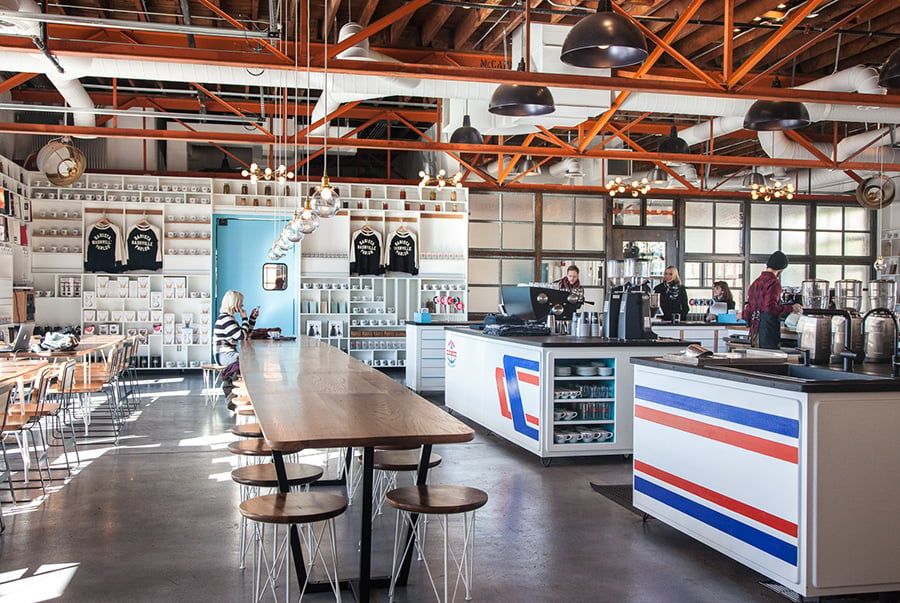 ---
This holistic approach has made Dryden one of the area's most in-demand architects and interior designers. DAAD, established in 2001, has become a creative fixture of Nashville. The studio has worked on projects with famous locals like Jack White, Dan Auerbach of The Black Keys, members of the Kings of Leon, traditional country music legend Marty Stewart, and Billy Reid, a fashion designer and personal friend of Dryden's. (DAAD designed Reid's Nashville store.) "The creative community in Nashville is pretty broad, ranging from songwriters and people within the music and entertainment world to visual artists and [sculptural] artists," says Dryden, who credits this diversity for his eclectic portfolio as well as his network of friends and colleagues.
Currently the architect is most excited about May Hosiery, an upcoming mixed-used space being built within the structural remains of a former hosiery mill in the industrial Wedgewood-Houston neighborhood of Nashville. DAAD has been working on the project for over four years, transforming the industrial property into a top-tier office, retail, and hotel collective. When the building opens, two of the main tenants will be Nashville chapter of Soho House, a social club, and the new headquarters for Apple Music.
"We start many of our projects by developing a narrative," explains Dryden, "and it ends up being the backbone that drives the design process." With the Noelle, Dryden used local history and culture for inspiration, while also incorporating what is currently happening in Nashville—its rapid transition and redevelopment, and the blossoming of a globally-connected creative culture, as evidenced by the collaborative spirit of the hotel.
It seems others are taking note of Dryden's well-honed design sense. Recently, the Noelle was recognized with a Hospitality Design Award for Best Public Spaces Design as well as an AIA Tennessee design award for interior architecture. Meanwhile, Dryden has also begun to attract more national attention, working on both commercial and residential projects throughout the Southwest, Detroit, Lake Tahoe, Austin, and New York. But for now, his roots are Southern and he is dedicated to helping his city flourish. "Living in Nashville has afforded our firm a real opportunity to spread our wings, get involved in projects and, in some cases, create entirely new opportunities."
You may also enjoy "At the St. Regis Hotel in Hong Kong, Western and Eastern Design Influences Deftly Intermix."
Would you like to comment on this article? Send your thoughts to: [email protected]