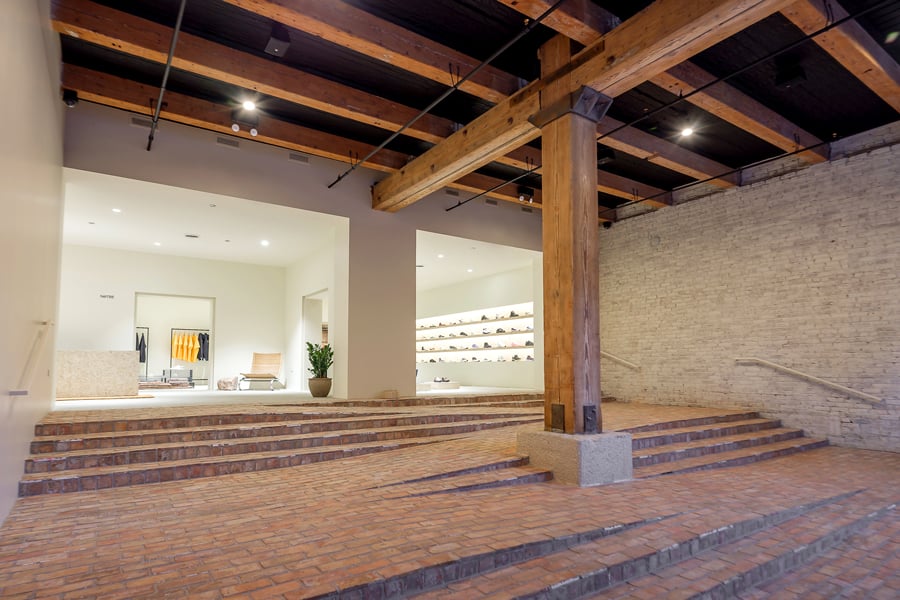 July 8, 2019
In Chicago, the Luxe Boutique Notre Shakes Up the Retail Typology
Designed by Abigail Chang, Ben Gott, Isabelle Reford, and architecture firm Norman Kelley, the West Loop store features an entryway that doubles as a performance and lecture venue.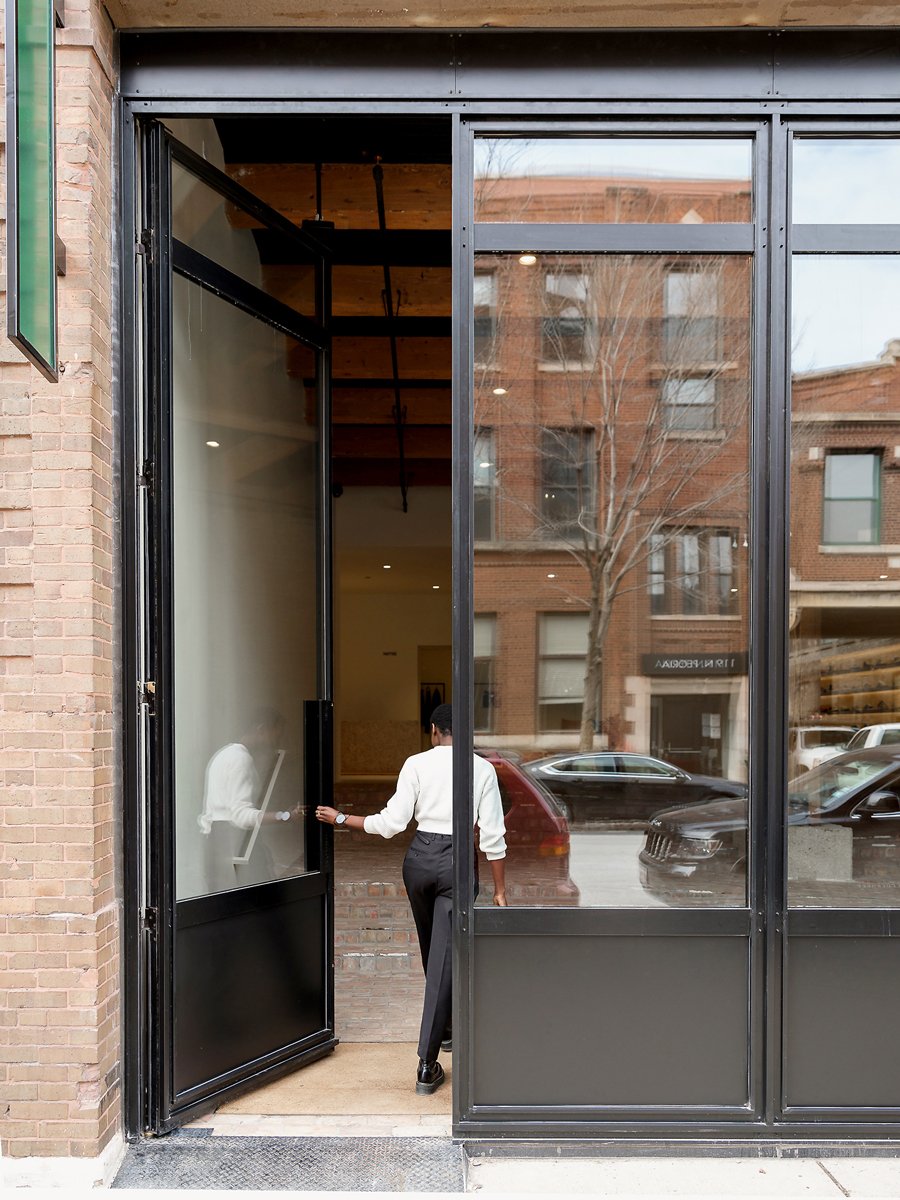 ---
The most obvious venue for retail is a box, one big and open enough to highlight changing inventory and conveniently rotate customers in and out. But Notre, a luxury clothing purveyor, had something more in mind when it sought to grow its Chicago shop: the ability to also act as a cultural hub. The solution combines sweeping renovations and more nuanced moves, and draws on the combined talents of local designers Abigail Chang, Ben Gott, and Isabelle Reford and architecture firm Norman Kelley, a detail-obsessed practice that has worked in exhibition design and performance art. Located in Chicago's West Loop, Notre originally occupied a narrow storefront. Rhona Hoffman Gallery, a renowned art venue, had occupied the space next door. When Hoffman moved in 2017, it opened the door for Notre's expansion and inspired "new ways of thinking about what a retail environment can be," says Norman Kelley cofounder Thomas Kelley.
But the vacancy presented a challenge: As in many storefronts in converted warehouses, the original entryway was not accessible. The expansion would require a full overhaul to meet code. Luckily, the client's desire to engage customers in ways outside traditional retail helped guide the change, leading to a flexible entry sequence.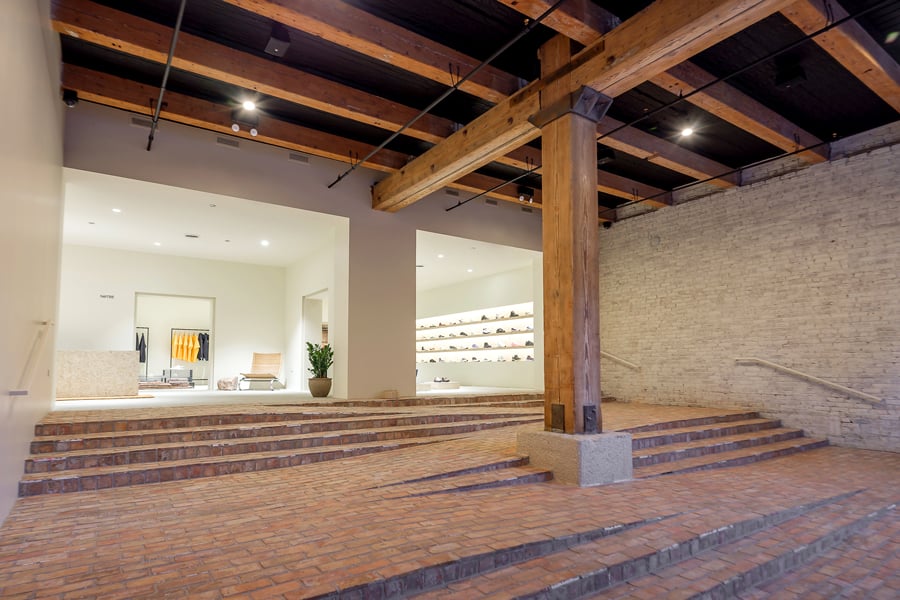 ---
Norman Kelley removed partition walls, exposed original 14-foot-tall timber beams, and introduced a massive, gently rolling stair/ramp—or sramp—running the full width of the space. The sramp doubles as an amphitheater for musical performances and lectures. (For guests, Gott devised small, bench-shaped custom folding stools that cleverly create temporary step seating.) It's also composed of recycled bricks with dry mortar joints, which allows the pattern to maintain visual continuity throughout the curved rise and slope. Viewed from the entryway, the sramp looks industrial yet elegant; from its top, the floor appears to undulate.
---
More from Metropolis
---
Leaving the cavernous space, visitors encounter a cozy yet bright showroom organized into sections for browsing. The intimacy is aided by a new drop ceiling installed in the timber structure, which compresses the height by about two feet. "After you move through the structural bays…the light and temperature change," observes Kelley.
Sneakers are displayed on 27-foot-long shelves clad in strand board that has been, as Gott puts it, "pickled white," giving it the look of matte marble. In a "playful" material illusion, he also selected OSB board treated to resemble travertine for tall display pedestals, using real travertine on shorter pedestals—a nod to Chicago favorite Ludwig Mies van der Rohe's extensive use of the material.
Norman Kelley also brought its signature detailing to the project: Walls are thickened to hide columns, while thresholds are accented with reentrant details painted in a subtly varied color, which lends dimension and lightens the transitions between showrooms and fitting areas. These smaller moves bring visual interest and character to what could have been just another store expansion. It's a far cry from white-box retailers—places that could exist in any place or time, without a wink or nod to the people who pass through their doors.
You may also enjoy "Cool Customer: With Restrained Finishes and Custom Craftsmanship, This Bermuda Boutique Cultivates a Relaxed Atmosphere."
Would you like to comment on this article? Send your thoughts to: [email protected]