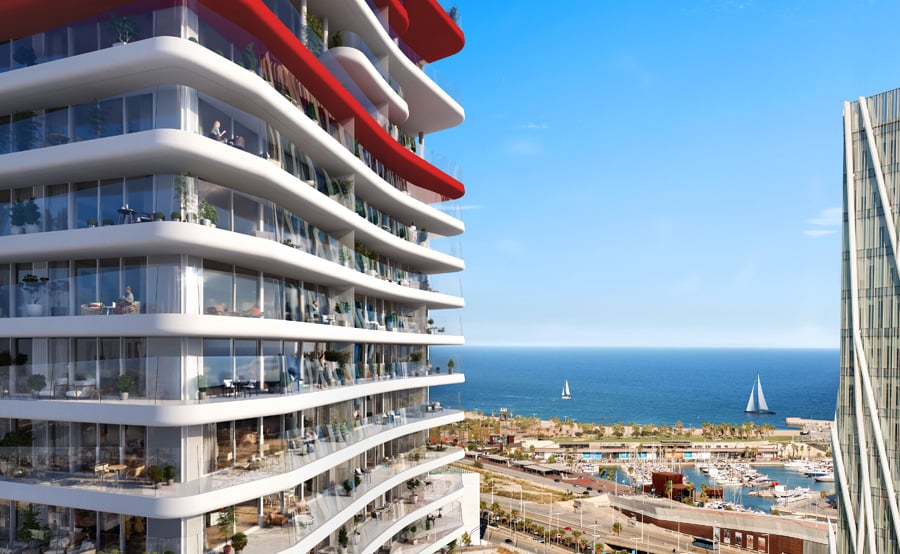 May 25, 2018
At Venice Biennale, Odile Decq Reveals Design for Her First Tower
Odile Decq does not shy away from a challenge. The French architect, educator, and feminist is as recognizable for her signature, punk-rock coif as much as she is for her convention-defying body of work, which includes a futuristic restaurant for Paris's Opéra Garnier, an art-wrapped office building, and the renovation of a '70s-era bubble house. […]
Odile Decq does not shy away from a challenge. The French architect, educator, and feminist is as recognizable for her signature, punk-rock coif as much as she is for her convention-defying body of work, which includes a futuristic restaurant for Paris's Opéra Garnier, an art-wrapped office building, and the renovation of a '70s-era bubble house. "It's a new adventure every time," Decq says. "I can't repeat myself. If I did everything the same, I would be boring."
Decq is once again aiming high (30 stories, in fact) for the design of her first-ever residential tower along Barcelona's coastline —a competition-winning scheme called Antares. The design was unveiled to the public yesterday as a part of a special exhibition at the Venice Architecture Biennale.
Antares presented a very unique set of design challenges, chief among them was rethinking how to use a skeleton of a building on the site whose construction was halted by the recession a decade ago. Furthermore, the tower's developer, Shaftesbury Asset Management Group, tasked Decq and her team with expanding the relatively small residences and imbuing the building with a sense of lightness, in spite of the existing structure's low ceiling heights.
---
More from Metropolis
---
Decq's take on high-rise architecture is decidedly Decq—edge-y, yet sensuous. The architect wrapped the otherwise rectilinear building in curving white and red balconies, to blur the tower's hard edges, while giving much-needed floorspace to each apartment. Each of the 89 luxury residences will include floor-to-ceiling windows and glass-railed balconies, providing unobstructed views out to the Mediterranean.
"We tried to find a solution that is specific and unique. It's not generic," says Decq.
Part of that solution was born from the architect's upbringing in Brittany, along the coast of Northwest France. "I am someone from the sea," says Decq. "I love to be looking to the sea and was trying to give this feeling to the people living there, like you are flying above the water or are in a boat."
Decq's design for Antares at Venice's Palazzo Bembo as part of the European Cultural Centre and The Global Art Affairs Foundation's exhibition "Time Space Existence." You can also check out an installation centering around her Phantom restaurant for the Opéra Garnier (2011) at the Venice Architecture Biennale's FREESPACE exhibition.
You might also like, "'We Will Not Stand Silent': 150 Demonstrators Gather at the Venice Biennale To Demand Equity in Architecture"