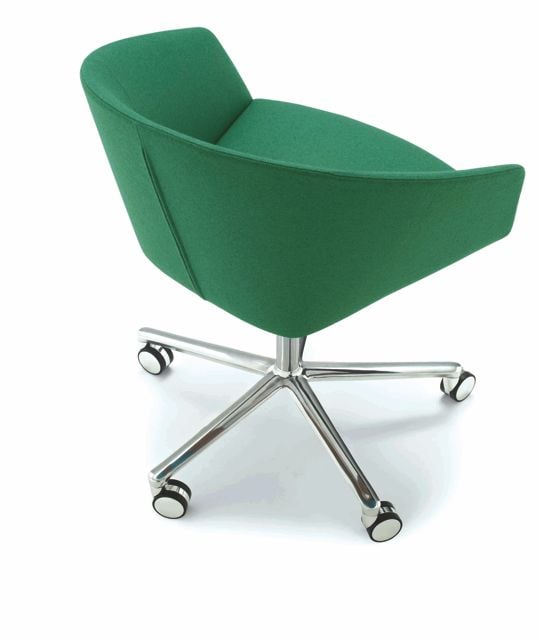 June 6, 2013
Office Frontiers: The Best Workplace Products from Neocon
New releases at the NeoCon fair push boundaries in the workplace.
As the economy rebounds, businesses are reconsidering their management styles to stay competitive in the new fiscal reality. In addition, the dematerialization of work thanks to new communication technologies, and the shift to a knowledge-based economy, mean that designers and manufacturers are in turn producing new solutions for the workplace to enhance collaboration and boost productivity.
This month's NeoCon fair (June 10–12, 2013) at the Merchandise Mart in Chicago is the best place in North America to see the latest trends in office furniture. Shaw's hexagonal carpet tile, for example, was designed with collaborative environments in mind, one that allows the rug to reflect the angular, organic seating areas of today's workplaces. Haworth has partnered with Obscura Digital to create Bluescape, a new cloud-based software and services company that allows users to collaborate in virtual spaces. Humanscale has built an ergonomic task chair with fewer parts than ever before. Other companies, such as Gubi and HBF, give a nod to the Mad Men era for their design inspiration. Here are some new releases from the fair and beyond that we think will make for a better workplace.
---
More from Metropolis
---
ANDREU WORLD NEW BRANDY CHAIR
This upholstered chair, by Lievore Altherr Molina, has an oak board structure covered in flexible foam and comes with wood or metal bases in a variety of shapes.
www.andreuworld.com
ARMSTRONG SOUNDSCAPES ACOUSTICAL CLOUDS
This ceiling system comes in ten standard shapes—including squares, rectangles, circles, trapezoids, and hexagons—with a choice of seven colors.
www.armstrong.com
CONFIGURA CET DESIGNER 4.0 SOFTWARE
CET Designer 4.0 helps interior designers specify manufacturers' contract furniture products. The latest version allows designers to create custom shapes and work surfaces, and features rendering improvements (above).
www.configura.com
DAUPHIN LITTLE PERILLO
This four-legged multipurpose chair, designed by Martin Ballendat, is produced with a lightweight polyshell that melds together the seat, backrest, and armrests, making it perfect for public areas.
www.dauphin.com
DESIGN WITHIN REACH GRETA GROSSMAN 62 SERIES DESK
Put back into production by Gubi, this 1952 desk is made of walnut, black laminate, and steel. It has three drawers hidden inside the cabinet, and will be available exclusively at DWR.
www.dwr.com
HBF NOVEMBER TABLE
Mario Ruiz was inspired by North American offices of the 1950s and 1960s in designing this collection, which includes a lounge, side chair, side table, and coffee table (shown). The tables have brushed stainless-steel or oak legs, and solid-surface tops.
www.hbf.com
VERSTEEL QUANTA HD SEATING
Designed by Roberto Lucci, this chair with a polyshell back and seats stacks easily to create a clean, open environment when not in use. It is available in 15 colors, with or without arms, and the seats can be upholstered.
www.versteel.com
BIG ASS FANS HAIKU LED FAN
The Haiku ceiling fan now comes with an LED module, making it 80 percent more efficient than one with incandescent bulbs. The Energy Star–rated fan's digital dimmer has 16 settings to ensure the perfect light level for any occasion.
www.bigassfans.com
HAWORTH BLUESCAPE WORKSPACE
The result of a collaboration between Haworth and Obscura Digital, this cloud-based software allows teams to work via virtual spaces in real time, using multiple devices such as large-scale, multi-touch screens, iPads, laptops, and mobile devices.
www.bluescape.com
SHAW HEXAGON CARPET TILE
This six-sided carpet tile comes in three patterns: Plane, in 33 colors of varying hue and value; Linear, a striated visual that can create a random herringbone when installed; and Bevel, a visual deconstruction of the hexagon.
www.shawcontractgroup.com
AMERICAN SEATING US WOOD BASE CHAIR
This chair, designed in partnership with Jeff Weber and Laura Guido-Clark, has an ergonomic, textured plastic shell (available in a wide array of colors), with a multi-ply wood base. It's available in an ashor walnut-face veneer and a clear-coat finish.
www.uschairfamily.com
WOLF-GORDON WINK CLEAR DRY-ERASE COATING
This clear dry-erase coating, which allows any surface to be turned into a write-and-erase canvas, now comes in quanities that cover 50, 100, and 200 square feet. Applied over any color, it wipes clean for years of use without ghosting.
www.wolfgordon.com
USM HALLER TABLE ADVANCED
Ali Tayar's design features a sliding tabletop that moves forward to allow access to a cable tray, with storage space for wiring. A wide variety of accessories has been developed to fit with the seamless design, creating a fully integrated workstation.
www.usm.com
OFS FIRST OFFICE STAKS BENCHING
Designed to work in either a private office or an  open-plan workspace, this benching system has an innovative and sleek spine rail that complements the versatile Staks platform by providing structural support, space division, storage, and electrical-system management.
www.firstoffice.com
TEKNION SPECTRUM LOUNGE
Designed by Jeffrey Bernett, this sofa has two- and three-seat alternatives with optional extended- island ends. Armrests can support laptops, and can be flipped to reveal a hard surface for writing.
www.teknion.com
HUMANSCALE DIFFRIENT SMART CHAIR
This chair by Niels Diffrient combines a weight-sensitive recline, mesh technology, and the ultimate ease of use in a striking design. The chair is designed for recyclability, so its materials can be reused at the end of its life cycle.
www.humanscale.com